Many legendary directors often criticize Superhero movies for being too campy and bright, but there are a bunch of dark superhero films which broke the records at the box office. Superheroes are seen as a ray of hope in comics and movies but also have struggles and emotions.
There are numerous dark superhero films, and they have an enormous fanbase. From Deadpool to Blade, there is no stopping for R-Rated films as they are doing good business. The most notable thing is that Disney is following Warner Bros and has started to introduce darker superhero films.
Our listicle can make one thing clear, Warner Bros is way above Disney Studios in this field. Today, we will discuss the best 20 dark Superhero films. You should watch them as soon as possible. We can guarantee that each of them is a masterpiece.
[toc]
#20 Spawn
Release Date: 1st August 1997
IMDB Rating: 5.2/10
Spawn was introduced on screen in a 1997 film directed by Mark A.Z.Dippe. Though the movie did some decent business at the Box office, it received many negative reviews.
The movie dealt with the anti-hero Spawn's origin story as U.S. Marine Al Simmons, played by Michael Jai White, who was betrayed by his colleague and killed. Upon his death, he was sent to hell. But he made a deal with Malebolgia and returned to Earth for his wife as a demon. As five years have passed, everything around him has changed. Spawn becomes a superhero to save his former family from threats.
The movie is one of the first comic book characters outside Marvel and DC to receive a live-action adaptation. But the movie and the graphics were horrible.
Darkest Moment: 
The movie has a lot of supernatural stuff, but the original cut was rated R. There are still some violent scenes with bad CGI.
#19 Punisher: War Zone
Release Date: 5th December 2008
IMDB Rating: 5.9/10
We all know about Punisher as Marvel's one of the best antiheroes, and this movie is just like that. Though the movie received a low IMDB rating, the plot is not that bad.
This movie was a reboot version and had no connection to the two previous Punisher movies. Ray Stevenson played quite well in the role of Frank Castle, aka Punisher, in this Lexi Alexander-directed R-rated film. Punisher: War Zone has put more focus on the fight scenes, which makes it more fun to watch for R-rated movie lovers.
Darkest Moment: 
The face of the main villain, Jigsaw, gives goosebumps, and the movie is full of bloody killing scenes.
#18 Darkman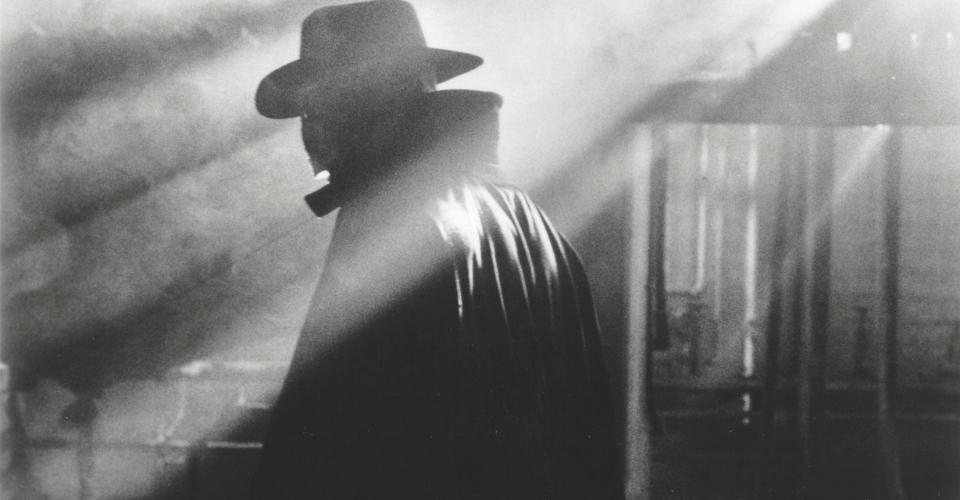 Release Date: 24th August 1990
IMDB Rating: 6.4/10
Darkman Trilogy is a superhero movie series by Sam Raimi after he failed to acquire the rights to The Batman or The Shadow. This non-comic book character is more related to Universal Pictures Monster movies.
The plot is about a scientist, Dr. Peyton Westlake, played by Liam Neeson, who has created an artificial skin for burn victims but had one drawback, as it lasted only 99 minutes. Tragedy struck him as he was burnt alive by the gangsters and left for the dead. He somehow survives all this and vows to take revenge against all of them by using masks with the help of his groundbreaking cosmetic inventions.
Darkest Moment: 
The movie has a superhero who seeks revenge, so it has a dark tone. Westlake lost his ability to feel pain and sympathy when burnt alive. So, we can see many brutal scenes, and Sam Raimi is a capable director who puts horror elements into the superhero genre.
#17 Super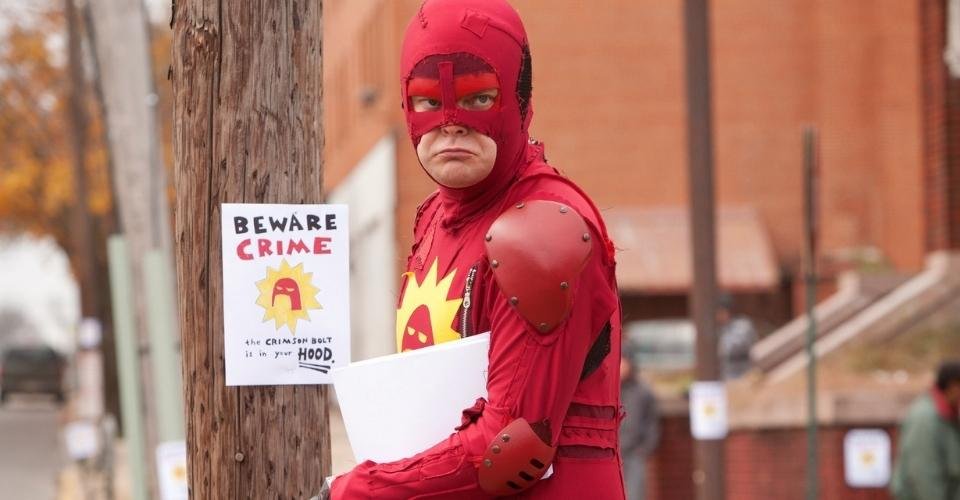 Release Date: 1st April 2011
IMDB Rating: 6.7/10
Super is a 2011 James Gunn-directed superhero movie that is not based on any comic book. The movie didn't impact the Box Office, but the plot was not that disappointing.
Rainn Wilson played the role of Frank Darbo in this movie. After his wife left him for another man, Jacques, Frank became a superhero named Crimson Bolt. He started beating street-level thugs and learned the truth about Jacques being a drug lord. He took Libby under his wing as a sidekick and was determined to save his wife. Will Frank, aka Crimson Bolt, be able to save his beloved wife, Sarah, from the evil drug lord?
Darkest Moment: 
Though this movie is a dark comedy, it has too many brutal fight scenes, and the sad death scene of one of the good characters makes it darker.
#16 Constantine
Release Date: 18th February 2005
IMDB Rating: 7.0/10
Constantine of 2005 is the best horror superhero film by DC Comics. Keanu Reeves played the role of John Constantine, where he helped Angela Dodson, an LAPD Detective, solve a case regarding her twin sister's suicide.
The plot is intriguing as it deals with angels, demons, and the Devil himself. John is a supernatural exorcist and demonologist and starts to investigate the suspicious death case of Angela's sister. But this case reveals more secrets about an upcoming threat to Earth. Constantine is the only person on Earth who can stop this.
This movie is fun as it'll show how the cursed exorcist can put an end to this. The movie has a few plot twists, but the climax scene is something that cannot be missed.
Darkest Moment: 
The demons are a little bit bizarre, and the appearance of Peter Stormare's Lucifer in the movie's climax is creepy but cool-looking.
#15 Blade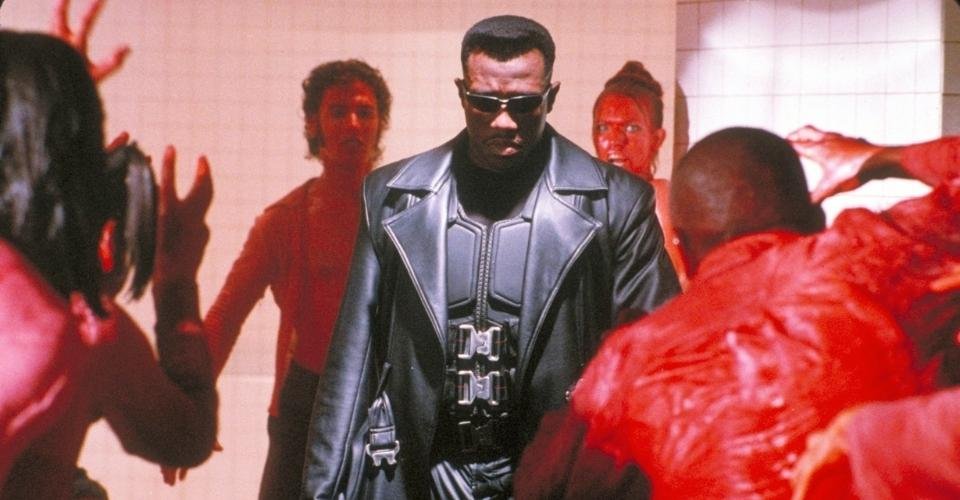 Release Date: 19th August 1998
IMDB Rating: 7.1/10
The Blade is the first R-rated pure superhero film, which is based on Marvel comics' vampire hunter superhero Blade. From the beginning to the end, Wesley Snipes presented the character on screen as a very stylish sword-wielding superhero.
Blade's badass fight scene in the late 90s helped the franchise gain massive popularity, giving us back-to-back three Blade series films.
The first movie's plot primarily deals with Balde's origin and what drives him to eradicate all the vampires from the underworld. The film is a must-watch for not only for superhero movie lovers but also for action film lovers.
Darkest Moment: 
Blade's movies became R-rated because of the language and violent scenes. But this movie is not that dark-themed except for the supernatural creatures of the underworld.
#14 The Suicide Squad
Release Date: 6th August 2021
IMDB Rating: 7.2/10
After a disappointing Suicide Squad in 2016, Warner Bros. decided to hand the sequel over to James Gunn, who directed it excellently. Gunn's The Suicide Squad was released under almost the same title but as a soft reboot. Though many actors reprised their roles, some of them were also replaced by WB.
The Suicide Squad has multiple anti-heroes with their issues, all of which are on a death mission to reduce their prison sentences. Amanda Waller gathers a bunch of supervillains to form two Task Force X teams, and the first team is sent on a mission to find a laboratory of the World War II era on the island. But the whole team was killed by soldiers except Colonel Rick Flag and Harley Quinn. So, Amanda sent another team to rescue them and finish the unsuccessful mission. But there is a massive plot twist, and every superhero fan needs to watch the whole movie to discover that.
Darkest Moment: 
Before the movie's release, James Gunn told viewers not to fall in love with the characters as there are multiple death scenes, and most of these supervillains will die before getting proper screen time. It is just another dark comedy on our list.
#13 RoboCop
Release Date: 30th September 1987
IMDB Rating: 7.6/10
RoboCop from 1987 was a film with a lot of satirical elements of America's contemporary consumer culture of that time.
The plot deals with an honest cop named Alex Murphy, who was brutally murdered by a vicious criminal gang at the beginning of the movie. Murphy was later revived by a mega-corporation, Omni Consumer Products. OCP corporation turned deceased Murphy into a cyborg police officer who worked under the corporation's control and dealt with crimes. The media gave him the name 'RoboCop,' and he started working in Detroit Police Department.
Everything was right until Murphy started gaining memories of his past life. Would Murphy, aka RoboCop, discover his past and take revenge, or would he become a company product?
We can assure you that RoboCop was one of the first superhero movies and was ahead of its generation.
Darkest Moment: 
All the death scenes from the beginning to the end are full of R-rated scenes. But the most brutal one is the death of Murphy at the beginning of the movie.
#12 Avengers: Infinity War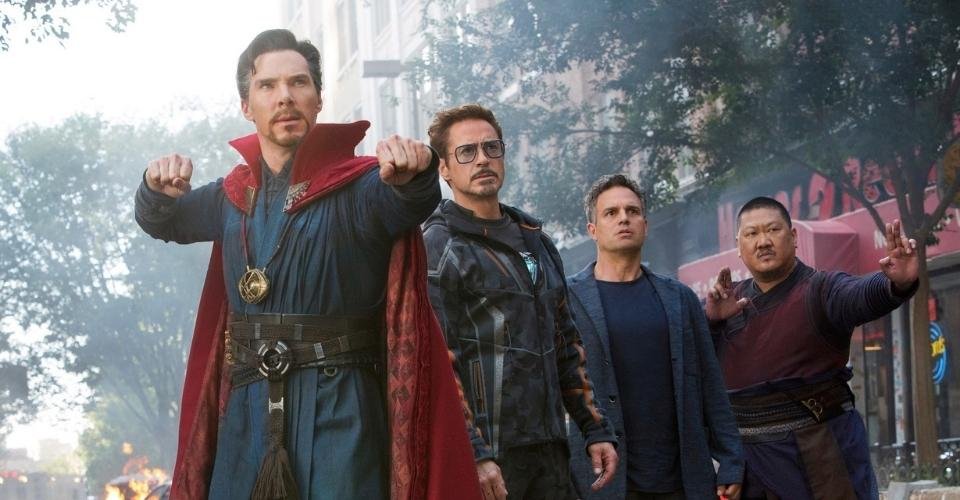 Release Date: 27th April 2018
IMDB Rating: 8.4/10
We think Avengers: Infinity War needs no introduction as this movie was the biggest movie before releasing its sequel. Marvel Studios started their journey by introducing Robert Downey Jr.'s Ironman and built a massive universe of Marvel superheroes. Most of the superheroes appeared in this movie with proper screen time.
The story was simple as all Marvel superheroes teamed up and tried to defeat Thanos. Thanos was victorious in the end, but this movie created a craze for its sequel, and the plot was built in that manner. From Robert Downey Jr. to Chris Evans and Scarlett Johansson to Elizabeth Olsen, all the movie stars reprised their roles in this massive Marvel movie.
Darkest Moment: 
The ending moment of the movie was the darkest part of all the Marvel movies before its release. The movie ended with despair and uncertainty; anyone can say how dark this moment was.
#11 Kick-Ass
Release Date: 16th April 2010
IMDB Rating: 7.6/10
Kick-Ass is a 2010 superhero film with no superpowers at all. The movie's background is very similar to our real world, and the superheroes look like a bunch of Halloween costume-wearing people.
The film solely focuses on a boy named Dave Lizewski, played by Aaron Johnson, who decides to become a superhero named Kick-Ass to bring justice to society. But he is not alone, as there are many like him. Now Kick-Ass, with the help of Big Daddy and his daughter, Hit-Girl, sets out on a quest to bring down an evil crime boss, Frank D'Amico, and his son, Red Mist.
Though the film seems bizarre, it has dark humor, and the scenes are not that easy to dilute.
Darkest Moment: 
Matthew Vaughn-directed Kick-Ass film is based on Mark Millar's comics, with many brutalities and death scenes.
#10 Dredd
Release Date: 11th July 2012
IMDB Rating: 7.1/10
Karl Urban has almost appeared in every superhero universe, but his appearance as Dredd is lesser-known. Karl Urban gave the fans all those things that Sylvester Stallone's Dredd version failed to deliver.
The plot is not like a typical superhero film. We all know that Dredd represents an authoritarian state of a dystopian world, and he is a law enforcer with the power of judge, jury, and executioner. In this movie, we get to see all his social powers. But the plot is all about Dredd hunting as he is trapped in a building when he comes to investigate a deadly drug.
Though many fans can argue about this movie not being a superhero movie, Dredd's heroism makes this movie a worthy contender on our list.
Darkest Moment: 
The movie is full of brutal killings and disturbing scenes from beginning to end and is one of the most disturbing superhero films as it is set in a chaotic, dystopian world.
#9 Deadpool
Release Date: 12th February 2016
IMDB Rating: 8.0/10
Ryan Reynolds' starring Deadpool is the best dark-comedy superhero movie, and none can challenge this feat except its sequel. It was always thought that bringing a live-action version of Deadpool was a risky job, but Ryan Reynolds portrayed this funny immortal anti-hero brilliantly.
Deadpool was introduced many years ago in X-Men Origins: Wolverine movie but faced much criticism. Tim Miller reintroduced the character with a different origin story and comically ditched the old one.
The plot is simple, but Ryan Reynolds brought the character to life by cracking dark jokes. The movie is full of brutal scenes and gives a happy and satisfactory ending. But the most fascinating thing is Deadpool's communication with the audience through the fourth wall break.
Darkest Moment: 
The movie is a dark comedy with lots of brutal killing and blood, and these scenes were done only for comedic purposes.
#8 Batman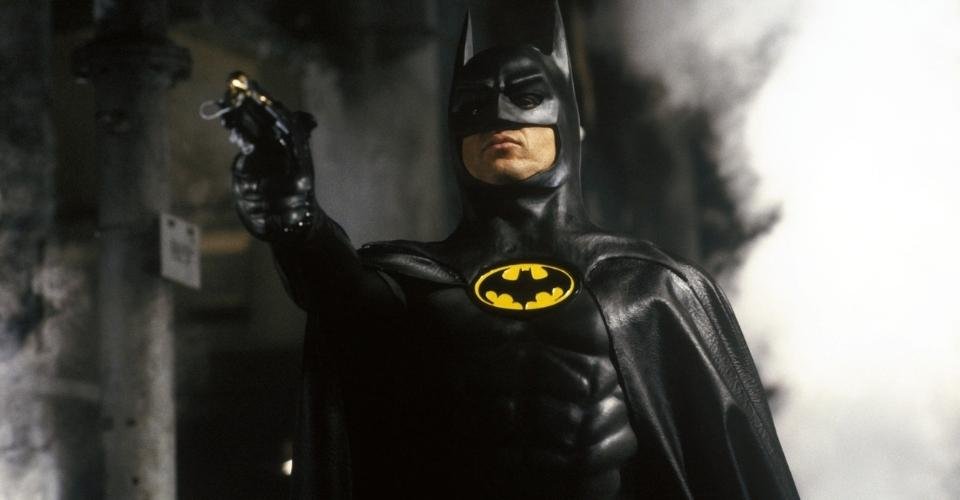 Release Date: 23rd June 1989
IMDB Rating: 7.5/10
Director Tim Burton was the first man who brought the Caped Crusader on screen from the pages of comics. He reintroduced Batman as a dark character with a lot of personality issues.
Before Michael Keaton's Bruce Wayne, aka Batman, the vigilante superhero was a campy character. Burton's gothic vibe completely transformed the character into a bigger than superhero persona.
Where Nolan's Dark Knight Trilogy focuses on the characters, Burton's Batman series focuses more on Gotham and its dark background.
Sometimes, it seems funny, but the plot has a serious tone. We also see the famous Jack Nicholson's portrayal of Joker as the primary antagonist. This movie took the Batman franchise to a new level, as WB struggled to produce such standards for a long time that Burton created. But we thankfully have got some Batman series that can easily challenge this series.
Darkest Moment: 
This movie has a dark vibe, but this has more importance as the first dark-themed mainstream superhero movie. The film is so brilliant that WB has decided to revive Keaton's Batman universe by introducing Flash and Batgirl solo movies.
#7 Unbreakable
Release Date: 21st November 2000
IMDB Rating: 7.3/10
M. Night Shyamalan introduced a kind of superhero movie, which is not easy for everyone to understand. His Unbreakle film has not only superhero elements but also thriller aspects. The film's plot is very complex and not easy to understand.
The story has two main characters – Bruce Willis' David Dunn and Samuel L. Jackson's Elijah Price. They understand each other very well, but they have different roles to play. David is the story's protagonist, and Elijah plays the antagonist part of the movie.
David, unaware of his superhero powers, faces a midlife crisis. Elijah only knows the true potential of our hero, but he is not ready to tell him. He uses him as a pawn. The movie has a satisfactory but puzzling ending. But the story did not end here as it has two sequels, and the last installment of this franchise, Glass, has the darkest plot among them.
Darkest Moment: 
To be honest, this movie has lesser darker aspects than the other two sequels. The plot and the characters have a significant build-up, but you need to be patient to watch this film.
#6 The Crow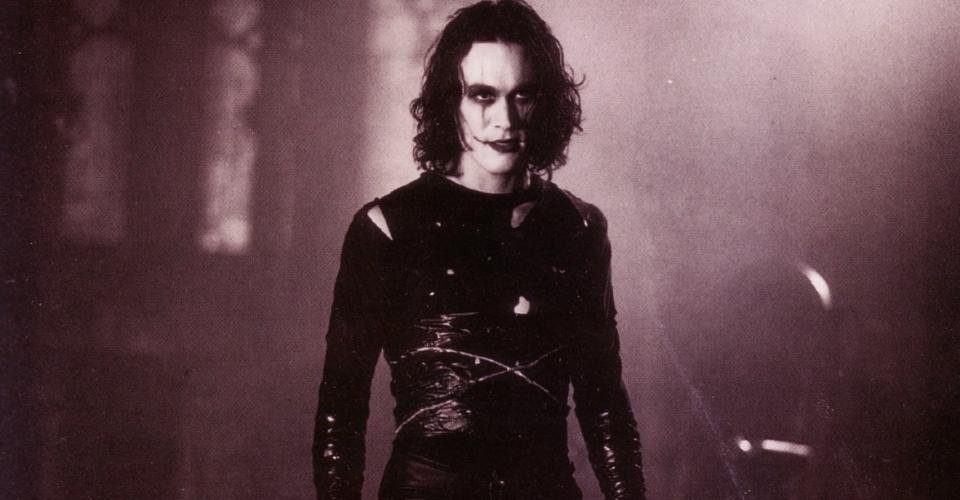 Release Date: 11th May 1994
IMDB Rating: 7.5/10
The Crow is often told as one of the cursed movies of Hollywood. The movie was released in 1994, and The Crow is the story's protagonist.
This revenge superhero film was tragic on and off the screen as Brandon Lee accidentally died while filming a particular scene.
The story starts on 30th October, aka Devil's Night in Detroit, where Shelly Webster was found on the verge of death after getting beaten and raped, and her fiancé, Eric Draven, was found brutally killed. These were all the wrongdoings of T-Bird and his gang members.
But one year later, Eric was suddenly revived after one year after his death with the tap of a crow on his grave. He returns to his old apartment, where he got killed, and starts to regain the memories of the horrific and tragic things that happened to him before his death. He swears to take revenge against those culprits. The most fascinating part of this movie is that it is a one-night story as everything will happen on the same night of Eric's resurrection.
Darkest Moment: 
Not only is the plot dark, but also the background and the cinematography are very dark. The Crow movie gives a gothic vibe, and all the killing scenes are also very disturbing.
#5 The Dark Knight
Release Date: 14th July 2008
IMDB Rating: 9.0/10
Every superhero fan knows what Christopher Nolan's Dark Knight achieved before Marvel's superhero movies came into existence. It set a different standard for superhero movies, which is still challenging to achieve for most superhero movies. Dark Knight was the second movie in Nolan's Dark Knight Trilogy.
Chris Nolan developed the plot with the help of David S. Goyer, and there is almost nothing to complain about the plot. The story follows the events of Batman Begins movie and Gotham City police find a new lunatic criminal named, Joker, played by Heath Ledger. The movie was more fun to watch because of Joker's unpredictability. This movie also introduced Gotham's white knight Harvey Dent, played by Aaron Eckhart.
Darkest Moment: 
We always recommend watching this film as the superhero film genre is nothing without "The Dark Knight." Though the movie has several death scenes, there is no brutal scene. Heath Ledger excellently played the role of Gotham's Crime Lord, and the psychology behind his character's portrayal is darker than any other super villain.
Many aspects of this movie's plot are darker than the other two movies from Nolan's Dark Knight series. This movie was released in 2008, but we still praise it even after many years.
#4 V for Vendetta
Release Date: 17th March 2006
IMDB Rating: 8.2/10
V for Vendetta is hard to miss in our dark-superhero movie genre. The movie is based on DC's Vertigo Comics and is one of the best superhero movies ever. It has a deep meaning, even though it's a superhero movie.
Hugo Weaving played the role of the masked vigilante, and Natalie Portman played the character of Evey Hammond from the comics. The movie was largely praised by critics and has deeply impacted popular culture.
The movie's background is set in a dystopian world full of oppression and corruption, and the events take place in an Orwellian landscape. Here, a superhero named V fights against criminals and government officials, similar to the fascist regime.
Darkest Moment: 
The movie's darker aspect is hard to explain, as it will spoil the ending. Please watch this masterpiece to understand the darker aspects of the film.
#3 Logan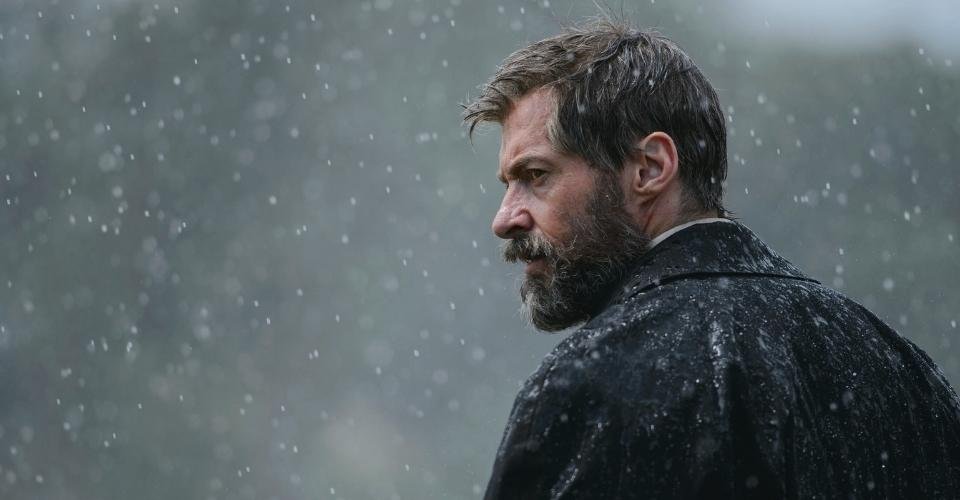 Release Date: 3rd March 2017
IMDB Rating: 8.1/10
Logan was the best superhero movie by Fox Studios, and this was Hugh Jackman's final appearance as Logan, aka Wolverine. This movie is one of the best live adaptations of the comic book storylines, and the plot was based on the "Old Man Logan" comics.
The story showcases a dystopian world from the future, which is around 2029. In this timeline, an aged Logan takes care of 90 years old Professor Charles Xavier with another mutant, Caliban. They are living in the northern part of Mexico. Everything goes upside down when Logan takes on the task of escorting Laura across the border. The movie shows a powerless and helpless Logan's struggles against modern enemies. Logan's chemistry with Laura is something beyond a father-daughter relationship.
This movie was a tribute to Hugh Jackman's legendary decade-long performance for Marvel's one of the fan-favorite characters, Wolverine.
Darkest Moment: 
We find it strange that Logan is the only R-rated movie of Marvel's one of the most brutal superheroes, Wolverine. The movie's story was dark and saddening, but the film gave the perfect ending to Wolverine's journey in Fox's X-Men universe.
#2 Joker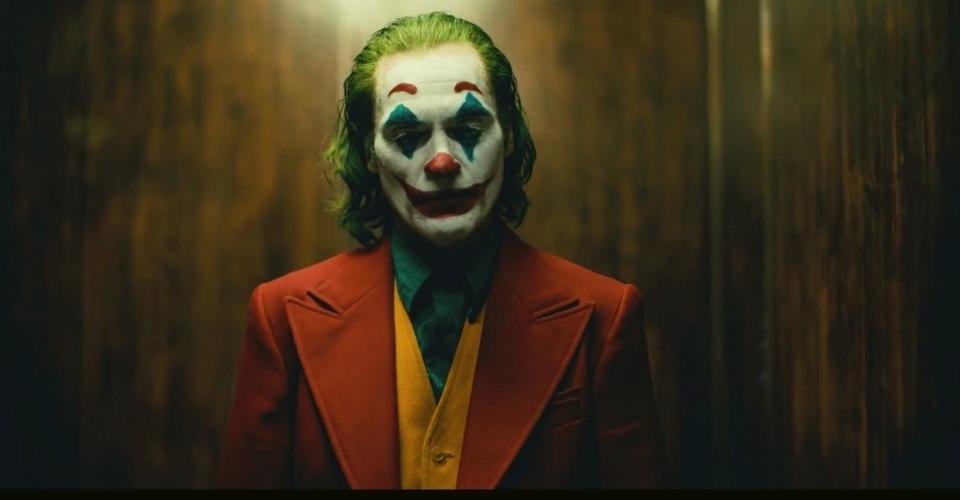 Release Date: 2nd October 2019
IMDB Rating: 8.4/10 
Todd Phillips brought more dimensions to the character of Joker in his Joker solo film. Though the film is not related to the DCEU, the protagonist was inspired by the actual Batman Comics' most notorious supervillain.
Director Todd Phillips reintroduced Joker differently, as Joaquin Phoenix's legendary performance playing the role of Arthur Fleck won him the 92nd Academy Award for best actor.
The plot is the Joker's origin story, and Arthur wants to be a stand-up comedian, but he suffers from a neurological disorder that makes him burst into laughter uncontrollably without any reason. The movie shows the journey of Arthur, a mentally troubled stand-up comedian, who becomes a media sensation, and the Joker we all fear.
Darkest Moment: 
The movie's protagonist is based on a supervillain character, but the story is very engaging and shows how broken Joker's psychology is. The movie is extremely dark-themed and is the best R-rated superhero film to date.
Smartest Superheroes: 20 Intelligent Heroes Ranked By IQ Level

Fans Also Read
#1 Watchmen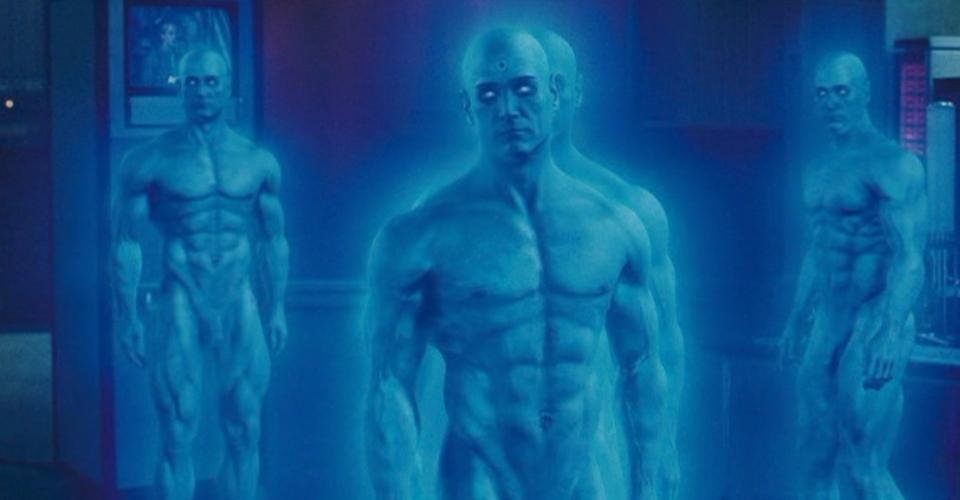 Release Date: 6th March 2009
IMDB Rating: 7.6/10
The first on our list must be Watchmen, directed by Zack Snyder. This movie is not for the campy superhero movie lovers as the movie has an extremely dark tone with flawed superheroes.
The story is set in an alternate version US with a different historical outcome. Here, superheroes helped the US win the Vietnam War. The story starts with the murder of The Comedian. As Rorschach, with the help of Nite Owl, starts to dig into the case, more mysteries begin to pop up. The movie sometimes breaks the timeline as some scenes are from the flashbacks of each character.
Darkest Moment: 
The movie shows things differently as there is no concept of ideal superheroes. The murder of a pregnant woman in the hands of The Comedian is one of the movie's darkest scenes. There are more brutal and disturbing ones too.
For anyone looking for more dark superhero films, We got a few more names that are no less in any way but they just didn't make our list.
Honorable Mentions
Doctor Strange: Multiverse of Madness
Brightburn
Deadpool 2
Zack Snyder's Justice League
Birds of Prey
Kick-Ass 2
X Men The Last Stand
V for Vendetta
Batman Returns
Amazing Spiderman 2
Sin City
Sin City: A Dame to Kill For
Dark Knight Rises
Birdman or (The Unexpected Virtue of Ignorance)
FAQS
What Is the Darkest Superhero Film?
Zack Snyder-directed Watchmen film of 2009 is still now the darkest superhero film.
What Was the First Dark Superhero Movie?
Darkman by Sam Raimi is the first dark superhero film released in 1990. Though RoboCop has the right to challenge that position. But we think Darkman has a better hold of that position as it was announced as a superhero film.
What Was the First R-Rated Superhero Movie?
Though it is often depicted that The Blade from 1998 was the first R-rated superhero film, RoboCop beat this feat, as it was released almost 10 years earlier in 1987.
What Is the Darkest Comic Book of All Time?
There are many, but Watchmen by Alan Moore and Dave Gibbons is considered the darkest Comicbook of all time.
Is There Going to Be a Dark Avengers Movie?
Yup, but with a different title. The movie is called Thunderbolts and is set to release on 26th July 2024. Many antiheroes will feature in this movie, and there is a high probability of having a dark tone in the plot. To be precise, Thunderbolts will be Marvel's version of Suicide Squad.
That's all for today folks! So, Which dark superhero movie do you like the most?
Let us know it all on our Instagram page here and do visit averagebeing.com for more awesome superhero content.