Henry Thurlow, the animator of One Piece at Toei Animation, has confirmed "extremely exciting" episodes are under development.
A few days ago, Thurlow posted a thread on his Twitter account to inform his followers about his absence from the One Piece credits, as he's been working on one particular episode for quite a while now. The animator said that the current task at hand is "immensely challenging and bears "a lot of responsibility" on him as an artist.
It was just moments before fans quickly flooded his Twitter account with their own set of theories and speculations regarding the new exciting episode in the making. Thurlow made good use of this wave and surfed his boat on of the theories teasing it might be correct. Although it's still not clear which theory the animator has got his eyes on, fans are doing what they can to churn out chunks of info from him.
A fan stood out from the crowd in full swing, claiming the animator is talking about working on Chapter 14 – Joy Boy: The Man Who Laughs from the manga, and the episode is likely to get released as a full-fledged episode soon.
But before other fans could react to it, one more fan posted his claims about this chapter potentially getting an anime adaptation.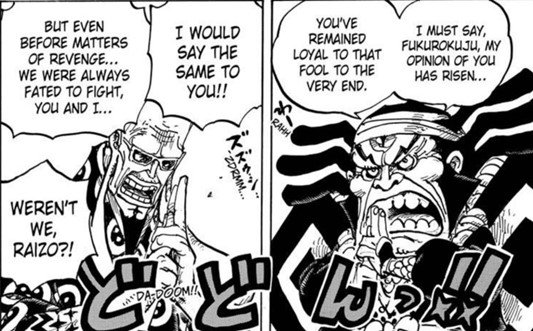 Or who knows? Henry Thurlow must be talking about animating ifrit jambe. Courtesy of Twitter user Dovah.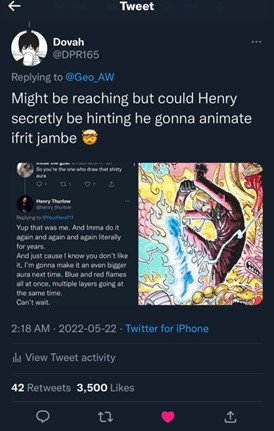 As for the ongoing trail of episodes is concerned, Toei Animation is currently working on developing the events of the "Wano Country" story arc from the original manga by Eiichiro Oda into an anime adaptation. In case you failed to keep up, the 1041st episode came out on November 20, titled "Showdown Battles of the Monsters! Yamato and Franky." The next episode, "The Predator's Trap – Black Maria's Temptation," will premiere on November 27, 2022.
The creator of One Piece, Eiichiro Oda, began working on his original One Piece manga in 1997. The manga alone has produced over 1000 individual chapters and still has no plans to stop putting an end to its pirate adventures. Initially, Oda had plans to finish the story in 2002, but as the story gained massive popularity, the mangaka was compelled to add more pages to his epic tale.
One Piece: Stampede Director Reveals A New Manga That Explains Anime Production Process

Fans Also Read
The story of One Piece follows Monkey D. Luffy and his pirate squad, Straw Hat Pirates, embarking on an adventure to find the ultimate treasure known as One Piece. Though the manga and its anime adaptation are so lengthy, One Piece as a franchise holds the most dedicated fan base in its crew. In addition to that, the One Piece manga has sold over 516 million copies in circulation around the world, making Eiichiro Oda's creation one of the best-selling mangas of all time.
Not so long ago, the One Piece franchise saw an incredible spike in its financial ventures as its theatrical release One Piece Film: Red grossed 15.06 billion yen (US$104 million) to become the highest-grossing film of 2022 in Japan. But wait, there's more! Two notable One Piece video game titles are under development. First One Piece Odyssey, where "the Straw Hat Crew will find itself on a mysterious new island where they embark on quests and fight powerful enemies and massive bosses in exciting turn-based battles." And the second collaboration video game "Choppertchis," is a special version of the Tamagotchi that lets players raise Chopper the reindeer.
Fans Answer Who Amongst The Big 3 In Anime Is The Worst Fandom

Fans Also Read
Netflix is also reportedly working on a live-action One Piece TV series which will boast actor Iñaki Godoy as Luffy, Mackenyu as Roronoa Zoro, and Emily Rudd as Nami. The TV series is expected to release in 2023.
One Piece anime is currently available for streaming on Crunchyroll.
Well, what are your views about this update by One Piece's animator? Are you excited about future episodes? Do tell us your thoughts in the comments, and make sure to visit averagebeing.com for more anime updates!