Anime has come a long way, but people love to see competition, and what better way to present it than a sports story? Today we are counting down our picks for the best sports anime every otaku must try.
As a sub-niche, Sports really have some of the most enticing stories to tell.
With each of the characters having different reasons and backgrounds for their actions, You may encourage or discourage someone from these anime.
Be it friendship, dealing with stage fear, or maintaining your composure at peak moments. Every single sports anime in this list helps you gain those skills.
20 Honest Reasons Why You Should Watch Anime (Explained)

Read This If You Are New To Anime
Here are the 15 best sports anime that pumps your heart with amazing action and emotions.
#15 All Out
Sport: Rugby
Total Episodes: 25
Synopsis: Kenji Gion is a short determined first-year student at Kanagawara Prefectural High School. When he joins the Rugby team, He meets various passionate people with different backgrounds, all trying their best to win the game.
His first friend in high school was Sumiaki Iwashimizu, A tall boy who's unable to play his favorite sport because of his past. Kenji then gets to know the team's vice-captain, Hachioji, and captain, Sekizan.
Can people who are completely unrelated with different motives actually win a tournament of Rugby?
Why You Should Watch:
Each and every member of the team has something too important to tell. When you watch sports anime, I bet you wouldn't even notice that some of them are side characters.
The well-written drama and the emotional bond it brings make this anime worthy of being added to this list.
#14 Run With The Wind
Sport: Marathon Relay
Total Episodes: 23
Synopsis: Everything starts with a dream. When Kakeru Kurahara was driven out of a convenience store for shoplifting, His schoolmate Haiji Kiyose helps him. Haiji then offers Kakeru to stay with him in a run-down apartment, but things get interesting from here on.
There are 10 people residing in the apartment, including Kakeru and Haiji, which makes it the dormitory of the Kanesi University Track Club. After Kakeru's welcome party, Haiji reveals that they all need to participate in Japan's most prestigious marathon relay, Hakone Ekiden.
Apart from Haiji and Kakeru, The remaining 8 members of the team have no background in the sport and aren't even interested to take part.
With so much going on in each of their lives, Can Hainji convince them all the participate in Hakone Ekiden and win the relay?
Why You Should Watch:
The most common activity of all sports is running. Don't get me wrong, Even as simple and boring as running in a tournament can be dramatic with the right blend of emotions.
Run With The Wind is a strong character-driven story favoring the underdogs, and this is something everyone agrees to. Everything from the camera angles to struggling in training sessions makes this sports anime an underrated one many neglects to watch.
#13 Yuri!!! On Ice
Sport: Figure Skating
Total Episodes: 12
Synopsis: When Yuri Katsuki carried the hopes of Japan on his shoulders, He suffered a crushing defeat in the Grand Prix Finale. After reaching home, Yuri hid in the house, wanting to retire.
One day his video went viral, and the former world champion appears in front of Yuri's house, offering to mentor. Meanwhile, another star was born in Russia with the name Yuri Pilsetsky and was looking to grab the championship for himself.
With Yuri Katsuki's skill being a bit rusty and fierce competitors like Yuri Pilsetsky in the play, Can Yuri win the Grand Prix Finale under the mentorship of his idol?
Why You Should Watch:
A short, fresh, unique approach towards sports anime representing gay relationships. This story shows you how to deal with failures even after trying so hard, which I'm sure many of us can relate to.
Especially the third act of the series keeps all of us on our toes cheering for Yuri.
#12 Yowamushi Pedal
Sport: Cycling
Total Episodes: 38
Synopsis: As you can say from the title, This anime is all about Cycling.
Sakamichi Onoda is a high-spirited student who loves biking. Onoda's main objective is to make new friends. So, He decided to join the famous anime club at his school.
Unfortunately, His school's anime club was disbanded with it, his hopes of meeting new people evaporated into thin air. Not knowing what to do, Onoda makes a round trip to Akihabara on his old bicycle.
This is when Shunsuke Imaizumi notices Onoda. Having seen his incredible ability to climb up the hill on a heavy bicycle, Imaizumi challenges him to a race, and if Onoda wins, The former would join his anime club.
This leads to new friendships and adventures in the world of high school bicycle.
Why You Should Watch:
This anime is all about pedaling away from your obstacles with motivational friends. The lovable characters and the intense matchups between them are a treat to watch.
Yowamushi Pedal isn't your typical sports anime but is well worth the watch due to its touching storyline.
#11 Fighting Spirit (Hajime No Ippo)
Sport: Kick Boxing
Total Episodes: 75
Synopsis: Our protagonist, Makunouchi Ippo, has been bullied his entire life and wanted to change himself but lacks the will to act.
As always, One day, he was taking a serious beating until a boxer, Takamura Mamoru, comes to his rescue.
Takamura then took the injured Ippo to Kamogawa boxing gym. After recovering from his injuries, Ippo asked Takamura Mamoru to train him.
Having felt that, The kid doesn't have what it takes to become a boxer, Takamura placed an impossible task with a deadline of one week.
Miraculously, Ippo completed the task in time and now enters the world of kickboxing. Can a person with low self-confidence who can't even fight off bullies become a world-class boxer?
Why You Should Watch:
This anime gives you the motivation to work on yourself. Watching Ippo from being a timid kid to a fearless boxer, This underdog sports anime is a must-watch amongst the boxing genre.
11 Manhwa Anime Adaptations That Everyone Should Watch

Do You Love Manhwa? Then Check This Out
#10 Ace of Diamond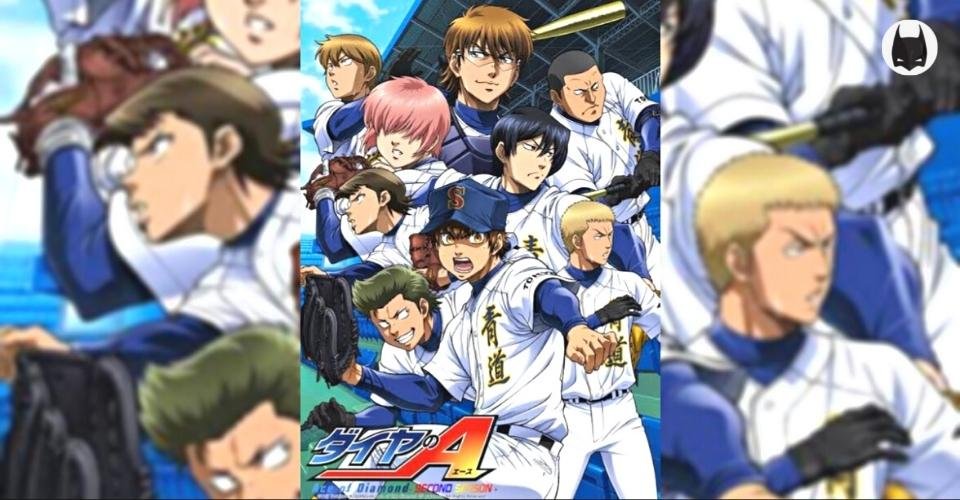 Sport: Baseball
Total Episodes: 178
Synopsis: Having completely missed the batter in the finals, Eijun Sawamura's team lost the game.
Depressed with his performance, Sawamura vowed to reach the national tournament in high school.
All this changed when he was invited to Seidou High School. Seeing his unusual pitching style, Tokyo's prestigious high school offered Eijun Sawamura a spot on their team.
When his friends urged him to join the Seidou team, Sawamura accepts the invitation but finds himself in a competitive environment with skilled players.
He then decided to become the team's ace and wanted to take Seidou toward Japan's best baseball team.
Can he rectify his mistakes and come on top?
Why You Should Watch:
No sports anime list is complete without baseball in it.
Being the most popular sport in Japan, Fans love to see a high-octane sports drama. The anime not only has shonen vibes to it, but characters in the game power up while playing the sport.
#9 Baby Steps
Sport: Tennis
Total Episodes: 50
Synopsis: An average first-year student finds his physique degrading day by day. Like we all do, Eiichirou Maruo joins a sports club known as Southern Tennis Club.
Initially joined as a means to keep himself in shape, Tennis became to be much more important than anything in his life.
After meeting Natsu Takasaki, A fellow first-year girl, He decides to become a professional.
With interest in studies out of his reach, Maruo needs to up his skill.
Can a nobody from the first year become a professional tennis player through sheer hard work?
Why You Should Watch:
If you like grounded, realistic sports anime, then add this to your watchlist.
Like many other anime, Baby Steps doesn't feature powers or anything. Instead, It focuses on training and skill.
Overall, A truly genuine sports anime with a bit of love track directed by the man behind Naruto movies is what we need.
#8 Slam Dunk
Sport: Basketball
Total Episodes: 101
Synopsis: Hanamichi Sakuragi is a student with serious troublemaking issues.
The red-haired aggressive boy enrolls himself into Shohoku High to get a girlfriend.
After being rejected 50 times in middle school, He is now desperate to have a girlfriend. When a girl named Haruko Akagi approached Sakuragi, She asks him if he likes Basketball.
Falling in love, The big boy tries to impress her in the gymnasium by throwing a basketball. Instead, He overshoots it, slamming his head to the blackboard.
Now, Hanamichi Sakuragi is left with two thoughts, I hate basketball, and I need a girlfriend.
Akagi informs him about the school's basketball team captain Hanamichi and how awesome he is.
Desperate to have a girlfriend, Hanamichi Sakuragi now enters the sport of Basketball. Can he excel in the difficult sport and finally impress Haruko Akagi?
Why You Should Watch:
This story is something every one of us can relate to. Answer me, How many times did you think of impressing your crush in the past?
The classic sports anime shows us just that, and we can all cherish Hanamichi Sakuragi's success like ours.
#7 Big Windup!
Sport: Baseball
Total Episodes: 25
Synopsis: Ren Mihashi was the ace of his middle school team, but due to his poor pitching, the team loses every single match.
This even escalates to other teams bullying their players. Being the only weak spot in his team, Mihashi completely abandons baseball in high school.
Things change when his new friends in Nishiura High forced him to be a pitcher in their new team.
Having lost all his confidence, Mihashi was left with no choice but the play.
Seeing his teammate with low self-esteem, Catcher Takaya Abe vows to help Mihashi in everything he can.
With friends as such, Ren Mihashi gradually began to rebuild his lost confidence in the sport.
Can he finally be accepted for who he is, and most importantly, will Abe keep his promise to help him become a better player?
Why You Should Watch:
Like all other sports anime, this isn't a serious one where the protagonist tries to become a professional.
Instead, It shows us what you can achieve if your friends got your back.
From being a below-average pitcher to becoming the best ace in the school, This sports anime is all about not losing yourself in the process.
#6 Chihayafuru
Sport: Karuta
Total Episodes: 74 + OVA
Synopsis: Chihaya Ayase, Arata Wataya, and Taichi Mashima are three 12-year-old friends who love to play Karuta.
Before splitting up for various reasons, The trio vows to meet again when they become A-Class players.
When Arata, Taichi, and Chihaya meet in Fukui, many things changed.
Even though it was Arata who taught Chihaya how to play karuta, He quits the card game due to unfortunate events.
Taichi then helps Chihaya to form a karura club. Being both physically and mentally challenging game, many don't play it often.
With an aim to establish the Municipal Mizusawa High Competitive Karuta Club and enter the national championship, Chihaya should now bring like-minded people to join in her journey.
Why You Should Watch:
As expected, many haven't even heard of the card game, Karuta. But please do not make the same mistake as I did in ignoring this anime.
This isn't about a card game, The story sure revolves around karuta, but the soul of the anime is about reaching dreams.
With not even a single character to hate in the whole series, Chihayafuru is one such sports anime everyone skips.
100+ Best Anime Pick-Up Lines (By True Otaku Fans)

Know How To Impress Your Crush (Anime Style)
Having said that, we are entering into the top 5 best sports anime in our list.
#5 Ping Pong The Animation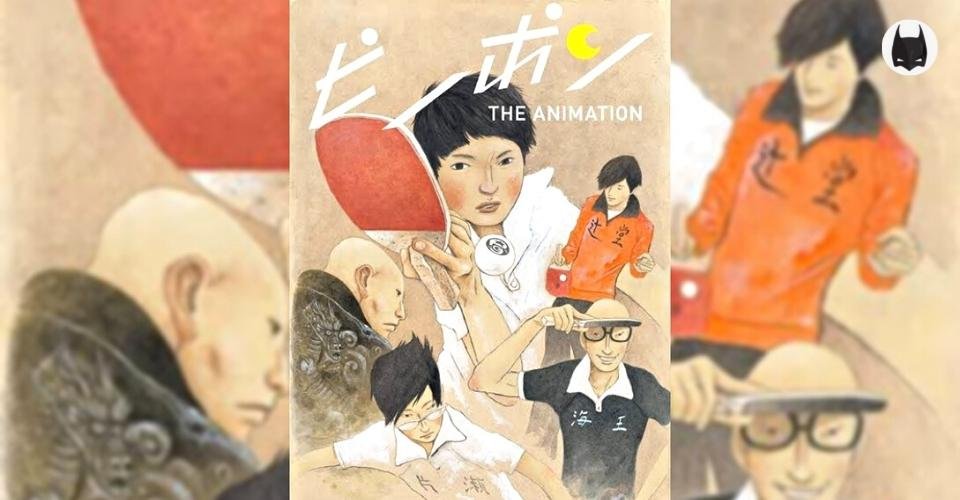 Sport: Table Tennis
Total Episodes: 11
Synopsis: This is a simple story of Makoto Tsukimoto and Yutaka Hoshino. The two friends are completely opposite to each other, but the one thing that holds them together is table tennis.
Having played the game each and every day in their lives, The duo enters the inter-high table tennis competition.
To make things clear, This is no ordinary competition as players from all over Japan gathers here after intense training. Even getting into it seems impossible for many aspiring table tennis players.
With the mantra "The hero comes. The hero comes. The hero comes." as Makoto's motivation, can the friends climb up the ladder?
Why You Should Watch:
Ping Pong The Animation is more of an emotional ride than a game. With astounding music to back it up, The anime brings out amazing animations.
Showing the real face of players in times of trouble, This sports anime is a good story of rivals that can be enjoyed by anyone.
#4 Cheer Boys!!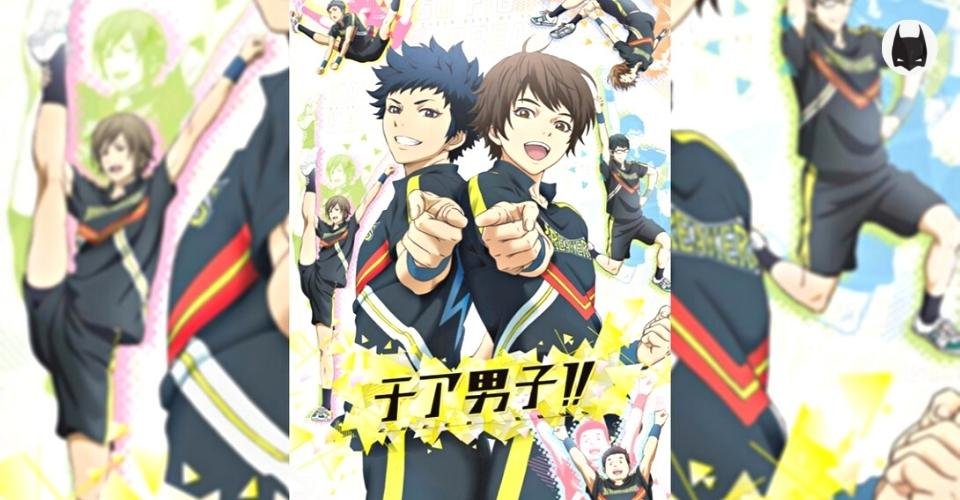 Sport: Cheerleading
Total Episodes: 12 + OVA
Synopsis: Despite his family owning a judo club, Haruki Bandou has to give up the sport due to his shoulder injury.
But what Haruki didn't expect is his best friend, Kazuma Hashimoto to leave judo.
Instead, Kazuma dreams of starting a cheerleading squad made of men.
Knowing his friend, Haruki joined forces with Kazuma to establish Meishiin University's first male cheerleading team, "Busters."
This is when things get interesting as commonly known as a girl-only job, The team is bound to face backlash due to gender norms.
Can these best friends have what it takes to go through the hard times that are coming up their way?
Why You Should Watch:
This isn't just a story about a couple of friends doing the impossible. It's about overcoming your fears, self-doubts, and hardships along the way.
With such high boundaries between their dream, Cheer Boys tell something new and genuine.
This anime will make you cry, laugh, stand tall with Haruki Bandou and Kazuma Hashimoto's team.
Ultimate Manhwa Recommendations Guide (Every Otaku Must Read)

The Best Guide For Every Manhwa Read
#3 Kuroko's Basketball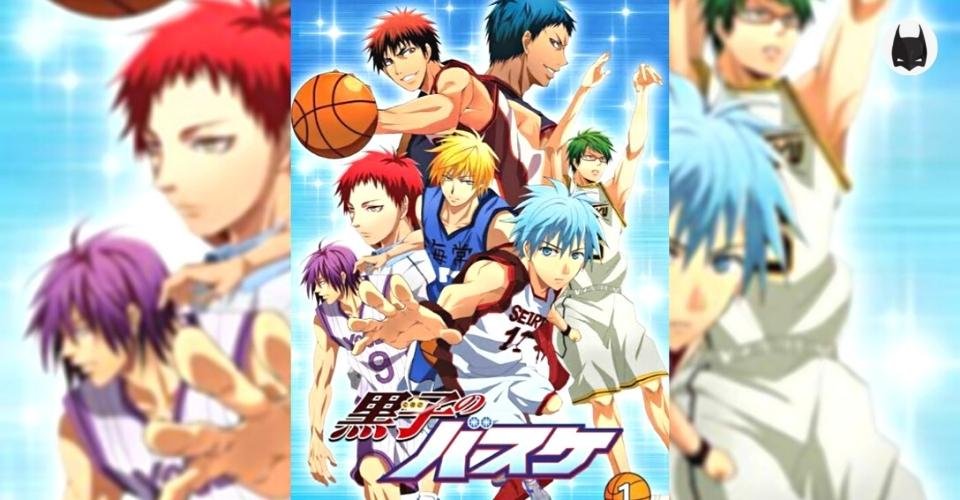 Sport: Basketball
Total Episodes: 75
Synopsis: If there's anything that can possibly compete with Slam Dunk, then it's Kuroko's Basketball.
Tetsuya Kuroko used to be the sixth member of the unbeaten Teikou Junior High School's basketball.
Crowned as champions for over three years in a row, The team's major players, known as the "The Generation of Miracles," have completed their graduation and are set to face each other in the real world.
Kuroko, on the other end, is a new member of the Seirin High School's team who neither is as athletic nor agile as the others.
This is when another player Taiga Kagami who recently moved from the U.S. was added to the team.
With players having several other skills than just basketball, The anime sure is unrealistic.
Can the new generation win the Interhigh Championship and become Japan's best high school team?
Why You Should Watch:
If you love serious heart-racing action with unrealistic elements, then this is a fun-packed anime to watch.
What we mean by unrealistic is that many players in the anime have god-like abilities that just feel pale in comparison with the real world.
Even with all these things, teamwork and sportsmanship are something this anime excels at.
#2 Free! – Iwatobi Swim Club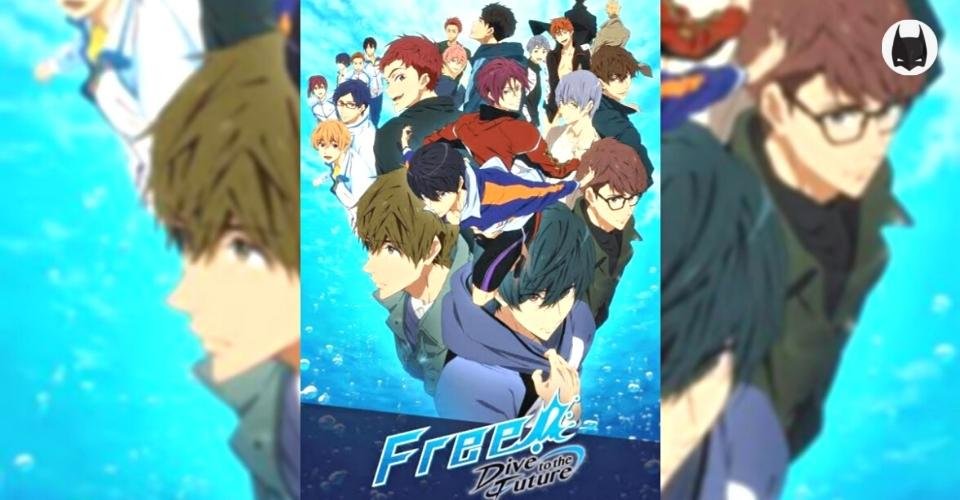 Sport: Swimming
Total Episodes: 37 + OVA
Synopsis: Never have I ever thought of watching a swimming anime. With all the hate from one side of the anime community, This sports anime is much more than a fanservice.
Four friends, namely Haruka Nanase, Rin Matsuoka, Nagisa Hazuki, and Makoto Tachibana, won the relay tournament in their elementary school.
After being separated for years, They all meet in high school, but Rin wasn't who used to be anymore.
He soon joins the school to prove himself a better swimmer than Haruka.
When Haruka, Nagisa, and Makoto form a swimming club known as Iwatobi High School Swim Club, A new member Rei Ryuugazaki joins the trio.
Can Haruka ana Rin finally settle things for good?
Why You Should Watch:
As many people say, This is really a fan service that shows a lot of muscular men.
But what is swimming with men?
If you can laugh off such scenes and have an open mind, You would be willing to watch this anime just for its relationship and art.
No matter what happens, If you can just hang in there till the end, This captivating sports anime will definitely amuse you with its ending.
Is Manga Expensive? (& 13 Key Questions Answered)

Do You Know Answers For These Questions ?
#1 Haikyuu
Sport: Volleyball
Total Episodes: 85
Synopsis: No anime gains such popularity in the sports genre without doing something great.
This is the reason why Haikyuu being the most successful sports anime ever, makes it to the top of our list.
Shouyou Hinata is a middle school student inspired by the volleyball legend "Little Gaint."
When his team finally made it to the tournament's finale, The King of the Court, aka Tobio Kageyama crushed his opponents.
Hinata then vows to surpass Kageyama and works hard in his skill. Later, when he joined Karasuno High School's volleyball team, He was surprised to see his former rival.
Despite his high jumps, Being short is troublesome for Hinata in the court, and Tobio Kageyama also has difficulties with other things.
Can Hinata and Kageyama move from being sworn rivals to teammates and make their squad Japan's best volleyball team?
Why You Should Watch:
Having said the best sports anime, you are free to keep your expectations high.
Everything from character development to team communication, Haikyuu sure lives up to its name with some unforgettable moments.
If you are ever in a need to start a sports anime, then consider this a must-watch.
That brings an end to our best sports anime list you should watch.
What do you think of our recommendations? Do you have anything else in your mind?
Let us know it all on our Instagram page here, and make sure to leave us feedback.
For more details and updates on your favorite anime characters/shows, Follow us on Instagram, Facebook, Pinterest, and don't forget to share the information with your friends and family.
Thank you, Yours averagebeing.