You may be longing to buy a manga and wondering it is really that expensive. Fear no more; This article will guide you through the details backed by real data.
The answer to the question, Is Manga expensive is a "YES". A single Manga volume costs about $15 on average, but the whole series will be $150-200 depending on the popularity and running time of the Japanese comic, aka manga.
Though many people consider $15 per volume as cheap, if a manga contains 20 volumes, then it sums up to a whopping $300 for a single story.
If you compare it to comic books, A comic book issue, on average, costs 4$ and is cheaper than a Manga, but you will only get 16-32 pages compared to 200 pages of story in the Manga.
Some complain about it, and some don't. What I say is you get what you pay for.
[toc]
Why Is Manga So Expensive?
Writing Manga is one thing but publishing, licensing, and translating will be a lot of work in the background. That is the real reason why manga is so expensive.
In the below sections we'll dive deep into why manga is expensive.
RELATED: 20 Honest Reasons Why You Should Watch Anime (Explained)
How Much Does Manga Usually Cost?
The average price for a Manga is around $13.95 but it may vary from $10-$24 depending on the publisher and region.
I have seen and read Manga imported from different countries and they all do vary quite a bit. Some even cost 2x more than their actual price.
To make it clear, Here's how much some popular Manga costs in various countries:
| Manga | Price in the U.S | Price in the U.K | Price in Canada | Price in Australia | Price in India | Price in Japan |
| --- | --- | --- | --- | --- | --- | --- |
| Tokyo Revengers | 8.21$ | 5.79£ | 9.59$ | 12.53$ | 609.89/- | 3340¥ |
| One Punch man | 6.29$ | 5.59£ | 12.86$ | 19.01$ | 331/- | 741¥ |
| Naruto | 14.86$ | 10.73£ | 14.32$ | 26.01$ | 499/- | 2190¥ |
| My Hero Academia | 9.99$ | 3.99£ | 21.75$ | 19.79$ | 331/- | 1168¥ |
| Jujutsu Kaisen | 19.99$ | 10.70£ | 20.65$ | 19.30$ | 2097.99/- | 1206¥ |
| Dragon Ball z | 6.29$ | 6.29£ | 8.17$ | 7.91$ | 397/- | 850¥ |
| Demon Slayer | 12.50$ | 15.24£ | 20.58$ | 22.57$ | 1519.00/- | 1201¥ |
| Chainsaw man | 16.90$ | 6.55£ | 12.86$ | 18.25$ | 1809/- | 1213¥ |
| Berserk | 8.99$ | 6.79£ | 10.69$ | 32.15$ | 569/- | 1823¥ |
| Attack on Titan | 8.90$ | 6.65£ | 11.87$ | 12.53$ | 751/- | 1264¥ |
Pro Tip: If you buy it at the right place you might get away paying way less than normal people which we'll guide you in the below sections.
Is Manga Expensive in the U.S?
Yes, Manga is expensive in the United States. It is priced heavily because of the various cuts that are mentioned below:
Quality
Translation
Author's Share
Marketing
Licensing
Shipping
Is Manga Expensive in India?
To be honest, Manga isn't expensive at all in India. Compared to the U.S, Canada, and Australia, Indians get away paying relatively low.
Manga usually costs around 500 rupees in India which is good value for your money.
The only reason for people to see manga as an expensive product in India is that they are shipped from Japan and is not printed in India. In fact, India does not print or translate a single Manga volume within the country.
Is Manga Cheaper in Australia?
Manga by no means is cheap in Australia but people adapt to the western culture and expect a comic book price like $5 for a volume of Manga. This is nearly impossible to get a fresh piece for $4-5. In fact, I've never seen any Manga below $12 in Australia.
How Much Does Manga Costs in Japan?
Japan is by far one of the cheapest countries to buy Manga as it only costs 4$ on average.
RELATED: Jujutsu Kaisen Tops Japan's Most-Streamed Anime In 2021
Some of the top Manga collections are mentioned below with price.
| Manga | Price in Japan |
| --- | --- |
| Attack on Titan | 1264¥ |
| One Punch man | 741¥ |
| My Hero Academia | 1168¥ |
| Berserk | 1823¥ |
| Dragon Ball Z | 850¥ |
| Naruto | 2190¥ |
| Tokyo Revengers | 3340¥ |
| Demon Slayer | 1201¥ |
| Jujutsu Kaisen | 1206¥ |
| Chainsaw man | 1213¥ |
Why is Manga So Cheap in Japan?
Manga is really cheap in Japan. The reason for it is that Manga originates from Japan and is neither translated into another language nor imported from other countries.
The Japanese people love Manga and bring heavy profits to the company through huge sales, which ultimately encourages the publisher to put a decent price tag.
How Many Chapters Does One Manga Have?
On average, A single manga consists of 5-10 chapters, but the number of pages per chapter can change these numbers.
Basically, Publishers release chapters in two ways.
Weekly:
This type of manga releases a new chapter every week with 20 pages. In a single volume, there are about 10 chapters here.
Monthly:
The second type of manga releases a new chapter every month with 50 pages. In a single volume, there are about 5 chapters here.
These change in manga chapters depends on three factors,
Story type
Author Style
Publisher convenience
Note: These numbers may vary for some manga
To get an idea, We've listed out the top 5 Manga along with the number of sales, volumes, and chapters.
| Manga | Author | Volumes | Chapters | Sales |
| --- | --- | --- | --- | --- |
| Demon Slayer: Kimetsu no Yaiba | Koyoharu Gotouge | 23 | 205 | 26,351,483 |
| Jujutsu Kaisen | Gege Akutami | 16 | 158 | 23,797,483 |
| Tokyo Revengers | Ken Wakui | 22 | 218 | 5,007,825 |
| Attack on Titan | Hajime Isayama | 34 | 141 | 4,635,754 |
| Chainsaw Man | Tatsuki Fujimoto | 11 | 97 | 4,181,650 |
How Many Manga Chapters Make An Anime Episode?
The best answer to how many manga chapters make a single anime episode is to look for the number of pages. Generally, 10 pages of Manga amounts to 1 episode of anime on screen.
What the makers look for is a break or cliffhanger in the story, which often happens every 10-15 pages. So, it is safe to bet that 10-15 pages of manga fill up an anime episode while maintaining the quality.
Why Is Manga So Expensive in 2021?
In recent times, Manga has been in trend. This only means one thing, More sales.
People used to watch Anime, but lately, a lot of people are reading Manga. Due to this insane rise in popularity, Makers have gone through the trouble of keeping up with the number of copies published.
The factors that increase manga prices are as below:
Huge sales
Printer capacity
Replication of copies
Logistics
Packaging
Quality check
Covid outbreak
Which Countries Love Manga the Most?
Manga is popular throughout the globe, but if you ask which country reads the most Manga, then there are countries like the Philippines, Myanmar, and Malaysia in the top three.
Here are the Top 20 Regions where Manga is popular (Data from Google)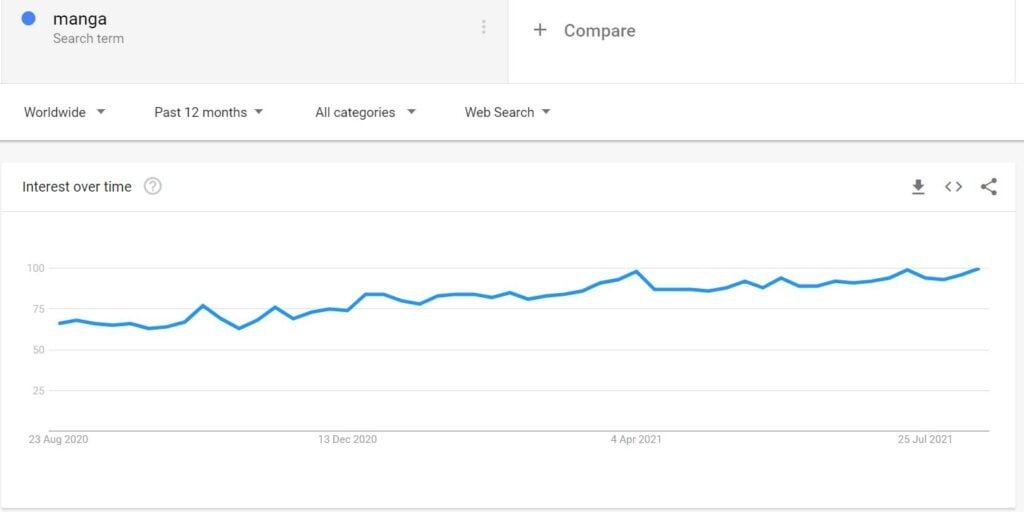 Philippines
Myanmar
Malaysia
Bolivia
Chile
Peru
Nepal
Panama
Singapore
Costa Rica
El Salvador
Paraguay
Brazil
Honduras
Ecuador
Mexico
Cambodia
Indonesia
Puerto Rico
France
Note: We have researched a lot and put in the work to make this data authentic as it is taken from Google analytics.
Is it worth buying manga in Japanese?
Buying manga in Japanese is not worth your money. If you couldn't understand what it says then you shouldn't buy it.
On the contrary, Some high-quality Manga contains pictures so good that we don't even need to buy the expensive English ones.
In the end, It all depends on your ability to understand and enjoy it.
Should You Buy Manga or Read it Online?
You should definitely buy a paperback manga. People often buy manga on a kindle and read it online as it costs less but one should always try to buy a hard copy.
Valid Reasons to Buy a Paper-based Manga:
Better reading experience
Feel the superior art
Can add to your collection years after buying it
Resale value
Can pass on to your kids, friends
Show it off
Where To Buy Manga (The Cheapest Way)
This is the fun part that you've been waiting for. Today we'll use some common sense and get the best deal possible for buying a manga.
Here's how you can buy manga the smart way:
Wait for Special Occasions
Look for online deals
Check out used copies
Trade with your friends
Visit your local book store
Find mega sales/events
This way I guarantee you end up paying way less than normal people.
I hope this detailed post helped you find your answers. If it does, Make sure to share it with your Manga/Anime friends.
For more amazing details/updates on your favorite anime, Follow us on Instagram, Facebook, Pinterest, and Telegram.
Thank you, Yours averagebeing.