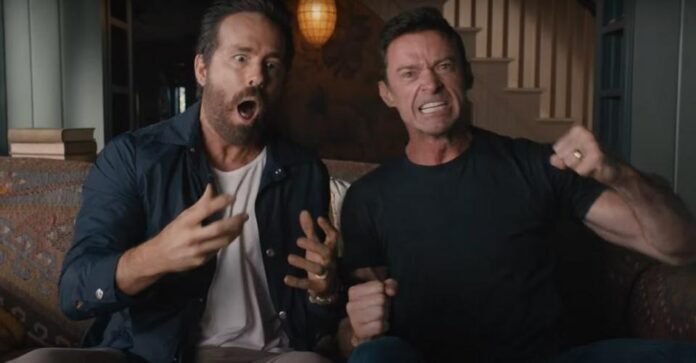 Ryan Reynolds shares a continuation video teasing Deadpool 3 plot points with Wolverine!
The actors Ryan Reynolds and Hugh Jackman sure know how to capitalize on every trendy wave they create on the internet every time they share the screen together; this time is no different.
Ryan Reynolds released a video on his official social media accounts to answer a lot of questions but ended up leaving professional lip-reading experts scratching their heads even more.
The video captioned "Quick explainer video" tackles all the queries regarding Logan's appearance and whether the events of the movie will coincide with his death in 2017's Logan. The video starts off with Ryan and Hugh sitting on a couch with enthusiasm to explain what all the trough is about and how it will possibly sit in the current scenario of MCU.
"Logan takes place in 2029," says Reynolds. "Totally separate thing. Logan died in Logan, not touching that," as he starts addressing the timeline issues that could have appeared in the movie.
As he elaborates further on the movie's plot, the audio starts to fade out and is overtaken by the song Wake Me Up Before You Go-Go as both Ryan Reynolds and Hugh Jackman continue to depict the plot with exaggerated hand gestures. Possibly dropping easter eggs for a brawl between the two characters, Deadpool and Wolverine, which appears to be one hell of a violent one.
The video ends on a positive note as both actors express their gratitude to the Marvel Cinematic Universe and Marvel Studios president Kevin Feige. Further, we are shown a set of pictures of the actors standing alongside each other and one with the director, Shaun Levy.
This makes it evidently clear that the upcoming Deadpool 3 is going to be R-rated as both the fan-favorite characters would go toe-to-toe against each other without one of them having their mouth being sewed shut… XD
Jokes apart, this movie will have a ton of questions answered on MCU, having the X-Men appear as a commendable squad to take on bad guys, that too, on a multiversal level. Anyway, This is a dream come true for fans, and let's hope MCU sticks to the more violent story as we now got Wolverine.
Fingers crossed!!