Fortnite by Epic Games was once the talk of the town among YouTubers, Twitch streamers, and casual gamers. During its sunny days, the game grossed a whopping $5.1 Billion in revenue in 2020, but for some solid reasons, it seems the days of Fortnite's reign are concluding. (At least, that's what half the Reddit fandom is directing at.)
To keep the players hooked on Fortnite, Epic Games has managed to pull off a ton of collabs and crossovers dating back to Chapter 1: Season 4. From Marvel and DC crossover events to Dragonball and Naruto paving their way into the Battle Royale, Fortnite has done it all.
Despite this much cultural dominance, Fortnite has faced a lot of heat on the web since the announcement of Chapter 4 appearance on online gaming forums and social media. Interestingly, the term "Fortnite Sucks" saw a massive surge in search volume (about 1821.9% and still counting) after the event launched today.
While searches for Fortnite chapter 4 increased by 450%, the term "Fortnite is dead" doubled in search volume, counting to a massive 875.6%.
Take a look at the search interest for "Fortnite is dead" according to Google: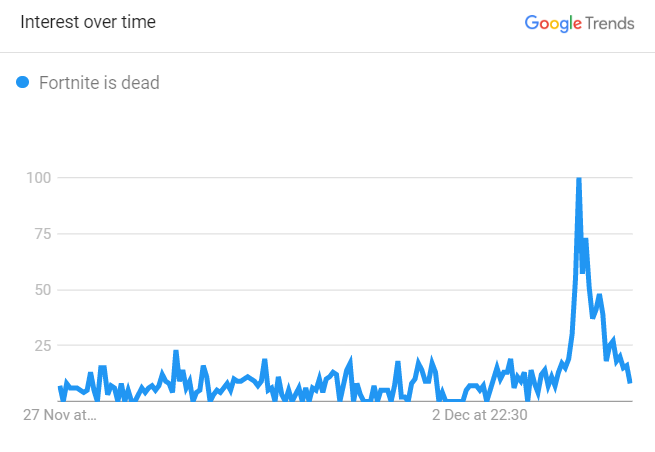 According to Google Search Data, These places are trending for "Fortnite is dead."
| | |
| --- | --- |
| Country | Search Interest (%) |
| New Zealand | 100% |
| Singapore | 71% |
| United Kingdom | 54% |
| United States | 52% |
| Australia | 46% |
| Ireland | 41% |
| Sweden | 39% |
| Canada | 37% |
| United Arab Emirates | 34% |
| Serbia | 28% |
Part of the reason for this massive outrage comes from the recent Twitter vs. Apple feud that led to many people believing that Apple is planning to remove Twitter from its App Store.
Searches For "Gay Superheroes" Skyrocketed After Senate Passes Respect For Marriage Act Bill

Fans Also Read
The rumored news spread like wildfire, and somewhere down the line got reincarnated as someone on Twitter stated that Fortnite is actually about to shut down ahead of its Chapter 4 event release. While Epic Games CEO Tim Sweeney fueled the conversation by taking a jab at Apple, it was soon confirmed by Elon Musk that Apple had no plans to remove Twitter from the App Store after he had a conversation with Apple CEO Tim Cook.
A Tweet circulated the image of The Zero Point going supernova and exploding in a dazzling light trail. According to popular belief, when The Zero Point becomes unstable and explodes and is capable of putting all life in the metaverse and reality itself to a halt.
In no time, searches for "Fortnite Sucks" increased by 1821.9%
| | |
| --- | --- |
| Country | Search Volume (%) |
| New Zealand | 100% |
| Canada | 50% |
| Australia | 48% |
| United States | 37% |
| Netherlands | 33% |
| United Kingdom | 14% |
| Sweden | 12% |
Fortnite Chapter 4 Event Recap
The story of season 3, Chapter 4 starts with The Origin, The Visitor, The Scientist, and The Paradigm looking for a chrome substance in an underground bunker. The substance absorbs everyone but The Paradigm, who manages to escape to her homeworld, "Reality 659".
Herald, who is actually taking over the island using the chrome substance, goes ahead with building a palace on the ruins of the sanctuary and starts fiddling with a chrome sphere.
Players find the once lush, now-dead reality tree during a mission with Jonsey and The Scientist's eccentric AI. And players also find out that The Paradigm was actually using its roots to communicate with us. After completing various missions, players are finally able to hear her transmissions.
The player with Bytes skin-equipped was able to interact with certain chrome TVs. Bytes get recruited by the Nothing. And he kept coming back for more and more gifts that he got. He slowly starts losing his mind in the process.
During week 9, Chrome spreads far enough to change the lobby screen. And Tilted Towers get consumed by Chrome, but the insurance balloons save another landmark, The Clocktower. Then players are told that Jonsey and Amy were working covertly and now summon players for help. Now, this changes the world enough to let players listen to the Paradigm's next transmission.
Fortnite Chapter 4 Map
Take a look at the Fortnite Chapter 4 Map:
Nintendo Switch Dominates As The Most Searched Video Game Console On Black Friday 2022

Fans Also Read
MrBeast In Fortnite Chapter 4?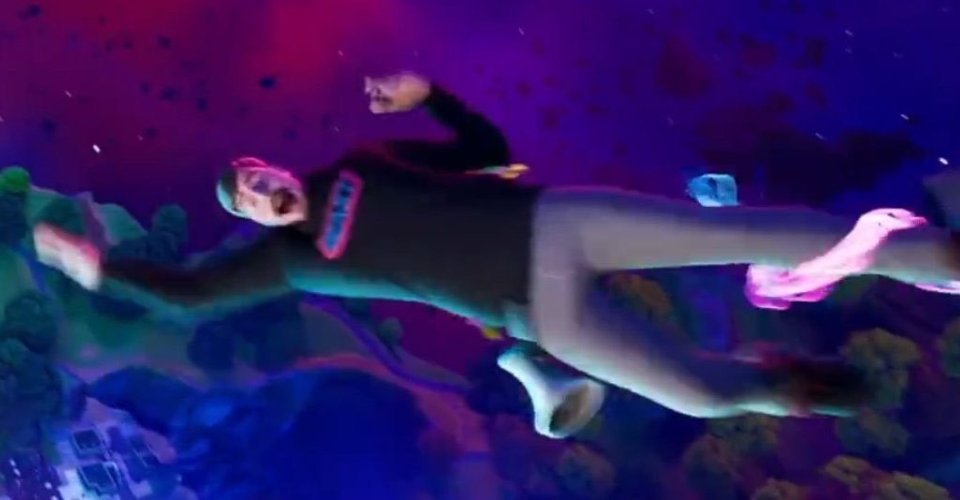 Popular Youtuber MrBeast appears in the Chapter 4 event of Fortnite. The YouTuber's skin was first spotted in the Fortnite Chapter 4 Season 1 trailer, which revealed many things that will be added to the game with the new chapter.
Not too long ago, Epic Games promoted MrBeast Burger during the FNCS Invitational 2022. Many Fortnite players believed that MrBeast's skin would be revealed during this in-person tournament, which took place in November.
Why Do People Hate Fortnite?
Despite numerous collaborations and crossover, a large group of fandom still finds it hard to wrap their head around whatever Fortnite brings to the table. For starters, Fortnite's gameplay gets repetitive and too monotonous after a certain point in time. In addition to that, learning to build in Fortnite is complicated. Introducing new skins, modes, and weapons is not enough to keep the players engaged. A toxic community of players that mocks other new players creates conflict on a wide scale.
Due to its cross-platform gaming capabilities, ​​A casual console player can compete with an experienced PC player with cross-platform gaming that adds more fuel to the mockery that floats around the game.
Is Fortnite Dying?
We strongly believe that it'd be too early to say that Fortnite is dying. A video game that generated $9.1 billion of revenue in its first two full years since its launch has just gotten bigger as time goes by. But also, it'd be only so many crossovers and collaborations that the Epic Games can dive into. We still hope for a bright future at Fortnite and its ever-growing community of gamers from all walks of life.
Let's just wait and watch! Are you excited about Fortnite Chapter 4? Do tell us your thoughts in the comments, and make sure to visit averagebeing.com for more such exciting gaming updates!