Japan's Anime culture and Football have a deep connection, starting with Captain Tsubasa. But a recent anime series, Blue Lock, has taken the fans by storm. It has recently reached new heights after Japan beat Germany in the FIFA World Cup 2022 on 23rd November at the Khalifa International Stadium in Qatar.
The game was not just thrilling but a heroic performance from the Land of the Rising Sun players. They kept on fighting against European footballing giant Germany. If you aren't a Football fan, Germany is the four-time World Cup champion, the second greatest, just next to Brazil.
The stats even show Germany maintained 74% of the possession with 9 shots on target out of staggering 26 shots. On the other hand, Japan just maintained 26% of the total ball control with just 4 shots on target out of 12 shots.
In easy terms, no matter what you see, Japan's win against Germany is more of a heroic act in Football with a little luck. It was more of a fairy tale moment for Japanese football fans.
"The Power of Anime," Blue Lock, and Japan's World Cup Home Kit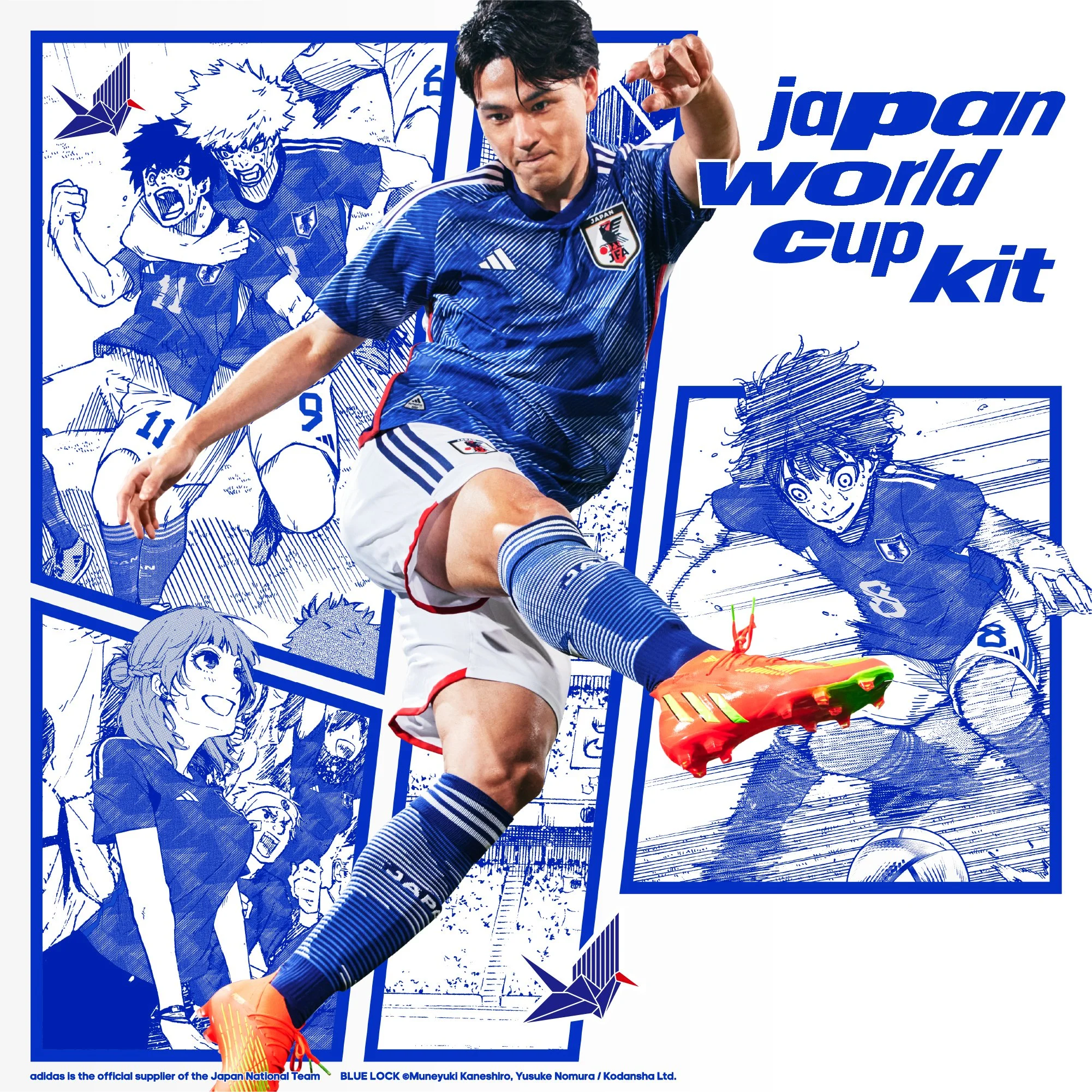 Some considered Japan's World Cup home kit as the best home kit even before the tournament started. The kit design and style were unique and deeply connected to Japan's culture and heritage.
The overall theme of the kit's design is Origami, the craft of self-expression. The modern, edgy, and glitchy design represents speed and the art of Origami, but this was just the psychology behind the design.
In reality, the design is vastly inspired by the Blue Lock manga. Earlier this year, Masaya Tsunamoto, the illustrator of both Blue Lock and Giant Killing, collaborated to design the Japanese national team's jersey. Blue Lock's protagonist Isagi Yoichi was featured wearing this jersey on the cover of chapter 186.
As reported by several websites, soccer fans found saying that they had "the power of anime by their side" after Japan's hard earn win.
This Blue Lock's influence on Japan's World Cup uniform has also been reflected in Google searches. The "Blue Lock Japan Uniform" term has reached a massive spike on the internet, which has increased by over 6600% searches.
Anime's Mammoth Influence On Japan's Football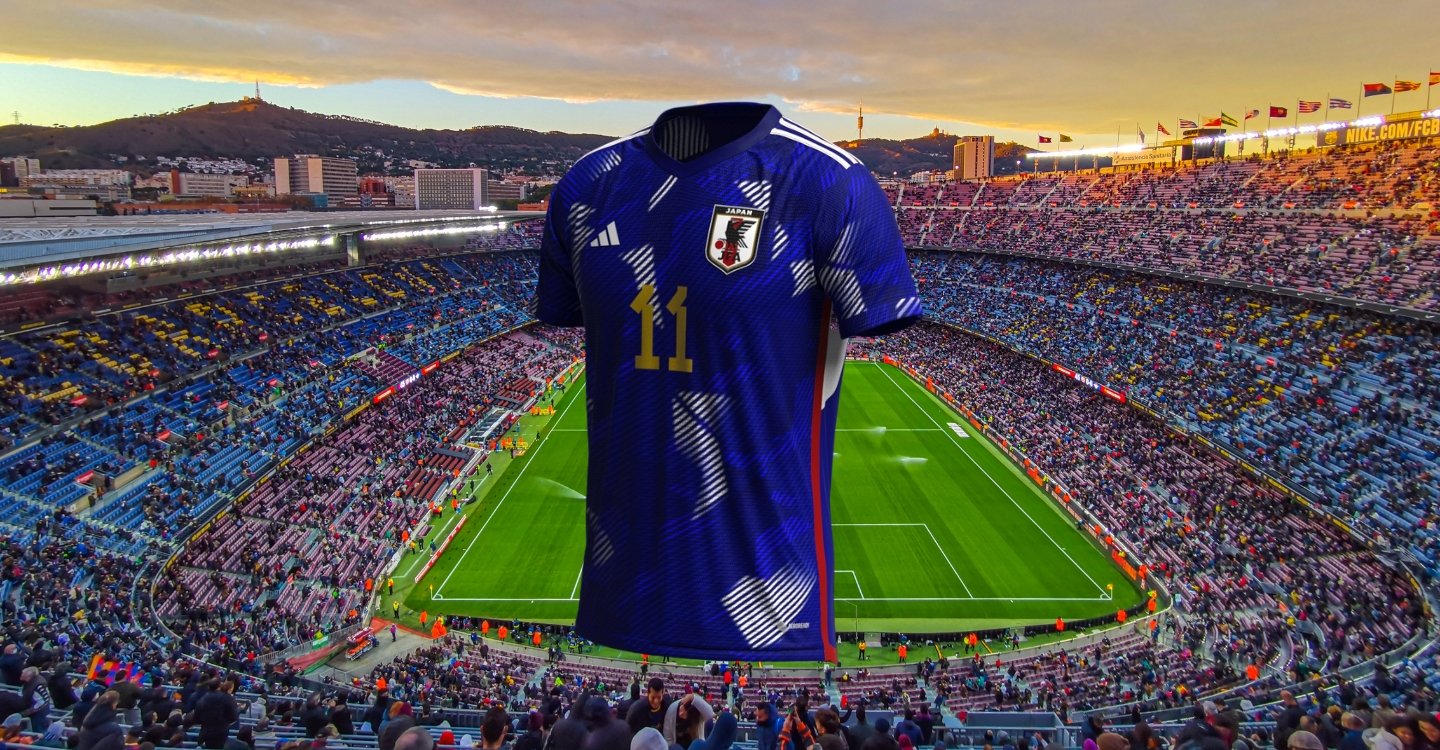 In modern times, Japan's history with Football is a little bit cloudy. But the shocking thing is that Football or Soccer game was born not very far away from Japan. It is believed that China's Han and Qin dynasties were aware of Soccer with a different name.
In Japan, the game was developed in Asuka Period with the name of "Kemari." But Hidetoshi Nakata is the first Japanese soccer player to succeed in modern European leagues. He opened up about his love for Soccer, and something unexpected came out.
He said, "I wasn't a fan. I didn't watch on television or have videos or anything. I don't watch Soccer now and when I retire that won't change. I don't really understand why people are soccer fans."
Shisei Uchida from Weekly Shonen Jump, the longtime publisher of the world-famous soccer manga and anime Captain Tsubasa, revealed the truth about Nakata's words.
He said, "Nakata […] said that he read Tsubasa when he was young and that he had tried several of the skills featured in the manga, especially the overhead kick".
So, we, ordinary fans, can assume how strong the influence of Anime and Manga is in developing Soccer as a game in Japan. Nakata is a massive name in Asian Football, and his words about the fictional character Tsubasa gave an enormous volume of how popular our Captain Tsubasa is worldwide.
Some major European players are very fond of Captain Tsubasa and his soccer journey. One among them is Fernando Torres, who played in J. League for a brief moment in his illustrious career.
He quoted, "I remember when I was a kid, we couldn't find the signal really well on TV, but everyone in school was talking about this cartoon about Football, from Japan. It was a series called Oliver y Benji in Spain, and these two young players started as youth team players, got into the national team, won the World Cup, and moved to Barcelona and Bayern Munich, then moved to Europe, so it was like a dream".
Torres even said his influence on his football career, "I started playing Football because of this. I wanted to be Oliver."
Torres's comments also made fans believe that the Football great Lionel Messi may be a Tsubasa fan, as the show was dubbed in different languages worldwide.
The Fever Of Blue Lock
Now, the question comes why Blue Lock is trending so much. The answer is simple. Blue Lock's plot background is heavily inspired by the FIFA World Cup of 2018.
The anime is based on Muneyuki Kaneshiro's shonen sports manga, Blue Lock, and it revolves around Isagi Yoichi. The series is serialized in Weekly Shonen Magazine and is illustrated by Yusuke Nomura.
The plot of the Manga just begins with Japan's sad elimination from the 2018 FIFA World Cup. They lost the match even after securing a 2-0 lead early in the game.
After that incident, the Japanese Football Union begins a new footballing project. The sole purpose of that sports project was scouting high schoolers. They will be prepared for the 2022 World Cup by developing them.
The official plot premise says, "High school soccer players from across Japan gather for a controversial project designed to create the best — and most egoistic — striker in the world."
Even though Blue Lock Project is a fictional event in Blue Lock anime, it has greatly influenced the fans of both Soccer and Anime. The searches of "Blue Lock Project" has increased to a humongous 1550%.
Blue Lock is currently airing on a weekly basis from 9th October 2022. The anime is available on Netflix.
Statistics From Google Search Data

Needless to say, Japan's heroic performance just made the anime trending. After Japan's win against Germany with a 2-1 scoreline, searches on Google have skyrocketed.
Google Search interest for "Blue Lock" has increased from 14% to 100%. The total searches have risen to 614%, which is just jaw-dropping. This is not only limited to Blue Lock. Google search interest in "Football Anime" has jumped from just 9% to 100% as well. So, the number of searches has miraculously increased to 1011% after the game.
This is how the algorithms on the internet work. Modern-day events heavily influence Google searches. Anime has a massive influence on the entertainment world. But Japan's heroic win in World Cup has just acted as a rocket engine on anime searches on the internet.
World Cup is a massive tournament that comes once in 4 years. So, anything related to it leaves a gigantic trace on the internet.
Takuma Asano, who scored the winning goal against Germany in the 83rd minute with a clinical finish, has become a sensation on the internet. The funny thing is Asano is playing at a German club, VfL Bochum, and is very familiar with German Football.
Online searches for his name, "Takuma Asano," on Google have increased by 4600% in just a few days. He will surely be under the spotlight for some time as Japan's hero or as a giant killer.
The Most Searched Terms On Google After Japan's Victory
| | |
| --- | --- |
| Term | Increase In Searches |
| Blue Lock Japan Uniform | 6600% |
| Takuma Asano | 4600% |
| Blue Lock Project | 1550% |
| Football Anime | 1011% |
| Blue Lock | 614% |
Only participating World Cup is a dream for most Asian countries as Asian Football is not as big as Europe's. But Japan has consistently reached this tournament with their rival South Korea every year.
This year, they have fallen to Group of Death, where the nations like Germany, Spain, and Costa Rica are featuring. Qualifying for the next round is a gigantic task for them, as Costa Rica has already beaten them in today's game.
Japanese players will have to beat another European football giant, Spain, in the next game to secure their place in the next round. If they do beat Spain, that will be another heroic act for them.
But we would like to think that not only manga readers but also football enthusiasts are watching and reading Blue Lock's weekly release to enjoy such thrilling moments.
Well, That is all for today, otakus. What do you think of Blue Lock and Japan's win over Germany? Did you search for Football anime too?
Let us know it all in the comments below, and do visit averagebeing.com for more anime updates.