From the Mythological point of view, fire is the element for which Zeus punished Prometheus as he told humans about its secrets. There are many fiery superheroes, but Marvel is superior in this segment.
Fire is a dangerous element and is hard to control for us, but many comic book characters can easily manipulate fire at their will.
Today, we will discuss the top 15 most powerful fire-based superheroes, and some will be surprised to see the list, as there are some lesser-known characters but powerful nonetheless.
[toc]
#15 Molten Man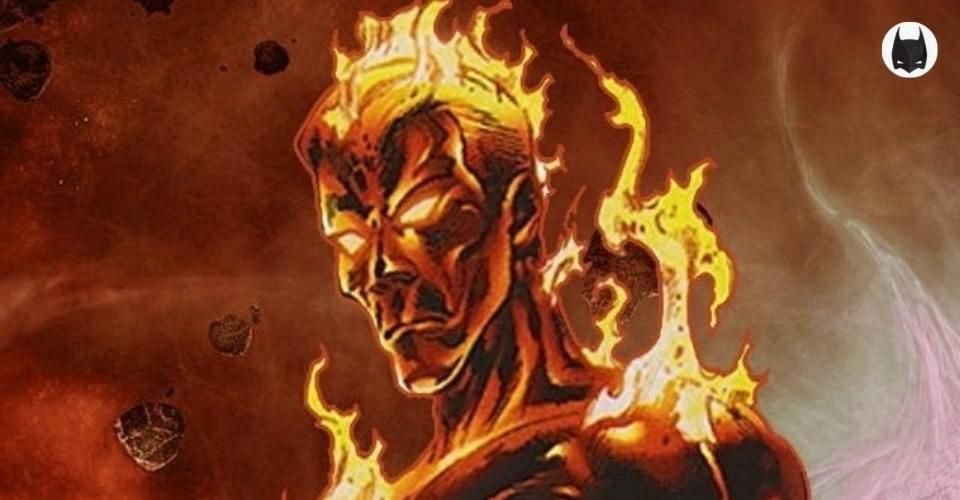 Publisher: Marvel Comics
First Appearance: The Amazing Spider-Man #28 in 1965
Molten Man debuted as a Spiderman villain, but he later diverted to the path of heroism. Though Stan Lee and Steve Dicko introduced the character as the stepbrother of Liz Allen, Marvel Cinematic Universe has completely ruined the character in Spiderman Far From Home.
Mark Raxton became Molten Man when he faced an accident in the lab of Oscorp Industries. While working on an experiment on a metallic alloy derived from a meteor, his skin accidentally absorbed this. This mishap gave him fire-based powers, and he decided to use them for criminal activities. But Peter Parker stopped and put him in jail. After some time, Molten Man returned to the good path.
Though he received the same treatment as Venom in the comics, he is not so popular. In the recent comics, he has found a cure to treat his abnormal condition.
Powers:
Fire Control
Flame Breath
Heat Generation
Heat Vision
Hellfire Control
Stamina
Super Strength
#14 Firebird
Publisher: Marvel Comics
First Appearance: Incredible Hulk volume 2 #265 in 1981
Firebird is one of the very famous Latina superheroes in Marvel Comics. She was a member of both Avengers and Rangers in the comics.
Bonita Juarez was a spiritual person and a social worker. She was associated with many activities regarding the welfare of society. But due to some disagreements with the other church members, she decided to isolate herself and started living in a desert.
There, something mysterious happened to her as she explained, "the fire dropped from the heavens." In reality, she was hit by an extraterrestrial fireball, and the radiation from that thing gave Bonita fire-wielding powers. With this great power, she decided to become a superhero and took on the name, Firebird.
As she was a believer in god, Bonita's superhero name was taken by her from her Native American cultural background as Firebird is a mythical creature of Native American lore. But, instead of generating actual fire, Firebird generates an unknown form of energy that radiates heat around 5,000 degrees Fahrenheit.
Powers:
Blast Power
Energy Absorption
Energy Shield
Fire Control
Flight
Heat Generation
Immortal
#13 Daimon Hellstrom
Publisher: Marvel Comics
First Appearance: Ghost Rider #1 in 1973
Daimon Hellstrom is a half-human and half-demon and has mastery over controlling Hellfire. As the son of Satan, he was gifted with different OP demonic abilities, and he was trained by his father. But he embraced his human identity and rejected his father's inheritance. Though her sister, Satana is another fire-wielding female superhero, she accepted the powers inherited from her father.
Hellstorm's classic look is like a bare-chested, half-naked man wielding a trident, but he has received a proper costume in recent comics. Daimon chose the profession of a paranormal detective, but he acts as a protector of humanity from demonic threats from Hell. He is mainly seen fighting against his father most of the time.
Daimon is also a prominent member of the Midnight Sons, a bunch of superheroes with supernatural base abilities.
Powers:
Blast Power
Dimensional Manipulation
Divine Powers
Flight
Healing
Hellfire Control
Immortal
Magic
Soul Absorption
#12 Sunspot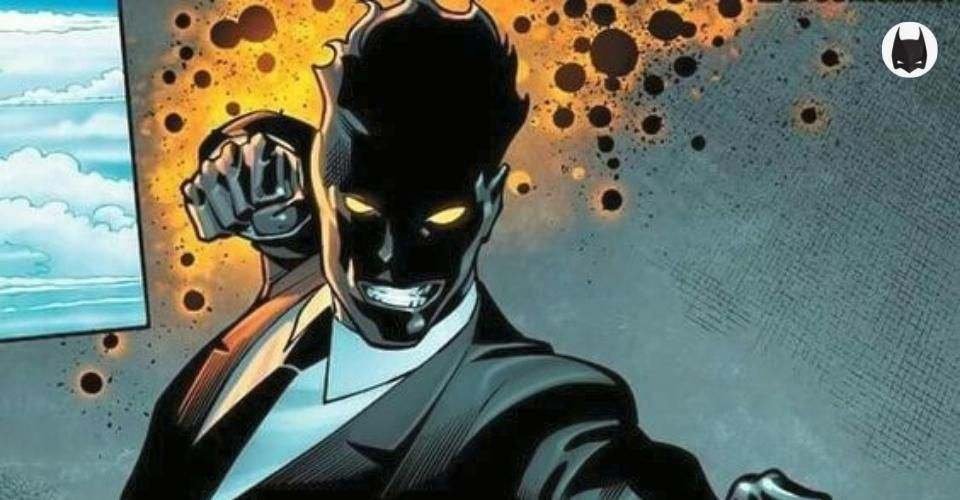 Publisher: Marvel Comics
First Appearance: The New Mutants in 1982
Roberto Da Costa, aka, Sunspot, is a mutant and a member of the New Mutants. His mutant power allows him to manifest Sun's power and project solar plasma blast.
Roberto's powers came out accidentally when he was racially abused in a soccer match. His plasma blast caused some scenes in the match, and this incident happened in front of a mutant hunter named Donald Pierce. Donald kidnapped Roberto's girlfriend, Juliana, and forced our hero to surrender.
Professor X came to know everything and tried to assist Roberto. Ultimately, Juliana took a bullet for his boyfriend to save him. Professor Xavier helped the enraged Sunspot calm down and recruited him into his New Mutants team.
Roberto is a superhero from Brazilian background and has a long history with many superhero groups like New Mutants, X-Men, and The Avengers.
Powers:
Berserker Strength
Blast Power
Energy Absorption
Energy Manipulation
Fire Control
Flight
Gravity control
Healing
#11 Crystal
Publisher: Marvel Comics
First Appearance: Fantastic Four #45 in 1965
We have a royal family member from the Inhumans race and a long-time love-interest of Johny Storm.
Crystallia Amaquelin is the younger sister of Medusa and gained her superpowers when she was exposed to Terrigen Mist in her young days.
Crystal, as a superhero, teamed up with many superhero teams like The Avengers, the Fantastic Four, and so on. She also became a member of the Fantastic Four temporarily.
Unlike his partner, Human Torch, Crystal can manipulate all of Earth's four classical elements of fire, soil, air, and water, but she is mostly seen igniting the fire.
Powers:
Blast Power
Earth Manipulation
Electricity Control
Energy Shield
Fire Control
Flight
Ice Control
Levitation
Water Control
#10 Magma
Publisher: Marvel Comics
First Appearance: The New Mutants #8 in 1983
Another fiery Mutant is Amara Juliana Olivians Aquilla, aka, Magma, who also served as a teacher at Professor X's institute. She started her superhero career as a member of New Mutants but later joined Hellions.
As the princess of the Emperor of a hidden Roman-like empire in South America, Amara spent most of her life away from the modern world. After meeting the members of the New Mutants, her personality and powers start to develop.
Her origin changed when it was discovered that she was a British exile. Throughout the history of the comics, she became part of many different superhero teams such as Brotherhood of Mutants, New Hellions, New Mutants, The 198, Paragons, and many others.
As her superhero name suggests, Magma can easily manipulate the raw molten lava from the Earth's core. Also, she can manifest lava by making it break through the Earth's surface. Her most deadly ability transforms her body into Magma form, which is resistant to any form of heat and flammable things.
Powers:
Blast Power
Earth Manipulation
Fire Control
Flight
Heat Generation
Light Projection
#9 Jim Hammond
Publisher: Marvel Comics
First Appearance: Marvel Comics #1 in 1939
Jim Hammond, aka the original Human Torch, has a rich comics history as he is publishing-wise the first-ever Marvel superhero.
Jim was created by Professor Horton, a leading researcher of artificial intelligence, during the late 1930s, as a simple android and was presented at a science fair. But everything changed when his oxygen-free glass tube was removed.
The android was caught in flames as it came into contact with the normal atmosphere. Unable to control it, Jim got scared and flew away. But after gaining control over his abilities, he became a superhero and fought alongside Captain America in WWII.
In the comics, Jim's most incredible feat was that he killed Adolf Hitler at the end of the War.
The Human Torch is a synthetic human, and his body allows him to generate plasma. The flames emitted from his body is radioactive, which makes his flames more dangerous than the average fire.
Powers:
Blast Power
Fire Control
Flame Breath
Flight
Heat Generation
Longevity
Radiation
#8 Ghost Rider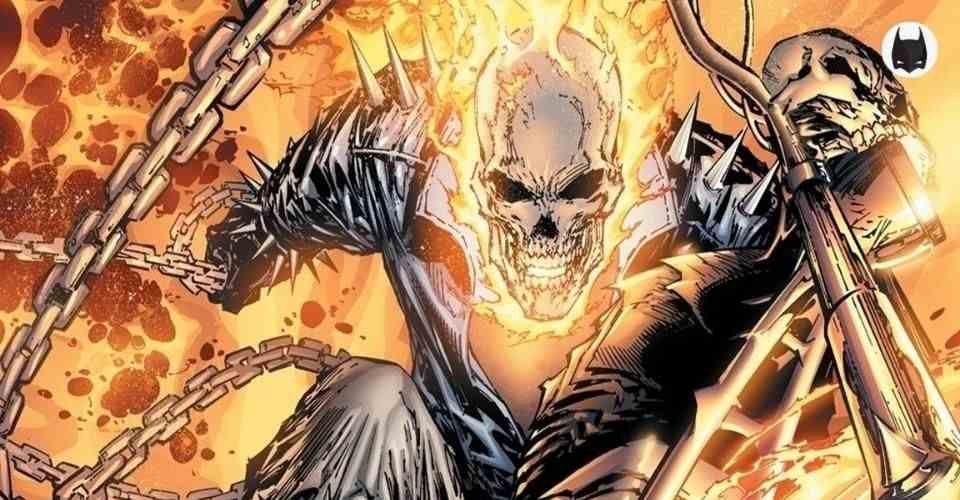 Publisher: Marvel Comics
First Appearance: Marvel Spotlight #5 in 1972
There are different versions of Ghost Riders, but Johny Blaze's one is the most popular and powerful.
Johnny Blaze became Ghost Rider after getting tricked by Mephisto. His iconic appearance with a burning skull and a chopper bike is famous in popular culture.
Ghost Rider always punishes the sinner even if he is a superhero, and this attribute of him makes him an anti-hero. He is so OP that he defeated many strong Marvel Universe characters.
This supernatural Hellish rider can manifest Hellfire and channels it through bike chains, and can anyone turn into ashes.
Though Johny Blaze is the second Ghost Rider in the Marvel Universe, there are three other famous Riders like Carter Slade, Danny Ketch, and Robbie Reyes.
Powers:
Berserker Strength
Blast Power
Fire Control
Flame Breath
Healing
Hellfire Control
Immortal
Necromancy
#7 Firelord
Publisher: Marvel Comics
First Appearance: Thor #225 in 1974
Fire Lord was once a member of the Heralds of Galactus and has mastery over controlling flames. Though he fought against many superheroes like Thor and X-Men, he was presented as an anti-hero in the Marvel Comics.
Once, Fire Lord was known as Pyrus Kril, a Xandarian naval officer. In search of his friend and Captain, Gabriel Lan, Pyrus and his crew came across the spaceship of the Galactus. To save his crew members, he sacrificed himself and became Fire Lord as one of the Heralds of Galactus.
After serving Galactus for a long time, he decided to leave and travel through the Marvel Universe.
Kril is blessed with Power Cosmic by Galactus, and his abilities are powerful enough to be compared with little sun. He can also manipulate cosmic fire with his cosmic-level, continuously burning staff.
Powers:
Blast Power
Cosmic Awareness
Divine Powers
Energy Manipulation
Fire Control
Flame Breath
Flight
Immortal
#6 Firestorm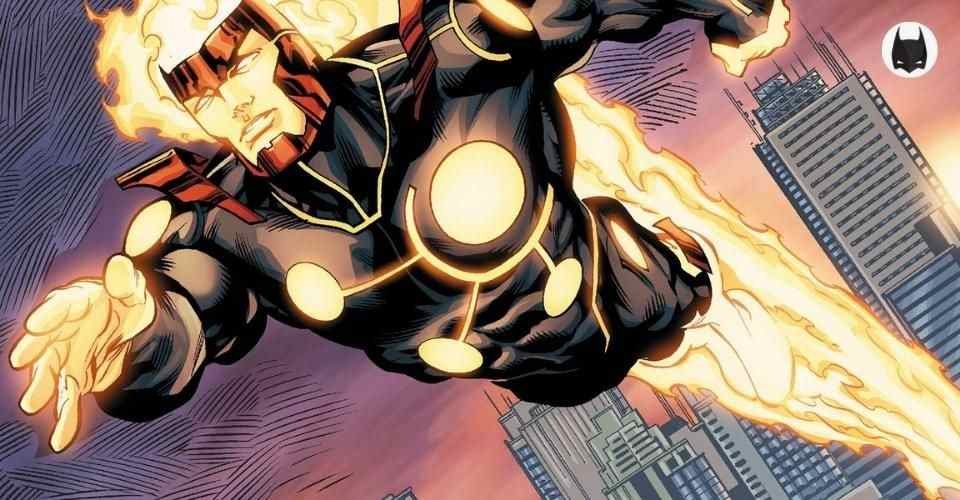 Publisher: DC Comics
First Appearance: Firestorm, the Nuclear Man #1 in 1978
DC's only hero on our list, Fire Storm, is the most unique one on this list.
High schooler and activist Ronnie Raymond accidentally merged with the famous physicist Martin Stein and they, together, are called Fire Storm. Fire Storm's actual power is nuclear-based. As this sounds like a marriage-like relationship, Ronnie controls the body of Fire Storm, and Martin instructs Ronnie's mind by guiding him.
Though the name suggests his abilities, Fire Storm is more than a fire-based superhero as he can manifest nuclear flames and absorb energies. Fire Storm's unique ability allows him to create artificial kryptonite, which is much deadlier than the actual one and can quickly kill Superman.
Powers:
Blast Power
Chemical Absorption
Cosmic Awareness
Energy Absorption
Fire Control
Flight
Heat Generation
Radiation
#5 Sunfire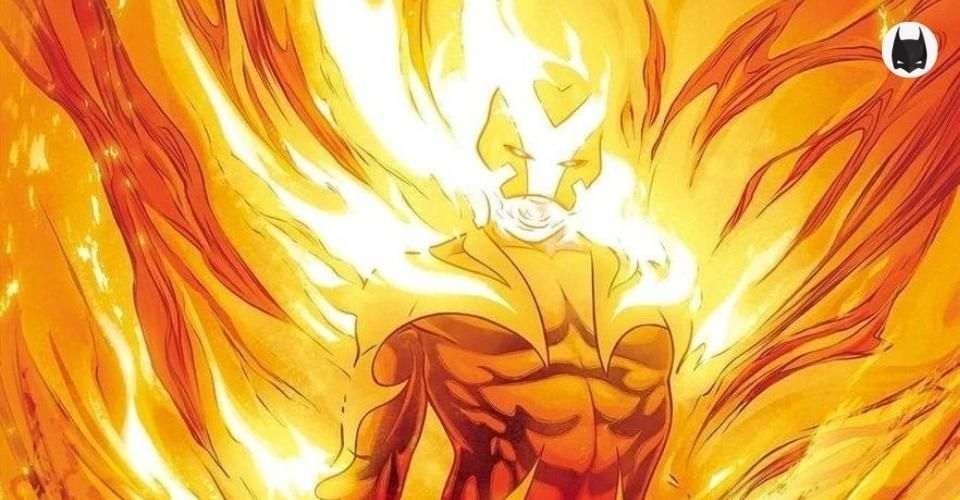 Publisher: Marvel Comics
First Appearance: The X-Men #64 in 1970
Shiro Yoshida is a Japanese-origin mutant who resented the U.S.A for the atomic tragedy of Hiroshima. Shiro's mother died in the nuclear explosion; he was raised by his uncle with anti-American sentiments.
His mutant genes were triggered when he touched the radioactive soil of Hiroshima. But he later saved America by becoming a member of X-Men.
Shiro's mutant abilities allow him the power of solar radiation and can project nuclear fire. He was also a prominent member of the Uncanny Avengers and saved the Earth by absorbing the power of a Celestial as his powers have no bound.
Powers:
Blast Power
Energy Absorption
Energy Manipulation
Fire Control
Flame Breath
Flight
Heat Generation
#4 Fiery Nova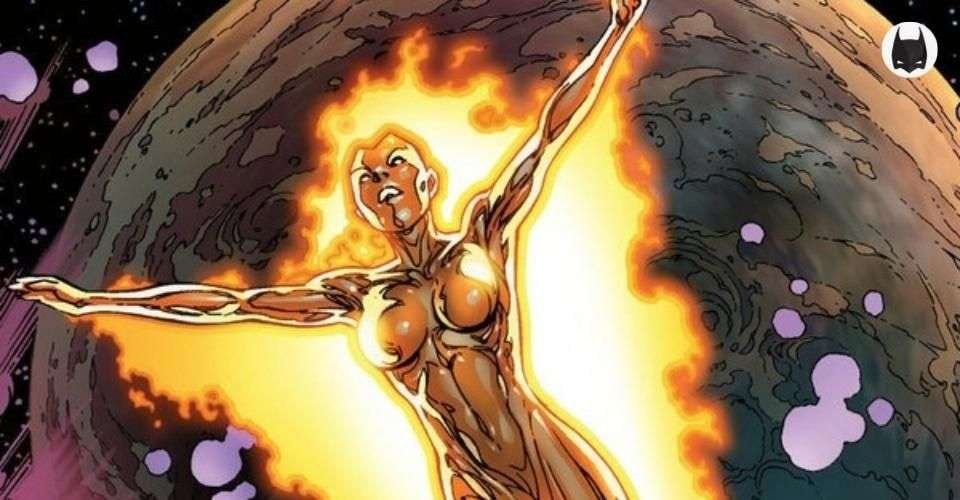 Publisher: Marvel Comics
First Appearance: Fantastic Four #164 in 1975
Frankie Raye is the stepdaughter of Professor Horton, who was the creator of the first Human Torch.
Frankie accidentally became a version of Human Torch when her stepfather tried to recreate Human Torch after getting influenced by Johny Storm's Human Torch. She temporarily worked with the Fantastic Four and later joined the Heralds of Galactus.
She had both admiration and romantic feelings toward Galactus, and it is also hinted that Galactus had the same feelings for her.
By receiving Power Cosmic from Galactus, Raye became Nova. Though Frankie Raye was not as powerful, after receiving Power Cosmic, she got a massive power-up and became one of the strongest members of the Heralds of Galactus. After some time, Nova grew romantic feelings toward Silver Surfer.
Powers:
Blast Power
Cosmic Awareness
Energy Manipulation
Fire Control
Flight
Heat Generation
Light Projection
#3 Firestar
Publisher: Marvel Comics
First Appearance: Spider-Man and His Amazing Friends #1 in 1981
Angelica Jones, aka Firestar, is one of the most popular mutants with fiery abilities. She became part of many superhero groups like New Warriors, Avengers, and X-Men.
Firestar falls under an exception as she received her TV debut before becoming a comic book character. Angelica had a tough childhood and had trouble making friends. But she found her home after joining Massachusetts Academy, where she met White Queen Emma Frost.
While training to be an assassin, she did not like Frost's abusive behavior. Angelica fought with her mentor when she decided to leave her academy. After defeating Emma, she joined New Warriors.
In recent comics, she teaches physics at the Jean Grey School. Her electromagnetic ability allows her to manipulate microwaves of flames and explosives.
Powers:
Blast Power
Energy Manipulation
Fire Control
Flight
Heat Generation
Levitation
Psionic
#2 Johnny Storm
Publisher: Marvel Comics
First Appearance: The Fantastic Four #1 in 1961
As an individual superhero, Johnny Storm's Human Torch is the second most powerful fire-based superhero. There is another Jim Hammond version of Human Torch, but the member of Marvel's first superhero family is the most popular one.
Johnny, with his sister, Sue Storm, joined the team of Reed Richards for a space adventure. But their spaceship was not adequately shielded to protect them from cosmic radiation, and a cosmic wave mutated their genes and granted each of them specific superpowers.
Johnny got the power of manipulating fire, and he can transform his appearance into a burning man by uttering; Flame on! Among all of the members of the Fantastic Four, Johny Storm is not only the youngest and most rebellious person but also the bravest one.
Powers:
Blast Power
Fire Control
Flame Breath
Flight
Heat Generation
Heat Vision
Super Speed
#1 The Phoenix Force
Publisher: Marvel Comics
First Appearance: The Uncanny X-Men #101 in 1976
The Phoenix Force is no particular superhero; it is instead a cosmic being and a nexus of all psychic energy in the Multiverse. This cosmic force is a manifestation of the life-death-rebirth cycle of all existence.
The notorious host of the Phoenix Force is Jean Grey, who was too corrupted by Dark Phoenix. The host of this cosmic force receives a massive power-up but also gives vast abilities regarding cosmic flame control. It also can transform any superhero into a fire-based character.
The Phoenix Force has mostly appeared as a headache to the X-Men. Still, the Phoenix Five of Namor, Cyclops, Emma Frost, Colossus, and Magik became a significant threat to all of Earth's superheroes as they were all possessed by this cosmic force.
Powers:
Cosmic Awareness
Dimensional Manipulation
Energy Manipulation
Fire Control
Flight
Healing
Necromancy
Psychic
Telekinesis
As our list ends, here are some honorable mentions in case we've missed your favorites.
Yellow Superheroes: 15 Heroes Who Are Or Wear Yellow (Ranked)

Fans Also Read
Honorable Mentions
Zauriel (DC Comics)
Inferno (Marvel Comics)
Sun Boy (DC Comics)
Celsius (DC Comics)
Toro (Marvel Comics)
Angela (Marvel Comics)
Fire (DC Comics)
Starfire (DC Comics)
Dawnfire (DC Comics)
Burnin (My Hero Academia)
Hummingbird (Marvel Comics)
Jubilee (Marvel Comics)
Rising Sun (DC Comics)
Human Lantern (DC Comics)
Sunpyre (Marvel)
Endeavor (My Hero Academia)
FAQs
Who Is the Strongest Fire Superhero?
In Marvel Comics, the host of the Phoenix Force can be the most powerful fire wielder. But as individual superheroes, Johny Storm's Human Torch, Ghost Rider, and the Sunfire are the strongest fire-wielding superheroes.
In DC Comics, Firestorm is the most famous fiery superhero, but the strongest is Zauriel.
Is There a Superhero Named the Flame?
The Flame is a superhero from Fox Feature Syndicate who debuted in Wonderworld Comics #3 in 1939.
Who Is the Most Flammable Superhero?
Johnny Storm's Human Torch is the most flammable superhero, but Nova and Jim Hammond are no exception.
What Superhero Says Flame On?
Johnny Storm's Human Torch utters the phrase 'Flame On' when he transforms himself into his fiery form.
Hope you enjoyed our countdown of powerful fire elemental superheroes from the comics. Also, Keep visiting averagebeing.com for more superhero content.