One of the most popular rom-com manga is officially set to release its final chapter. The story of Kaguya-sama has been an incredible journey, and fans have shown a lot of love for both the series and the author.
Kaguya-sama has everything you need. It's romantic, it's sad, it has comedy, and it has those moments that can make your heart beat faster than a bullet train. Sadly, the manga is concluding, but we all knew it would eventually happen one day, and that day is not so far away. So, today we'll be talking about everything related to the manga and answering all the important questions related to it.
When Is Kaguya-sama: Love Is War Ending?
Kaguya-sama: Love is War, a work by Aka Akasaka, is all set to release its final chapter on November 2, 2022. On this date, both the main manga series Kaguya Sama: Love is War and the spin-off that goes by the name Kaguya-sama o Kataritai will end. It will be published in the 49th Weekly Young Jump. Not just this final volume, the series will be released on December 22 with chapter 281.
A special booklet consisting of 12 pages will also be available for fans, and an interview with the creator, Aka Akasaka, will conclude the series.
Plot
Kaguya-sama Love is War doesn't have any typical rom-com story. It's unique and exciting. The series focueses on Kaguya Shinomiya. She is a girl who belongs to a wealthy family and is praised by everyone around her, not to mention that Kaguya is the vice president of the student council.
However, a guy has already stolen her heart, and that is Miyuki Shirogane, the president of the student council and the most brilliant guy around.
Miyuki doesn't belong to a rich family but has several admirers. Both fall in love with each other, but they are not going to confess. Yes! This is a real war, and the one who confesses first will lose. Miyuki and Kaguya will do everything they can to make the other confess their feelings, but this is not easy. There are many other fun characters who make this series even more enjoyable.
Voice Actress Aoi Koga Opens Up About Her Struggles With Kaguya-sama

Fans Also Read
Spoiler Alert
How Is Kaguya-sama Love Is War Manga Going To End?
Many fans believe that Kaguya Sama: Love Is War will have a sad ending, but the last two recent chapters of the manga indicate that the ending will satisfy everyone.
Chapter 279: Chika Fujiwara's Final Chapter
We can see that a well-known pianist has proposed to our favorite Chika, and she's been considering accepting his proposal. Chika even talked about this with Kaguya. But it didn't really end that way.
Kaguya stopped Chika from accepting the proposal, and Chika accepted all the feelings and concerns from Kaguya with a smile and decided not to accept the current proposal. Instead, she wants to fall in love slowly, just like Kaguya and Miyuki.
Chapter 280: The Geniuses
We can see that Miyuki Shirogane is back a day before the graduation ceremony and intends to surprise Kaguya. But as always, Kaguya is a step ahead of him. She already saw him in the cafe with Mikado, and now she is planning something.
In the same chapter, we catch Miyuki expressing his feelings for Kaguya and why he loves him. Everything that happened indicates that the ending will not disappoint the fans and will be heartwarming.
Where To Read Kaguya Sama: Love Is War Manga?
Kaguya-sama: Love is War by Aka Akasaka has 27 volumes with 279 chapters; on November 2, 2022, the final two chapters will be released, bringing the total to 281. There are several sites where you can read this manga. Viz Media is one of the many sites.
When Is Kaguya Sama Season 4 Coming Out?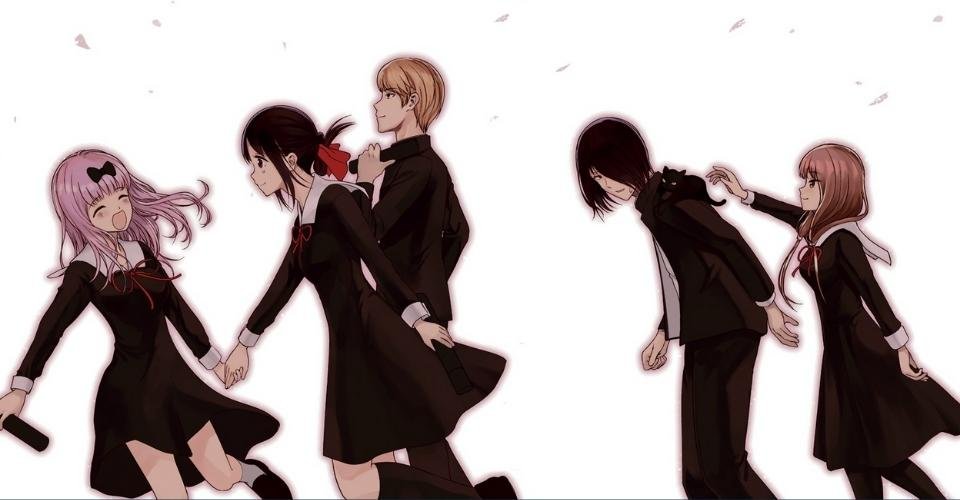 So far, an official announcement about the news has yet to be made. But we can expect that a new season will come out in 2023. As for now, a new movie is going to be released in the winter of 2022.
"Kaguya-sama Love is War-The First Kiss Is Forever" will continue where season 3 of the anime ended. In winter 2022, it will come out in theatres in Japan and within 1-2 months worldwide.
Well, What are your thoughts on the manga ending, and what do you think is going to happen? Let us know your thoughts in the comment section.