Kaguya-Sama: Love Is War is a unique anime in its genre of romantic comedy. The story deals with two stubborn and arrogant high schoolers who are not ready to confess their romantic feelings to each other. There is a condition in which the first to confess will be called a loser. So, there are a lot of psychological battles with top-level comedy, romance, and animation. The funniest thing is the voice-over, an uncommon aspect of anime.
Though Isekai is the trending genre in the anime industry right now, based on Aka Akasaka's manga series, Kaguya-Sama: Love Is War has a different level of popularity and fan base.
We know that after finishing this rom-com series, we need to find more anime like this, and today, we will name 15 similar anime like Kaguya-sama: Love Is War.
#15 Your Lies in April
Number of seasons: 1
Number of episodes: 22
Studio: A-1 Pictures
Kousei Arima was once a child prodigy in the Music World as a pianist, but he left everything for some unknown reason. He is an ordinary high school student with a colorless life and no ambitions.
But life is unpredictable as Kousei meets a beautiful blonde-haired violinist girl named Kaori Miyazono. The music from Kaori's violin inspires the boy who was once called "Human Metronome" in the Music World to play his piano again.
The anime is a romantic comedy set in a high school background with a massive twist waiting for the end. You should not miss this one of the best anime in this genre.
What's so similar:
Kaguya Sama focuses more on comedy, but Your Lie in April has a serious vibe. However, both are romantic comedies dealing with young romances and hidden feelings with excellent supporting characters.
#14 Kakegurui
Number of seasons: 2
Number of episodes: 24
Studio: MAPPA
Kakegurui is a surprise pick, but we cannot help it because Kaguya Sama deals with different genres and themes. Hyakkaou Private Academy is an elite school where the students belong to the wealthiest families in the world. But the school turns into a gambling place at night. These gambler students know the art of dealing and how to read people and manipulate them.
Everything is running smoothly as the winner gets to live like a king, and the loser suffers from miserable and traumatic school life. This structure collapses when a beautiful transfer student Yumeko Jabami, enters the school for the first time. Jabami gambles but not to win. Instead, she is addicted to the thrill of gambling, and her maniacal laugh proves just that.
What's so similar:
Both anime have psychological warfare, but Kakegurui is more extreme. The high school setting is also common, but Kaguya Sama has a light-hearted tone, whereas Kakegurui doesn't.
#13 Komi Can't Communicate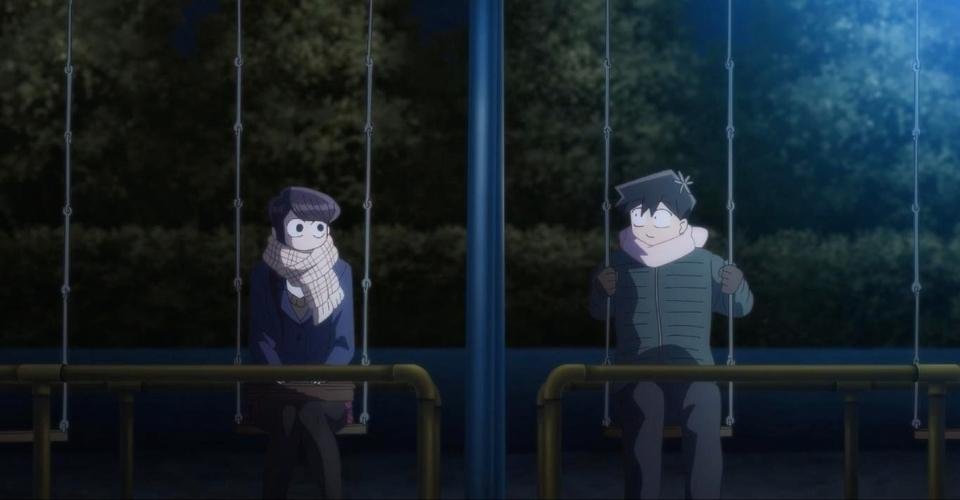 Number of seasons: 2
Number of episodes: 24
Studio: OLM
Komi Can't Communicate: is a recent anime with many similarities to Kaguya Sama.
The protagonist, Hitohito Tadano's only goal is to avoid trouble on his first day at school. But he is told to sit beside the school's most beautiful but mysterious girl, Shouko Komi. Tadano-san's first day of high school starts awkwardly. It doesn't take long for him to understand that Komi has a communication disorder.
They begin to talk to each other with the help of a blackboard, and Tadano comes to know about Komi's goal of making one hundred friends during her time in high school. He decides to help her in making friends. But other boys start to think about Tadano as a rival to them in reaching Komi.
What's so similar:
Both are Romantic comedies with a high school atmosphere, and the central and side characters have many similarities. Both series have a heart-warming charm which gives the viewers a feel-good factor.
#12 Food Wars!
Number of seasons: 5
Number of episodes: 86
Studio: J.C.Staff
Souma Yukihira lives in his world of cooking, idealizing his father Jouichirou, and has been running a restaurant since childhood with his father.
But one day, Jouichirou decides to close down his shop and tells Souma-Kun to attend the admission test for the world's most prestigious cooking school, Tootsuki Culinary Academy.
The school is best known for its brutal cooking competitions between students. But Nakiri Erina decides to fail Souma in the test. He somehow manages to get admission to the school and challenges all the students for "Shokugeki" on his first day there.
Will Souma Yukihira be able to beat everyone, even Nakiri Erina?
What's so similar:
There are many things in common between Kaguya Sama and Food Wars, but the comedic aspect of both is the most common thing. There is a lot of rivalry between the romantic pairs, which is fun to watch.
#11 Monthly Girls' Nozaki-Kun
Number of seasons: 1
Number of episodes: 12
Studio: Doga Kobo
The anime starts with the scene of Chiyo Sakura confessing her love to her long-time crush Umetarou Nozaki. But Nozaki-Kun hands over an autograph of his, as he was not able to able to understand Chiyo's words and misunderstands her as a fan of his works.
It turns out that Nozaki is a mangaka of a famous shoujo manga series. This misunderstanding event ends with Chiyo becoming Nozaki's manga assistant.
As the plot progresses, we will see hilarious events of miscommunication with many heart-warming moments.
What's so similar:
Though Kaguya Sama focuses more on school life, Monthly Girls' Nozaki-Kun doesn't do that. But the most common thing is the feel-good factor with a lot of laughter.
#10 Wotakoi: Love is Hard for Otaku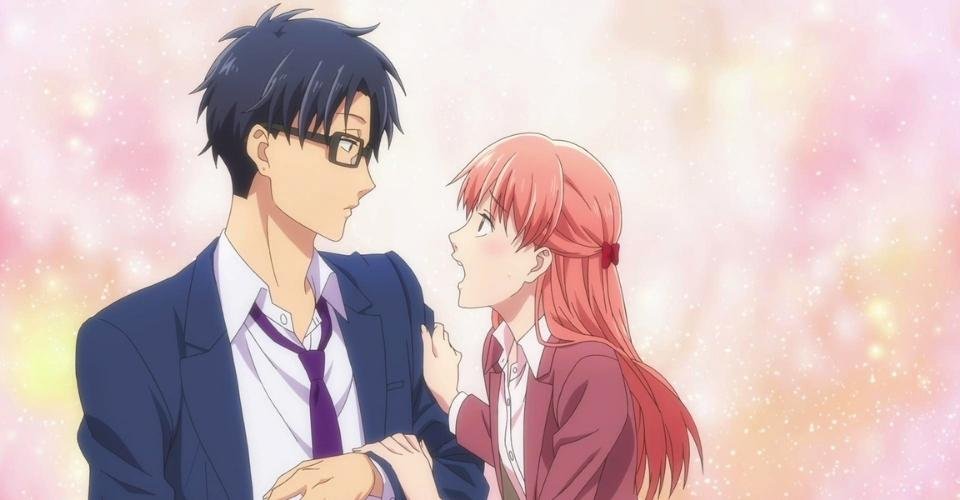 Number of seasons: 1
Number of episodes: 11+ 3 OVA
Studio: A-1 Pictures
Narumi Momose, a new joiner at the office, decides not to reveal her secret of being an otaku and a fujoshi. But things don't go her way as she meets one of her old friends from middle school, Hirotaka Nifuji. Nifuji is aware of her secrets and accidentally reveals them in front of his co-workers, Hanako and Tarou. They all form a group of office workers who are all otaku.
The series starts with Nifuji's dating proposal to Momose, and there are many different awkward scenes and sweet, heart-warming moments as the show moves forward. The series deals with Japanese otaku culture and office culture.
What's so similar:
First of all, the art and animation of both series are pretty similar, and both deal with the rom-com theme. The protagonists are also very similar, as they are not ready to reveal true feelings to their opposite mates. The incredible thing is that both are from the same studio.
#9 ReLIFE
Number of seasons: 2
Number of episodes: 17
Studio: TMS Entertainment
Arata Kaizaki is a 27-year-old neet who is failing to get a proper job and living a life of a man without friends. His hopeless life completely changes when he meets Ryou Yoake.
Ryou offers Arata the ReLife program, which will help him change his life by becoming a 17-year-old high school student, and a job if the experiment has a successful outcome. Our protagonist reluctantly agrees, and his appearance reverts to his high school days.
Arata relives his high school days in a new and different atmosphere, but his first day at school starts horribly. Will he be a successful ReLife experiment? You should watch the series if you admire the Kaguya Sama series.
What's so similar:
Though set in a high school background, ReLIFE explores the issues of teenagers and adults who fail to have a great social life.
#8 School Rumble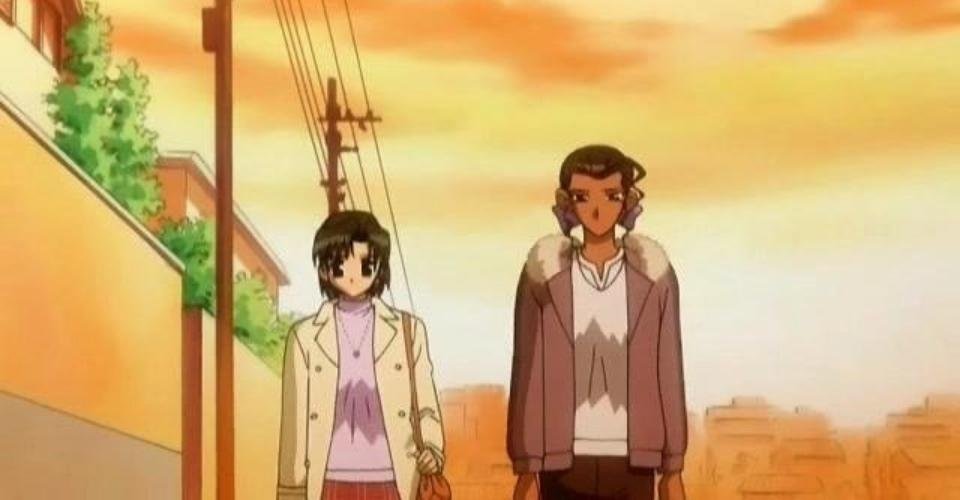 Number of seasons: 4
Number of episodes: 56
Studio: Studio Comet
School Rumble is a classic anime series that is all about teen love, misunderstanding, and full of comedy. Every character in this high school anime seems to have a crush on each other, but they lack the guts to express their feelings to each other.
There are love wars, romantic rivalries, and issues regarding youth, but the story primarily focuses on Tenma Tsukamoto and Kenji Harima. As the story progresses, we see more development in their relationship. But one thing is for sure; the viewers get to relive their fun high school days in a comedic manner.
What's so similar:
All the themes of School Rumble are very similar to Kaguya Sama, but the comedic aspect is far better than the latter. But we also noticed that Kaguya Sama's elitism theme makes it more superior between these two.
#7 Horimiya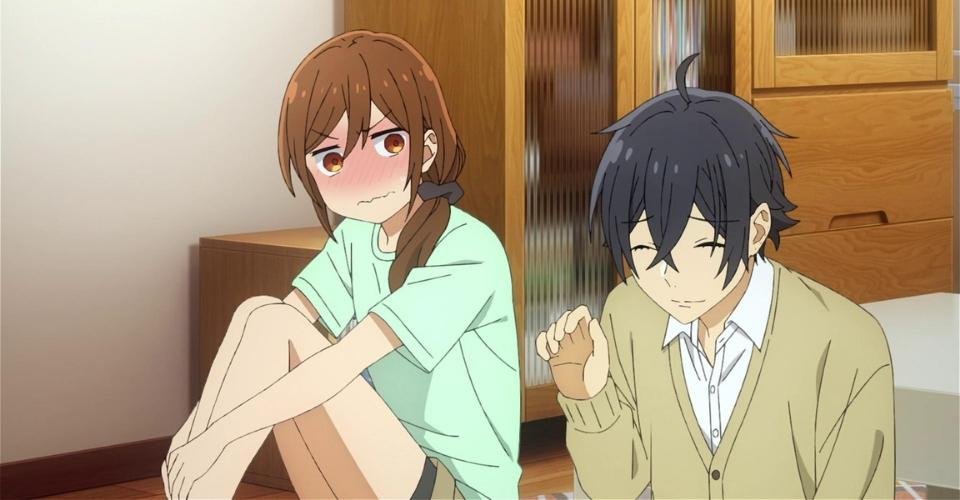 Number of seasons: 1
Number of episodes: 13
Studio: CloverWorks
Horimiya focuses on two students of the same class, Kyouko Hori, a multi-talented girl who is very popular in school, and her exact opposite Izumi Miyamura, the mysterious pretty-faced boy.
Hori has many friends but cannot spend time with them due to house chores. On the other hand, Miyamura tries to keep himself distant from others because of secret tattoos and piercings on his body.
But the story progresses when they encounter on a fateful day, and they become more than friends with opposite personalities, yet have a lot of odd similarities.
What's so similar:
Horimya's school background is pretty similar to Kaguya Sama's. It has a lot of character development, and the focus on comedy is less.
#6 Teasing Master Takagi-san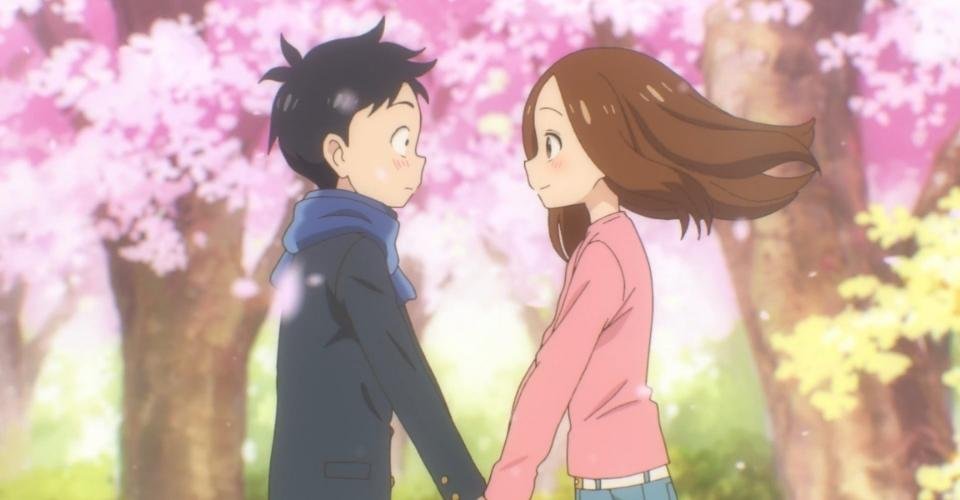 Number of seasons: 3
Number of episodes: 37
Studio: Shin-Ei Animation
Teasing Master Takagi-san is another sweet rom-com with a school background where Nishikata gets teased by Takagi every day, and she enjoys it.
Our female protagonist, Takagi, knows Nishikta's inside out, and she uses this valuable knowledge to predict his reaction to her teasing. Though she has the upper hand, our victim, Nishikta, vows to surpass his limit and get revenge by making her blush from his teasing.
All we can do is watch this series and burst into laughter with all the teasing ideas coming out of these young minds.
What's so similar:
Their themes are common, but the teasing part makes them most similar to one another.
#5 Masamune-Kun's Revenge
Number of seasons: 1
Number of episodes: 12+ 1 OVA
Studio: SILVER LINK
Masamune-Kun's Revenge is similar to Kaguya Sama but has a revenge factor.
During his childhood, a chubby-looking Masamune proposed to Aki, who was from a wealthy background. As expected, our hero faced rejection. He moved to his grandfather's house and went into a massive physical transformation.
Masamune, with his handsome high school student appearance, is determined to get his revenge by making Aki madly in love with him, and then by rejecting her.
What's so similar:
The plot points have similarities, but the characters' attributes do not match that much.
#4 Special A (S.A)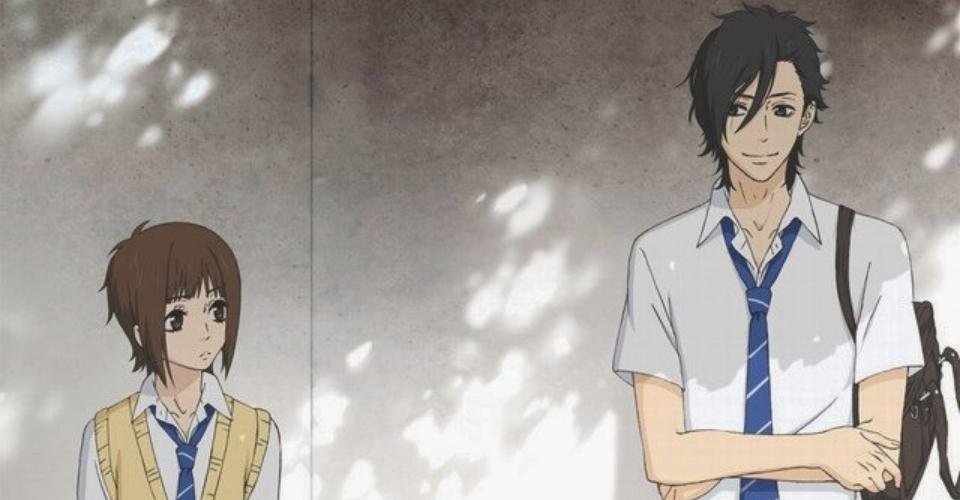 Number of seasons: 1
Number of episodes: 24
Studio: Gonzo, AIC
Hikari has an invincibility complex until she meets Kei Takishima as he beats her in every challenge. Hikari decides to enroll in the same school where Kei was studying. It turns out to be the most prestigious institute there. They became two of the academy's seven best students, and their class is known as Special A.
The show mainly focuses on character development. Even the side characters receive the spotlight.
What's so similar:
Special A is a fun, light-hearted romantic comedy making it similar to Kaguya Sama, and the theme of elitism is present in both series. Overall, we highly recommend this one.
#3 My Teen Romantic Comedy SNAFU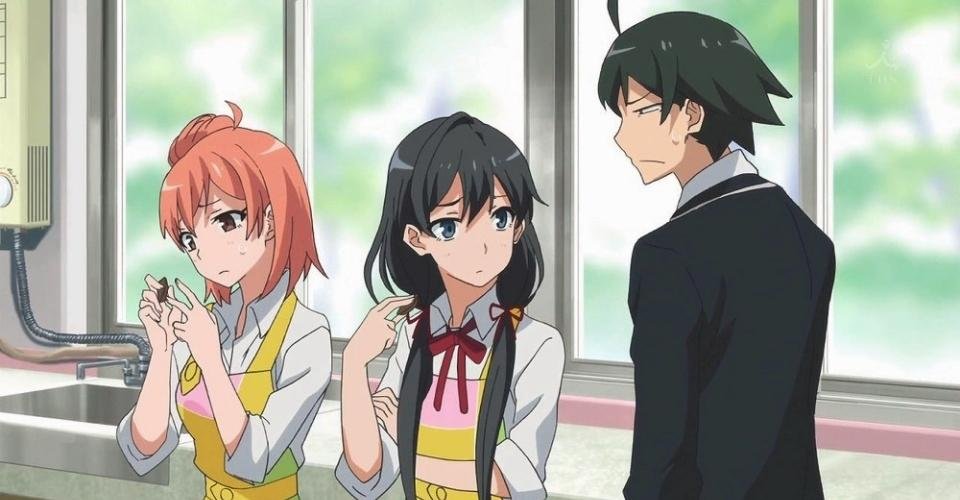 Number of seasons: 3
Number of episodes: 38+ 2 OVAs
Studio: Brain's Base
My Youth Romantic Comedy Is Wrong, As I Expected – is one of the rival series to Kaguya Sama, but there are many similar aspects. This top-rated series is based on a famous light novel series and aired for three seasons from 2013 to 2020.
A narcissistic and semi-nihilistic natured high school student, Hachiman Hikigaya, was advised to join the Volunteer Service Club, which supports the students in achieving their goals. Hachiman meets the other club members, but his task is to solve many other students' problems.
Will our hero's societal viewpoint change? We need to check the whole series out.
What's so similar:
Even though both deal with comedy and romance, My Teen Romantic Comedy SNAFU's plot is more serious and unsuitable for all viewers.
#2 His and Her Circumstances
Number of seasons: 1
Number of episodes: 26
Studio: Gainax, J.C.Staff
Yukino is a student with an outstanding academic background and is also excellent at sports. The other students admire her achievements. But she hides her true self from others and desires to be the center of attraction.
But there is someone better than her in the school. Souichirou Arima is that someone she is unable to beat. Their rivalry starts to melt after some time, and soon they get closer.
What's so similar:
His and Her Circumstances anime has less comedic aspects, but the romantic feelings put this anime on the list of similar anime to Kaguya Sama.
#1 Toradora!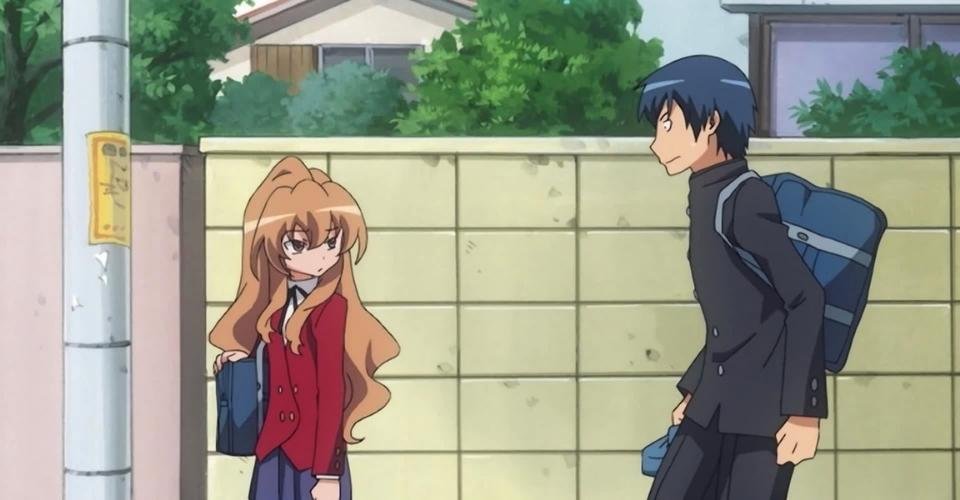 Number of seasons: 1
Number of episodes: 25 + 1 OVA
Studio: J.C.Staff
Toradora's plot is similar to Kaguya Sama's and has the same school setting. Here are also two different types of personalities who fall in love with each other.
Toradora presents a slice-of-life high school rom-com where Ryuji and Taiga have romantic crushes and fall in love with them. But with the story's progression, chemistry builds up between Ryuji and Taiga. But things are not supposed to run smoothly, as they are not ready to admit their feelings to each other.
What's so similar:
In our opinion, Toradora is the closest anime to Kaguya Sama, as the story deals with a slice-of-life romantic comedy story with sweet and bitter moments.
15 Best Completed Romance Anime To Watch With Your Loved Ones

Fans Also Read
Honorable Mentions
Haven't You Heard? I'm Sakamoto
Tsuredure Children
Maid Sama!
Daily Lives of High School Boys
Life with an Ordinary Guy who Reincarnated into a Total Fantasy Knockout
Boarding School Juliet
Asobi Asobase: Workshop of Fun
A Lull in the Sea
My Dress-Up Darling
Sasaki and Miyano
Ouran High School Host Club
My Little Monster
FAQS
Now, we are going to answer some of the most frequently asked queries about one of our favorite anime, Kaguya-sama: Love is War.
What Type of Anime Is Kaguya-Sama?
Kaguya-Sama: Love Is War is a romantic comedy anime series by Aka Akasaka, but it also has romantic rivalry and psychological warfare.
Did Kaguya-Sama: Love Is War End?
Kaguya-sama: Love Is War has recently finished airing its third season, and an anime film, Kaguya-sama: Love is War: The First Kiss Never Ends, is already announced.
Kaguya Sama is the best anime in the romantic comedy genre, but we cannot name all anime with this particular theme. We have also focused on other aspects like psychological conflict, romantic rivalry, jealousy, high school, elitism, etc.
With all these recommendations, our journey of anime like Kaguya-Sama: Love Is War has come to an end for now.
I hope you'll enjoy these shows, and I believe you found the answer you were looking for.
So, Which anime are you going to watch next? Let us know it all on our Instagram handle here, and visit averagebeing.com for more awesome anime content.