Kawaii nee……These couple of words are very-common in anime. In Japanese, kawaii means cute, be it a living being or an artificial one. Even the word kawaii is kawaii itself.
In anime, there isn't any genre that specifies the kawaii/cute element. Regardless of the theme, plot, and progression of an anime, the kawaii element can be used at any given moment.
And the anime that nails the execution and does justice to the word kawaii is often known as the kawaii anime in the anime community.
With that in mind, I have created a list that has kawaii charms from the very beginning to the end. These anime have cuteness in their cast, story, interactions, and even music. So, let's begin our countdown of the 15 best Kawaii Anime.
[toc]
#15 Mitsuboshi Colors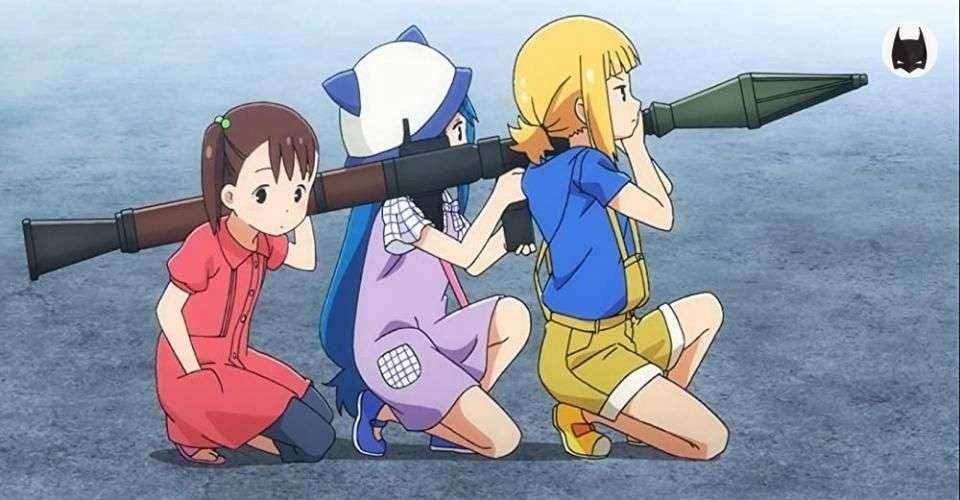 Number of seasons: 1
Number of episodes: 12
Studio: Silver Link.
Cuteness meter: 70/100
Colours in Mitsuboshi Colors is the name of a trio defending the city of Ueno. The trio consists of three young girls: Kotoha, Sacchan, and Yui Akamatsu.
This is just a play-act game that the trio plays with their headquarters being the Daigorou Kujiraoka's store inventory and the policeman Saitaou being the bad guy in the eyes of Colors.
Though they don't protect the city in reality, these three stars fill the city with colours of happiness.
Why We Recommend:
Nostalgia will hit you hard when you start watching Mitsuboshi Colors. It takes you back to those days when you played make-believe with your siblings or friends and thought you were the hero of the world.
That feeling still lingers, but the grown-ups know that those days are long gone. It is now a part of a sweet memory.
But we can always cherish those moments thanks to this hilarious slice-of-life anime and the cast of three cute girls doing adorable things.
This is true Kawaii indeed.
#14 Poco's Udon World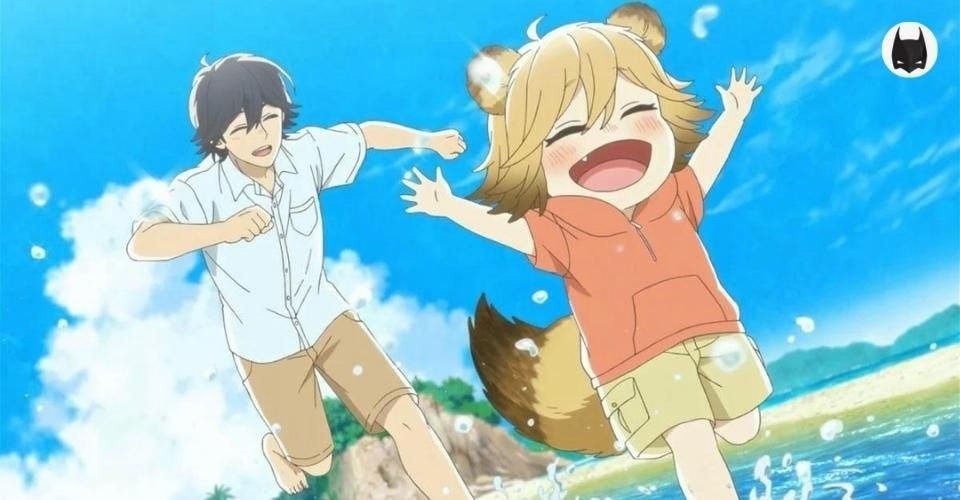 Number of seasons: 1
Number of episodes: 12
Studio: LIDENFILMS
Cuteness meter: 71/100
Souta Tawara takes a break from being a web designer. He returns to his hometown in Kagawa and visits their former family-owned restaurant.
While reminiscing about his childhood, Souta comes across a grim-looking boy whom he decides to feed but soon finds out that the boy is the rumored Tanuki living in Kagawa for years.
Following this, Souta names the boy Poco. Then Souta takes him in and decides to stay there as well.
Why We Recommend:
Why would you need a reason to watch this fur ball spreading happiness in everyone's life?
Poco's Udon World is one of the cutest, if not the cutest anime out there. So, make sure to watch this kawaii slice-of-life anime.
#13 Strawberry Marshmallow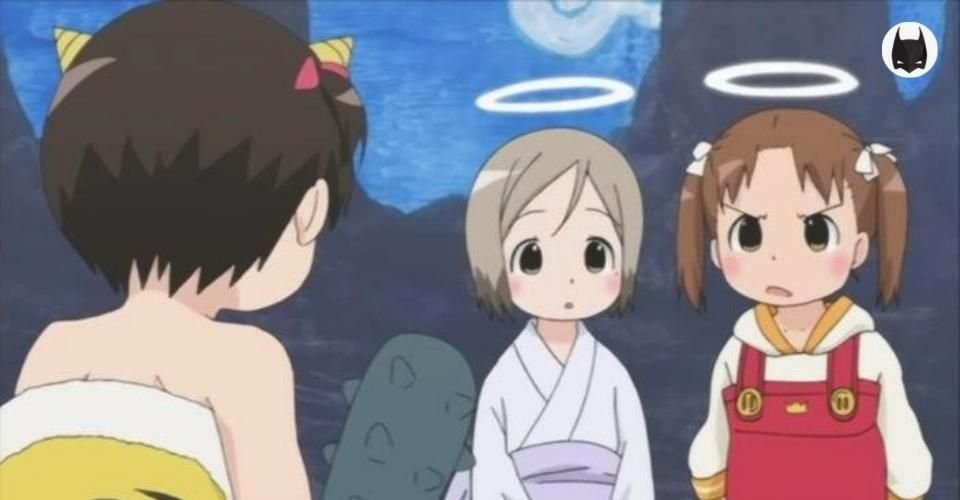 Number of seasons: 1
Number of episodes: 12
Studio: Daume
Cuteness meter: 73/100
Strawberry Marshmallow is exactly how it sounds.
Chika Itou and her sister Nobue Itou's daily lives aren't ordinary. They are filled with wild and happy moments. And they are not alone, Nobue's friends Ana, Miu, and Matsuri are also part of this cute girl gang.
Be it celebrating holidays together, going to a beach, gathering in one's house to play games, or even making money, the girl gang is always ready to have fun.
And they won't mind you joining in on the fun.
Why We Recommend:
These elementary school girls enjoy their life to the fullest. With that comes hilarious and cute moments which make you smile from ear to ear.
Strawberry Marshmallow is filled with cute moments and excels at delivering comedy to its finest. Subtle yet Strong.
#12 My Roommate is a Cat
Number of seasons: 1
Number of episodes: 12
Studio: Zero-G
Cuteness meter: 76/100
What goes inside a cat's head? See this anime from a cat's perspective to find out.
Mikazuki Subaru is a novelist who lost his parents at a young age. Their loss has made Subaru an introvert and too shy to function normally in society.
When not working on a novel, he spends time reading books instead of making friends. It all changes when he comes across a stray cat, takes it in, and names it Haru.
Haru is grateful for the abundance of food she gets, but at the same time, she is worried about Subaru acting like a stray more than she ever was.
Why We Recommend:
This anime is something special. You might be used to the adorable meows and woof-woof of cats and dogs. But this time, My Roommate is a Cat will show you everything from a cat's point of view.
What does a cat think? Why does it not like the company of everyone? Is a cat as moody as we think?
This kawaii anime will answer all your questions. So, get ready for the overload of cuteness.
#11 Sweetness & Lightning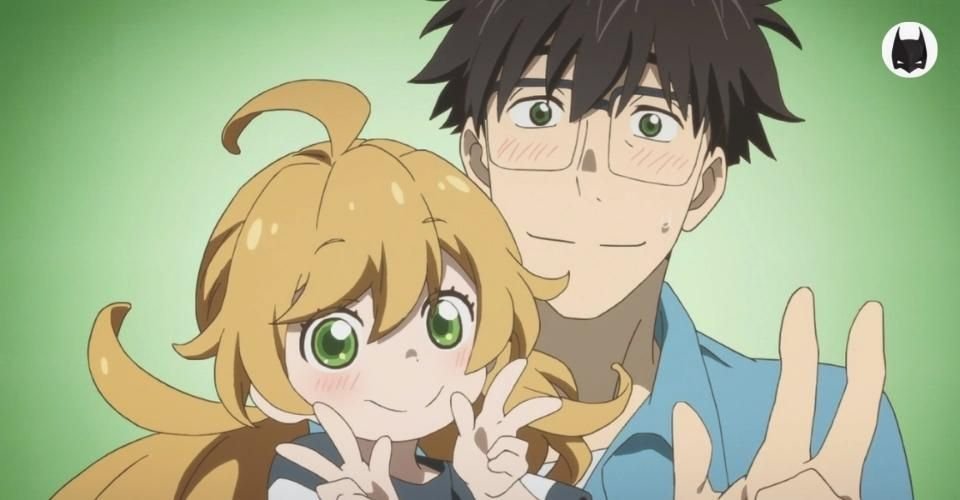 Number of seasons: 1
Number of episodes: 12
Studio: TMS Entertainment
Cuteness meter: 78/100
What happens when a father is left all alone with the responsibility to take care of his young daughter?
It is anything but easy.
After her wife passed away, Kouhei Inuzuka not only continued his job as a teacher but also fulfilled the role of a mother. From getting his daughter ready for school to doing groceries, Kouhei does it all.
But he can do so much. Unfortunately, he cannot provide nutritious homemade food for his growing daughter Tsumugi.
Thanks to Kouhei's student, Kotori Iida, her daughter will be able to eat homemade food at Iida's family restaurant. Lida was kind enough to offer homemade food for Tsumugi, as the restaurant is closed most of the time due to her mother's work.
Why We Recommend:
If the kawaii factor is the only thing you're looking for, then Tsumugi is adorable enough to make you watch the whole anime, but if you still need more reasons, listen to Miki Matsubara's Stay With Me.
Joke aside (the song is refreshing, by the way, no kidding), this anime shows a heartwarming relationship between a single father and a daughter. Also, it shows their growth amidst the absence of a wife and a mother.
Sweetness & Lightning also conveys the importance and warmth of homemade food in our day-to-day life.
#10 School Babysitters
Number of seasons: 1
Number of episodes: 12
Studio: Brain's Base
Cuteness meter: 82/100
Ryuuichi Kashima has just lost his parents in an unfortunate plane crash. Though he is just a teenager, Ryuuichi has to support his younger brother Kotarou, who is too small to understand the reality, let alone face it.
Thankfully, Morinomiya Academy's chairman, who has also lost his close ones to that crash, offers Ryuuichi and his brother a roof and admission to the school.
However, there's a condition – Ryuuichi has to become the school's babysitter and take care of the infants of the newly found babysitter's club to help the fellow female teachers.
Why We Recommend:
WARNING!!! – You might die out of cuteness. So, take care of your heart while you watch these toddlers attack you with cuteness beams.
It's raining babies everywhere in this anime. And they are not your normal babies. They have distinct personalities that make this anime more lovable than it already was.
This right here is the best kawaii anime out there.
#9 Non Non Biyori
Number of seasons: 3
Number of episodes: 36
Studio: Silver Link.
Cuteness meter: 83/100
Hotaru Ichijou has moved from Tokyo to Asahigaoka village. It is different from the city life she has experienced. There are only five students in her new school, and regardless of their grades, they all sit in one class.
Soon she becomes close to the Renge Miyauchi, Natsumi & Komari Koshigaya, and their elder brother Suguru Koshigawa.
Just like Hotaru enjoy their company in this quiet village, Renge and Koshigaya siblings enjoy the tales of Tokyo from Hotaru.
Why We Recommend:
Non Non Biyori excels at being one of the finest slice-of-life anime. It has a great cast, a setting no one would complain about, and the charms of the countryside it showcases are nothing less than excellent.
The five fingers of a hand show their cutesy sides through their lives in this village. Non Non Biyori is a slice of life kawaii anime you must watch on the weekends to uplift your mood and have that heavy dose of dopamine.
#8 Kakushigoto
Number of seasons: 1
Number of episodes: 12
Studio: Ajia-Do
Cuteness meter: 85/100
Kakushi Gotou is a mangaka whose work is well-renowned for inappropriate content.
However, Kakushi wants to hide his profession from his daughter Hime Gotou. To avoid that, he makes his assistants participate in training in case of a breach. Not only that, but he also walks out of the house as a salaryman.
How long will Kakushi keep on fooling Hime? Or will Hime find it out first?
Fun Fact: In Japanese, Kakushigoto means secret.
Why We Recommend:
From the title to the protagonist's name, you can already tell how ingenious this anime is. Kakushigoto paints the blank canvas with vibrant colours.
It shows cute and hilarious incidents when a weird, overthinking, and caring dad; tries to hide his profession from his kind daughter, who is at the centre of Kakushi's world.
Kakushigoto is a must-watch kawaii anime for those who love to see kawaii father-daughter relationships.
#7 Sleepy Princess in the Demon Castle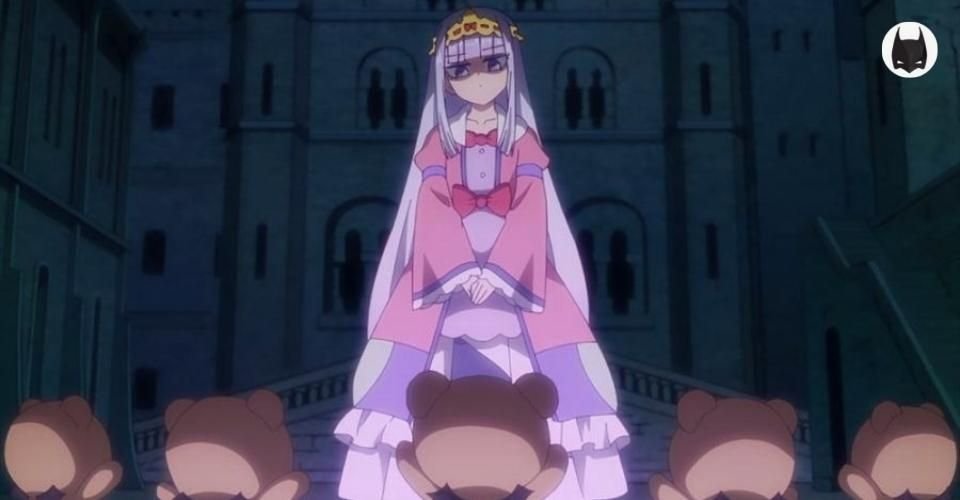 Number of seasons: 1
Number of episodes: 12
Studio: Doga Kobo
Cuteness meter: 88/100
Do you know that meme where a girl is smiling in front of a burning house? If you're a regular social media user, you have seen it.
What's the relation?
Well, the protagonist of this anime, Aurora Suya Rhys Kaymin, or Princess Aurora, in short, resembles that vibe.
What will you do if the demon lord kidnaps you and imprisons you in his castle? Sleeping will be the last thing to cross your mind in that situation.
But that's the only thing this human princess cares about. Nothing scares her, demons, spirits, ghosts, and not even the Demon Lord Tasogare. For Princess Aurora, sleep is everything, and a lack of bedding has hampered her sleep in the demon castle.
So she is making bedding out of anything that meets her eye, be it the cotton of demonic teddy, silky ghosts, or the bird demon's feathers.
Fun Fact: Tasogare means Twilight in Japanese. It sounds familiar, right? Does Spy x Family ring some bell?
Why We Recommend:
While you might think that the demon lord taking away the princess is stereotypical, I will ask you to reconsider that because the hero in this anime is nothing but a laughingstock.
In Sleepy Princess in the Demon Castle, the princess is not only the protagonist, but she is also strong enough to defeat anyone that hampers her sleeping time.
Throughout the anime, the interactions between Princess Aurora and the servants and guards of the demon castle make this a must-watch kawaii anime.
#6 Bunny Drop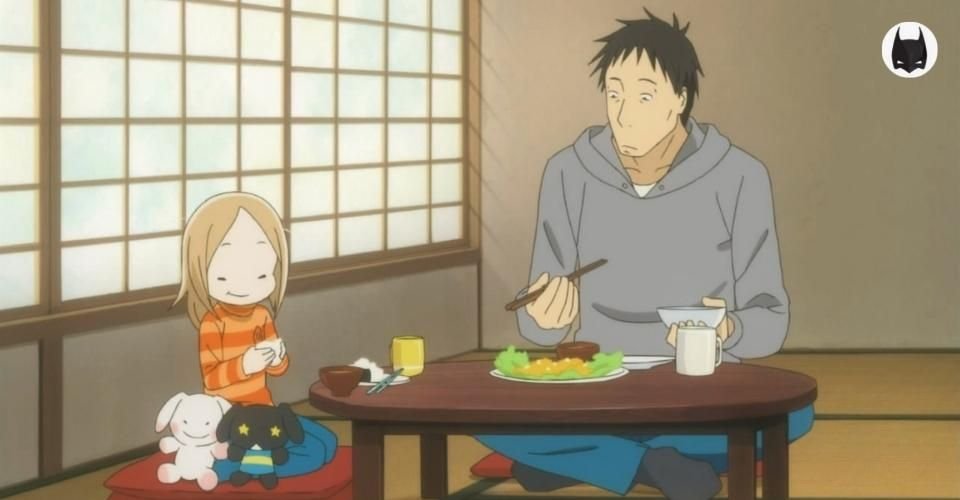 Number of seasons: 1
Number of episodes: 11
Studio: Production I.G
Cuteness meter: 91/100
Daikichi Kawachi visits the family home to pay his respect for his grandfather's demise. There he gets to know about Rin, a young girl who is said to be the illegitimate child of his late grandfather.
While everyone in his entire family is upset and shuns the little girl, the 30-year-old bachelor with no experience in childcare decides to take her in. Daikichi takes a bold step forward to fatherhood and takes care of Rin as his own.
Why We Recommend:
What does a child have to do with words like illegitimate? Is the child at fault?
Or is it the rotten morale of adults that keeps on rotting?
Bunny Drop asks all these questions but surprisingly delivers the most heartwarming and cute moments between Daikichi and Rin as they become more like a family as they go through the joys and sorrows together.
#5 Laid-Back Camp
Number of seasons: 2
Number of episodes: 25
Studio: C-Station
Cuteness meter: 93/100
For Rin Shima, there's no better way to spend vacations than camping at the base of Mt. Fuji while enjoying the view with a sip of a hot beverage.
However, this time around, her lone camping trip gets disrupted by Nadeshiko Kagamihara, who gets lost and takes help from Rin.
Soon, Nadeshiko gets picked up by her sister. Though the camping was not what she expected, Rin looks forward to camp with Nadeshiko again in the future.
Why We Recommend:
Everything is correct about Laid-Back Camp. Just like the title suggests, this anime is laid-back. These cute girls make the viewers cozy and instill the desire in them to go on a trip.
If you are looking for something cute and healing, Laid-Back Camp is the kawaii anime you need to watch right now.
#4 Barakamon
Number of seasons: 2
Number of episodes: 24
Studio: Kinema Citrus, Diomedéa
Cuteness meter: 95/100
After his calligraphy gets labelled as imitative, Sei Handa punches a veteran. As punishment, Sei was sent to the Goto Islands to reflect on his actions and work on his art for the time being.
Unlike a lonely city life, the whole Goto Islands was there to welcome Sei. Kids, middle-aged dads, grannies, and grandpas, everyone gave a warm welcome to Sei.
He soon realized that there is nothing called privacy on this island, be it for the fun-loving Haru or the ever-curious fujoshi. Sei cannot focus on his calligraphy thanks to the eccentricity of this island.
Will he ever fulfil the purpose he came here for?
Why We Recommend:
Growing out of the shell of a narcissist is easier said than done, and in this anime Sei Handa, the protagonist, slowly gets out of it with the warm and welcoming people surrounding him.
The thing he thought to be a curse at the beginning is now a blessing. And the interactions and the incidents that happen throughout the series are precious.
Especially the cute little Haru and her friend, who brightens up the mood of this kawaii anime. Ignore Barakamon at your own risk.
#3 Miss Kobayashi's Dragon Maid
Number of seasons: 2
Number of episodes: 25
Studio: Kyoto Animation
Cuteness meter: 97/100
We would have never witnessed this beautiful story of a human and a dragon being apartment-mates if not for the alcohol.
Kobayashi is a diligent programmer who often drinks to loosen up. But on that night, she accidentally stumbles upon a dragon who has nowhere to go. Taking pity, a drunken Kobayashi offers a roof for the dragon but forgets it soon enough.
The next day she wakes up to a dragon in front of her door, who transforms herself into a cute and charming human girl in a maid outfit. Tohru reminds Kobiayashi's offer and starts a new life at her apartment as a maid.
But little did Kobaayshi know that this was just the beginning as Tohru's presence attracted several guests to her humble apartment. But those guests aren't human, and on top of that, they are the personification of eccentricity.
Why We Recommend:
Miss Kobayashi's Dragon Maid has Kanna Kamui, that's the only reason you need to watch this anime. If you tell me that there's anyone else who looks and sounds more adorable than Kanna, I will never believe it.
Besides that, this anime is overloaded with kawaii moments. This anime shows the bond between humans and dragons, and how coexisting might become difficult or easy depending on the choices one makes.
#2 A Place Further Than The Universe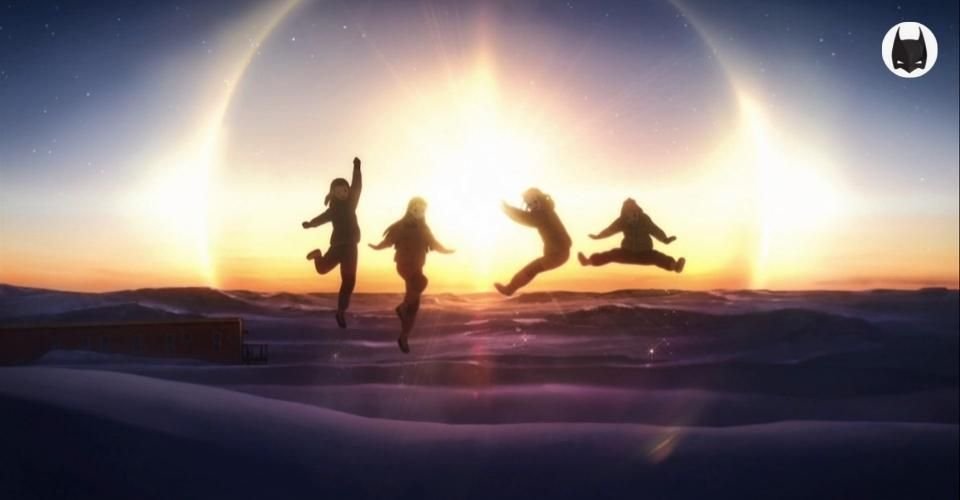 Number of seasons: 1
Number of episodes: 13
Studio: Madhouse
Cuteness meter: 98/100
Mari Tamaki is one step away from doing what she always wanted: exploring the world's unknowns. But the anxiety has kept her from taking that step forward.
She has a sudden encounter with the highly ambitious Shirase Kobuchizawa, who is saving money for a trip to Antarctica, a place where her mother disappeared.
Shirase's determination inspires Mari to take the step. Following this, Mari, Shirase, and two new tripmates, Hinata Miyake and Yuzuki Shiraishi, embark on a journey to Antarctica, a place further than the universe.
Why We Recommend:
Dreams, Courage, Anxiety, and Friendship are the key ingredients of this anime. A Place Further Than The Universe will inspire you, show the beautiful and ugly sides of nature, life in Antarctica, and cute moments which can even melt the ice on the south pole.
Wholesome, close to reality, and strong female leads make this the most unique kawaii anime on this list.
#1 My Love Story!!
Number of seasons: 1
Number of episodes: 24
Studio: Madhouse
Cuteness meter: 100/100
Takeo Gouda has an intimidating stature but a kind heart. His friend Makoto Sunakawa is prince charming but rejects every girl who confesses to him.
One day Takeo saves a girl from a train groper. And that's where he falls in love with that girl named Rinko Yamato. With a small and cute stature, unlike Takeo, Rinko also falls in love with Takeo at first sight.
But, Takeo's previous experiences tell him that Rinko must have fallen for Sunakawa, just like the other girls in his life. After this, Takeo tries to couple up Sunakawa with Rinko, regardless of his budding feelings.
Why We Recommend:
My Love Story doesn't hide anything. It is honest, warm, and so cute that you might melt away. So, beware of that.
Besides that, My Love Story is the perfect anime if you're planning to watch it with your loved one(s). You can also watch it during a sleepover or with your friend. This anime is too kawaii for anyone to miss.
20 Best Chibi Anime Series You Need To Add To Your Watch List

You Might Be Interested In
Honourable Mentions
I know you need more cuteness. That's why I am here to present you with a few more kawaii anime to brighten your gloomy day.
Hitoribocchi no Marumaru Seikatsu
Tamako Market
Lucky☆Star
Love, Chunibyo & Other Delusions!
Is the Order a Rabbit?
With that, I conclude the article on the top 15 Kawaii Anime that you will enjoy watching. I hope you find at least a couple of kawaii anime and enjoy them as much as I did while watching.
If you have any recommendations, suggestions, or feedback regarding the article, reach out on averagebeing's Instagram handle.