Each Happy Meal to include one of ten Black Panther: Wakanda Forever toys!
Ahead of the worldwide theatrical release of Black Panther: Wakanda Forever, Marvel and Mcdonald's teamed up with Cactus Plant Flea Market to launch a limited-edition Happy Meal plus a line of superhero toys from the movie.
Black Panther: Wakanda Forever themed Happy Meal comes with a black and regal purple pattern similar to Black Panther's armor accented by a smiley face and McDonald's signature 'golden arches' as the handle. Each Happy Meal will have one of ten Wakanda Forever superhero toys based on movie characters such as Shuri and Okoye to newcomers like Namor and Ironheart.
Jennifer Healan, VP of U.S. Marketing, Brand Content and Engagement at McDonald's, said that the fast food chain was inspired to create the happy meal after 2018s Black Panther.
Black Panther: Wakanda Forever's Jarrell Pyro Johnson Reveals The True Weakness Of The Jabari Tribe

Fans Also Read
"The first Black Panther movie inspired a new generation of Marvel lovers – and that's because of the powerful story it told, brought to life by an incredibly talented and diverse cast."
Her statement included, "It set a whole new standard for representation on the big screen. And now, we're excited to bring that experience to our restaurants and help fans see and celebrate their inner hero with this new Happy Meal – because seeing is believing."
The Happy Meal comes with a choice of a Hamburger, 4-piece Chicken McNuggets, or 6-piece Chicken McNuggets. Each meal adds an order of small fries, apple slices, a choice of drink, and a toy. The box also contains a printed QR code that allows customers to play a game that features the specific superhero character received as a toy along with the meal.
But that's not it. A few collectibles come with special surprises. Any toy that features Vibranium (the rare metal found in Wakanda) will change its color when dipped in water.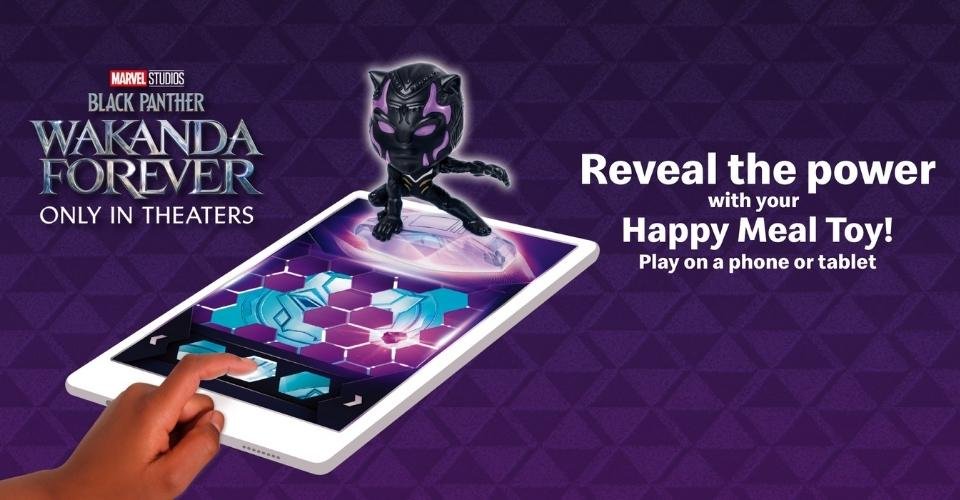 Apart from that, the fast food giant also is serving to improve community representation at a larger scale along with the Wakanda Forever campaign. The company has launched some marketing initiatives like the following.
Future 22: This campaign spotlights young, gifted Black leaders actively creating meaningful changes in the community.
Spotlight Dorado: A platform that's aimed at uplifting and promoting Latino talent within the film industry to promote representation.
Marcus Graham Project: McDonald's has also teamed up with Marcus Graham Project, a non-profit organization dedicated to diversifying the marketing and media industry, thus providing real-world learning opportunities for aspiring marketing professionals of color.
As per the collaboration with Marvel, Mcdonald's launched its limited-edition happy meals in light of the release of the sequel to Black Panther, Black Panther: Wakanda Forever which explores the story of Wakanda. The script had to be rewritten after the death of lead-actor Chadwick Boseman in August 2020, which meant the production was suspended as Marvel didn't have any plans to recast another actor for the role of King T'Challa, the ruler of Wakanda, aka Black Panther.
Instead, Director and co-writer Ryan Coogler picked up the story from T'Challa's death and a plot that plays the nation of Wakanda facing off against Namor — the submariner.
Black Panther: Wakanda Forever Reviews Are Out But Reveals An Unexpected Twist With The Post-Credit Scene

Fans Also Read
According to an official synopsis from Marvel, Black Panther: Wakanda Forever follows Queen Ramonda (Angela Bassett), Shuri (Letitia Wright), M'Baku (Winston Duke), Okoye (Danai Gurira), Nakia (Lupita Nyong'o), and Everett Ross (Martin Freeman) as they "fight to protect their nation from intervening world powers in the wake of King T'Challa's death."
The early reactions to the movie declare it to be "Easily the best Marvel film since 'Avengers: Endgame.'" Film & TV critic Tessa Smith wrote on her Twitter that Wakanda Forever "feels like a war movie."
"It's emotional, heavy, intense & phenomenal. Namor is an incredible & powerful villain," Smith wrote. "#WakandaForever focuses on grief, loss, & vengeance. You aren't ready for the Marvel logo & mid-credit. It honors Chadwick perfectly."
Black Panther: Wakanda Forever releases on November 11, 2022.
What are your thoughts about the new limited-edition Black Panther Happy Meal? Do tell us in the comments!