DC Studios leading man, James Gunn, spoke about how his current position in DCU's decision-making will be different from how it was in Zack Snyder's tenure.
James Gunn and Peter Safran-led DCU have found themselves amidst a sea of speculation following the cancellation of several big-budget projects.
The Internet is divided into two groups, eagerly waiting for the duo to deliver what they have been creating a buzz around lately.
Some are questioning David Zaslav's decision with Gunn at the helm of DCU, while others are eyeing Gunn's vision and trusting his directorial skills on projects like The Peacemaker and Guardians franchise.
DC fans are trying to get a hold of whatever has happened over the past few weeks. James Gunn on Twitter constantly assures the fans about his and Safran's plans to revamp DCU's brand image, but nothing concrete ever stands tall.
Gunn gets constantly compared to director Zack Snyder who managed to cement a dedicated and loyal fan base thanks to his contribution to some of the biggest titles of the then-DCEU. Snyder kickstarted his journey with 2013's 'Man of Steel,' casting Henry Cavill as Superman.
At this point, it's even hard to imagine someone other than Cavill playing the role of Superman, but thanks to Gunn, things aren't what they used to be. Snyder went on to direct 'Batman V Superman: Dawn of Justice' and 'Zack Snyder's Justice League,' with the latter amassing a cult-like following.
Gunn, on the other hand, has received critical acclaim for his 'The Peacemaker,' but since he became the co-CEO of DCU, some fans are not getting along with his ways.
Gunn recently reassured a fan on Mastodon who showed concerns regarding WB's interference in the creative process for DCU, similar to how they did at the time Snyder was at the center of it all. Gunn said, "The position is different than it was with Zack, etc. Peter & I are the heads of DC Studios. The only studio interference would be from us!"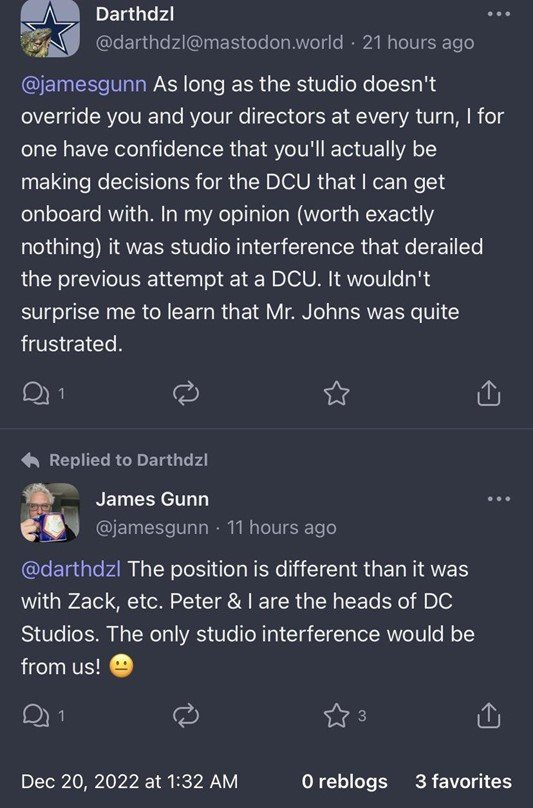 "I'll be first in line," Says Kevin Feige When Asked About James Gunn's New DC Role

Fans Also Read
DCU In 2023, What To Expect?
While fans were still processing Henry Cavill's departure as Superman, Gunn came up with an apt response on the matter. As for the future, Gunn told the fans that he's been working on a Superman reboot script that will feature a younger Clark Kent as a reporter for Daily Planet in the fictional city of Metropolis.
Kent might encounter his colleague Lois Lane. As per reports, Gunn's project might co-exist or build upon J.J. Abrams-Ta-Nehisi Coates's Superman concept, which is still in active development.
Following the fall of the DC Trinity, Gunn gave another ray of hope, claiming Green Lantern would play an integral part in the formation of DCU.
However, the last nail in the coffin came with Black Adam as actor Dwayne 'The Rock' Johnson spoke about his interaction with Gunn. The actor talked about how "Black Adam will not be in their [Gunn and Safran's DCU] first chapter of storytelling." But he gave the fans a bit of relief and shed light on a possible multiversal appearance of Black Adam in future projects.
As for now, other characters that might join the young Superman and Green Lantern in the DCU are the ones Gunn yet hasn't changed his mind on. James Gunn took the job at DC delivering 2021's The Suicide Squad, a soft reboot of the original 2016 Suicide Squad.
Following the lukewarm appreciation the film got, Gunn proceeded to create a Suicide Squad HBO Max spinoff as The Peacemaker. John Cena's portrayal of this lesser-known, peace-loving superhero was well-received by both fans and critics. It quickly became one of the most popular DC projects, after which Gunn took over DC Studios' leadership with Peter Safran.
Leaving on a positive note, We can only keep our hopes high as someday, with The Peacemaker, Harley Quinn, and Shazam still under a safe spot, DC Studios gets back on track with engaging stories and a fantastic cinematic universe.
How do you think the DCU will shape up under James Gunn's leadership? Or will DCU make a lasting impression somewhere close to SnyderVerse? Tell us your thoughts in the comments, and make sure to visit averagebeing.com for more DC updates!