What does Christmas mean to you?
Is it a time that you spend with your family? Or is it time for the year-end trip with your friends? Or do you like to spend the holidays by yourself binge-watching Christmas movies and anime, making it a yearly ritual?
Whatever the case may be, Christmas means food, warmth, the tunes of jingle bells, and a time well spent with your close ones while bidding goodbye to the passing year and welcoming the new one.
However, sometimes real-life characters aren't that fun to be around during festive seasons. That's why we like to binge-watch the same Christmas anime and movies every year.
Because what we really want is to spend time with these characters who welcome us without any complications of the real world. That's why I have made this list of the best Christmas anime characters you will love to spend your Christmas with.
So, let's jump right into the list of best Christmas anime characters.
Best Christmas Female Anime Characters:
#10 Marin Kitagawa
Anime: My Dress-Up Darling
Marin Kitagawa is cheerful, humorous, mature, respectful, and clumsy at times. And that is why she is also the best Christmas female anime character a weeb could dream of. She loves watching anime and playing video games so much that she is often found enjoying those activities instead of studying.
Marin is a warm, welcoming, and definitely a character that embodies the spirit of Christmas. Be it eating out, going out for a drive, watching a movie at a theater, binge-watching your favorite Christmas movie or anime at home, or playing video games, Marin Kitagawa is a fun individual to be around during festivities.
#9 Yor Forger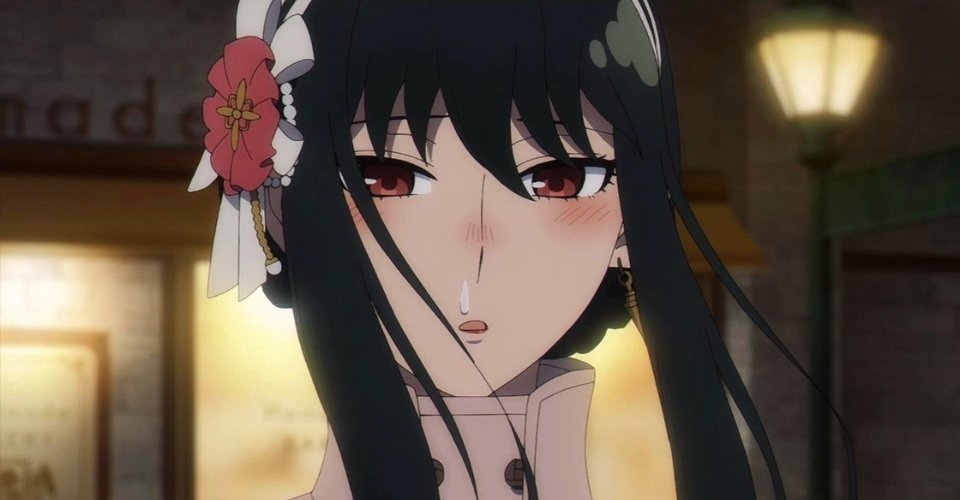 Anime: Spy x Family
Christmas is better when spent with family in the comfort of your home. And no one understands that better than Yor.
Although she's one of the deadliest assassins, Yor never attacks the innocent. She took on this job to feed her younger brother after they became orphans.
Yor is warm and kind-hearted, and for someone nicknamed 'Thorn Princess' in the assassin world, she is clumsy and unbelievably naive. What makes Yor a perfect Christmas anime character is her warm-heartedness. She is always caring and protective of her loved ones, and looking after their needs is her first and foremost priority.
Anya is lucky to have Yor as her mother, who not only understands how it feels to be an orphan but also knows the importance of family while growing up.
#8 Megumi Tadokoro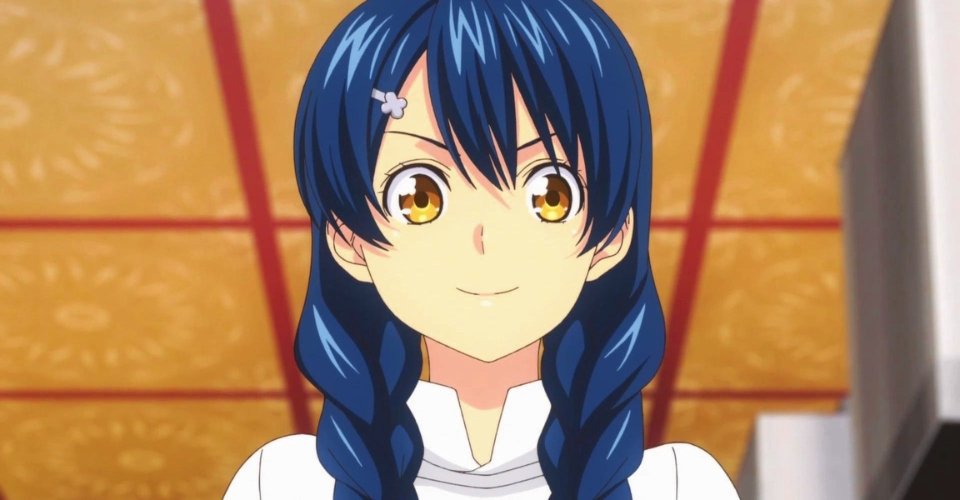 Anime: Food Wars! Shokugeki no Soma
When you hear about Christmas, the first image that pops up in your head is that of a Christmas tree in front of a fireplace, right? While you absolutely need a Christmas tree, the fireplace adds so much to the festive mood.
Just like the fireplace, Megumi Tadokoro radiates warmth, brings a bright smile to your face, and creates the perfect eve on Christmas day. On top of that, Megumi is a chef of the highest caliber, which means you don't have to think about food on this merry occasion.
#7 Yui Yuigahama
Anime: My Teen Romantic Comedy SNAFU
While the Christmas tree, decoration, and food are the basic necessities on the day of Christmas, you need to be emotionally available to savor all these things. That's why Yui Yuigahama is one of the best Christmas anime characters.
Not only is she cheerful, but she is also emotionally intelligent. So, even if you are not in the mood for Christmas, Yui will make sure to lighten up your mood. That is, being respectful of your emotions.
Although she might not be the best at cooking, you can expect handmade cookies filled with love and affection from her.
Not to forget, she is capable of livening up a dull party. So, make sure to invite her to your next Christmas party.
#6 Ikuyo Kita
Anime: Bocchi the Rock!
Christmas without music, and Bocchi the Rock without Ikuyo Kita will be lifeless. Ikuyo is a cheerful first-year high school student who loves to click photos and post them on social media.
But what she loves the most is music, that is also why she is in charge of the vocals and guitar of the Kessoku Band. Even without her bandmates, she could sing and play guitar, setting a perfect mood for Christmas.
However, if she decides to play with her whole band, there's nothing better than live music on the beautiful day of Christmas.
Honorable Mentions
Some female anime characters deserve to be on this list, so here are the female anime Christmas that will brighten up your Christmas:
Chisato Nishikigi (Lycoris Recoil)
Shouko Komi (Komi Can't Communicate)
Sumi Sakurasawa (Rent-a-Girlfriend)
Best Christmas Male Anime Characters:
#5 Izumi Miyamura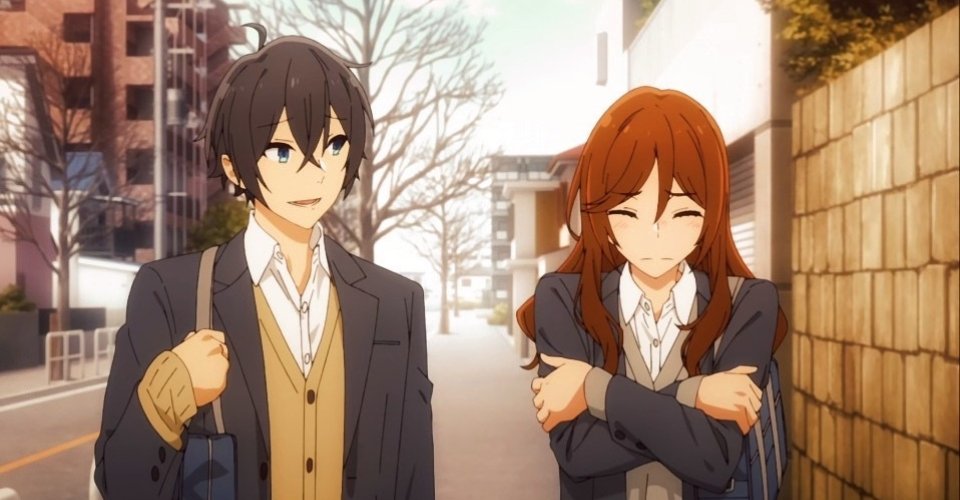 Anime: Horimiya
If Izumi Miyamura isn't the perfect Christmas anime character, I don't know who is. Mistaken for being an otaku at school and delinquent outside, Izumi is one among millions. He has a calm demeanor which makes anyone with him at peace of mind.
Izumi works in his family's bakery and wishes to take over his family's business. We all know there's no better duo than cake and Christmas. And a cake isn't the only bakery product; there are pies, pastries, muffins, bread, and so much more to enjoy on the special occasion of Christmas.
#4 Sanji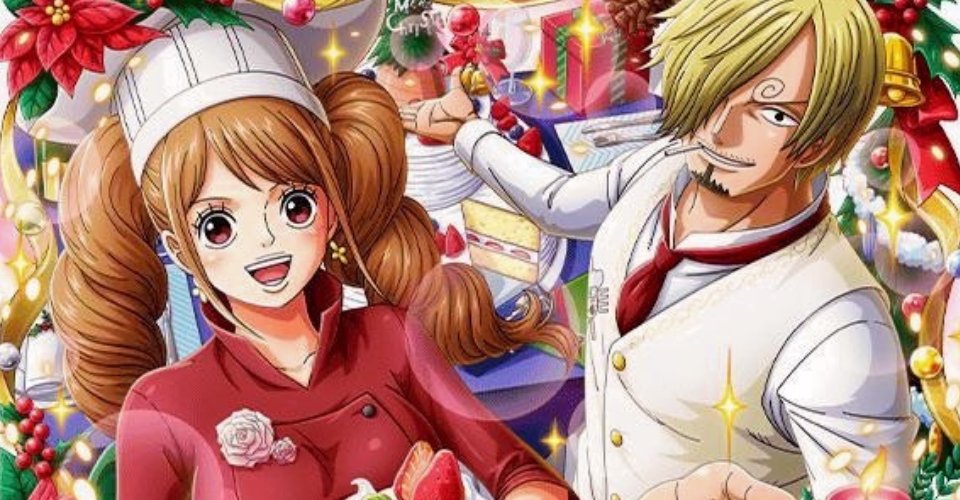 Anime: One Piece
Why celebrate Christmas on land when you can on the sea? Sanji is a chivalrous pirate who will treat any woman like a princess. He will take care of you, protect you, entertain you, and most importantly, serve you the best food you ever had. And what better than seafood fresh from the sea?
Although you won't be able to light up a fireplace, you can find yourself under the umbrella of stars on the night of Christmas, which might make you happier than you would have imagined.
Who knows, you might be able to witness Santa on his way to deliver gifts.
#3 Shigeo Kageyama
Anime: Mob Psycho 100
Shigeo Kageyama is one of the sweetest guys, if not the sweetest one. When it comes to socializing, he might be awkward, but if you spend time with Shigeo, you will know why he is on this list of best Christmas anime characters.
He is not only understanding but also compassionate, which has no bounds. If you want to enjoy every single moment of Christmas, there's no one better than Shigeo. You can eat out, go to movies, do shopping, and no matter how tiring it gets, he will always put a kind smile on his face.
#2 Houtarou Oreki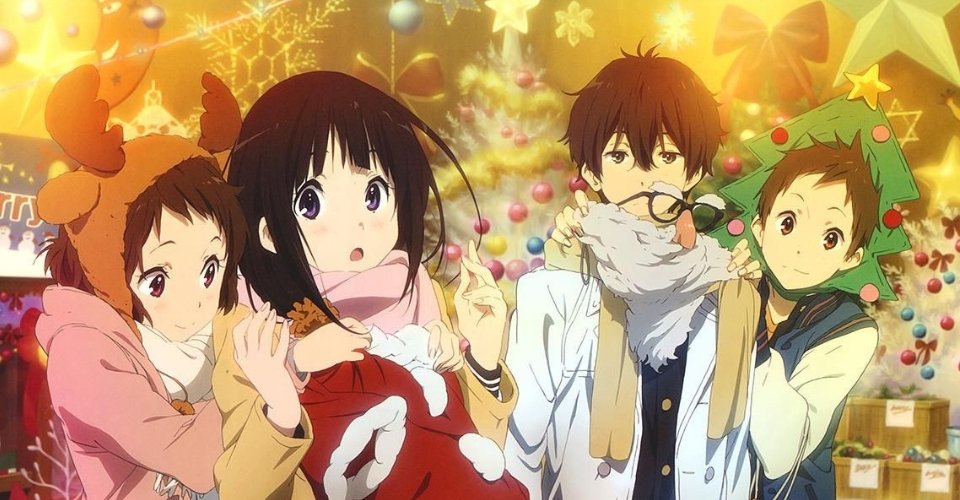 Anime: Hyouka
If you like to enjoy a quiet and comfy Christmas at your home, Houtaro Oreki might be able to give you the peaceful companion you are looking for.
Not only is he mature, kind, and understanding, but he loves to save his energy. No matter how many chores you present in front of him, he will find the most efficient way of doing it without any unnecessary hassle.
Light the fireplace, make some hot cup of tea or coffee according to your preference, bring some cookies, sit in front of the fireplace, and enjoy a happy Christmas with Oreki.
#1 Koro-sensei
Anime: Assassination Classroom
This list will be incomplete without Koro-sensei. There are several reasons why Koro-sensei is the best Christmas anime character. Be it his happy-go-lucky personality, or his ability to do anything within a few seconds, Koro-sensei is all you need this Christmas.
Ask him to cook; he will do that in a matter of seconds, he is that fast. Remember when he made a sand castle, brewed green tea, and even dressed up and everything in the duration of a line spoken by his colleague Tadaomi Karasuma?
He can take you anywhere you want to, not only in the country but across the globe. If you love playing games or activities, there's no one better than Koro-sensei.
Koro-sensei is like an octopus version of Santa Claus without the reindeer and the slate.
Don't Miss Out On The 15 Best Christmas Anime Episodes Of All Time!

Check this out!
Honorable Mentions
Here are some male Christmas anime characters who can add the cherry on top of your Christmas cake 😉
Loid Forger (Spy x Family)
Wakana Gojou (My Dress-Up Darling)
Tengen Uzui (Demon Slayer: Kimetsu no Yaiba Entertainment District Arc)
Final Thoughts:
With that, I present you with the best Christmas anime characters you might like to spend your Christmas with and make it extra special. I know many other anime characters could have easily made it onto the list, but then we wouldn't ever get to the end of it, would we?
That said, don't forget to enjoy this festive season with your family and friends. Although I can't possibly gift each one of you, I am leaving this beautiful Christmas song, Merry & Happy; that will make your Christmas even better.
I hope you liked this article on Christmas anime characters. If you have any suggestions or feedback regarding this article, feel free to reach out to us on averagebeing's Instagram handle.