With Christmas right around the corner, it is that time – to watch Christmas-themed anime to gear up for the holiday season. The themes and concepts connected with the holiday season are expertly captured in these anime Christmas specials, and they hardly let us down. Watching an anime episode set around Christmas has a pleasant, almost mystical, feel to it; the snowy backdrop, decorated streets and homes, and the joy of coming together, these moments are beyond marvelous.
These episodes will undoubtedly put viewers in the spirit of the season. So, cozy up and treat yourself to these hand-picked Christmas episodes.
#15 NARUTO Spin-Off: Rock Lee & His Ninja Pals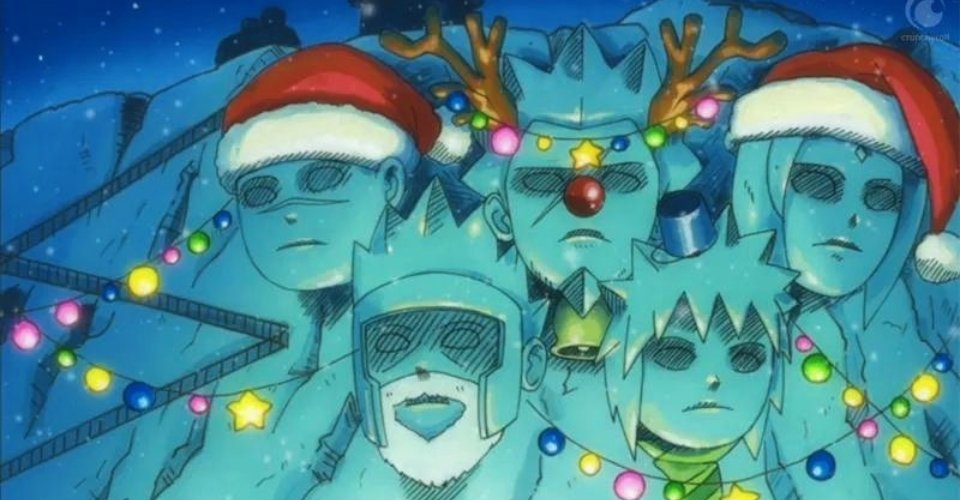 Episode: Christmas is the Last Chance for Love! / Orochimaru's Search for Love! Episode 39
As the Hidden Leaf Village prepares for a grand Christmas party, Tenten observes that everyone is eager about the presents at the Christmas party. When you are a ninja, things aren't that easy to get, even if they are Christmas presents.
Shizune and Tsunade organize a survival race, and doors leading to gifts have to be first passed by traps set them. Now, this is a simple and fun-filled anime as the ninjas of Hidden Leaf try to work their way into the presents, and there is a sense of Christmas joy throughout the episode.
Best Enjoyed With: This episode is enjoyed best with family and kids.
#14 Pikachu Shorts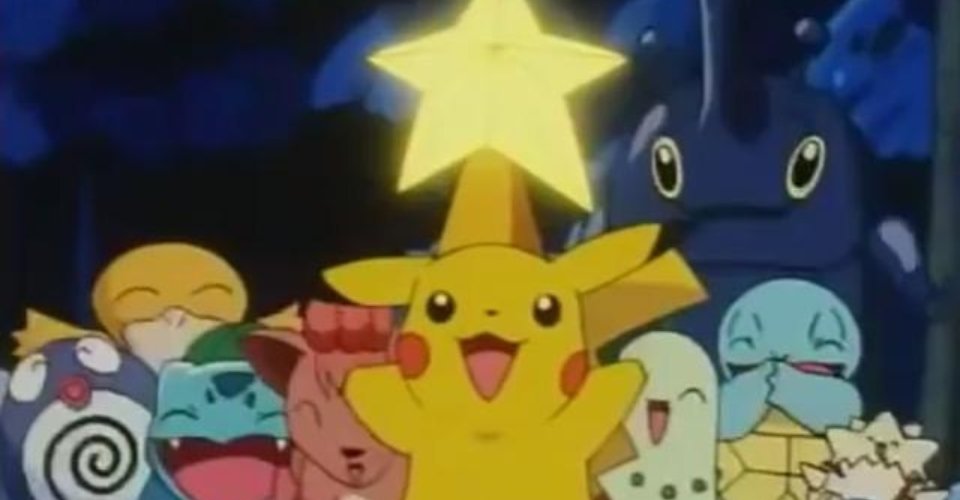 Episode: "Stantler's Little Helpers"
Pokemon is one of the longest-running anime series, so it was natural to have many Christmas specials. As they wait for Santa to deliver gifts to their home, Ash and the group are getting ready for bed.
During their slumber, the group's Pokemon spot Santa and his ill Stantler, a reindeer-like Pokemon. And to cure the Stantler, they need to find a certain kind of berries, and after a failed attempt, they eventually help heal the Stantler. Thanks to their Pokemon, Santa was able to carry on.
Best Enjoyed With: This episode is enjoyed best with family.
#13 Yuri on Ice
Episode: "Gotta Supercharge it! Pre-Grand Prix Final Special!" – Episode 10
Although not all of Yuri on Ice is set in the winter, the show's overall ice skating theme gives us a Christmas-y feeling throughout. Yuri Katsuki, a figure skater who aspires to be the finest skater in the world, stars in the sports anime series.
Yuri and his friends compete in a Grand Prix event one Christmas season, and he goes on to learn the real meaning of Christmas as he skates to an exquisite and stirring performance; the episode embodies beauty of love through eve of Christmas, making it one of the best episodes to watch on Christmas.
Best Enjoyed With: This episode is best enjoyed with your girlfriend/boyfriend.
#12 Laid-Back Camp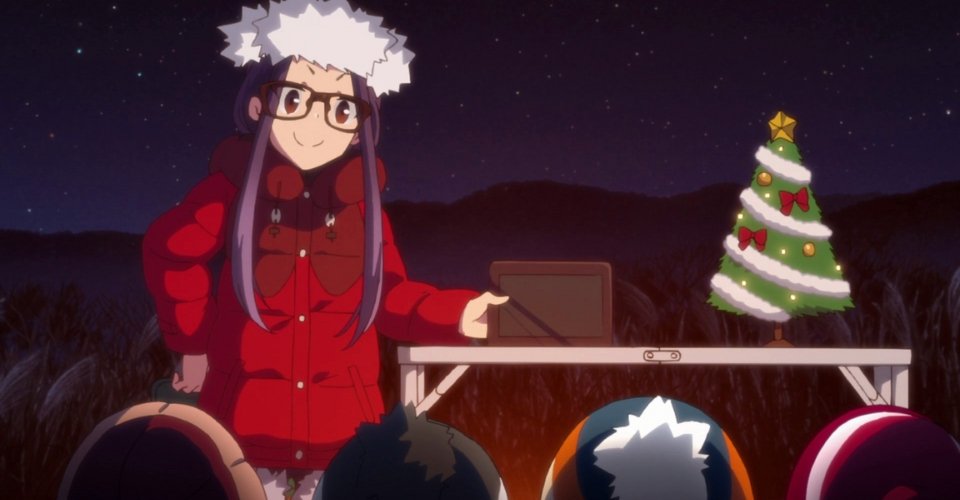 Episode: "Christmas Camp" – Episode 11
What better way to spend Christmas with your close friends than overlooking mountains in one of the most scenic places on earth?
The girls are eager to spend Christmas Eve together and start preparing for their big evening when they arrive at a campsite close to Mount Fuji. With temperatures dropping, the beautiful scenic mountains glistening in the night light, and campers all around – talk about going on a memorable trip through an anime episode.
Best Enjoyed With: This episode is enjoyed best with friends and loved ones.
#11 My Hero Academia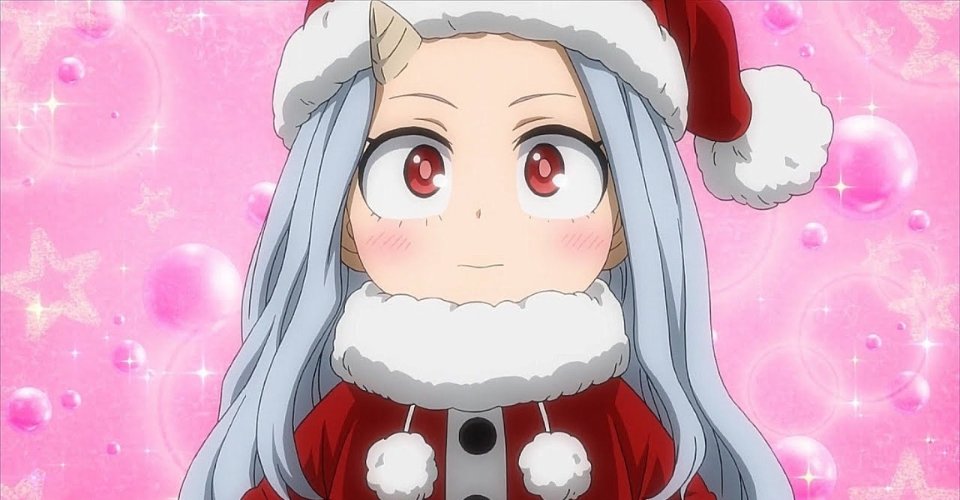 Episode: "Have a Merry Christmas!" – Episode 101
Students go through a lot; pilling assignments, deadlines to meet, internships, semester preparations, and whatnot. Christmas breaks can help them to catch a breather. And My Hero Academia shows just that; the class of A-1 coming together to spend their Christmas – giant feasts, endless fun, dressing up for the occasion, and exchanging presents; for our student readers, this might help you relieve some of your stress. And for others, take a trip down memory lane of your university days.
Best Enjoyed With: You can enjoy this episode best with your buddies.
#10 Sword Art Online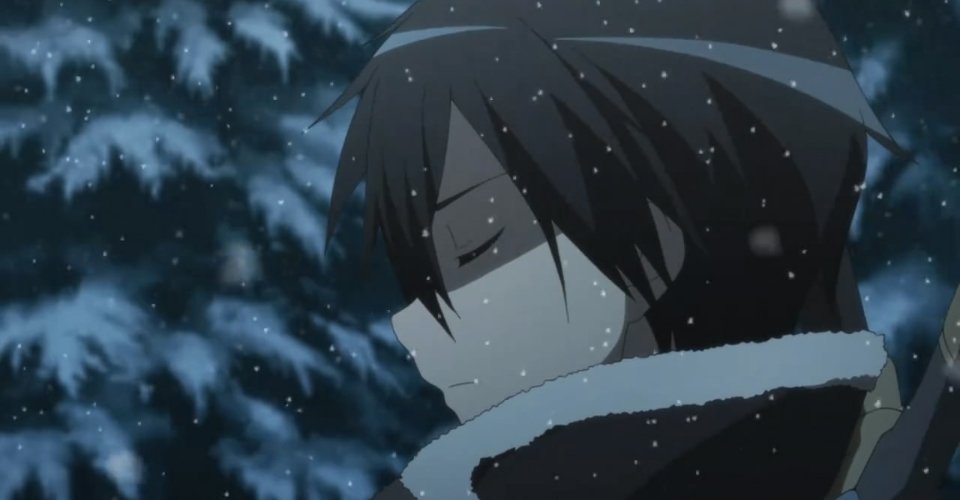 Episode: "The Red-Nosed Reindeer" – Episode 3
This episode of Sword Art Online walks us through the tragedy and misery of Kirito. After witnessing the death of a close friend of his, he is left alone and depressed during the holiday season. Kirito spends time listening to a message Sachi had recorded before her death for him, urging him to continue doing his best.
All it takes is a push for the world around you to crumble, and Christmas, like all other days, is still a regular calendar day. These are the times we the word of hope from a loved one can lift us, and dark as Kitito's Christmas might have been, the hope is what gets him through.
Best Enjoyed With: This episode is enjoyed best with loved ones.
#9 My Love Story!!
Episode: "My Christmas" – Episode 17
Being a tall, muscular beast may come out as intimidating for many; Takeo is one such character whose appearance leads to poor misjudgments among his peers. But, the notion changes when he takes down a pervert protecting Rinko. Takeo's friends decide to confess to one of Rinko's friends, and when the time comes, he gets cold feet.
Thanks to Takeo's motivation, Kurihara eventually confesses his feelings. Christmas means many things, and among all that is – the journey of new beginnings. So, don't fret; take your first step in doing whatever your mind is set on!
Best Enjoyed With: The following episode is enjoyed best with friends and the person you love.
#8 Tokyo Godfathers
Episode: Movie
Tokyo Godfathers is the only movie on this list, and the film is the perfect embodiment of a "Christmas miracle." The movie is about three homeless people digging through garbage cans to find Christmas presents for themselves, only to stumble upon an abandoned baby. They then set out on a Christmas adventure to discover the baby's mother.
The film is more than an adventure of three homeless people; as the story unravels, they realize how they were wasting their lives. A miracle changed their lives.
Best Enjoyed With: This episode is enjoyed best family.
#7 Gintama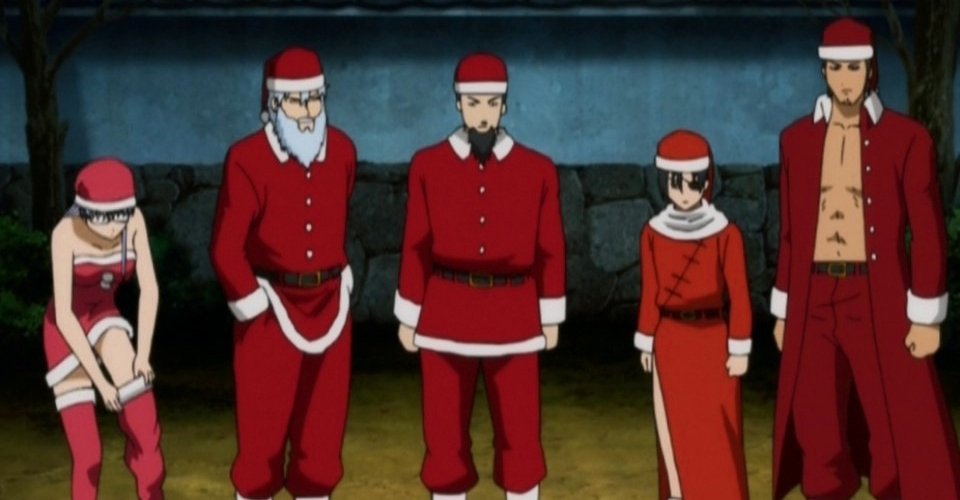 Episode: "Santa Claus Red Is Blood Red" – Episode 200
What's better than Gintoki dressing up as Santa? The entire gang dressed up as Santa! One thing that kids from all across the planet enjoy the most is unwrapping their presents on Christmas morning and relishing those beautiful moments. When it's finally Christmas in Edo, Kagura writes up a letter to her father telling him how Santa never visited her; touched and moved by this, he does what any father in his place would have done – dressed as Santa.
All this sounds pretty moving; if it were any other anime, it would have been emotional, but this is Gintama. And in most Gintama-like fashion, not one but multiple Santas show up at Kagura's, and how to find the 'orginal' Santa? Obviously, through a contest! This particular episode of Gintama shows what Christmas is about; it's the time you spend with your loved ones.
Best Enjoyed With: It's Gintama; you can watch this episode with anyone – your family, friends, spouse, girlfriend or boyfriend, or even all by yourself!
#6 Clannad: After Story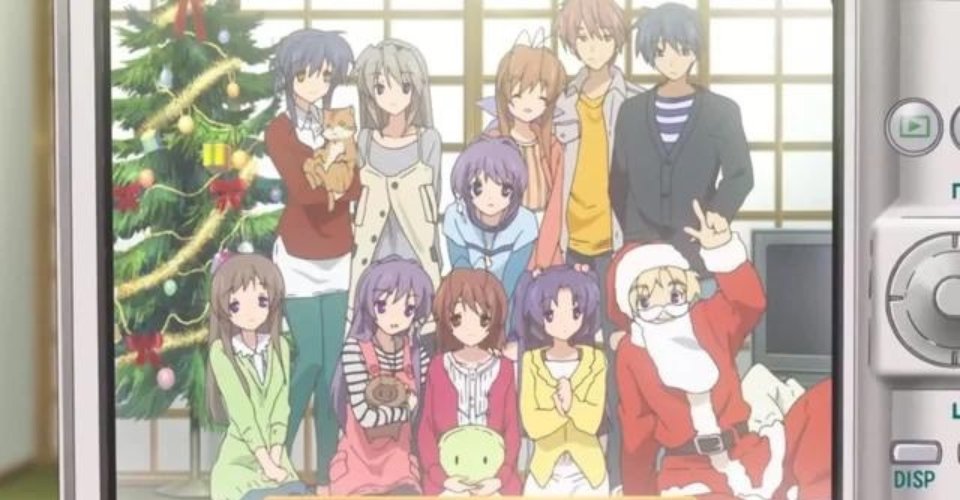 Episode: "Graduation" – Episode 13
What's Christmas to you? A bit of fun, presents, choir, last-minute shopping, and obviously, eggnog. Doesn't everyone have their funny/embarrassing alcohol story? The Clannad episode is just that; a good old fashion alcohol story.
Tomoya gets all jittery to ask a girl to marry her, and Nagisa has her first sip of Sake; the drinking scene in Nagisa brilliantly captures the holiday season. The endless teasing, laughs, jokes, and more will leave you wanting more from the episode.
Best Enjoyed With: You can enjoy this episode best with your family or girlfriend/boyfriend.
#5 Angel Beats!
Episode: "Alive" – Episode 7
Christmas is a time of joy, and this episode is anything but 'joyful.' But still, it deserves to be on the list for the sheer beauty of a bond. With dwelling too much into the details of the series, the episode revolves around Otonashi, who has no memory of his past existence. However, we get a glimpse into his past in this episode.
We see Otonashi caring and working tirelessly to meet ends for his ailing sister, Hatsune, who is bedridden. But as her condition deteriorates, there appears to be little chance that she will ever be able to leave the hospital. And her only wish is to watch the Christmas lights – he ignores all the medical advice and takes her to watch the Christmas lights. For the one last time, Hatsune thanked her brother before passing away on his shoulders. We, like Otonashi, should have the same determination to go to any end to make a wish come true.
Best Enjoyed With: You can enjoy this episode with anyone as long as you have a box of tissues by your side.
#4 K-ON!
Episode: "Christmas!" – Episode 7
At first glimpse, K-On might seem like a plot revolving around "cute girls, doing cute things," but in reality, it is well-balanced anime between humor, story, and music. And the same balance of the anime makes their Christmas episode one to watch on Christmas eve.
The episode unravels as the story of five high schoolers as they plan a Christmas party and what gifts to buy for one another. The episode encapsulates the beauty of relationships; one between siblings, one between family, and one between friends. It is a joyful sensation over the holidays, in addition to spending time with family and friends, is spending time with friends.
Best Enjoyed With: You could enjoy this "white Kurisumasu" episode the best with family or friends.
#3 Himouto! Umaru-Chan
Episode: "Umaru and Christmas and New Year's" – Episode 8
Can anyone possibly go wrong with Umaru Doma and her cuteness? Throw in a Christmas backdrop with Umaru, and you get one of the most comforting and lovely Christmas episodes. Umaru-chan shows the essence of small pleasures in life; Christmas does not have to be hectic and tedious. It can also be lazy; you could spend Christmas cozied up in a blanket and watching anime, and nothing is wrong with that.
Best Enjoyed With: This episode is enjoyed best with loved ones.
#2 Gakuen Babysitters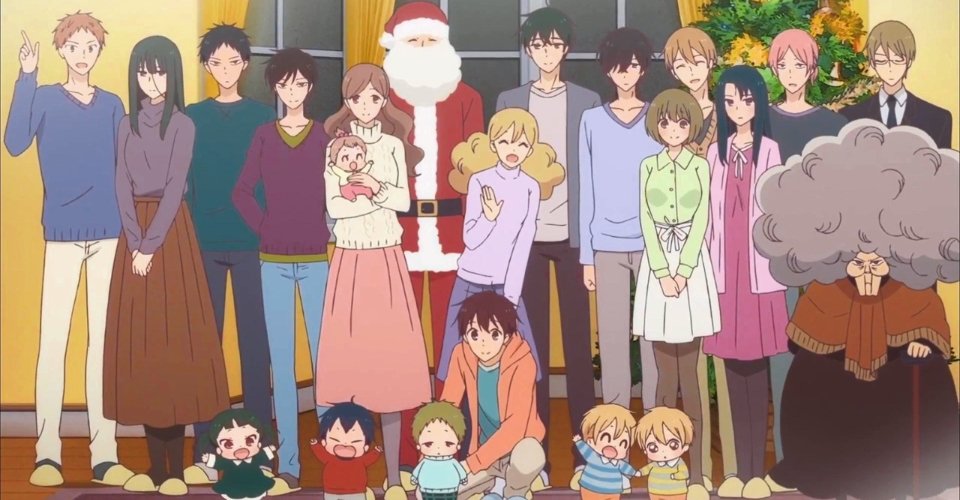 Episode: 12
Whether you have lost someone recently or are far away from your family, the first Christmas you go through in such instances is a strenuous ordeal. These moments are never easy, and this episode shows just that – how two brothers who just lost their parents go through their first Christmas without their parents.
So, Ryuuichi dresses or tries to dress as Santa Claus to continue a family tradition until he realizes it's impossible to change into his costume with his brother following him around. And when all seems lost, the doorbell rings, and the daycare group surprises Ryu and Santa too! Ryu goes through a roller-coaster of emotions throughout the anime, but in the end, the immense joy of being with his new-found family outweighs it all. And that's the beauty of Christmas.
Best Enjoyed With: This episode can be watched with family/friends/girlfriend or boyfriend.
#1 Toradora!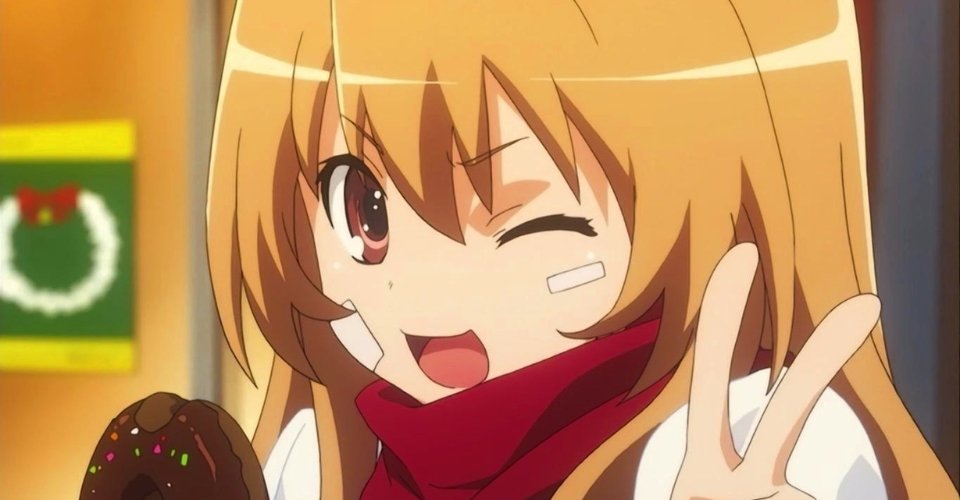 Episode: "Mercury Retrogrades at Christmas" – Episodes 17-19
Before you think – yes, this trilogy of the episode is definitely worth the watch. The plot is nothing out of the box; shopping for Christmas, a large tree, a gift exchange, and a party. A typical Christmas cliché, one could say.
These simple things are what make this episode special and worth the watch. This episode is about everything you go through at Christmas, but more than anything, it also shows that it is sometime's okay to be yourself, even if it means being a little selfish.
Best Enjoyed With: You can enjoy this episode with anyone!
Honorable Mentions
Dr. Stone – Episode 21
Sakura's Wonderful Christmas – Episode 35
The Pet Girl of Sakurasou – Episode 14
5 Centimeters Per Second
Wotakoi: Love is Hard for Otaku – Episode 6
That's it from us! These Christmas anime picks, whether you're in the mood for some laughs or some tears, these episodes would keep you occupied for Christmas. Which episode are you going to watch to get yourself in the holiday spirit? And Merry Christmas!