In a world where being Alpha is the number one marker for a great superhero, Barry Allen walks…nay, runs among them as the most adorable beta male. But don't mistake his vulnerability, empathy, kindness, and humor for a fragile superhero.
Barry Allen– The speedster who is out to avenge his parent's death is an enigma with a heart of gold and the power of a lightning bolt.
CW's The Flash redefined the portrayal of a superhero with eccentricity. Airing its final season, Barry's character arc is the most fleshed out throughout the Arrowverse. Barry was so relatable to the new generation, credit to Grant Gustin's stellar acting and deep understanding of his character.
The Flash fandom was also split between the DCEU The Flash, played by Ezra Miller, and Grant Gustin's Flash. Even though DCEU Flash is way faster, n the end, CW's Flash was crowned for his time travel, durability, combat experience, and use of his speed strategically. 
With the final episode aired on 24 May 2023, there is so much to unpack in the episode that ties all nine seasons together. Here is what went down in a flash, in The Flash.
How Does The Flash Story End?
ACT 1: Antagonists Assemble
In a usual Good v/s evil, The Flash series calls back the villains from previous seasons. Eddie Thawne resurrects the most formidable villains against Team Flash.
Hunter Zolomon/ Zoom, who plays the main villain Reverse Flash in season 2, declares war on the city. Barry had a hard time fighting him in the previous season. But eventually meets his end at the hands of Khione.
Karan Oberoi reprises his role as August Heart, best known as Godspeed, from season 7. Cecile Horton, or Virtue, defeats him in the battle.
Savitar, the devious villain and self-proclaimed "God of Speed," is defeated by future Nora West-Allen/XS.
Overall, the fights did seem a bit too convenient, but maintained the essence of the show.
ACT 2: Epic Comebacks
Team Flash was ready to take on the villains with adrenaline-pumped action.
And the fan-favorite Danielle Panabaker comes back as Khione in Team Flash. When Khione, who was inhabiting the body of Caitlin Snow, leaves and returns Caitlin to life.
In a usual Barry style, he approaches Eddie Thawne, knowing well that he had previously sacrificed himself to save the world. After an epic beatdown by Eddie, Barry still pursues his good side by explaining how their forces would multiply if they worked together instead of being tempted by the Negative Speed Force. Eddie eventually smashes the blue crystal, and they agree to meet in the future as Cobalt Blue and The Flash.
ACT 3: Iris
Enough with the action; here comes the most awaited part of the finale. The dynamic between Barry and Iris is the ship we can never get enough of.
Iris gives birth to baby Nora. It feels like a reverse circle of life, considering the future Nora just fought an epic battle against the villains.
In a heartwarming sequence, we see Barry finally getting his own family as they celebrate with a baby-welcome party. But the spotlight shifts to Joe West, who proposes to the mother of his child, Cecile. Everyone cheers for the couple….and 'scene!' So we thought–
Possibility of the Future of The Flash
In the post-title sequence, Barry is seen consoling a crying baby Nora and tells her a story. He hints at a never-ending battle in the future and believes they might win if they share their gifts.
We see Barry shooting lightning into the sky, which instills power in Avery Ho, Max Mercury, and Jess Chambers. While Avery appeared previously in the series, the rest two are introduced in the last few minutes before the end. This implies that there may be a continuation of this universe with a new gen of superheroes.
Why Did Grant Gustin Leave Flash? Is Grant Gustin Done with Flash?
Grant Gustin definitely carried the show on his back all through nine seasons. But he had his own vision about how long the show must go on–
"A lot of people wanted us to get to 10 seasons, but in my mind, we did 10 years — it was 2013 when I was cast as Barry Allen, and we finished in 2023," he said. "We had done everything we needed to do, the characters were in a good place, and we had reached the conclusion."
Speaking about what made him think that it was time to say goodbye to the character, Gustin explains–
"I just knew it was time for me to step away, have more time with my family, and just enter this next chapter of my life. But I think I would've really questioned my decision if they had done a Season 10 [without me] — if I knew the whole family was still together and I was somewhere else — so I'm glad we all finished at the same time. I'm not really a FOMO person, but I would've for sure had FOMO about that."
Nevertheless, we are not ruling out the possibility of him reprising the role in any multi-verse sequels or movies.
Does Carlos Valdes Return to Flash?
Another fan-favorite character, Cisco, was one of the best characters. Carlos Valdes, playing Cisco, was somewhat hopeful to show up one last time in the Arrowverse. He explains what happened to his character–
"If I decided to step away from the show [after Season 7], at the very least, I have to be there for the finale to … really honor the full circle-ness of it."
"I did consider" returning for the series finale, but "there was no way to make it happen with regards to my schedule and just all the different creative ventures and life circumstances that I was trying to juggle at that time."
Fans tuning in to the last episode had pretty mixed reactions.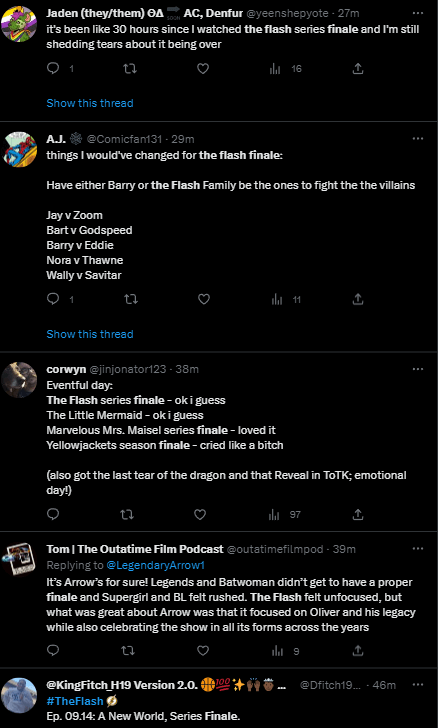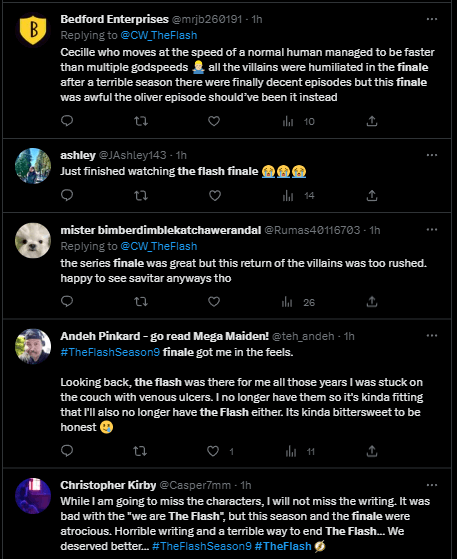 What are your thoughts on the finale? Do you think that Grant Gustin will return?
Which was your favorite season of the series? Let us know your opinions in the comment section below.