Hideo Kojima, in collaboration with Kojima Productions, just dropped the trailer for its 2019 Death Stranding game sequel: Death Stranding 2, and in no time, searches for "Hideo Kojima Games" exploded.
Popular video game designer Hideo Kojima released Death Stranding 2 trailer on Thursday during The Game Awards.
The video game title is a sequel to 2019's Death Stranding, which touched over 10 million players by the end of 2022.
Searches for "Hideo Kojima Games" increased by 5297% after Death Stranding 2 announcement at The Game Awards.
The leaked footage appeared in November as a picture-in-picture view of a person seemingly playing the game, similar to a Twitch streamer.
Hideo Kojima has definitely made a name for himself as an auteur of video games in the gaming arena. His contributions to the industry in the form of the Metal Gear series, Policenauts, and the most notable, Death Stranding series have pulled a large number of new-age gamers and filmmaking enthusiasts alike, thanks to Kojima's action/adventure cinematic touch in his creative works.
Death Stranding, which is widely regarded as one of the most liked walking simulators to come out in 2019 and since then, has created a stronger community of over 10 million players around it. Death Stranding offers a single-player gaming experience that allows players to communicate with each other and is the first-ever video game title to appear from the house of Kojima Productions, Hideo Kojima's very own production studio.
Trailer drops, search volumes go all-time high: Death Stranding 2
The trailer for Death Stranding 2, released a day ago during The Game Awards, features Fragile, played by Léa Seydoux, and Sam, played by Norman Reedus, in a world still infested with lethal BTs.
No soon did Kojima take to the stage to introduce the much-awaited sequel; searches for "Hideo Kojima Games" increased by 5297%, thus reaching an all-time high in search volume, according to Google.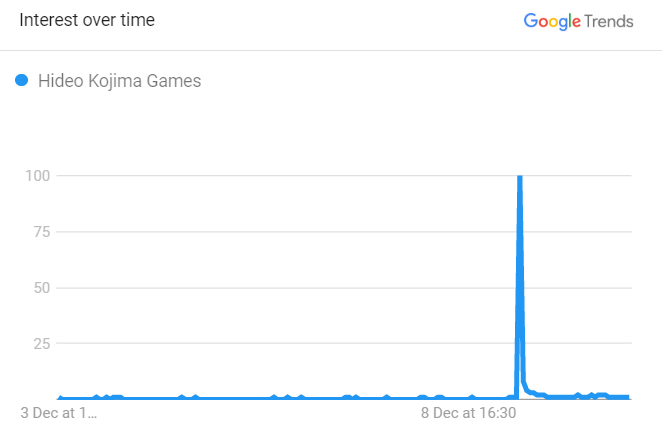 Take a look at these countries that searched the most for "Hideo Kojima Games" after the announcement, as per Google's search Data:
| | |
| --- | --- |
| Region | Search Volume (%) |
| Canada | 100% |
| United States | 84% |
| Philippines | 69% |
| Australia | 67% |
| United Kingdom | 52% |
| Brazil | 38% |
| Poland | 31% |
| Sweden | 30% |
| Mexico | 27% |
| Spain | 25% |
Interestingly, search volumes for the Death Stranding creator Hideo Kojima surpassed the search results for the game itself with a remarkable 3021.77% gap between "Death Stranding 2" and "Hideo Kojima" searches.
While searches for Hideo Kojima increased by 3866.68%, Death Standing 2 only managed an 844.91% boost in online searches after the event.
Although no release date has been finalized yet by Kojima Studio, Youtube's trailer description states it's heading to Playstation 5.
The trailer begins with random shots that show baby toys lying around with the tune of BB's theme from the first title playing in the background. The viewers are introduced to Fragile playing with a baby. In the next shot, the world around her appears to catch a high pace as an emergency sets in.
Fragile holds the baby close to her and starts moving carefully through the building, avoiding unknown assailants carrying flashlights. Once out, she gets on a mono-trike and starts fleeing away. She gets shot off her vehicle, and the whole color palette suddenly transitions to a much more sinister red tone. Fragile loses the baby at a distance, as she tries crawling to her baby when she passes out.
The shot then darkens, showing a game logo along with a new organization's logo showcased, stating, "Drawbridge: Both stick and rope, To protect and connect. Together. For tomorrow." The next shot opens up with Sam Bridges walking up the stairs and standing next to Fragile while they look at a massive vehicle making its way out of the black water body.
Fragile in an exchange of dialogue (with white hair now), tells Sam that it is time for him to hit the road and start a new journey. As the trailer ends, a masked figure with the same hair as Amelie from Death Stranding appears, singing BB's theme while playing the guitar.
The mysterious figure is surrounded by several other characters with glowing triangles on their faces. The final text reads, "Should we have connected?" The trailer thus ends with a shot of BB pod filled with tentacles while Sam calls for Lou.
Nintendo Switch Dominates As The Most Searched Video Game Console On Black Friday 2022

Fans Also Read
Take a look at Death Standing 2 trailer here:
Well, that's about it, folks! What do you think about the Death Stranding 2 trailer? Have you played the first Death Stranding 2 video game? What other titles do you wish to play in the future? Tell us your thoughts in the comments, and make sure to visit averagebeing.com for more exciting gaming updates!