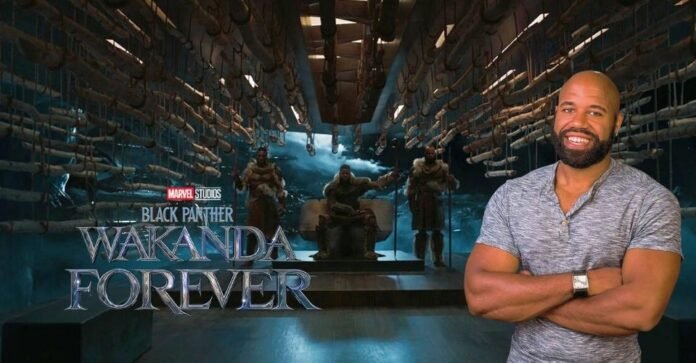 The story of Wakanda is yet to be explored in the coming days with the release of Marvel Studios' much-anticipated sequel Blank Panther: Wakanda Forever. Fans and critics have both expressed their curiosity on how exactly Marvel will pay homage to the late Chadwick Boseman after he lost his battle with cancer. Marvel Studios president Kevin Feige had already stated Marvel's plans not to recast another actor for the role of King T'Challa.
When the news of the actor's untimely passing broke out in August 2020, the whole world was taken aback as the actor's legacy had to be carried forward in the same way he portrayed Black Panther. Now, the Blank Panther mantle is to be passed onto Shuri, King T' Challa's sister, and it would be on her shoulders to lead Wakanda as the story moves forward.
When Boseman left, things became challenging for the cast and crew, as the sequel was under development. But the creators overcame the hurdles, reworked the script, and the movie is now mere days away from its release. All while keeping Boseman's legendary portrayal of King T'Challa intact. One such persistent individual from the Wakandan crew is Pyro Johnson, who, despite all odds, never once threw in the towel and continued moving towards his goals.
Today, Pyro Johnson is an actor/musician/entrepreneur, and financial advisor, but life wasn't this rewarding from the start. He grew up in Compton, California, with ups and downs shaping his route to success. Being subjected to people's scrutiny all his time growing up, he had to make his way through false ideologies and notions.
Any individual going through all that pain would find themselves fighting against the lasting effects of trauma imposed on the mind afterward. Johnson had his fair share of shortcomings, but he refused to let them define who he was. He took his time to heal and showed up strong in the face of hardships. You'll be surprised to know how Wolverine greatly impacted Pyro Johnson's life. Read his inspiring story here.
As for now, Johnson is all set to appear as a Jabari Warrior in Black Panther: Wakanda Forever. As an actor too, Johnson holds several movie titles under his belt, namely Obstacle Corpse, 5150, Fame City, and a few other films and youtube skits. We reached out to this artist to hear his story and how he sees the world around him, but now we know that every one of us gets to learn a thing or two from Pyro's life experiences as we continue to pursue our personal endeavors.
Let's hear it from the man himself. The moments he had while filming, his take on business, and as an actor/artist, the hard work he had to put in to portray a strong-willed Jabari Warrior.
Pyro Johnson in talks with averagebeing.
We have all seen interviews of people sharing their first moment in a Marvel set. How was the experience for you?
To be honest, the experience on a Marvel (MCU) set is nothing less than breathtaking and just simply MARVELous. Everyone that I met on set felt like family. It's hard to explain how connected everyone was. Aside from the obvious actors, one of the most impactful people I had the pleasure to meet was the late great Dorothy Steel (May God rest her soul). She gave me grandma vibes from day one until the last day I was able to talk with her. She gave me so much wisdom and advice that I had never received on any job I had done in my entire life. She will truly be missed.
Furthermore, the next person I loved working with was Ryan Coogler. I mean, what a great individual and human being. All I can remember is him saying to me you know what I'm saying in a very low, monotone voice, like every moment on set. Like it's so hard to explain how passionate he is. He is an Elon Musk Level genius when it comes to filmmaking. I would do any movie with him again, hell, even for free. Also, that includes working with Don (Donald Sparks). He gave me such a great opportunity that I can not share yet. But just an amazing group of people. I wish I could name them all, but I can't.
Being an artist, Which MCU character do you think can pull off a full-fledged musical film? (Something similar to Joaquin Phoenix's Joker: Folie à Deux)
Hugh Jackman's Wolverine would put on an awesome full-fledged musical film, but the only reason I say that is because Hugh Jackman is one of the greatest stage performers of our time. But if we are talking about just character, I would say Deadpool and not necessarily Ryan Reynolds Deadpool but Deadpool as a character in general. This would be fascinating because Deadpool is such a complex character with many highs and lows full of many emotional roller coasters.
Congratulations on Pyro Productions. As a business owner and a financial consultant, What gap do you see between big stars and their investments? Anything you took notes that can help the fans or people in general?
Thank you so much. I think the most significant gap between big stars and their investments is a lack of imagination and innovation. Big stars such as Jay Z, Ye, Rick Ross, and 50 Cent have maximized their investments and ventured into untapped markets, which has yielded them financial success. Furthermore, many big stars lack ownership and creative control over their investments, which is why it's important for stars not only to have investments in popular companies but also to create their own projects and then invest in themselves.
Be it diet, exercise, or something else. To portray a strong, fierce Jabari Warrior, What things did Marvel demand from you? Was that hard?
The funny thing I always hear about superhero movies is how they were forced to get bigger and stronger. I personally don't know anything about that life because I have never been told by any Marvel movie, let alone any flick that I was about to film, to get strong or more fierce, and the reason why is because I work out and go hard every day in the gym. My motto is inspired by the old Suga Free song that says, "If You Stay Ready, You Ain't Got To Get Ready." This statement right here will always have me intense, fierce, and strong.
Would you like to share anything the fans don't know about the Jabari Tribe or the men who portray the warriors behind the screens?
Well, The Jabari are truly the strength of Wakanda, despite what people may think. They also appreciate legacy and history. They don't believe too much in technology as they feel that it is an abomination to raw talent and raw gifts given to them by the gods. They are very unilateral for the most part, and this is their weakness because they don't believe in using any outside help of any kind. Now the cast who portrayed the Jabari on set were all amazing, and we all still keep in contact to this day. We really felt a sense of brotherhood.
Speaking of the Jabari Tribe, They are led by Lord M'Baku, aka Winston Duke. Now, this is a huge guy. We're talking at least 6′ 5″ here. Does he feel intimidating on sets, or anything you felt by seeing him in person?
Looks can be deceiving! Despite Winston Duke being 6′ 5″, he was extremely down to earth, approachable, and really easy to talk to. I truly enjoyed working with him. Also, I do want to add that I am a pretty big guy myself, I mean, I'm not 6′ 5″, but I am pretty muscular, so not much really intimidates me. But for a person in general, Winston was like a brother on set and was super fun to be around.
We are all saddened by Chadwick Boseman's loss, but as of your observations, how did the cast & crew perform on the sets while maintaining those emotions? Did they really push themselves?
I think we all came to the set each day wanting to add to the beautiful legacy Chadwick cultivated in the first film. For me, I felt honored and motivated to put forth my best effort with the hopes of adding to that legacy. Also, I feel that everyone really tried to step their game up to the maximum.
This is a tough one. The first reactions say Black Panther: Wakanda Forever is the most emotional MCU film to date. Do you think it can actually top the first installment?
Chadwick brought something amazing to the first Black Panther film, an element that's hard to put into words. I don't think any installment will outshine the first simply because of the brilliance that Chadwick brought to his portrayal of Black Panther. However, Black Panther Wakanda Forever is not ultimately tied to the first one. I mean, it is, but it's not. This film focuses on Wakanda as a nation versus just Black Panther.
Lastly, Any advice from your personal experience for young lads looking to go big in their career, be it as an actor or artist?
Be relentless in your pursuit of your dreams. And never say no. Each role is an opportunity to grow, expand your reach, and cultivate your artistry. Also, respect the law of harmonious rhythm and keep giving positivity to it after you demand what you deserve from it and have faith that it is on its way to you.
So this was Pyro Johnson. An artist who doesn't know when to give up. Playing a warrior on the screen sure had its challenges, but Johnson stayed consistent and got the job done. Similar to the entire Black Panther crew. If they can pull it off, what's stopping us from creating the life we want? All while striving for a better future. Together, we can do it. Giving up is not something humans are known for, right?
As for the movie, early reactions to Black Panther: Wakanda Forever deem it to be Marvel's most emotionally moving and powerful film. The actors, the storyline, and Ryan Coogler's seamless direction, all contribute to this beautiful tribute to Chadwick Boseman. The Jabari warriors are promising as ever, while the legacy of Black Panther gets the heartfelt importance it deserves. Fans can expect a roller-coaster of emotions in the theatre as the story of the land of Wakanda moves to the next chapter. Truly making all the hearts say, Wakanda Forever.
What are your thoughts about the interview with Pyro Johnson's outlook on the film and life in general? Are you planning to watch Black Panther: Wakanda Forever when it gets out? Do share your experiences with us, and visit averagebeing.com for more comic book news.