Fortnite's Winterfest 2022 is going on in full swing, leaving players wondering where Santa, aka Sgt. Winter actually respawns in Chapter 4, Season 1. Although Sgt. Winter can spawn at any location, keeping in mind that he can't go in fields or hills in his freebie truck will help the players by sticking to roads and spotting him.
The spawn points are random, but here we've tried to locate the best possible areas for him to hand out holiday loot and healing items.
Just remember to be nice to him.
Fortnite is running its Christmas event, Winterfest 2022, from December 13 to January 23.
Winterfest 2022 involves a Santa Claus NPC, aka Sgt. Winter hands out gifts to players by spawning at a random location.
If players are nice to Sgt. Winter, they receive holiday loot and healing kits and other freebies.
Fortnite's chapter 4, season 1, started off on December 4, 2022. The new chapter in Fortnite's battle royal offers players ways to go around in the game, such as dirt bikes, shockwave hammers, and a whole new arsenal of weapons.
During the holiday season, Fortnite hosts its annual Winterfest event in which players come across a Santa Claus NPC known as Sgt. Winter. This NPC travels in his holiday truck on roads and gives out free stuff as gifts as the game progresses. Fortnite had originally hosted a similar event dubbed 14 days of Fortnite in 2018.
Thereafter the event came to be known as Winterfest 2019. Fortnite didn't host the event in 2020, but the Winterfest 2021 was revealed as per the annual schedule.
Who is Fortnite SGT. Winter?
Sgt Winter is a friendly Santa Claus-type NPC from Winterfest 2022 who drives around the island in his Holiday Big Rig sporting a military outfit.
During the game, Sgt. Winter stays still on the Big Rig at all times, casually on to the players lucky enough to spot him. When he's nearby, his reindeer will honk, signaling the player to come close; when Sgt. Winter throws a present near them.
The Big Rig speeds away as he waves goodbye. Usually harmless, Sgt. Winter only attacks when players impose damage on him, his reindeer lama, or his Big Rig.
Will Santa (SGT. Winter) Give Players Gifts In Fortnite?
For this Winterfest 2022, Sgt. Winter has 14 presents amounting to 17 free in-game items available in the Winterfest Lodge (aka the Cozy Lodge). Players can find the lodge in the snowflake tab when in the lobby.
The freebies comprise two pairs of outfits, two sets of gliders, two wraps, three lobby tracks, and three sprays, along with a Back Bling, Pickaxe, Contrail, emote, and emoticon.
The outfits include an Arctic Adeline Outfit (a cropped hoodie and jogging bottoms similar to a Christmas jumper) and the Sled Ready Guff Outfit. For players willing to go the extra mile, Winterfest 2022 also brings VIPs Snowdancer and Cozy Knit Jonesy.
Players who log in from Epic Games Launcher during Winterfest can get their hands on Guff Gringle Outfit. As for Fortnite Crewe members, they will get the reactive Chill-la-la-Llama Back Bling.
The Hate Around Fortnite: Searches For "Fortnite Sucks" Skyrocketed By 1821.9% After Chapter 4 Event

Fans Also Read
SGT. Winter's All Spawn Locations In Fortnite Chapter 4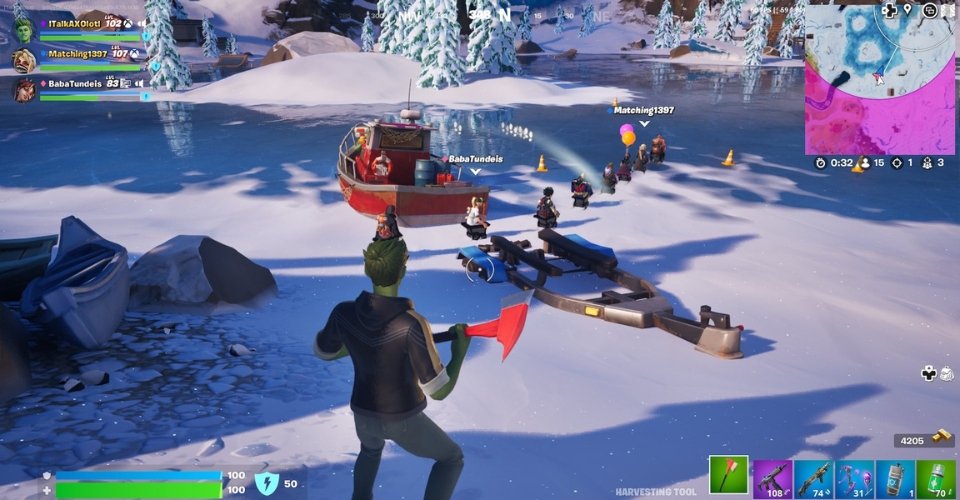 First off, there's no particular location that Sgt. Winter likes to stroll around in his Big Rig. Players can cross paths with him anywhere in the game. However, players are advised to look out for him on spots with proper roads instead of hilly terrains.
Although SGT. Winter usually spawns in the Snow Biome, spotting him becomes hard due to poor visibility leaving us with all of these possible locations to let him make your Winterfest 2022 a better one.
Grass biome
Anvil Square
Brutal Bastion
Faulty Splits
Even if you haven't spotted Sgt. Winter yet, don't lose hope. You still have plenty of time, as Winterfest 2022 is going on strong. If you find him mid-game, make sure to approach him nicely, and he'll drop gifts and speed away in an instant.
Your decision to attack Sgt. Winters, it will result in him firing back at you.
Watch your back!
Did you spot Sgt. Winter yet? What did you receive from him in Winterfest 2022? Do share your responses in the comments, and make sure to visit averagebeing.com for more exciting gaming content.