A name synonymous with 'hitmaker,' Bad Bunny shattered the glass ceiling of the mainstream music industry. The Latin Reggaeton artist has amassed a massive fandom within a span of five years and counting.
He is among the influential international musicians who managed to chart every song he was associated with. From Becky G, Drake, and Cardi B, to Rosalía, J.Balvin, and Bomba Estéreo, his collaborations are not characterized by popularity but by people who understand his vision.
No wonder Bad Bunny was the Number #1 streamed artist on Spotify for three consecutive years (2020-2022) — the first time for any artist in history.
He recently marked his name with heavy-hitter A-list celebrities when he acted alongside Brad Pitt, Michael Shannon, Aaron Taylon-Johnson, Sandra Bullock, Logan Lerman, and other huge ensemble casts in the 2022 hit film Bullet Train.
From the humble beginnings of Benito Antonio Martinez Ocasio as a college student who worked at a supermarket to sharing the grand stage at the Superbowl Halftime show with Shakira, Bad Bunny has conquered every platform he sets foot on.
And with this massive fame came his personal life under people's radar.
Bad Bunny Talks About Sexual Fluidity
Ever since his debut in 2016, the Puerto Rican singer has always been vocal about LGBTQ+ rights. He spoke openly against the rampant homophobia in the Latin community overpowered by conventional masculinity. His tribute to the brutal killings of a transgender woman, Alexa Negrón Luciano, reflected his unconditional support to the community.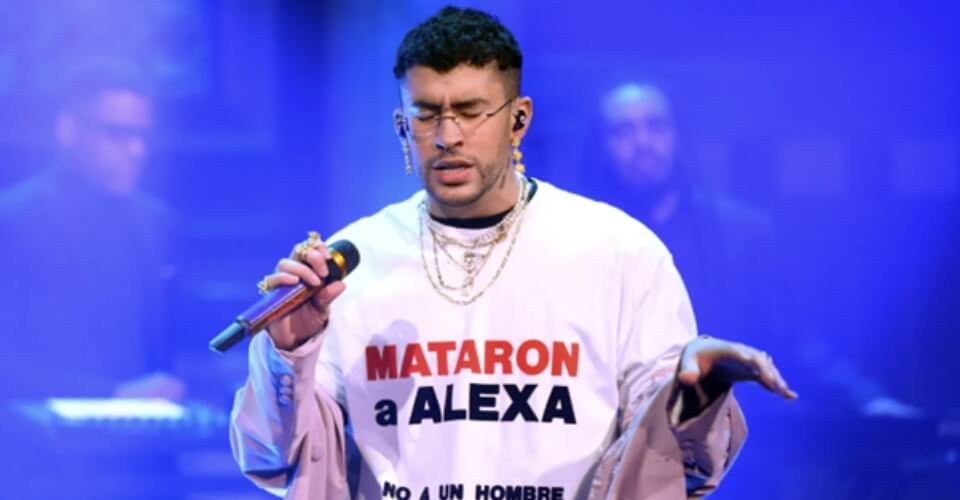 ["They Killed Alexa, not a man in a skirt" – echoes through his fight against transphobia in Puerto Rico.]
When asked about his own sexual preference, Bad Bunny never hesitated to disclose his sexual fluidity. Def: A person whose sexual orientation is not fixed. But he does not identify as just 'Gay.'
In a tell-all interview with LA Times, he describes his orientation as undefined and unpredictable. He states that, at the moment, he is heterosexual and likes women, but who knows what the next 20 years hold? He might fall for a man.
He also refuses to be confined into boxes of Bisexuals (a person who likes both men and women) or Pan-sexuals (attracted to all genders) and would rather simply enjoy life as it comes.
Bad Bunny Wilding at the VMAs
His performance at the VMAs was nothing short of iconic. From live vocals to vibrant energy, Bad Bunny gave his all to express himself. And amidst the performance, he kissed a female and a male backup dancer. Netizens were mind-blown by his boldness and the first time for a Latin person to showcase and normalized sexual fluidity.
Regardless of countless opinions, Bad Bunny was forever marked as the "Queer Icon we all have been waiting for."
Bad Bunny and Kendall Jenner were spotted together at the MET Gala Afterparty.
In the latest news, Bad Bunny was seen with Kendall Jenner in the most-talked-about public appearance at the MET Gala afterparty. Fans were quick to ship the two and speculate that he was announcing his dating life. Nevertheless, it was a surprising new couple alert of 2023.
Is Bad Bunny Queer Baiting?
This raises a very valid question among the LGBTQ+ community. Does a "straight man" deserve to be called a "queer icon"?
Bad Bunny has never shied away from expressing himself in what he sees fit. There is no sugar-coating with him; he goes all out.
In recent years, several singers such as Harry Styles and Charlie Puth were accused of "queer baiting" in hopes of collecting a gay fan following.
The reason is the LGBTQ+ community plays a massive role in defining pop-culture history; they are the ones who make famous singers iconic— like Lady Gaga, Beyonce, Lana Del Rey, and many more.
This is not a recent concept, though. In the early hay days of pop music, Prince, David Bowie, Freddie Mercury, and more quite openly expressed themselves in androgynous styles. Several KPOP idols don similar styles and helped normalize it to a great extent.
But the conservative media tends to label these celebrities as 'Gay' who defy traditional masculine conformity.
What do you think about celebrities that are redefining androgynous fashion? Do you think they are queer-baiting?
Do you think Bad Bunny should be labeled Gay? What are your thoughts on his music and style? Let us know in the comments below.