Jimmy Donaldson, aka MrBeast, has become the biggest individual creator on Youtube. Currently, MrBeast has over 140 million subscribers on his main channel, and his subscriber count is likely to keep on rising.
Lately, fans of MrBeast have observed some drama getting unfolded behind the scenes and are now left wondering whether some team members of MrBeast are still on good terms with Jimmy.
The chatter is about Chris Tyson, one of MrBeast's friends and a long-time teammate, and whether he has been fired from the channel or it's just a rumor.
How It All Began
Back in 2022, fans of MrBeast started noticing that Chris was undergoing some changes in his appearance. Even Chris would frequently talk about his changing facial appearance since the start of the pandemic. Soon enough, some fans on Twitter started pointing out these changes while Chris embraced the scrutiny tweeting about his transformation to a newer self.
However, the matter took a considerable turn as numerous Youtubers and TikTok influencers took Chris' ever-changing appearance quite seriously, deciphering theories about him abandoning his family. In 2023, Chris announced his separation from his wife and decided to take a break from social media amidst the ever-growing criticism.
Chris again made headlines when he appeared at the 2023 Nickelodeon Kids Choice Awards, tweeting about the successful Hormone Replacement Therapy he had been undergoing for two months.
An Era of Backlash
Though Chris Tyson was comfortable in his own skin, a majority of MrBeast fans found it amazingly hard to digest this sudden burst of change. On Twitter alone, many fans bashed Chris for "abandoning" his wife and two-year-old son Tucker to become someone whom they (fans) were not familiar with.
MrBeast to the Rescue
In a chain of events, while Chris was the target of all the transphobic comments, somehow, the narrative saw a sharp turn, leaving MrBeast and his channel's worth at the forefront. A week ago, Youtuber SunnyV2 posted a video titled "Why Chris Will Soon Be A Nightmare For MrBeast," claiming that MrBeast has found himself in a unique situation.
As per SunnyV2, if MrBeast considers all the criticism and fires Chris Tyson from the team, he might get canceled for transphobia. Still, if he chooses to let Chris adopt a new personality trait for fans to resonate with, a large majority of silent viewers might leave his channel. SunnyV2 stated: "It's a lose-lose situation for MrBeast."
However, this did not sit well with MrBeast as he came to defend his pal Chris and how he has grown tired of transphobic remarks from his fans.
Did MrBeast Really Fire Chris Tyson?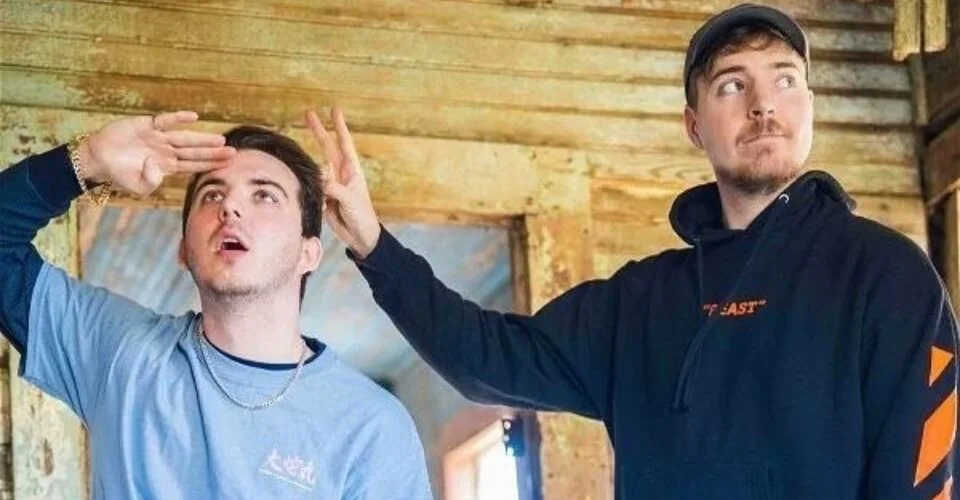 Well, no. Chris Tyson is still a part of the team. As a matter of fact, Jimmy believes his MrBeast Empire, which he started in 2012, is too valuable to fall (The MrBeast channel, with all his ventures combined, has a market value of over $10 billion) or is to be handed over to people with different opinions than him. Even he knows Chris has been an integral part of his channel's growth in the first place. And merely firing a team member just for being themselves is not how we perceive MrBeast's brand.
As for his relationship with Chris, both creators enjoyed a decade-long companionship right when he (MrBeast) laid the foundation of his channel.
"Jimmy and I went to high school together. We were in different grades; he was in seventh, and I was in ninth. We both like watching other people play video games on YouTube. I went over to his place one day, and he was making the MrBeast channel."

Chris Tyson
It is evident that criticism has been around in the creator economy for a long time. And a channel that holds an audience of such massive strength, Jimmy Donaldson couldn't possibly afford to take risks and make changes to his recognizable team.
The trajectory of his content might see a change for good, but as per his current stance, Chris Tyson isn't going anywhere.