After the heart-wrenching Mugen Train incident, Demon Slayer is back with season 2 and it brings "The Entertainment District Arc" with its return. With only a few days left for the premiere, Here's everything you need to know about Demon Slayer season 2 aka the Entertainment District Arc.
First things first, We go from explaining what the new season is all about to how you can watch it when it actually airs.
If you are looking for a specific question, Check out the table of contents and dive right into it. After all, We value your time.
Watch Demon Slayer Season 2 Trailer Here
Right when season 2 was announced, Fans got excited to see what the next arc looks like and the trailer confirms it without a single doubt in anyone's head.
With Ufotable, The studio that is known for unique animations working on season 2, We are about to witness some of the most beautifully crafted anime shows ever.
What Will Demon Slayer Entertainment District Arc Be About?
Demon Slayer season 2 picks up right after Mugen Train and will feature its main story around Yoshiwara, A famous Japanese red-light district.
Yes, If you thought that Entertainment District is some sort of kids arc then you are completely wrong. The Japanese title for season 2 is "Yūkaku-hen" and if you translate it to English, The correct name would be "Red Light District Arc."
Enough with the location, In the new season, Tanjiro, Zenitsu, Inosuke, and Nezuko join Tengen Uzui, The Sound Hashira in hunting mysterious demons in the district.
Anyway, The Entertainment District Arc sets our demon slayers against notorious beasts in Yoshiwara with the Hashira Tengen Uzui as the main lead from protagonists and Upper Six demon Daki from the antagonist's side.
Every Hashira From Demon Slayer Ranked Into Tier List

Want To Know How The Hashiras Compare Against Each Other?
How Many Episodes Are There In Demon Slayer Season 2?
According to a Chinese OTT platform iQIYI, Season 2 will have a total of 18 episodes which airs in two parts.
The first one has a total of 7 episodes that feature a backstory of how Rengoku boarded the Mugen Train.
This mini-series came to an end on November 28 as it fills the gap between Mugen Train Arc and Entertainment District Arc.
Here's a timeline of all the season 2 episodes.
Flame Hashira Kyojuro Rengoku – October 10th, 2021
Deep Sleep – October 17th, 2021
Should Have Been – October 24th, 2021
Insult – November 7th, 2021
Move Forward! – November 14th, 2021
Akaza – November 21st, 2021
Set Your Heart Ablaze – November 28th, 2021
Sound Hashira Tengen Uzui – December 5th, 2021
The remaining 11 episodes are the main ones that really dive into season 2. Episodes 8-18 will be Demon Slayer Entertainment District Arc. If you are disappointed that only 11 episodes are present in the next arc then don't.
The first episode of season 2 will be a special 1-hour-long one including a commercial break.
From the likes of it, We can expect 44 minutes' worth of story from the first episode itself.
Demon Slayer Season 2 (Entertainment District Arc) Release Date
The first episode of Demon Slayer Season 2 will premiere on December 5th, 2021 at 11:15 pm. Here's the exact time in various countries for the Entertainment District Arc.
Japan: 11:55 p.m, JST(UTC +9)
China: 10:55 p.m, CST(UTC +8)
Philippines: 10:55 p.m, PHST(UTC +8)
Indonesia: 10:55 p.m, WITA(UTC +8)
Malaysia: 10:55 p.m, MYT(UTC +8)
India: 8:25 p.m, IST(UTC +5:30)
United States: 9:55 a.m, EST(UTC -5)
Canada: 9:55 a.m, EST(UTC -5)
Mexico: 8:55 a.m, CST(UTC -6)
United Kingdom: 2:55 p.m, GMT(UTC +0)
Spain: 3:55 p.m, CET(UTC +1)
Brazil: 11:55 a.m, BRT(UTC -3)
Russia: 5:55 p.m, MSK(UTC +3)
Sorry if your country/city wasn't listed above. We featured the list according to our Instagram audience. You can request a spot for your time zone here.
How To Watch Demon Slayer Season 2?
With season 1 being a huge global hit, Many services decided to air/ broadcast Demon Slayer Season 2. The new season will be available on Funimation, Crunchyroll for an international audience,s and on Tokyo MX, Fuji TV for Japanese fans.
You can also keep an eye on Hulu for the latest episodes.
Demon Slayer Season 2 Cast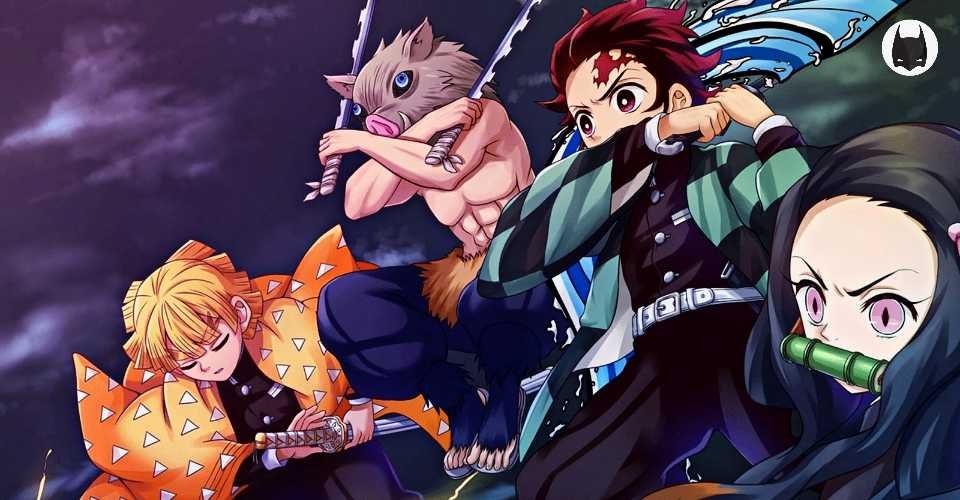 With most of the original cast members returning, Many new ones were also introduced in the latest season. Here's the cast of Demon Slayer Season 2.
Natsuki Hanae as Tanjiro Kamado
Akari Kitô as Nezuko
Hiro Shimono as Zenitsu Agatsuma
Yoshitsugu Matsuoka as Inosuke Hashibira
Katsuyuki Konishi as Tengen Uzui
Miyuki Sawashiro as Daki
Toshihiko Seki as Muzan Kibutsuji
What You Should Expect From Entertainment District Arc Demon Slayer?
Firstly, The special 1-hour long first episode establishes the narration of the remaining 10 episodes for season 2.
The Entertainment District Arc will also dig deep into Sound Hashira's character and his backstory. When it comes to the actual swordmates, Tanjiro and Zenitsu will be betaking themselves to a different level altogether.
With all that addressed, The one thing I personally look out for in season 2 is how Zenitsu reacts by seeing a brothel. The yellow-haired swordsman is a ladies' creep who always revolves around beautiful girls but what if he sees tons of gorgeous women in Yoshiwara?
We would also like Tanjiro to cross paths with Kanao again and more of the Giyu in the new season.
Who Is The Strongest Hashira In Demon Slayer Explained

You Might Be Interested In
FAQs
What Chapter To Read For Demon Slayer Season 2 (The Entertainment District Arc)?
If you are unable to wait and are ready to read manga, We suggest you read from Chapter 71 which marks the start of the red light district arc in Demon Slayer.
Demon Slayer Season 2's red light arc ends at 100th chapter in the manga.
So, This arc is 30 chapters long but is sure a thrilling ride for anyone who enjoys it.
What Sound Track Will Demon Slayer Season 2 Has?
The original singer Lisa will return for season 2 and fans can expect two new theme songs in the form of Zankyo Sanka and Asa ga kuru for the anime.
What do you think of the Entertainment District Arc in Demon Slayer? Are you excited for season 2?
For more details and updates on your favorite anime characters/shows, Follow us on Instagram, Facebook, Pinterest, Telegram and don't forget to share the information with your friends and family.
Subscribe to our free newsletter and get the latest updates delivered to you with a 0% spam score.
Thank you, Yours averagebeing.