Chainsaw Man is the most hyped anime of 2022, and it's only been five episodes. People love it so much with each new episode that it's crashing the internet. It's obvious why it is such a popular anime; the story is impressive, it has great characters, and god-level animation makes this anime a masterpiece already.
In a recent interview with Animedia, director Ryu Nakayama and producer Seshimo Keisuke's answers have excited viewers more. They stated that Chainsaw Man would become more interesting beginning with episode 5. This one statement was enough to make everyone even more excited about the series.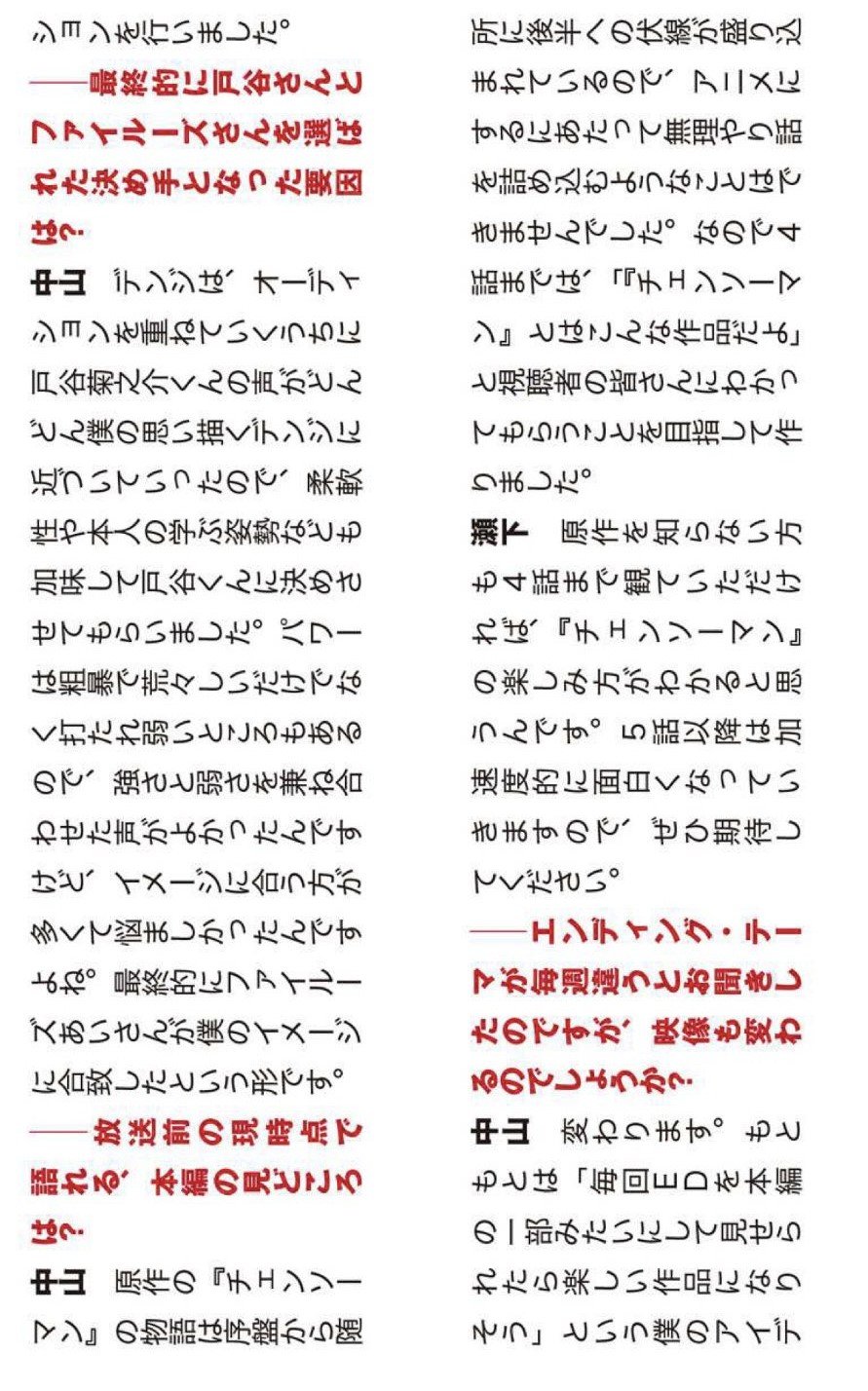 When asked about the highlights of the main story that can be revealed, Ryu Nakayama said, "The story of Chainsaw Man grows from the beginning since hints for the second half are included here and there, it was not possible to forciblt cram the story into animation." He added, "So, up to the 4th episode, I made it with the aim of making the viewers understand, This is what 'Chainsaw Man' is."
He also said, "Even if you don't know the original story, if you watch up to episode 4, I think you'll understand how to enjoy Chainsaw Man. From episode 5 onwards, it will get more interesting at an accelerated pace, so please look forward to it."
How Is Chainsaw Man Going To Be More Interesting After Episode 5?
Nakayama and Seshimo told the interviewers that until episode 4, it was all fun and enjoyable. It was an overview of Chainsaw Man, but starting with Episode 5, we'll see what Chainsaw Man is all about.
From episode 5, the real story of Chainsaw Man begins, and from this point on, several events are going to take place. The arc that will start with episode 5 is the Infinity Devil Arc, which is the first arc toward the main story.
Not just this, but now more devils are going to be introduced. So far, we know about the Gun Devil and other small devils, but now more powerful devils will be presented. You can already see what they meant when they said it would get more interesting in episode 5.
Spoiler Alert
Chainsaw Man Anime Recap
In the fourth episode of Chainsaw Man, we saw that Denji fought the Leech Devil right after he defeated the Bat Devil. That fight was so crazy, and to be honest, Denji almost got clapped by the Leech Devil, but Aki and his team saved him and Power.
In the same episode, we saw that Power moved into Aki's apartment, and now she will live with him and Denji. Episode 4 of the anime was so entertaining; it had a lot of action, seriousness, and comedy. Right before the end of the episode, we saw that Denji was finally going to achieve one of his dreams, which was touching some breasts. That's an interesting cliffhanger for an anime.
New episode 5 just came out, and this episode was quite spicy. In this episode, we finally see Denji touching Power's breasts. That was his main goal, but he didn't actually get what he expected. It was nothing like Denji expected it to be. However, Makima changed everything for him.
She has given Denji the condition that if he kills the gun devil, any of his wishes will be fulfilled by Makima, no matter what they are. In the same episode, we saw Aki and his group, along with Denji and Power, going to fight a devil, and that devil might possess some pieces of Gun Devil. When they entered the building where this devil was, they noticed they were trapped, and there was no way to escape.
Even though it's a great show, are you enjoying it? What do you think about this anime?
Let us know in the comments, and also keep visiting averagebeing.com for more anime updates.