At heart, Demon Slayer is a shounen anime that flaunts itself as a simple, easy-to-digest, and highly entertaining show that doesn't try to provoke your thoughts unnecessarily.
It asks a straightforward question.
Do you need every piece of entertainment to be thought-provoking, deep, and complicated? Isn't there enough complexity in the real world?
Not only was the Demon Slayer anime loved globally, but the sequel movie also broke every major record, including Spirited Away's record of highest-grossing Japanese films, both domestically and internationally, which shows the magic of simplicity.
That aside, the third season of Demon Slayer is currently airing, and it will end before you know it, after which you might look for something similar.
Keeping that in mind, I have created this list of anime similar to Demon Slayer. In this list, some anime highlights the bond between siblings, some showcase revenge-driven characters, while some share the DNA of being a highly entertaining battle shounen.
So, without further ado, let's dive right into the list of the 15 best anime like Demon Slayer.
Anime Like Demon Slayer with Sibling Duo
#15 Fire Force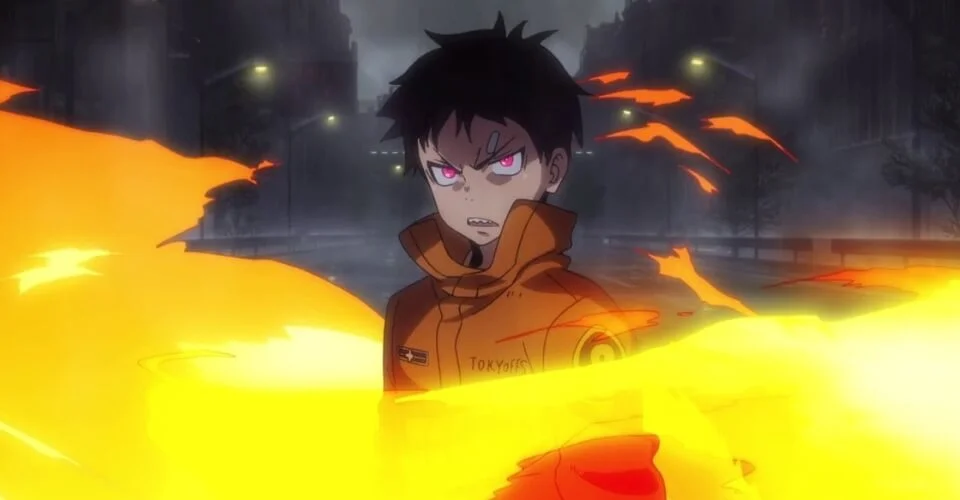 Number of Seasons: 3 (S3 Upcoming)
Number of Episodes: 48
Studio: David Production
People began to burst into flames and turn into creatures without a sense of self, known as infernals. This incident became known as human combustion, causing an evolution in humans.
The first generation is known as infernals, while the second and third generations are called pyrokinetics – humans who can manipulate flames without losing their humanity.
A special force called Fire Force was established, where most of these second and third-generation pyrokinetics are recruited and trained to eliminate the infernals.
Among them is Shinra Kusakabe – a third-generation pyrokinetic believed to be responsible for his mother and brother's death in his childhood.
After getting appointed to Special Fire Force Company 8, he vows to protect humanity and become their hero. But abnormal occurrences of infernals and a mysterious individual claiming to know the secret behind his family's demise have raised many questions. And Shinra is determined to find the answers.
Just like Tanjiro, Shinra loses his mother and sibling. Both protagonists are trying to find the one responsible for these deaths.
Following the tragic incidents, Tanjiro joins the Demon Slayer Corps, while Shinra joins Special Fire Force Company 8 to protect humanity from demons and infernals. And also to find the culprit.
Sibling is one of the essential factors of Demon Slayer and Fire Force.
#14 Fullmetal Alchemist: Brotherhood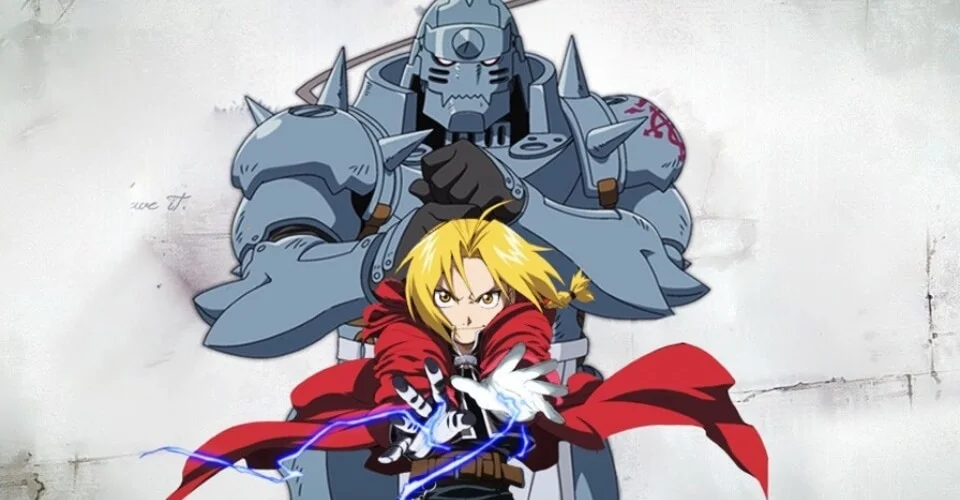 Number of Seasons: 1
Number of Episodes: 64
Studio: Bones
Elric brothers – Edward and Alphonse – grew up reading alchemy books in their father's library. Being geniuses, they master the basics of alchemy within no time. Things went south when their loving mother passed away due to an epidemic, leaving them all alone.
To get their mother back, the Elric brothers train and study alchemy for years until they find a way to revive their mother. They soon found the way in the form of Human Transmutation – an alchemy considered the greatest taboo for an alchemist. Not thinking about the consequences, they perform the alchemy.
Unfortunately, younger brother Alphonse lost his entire body, and Elric lost his left leg and later the right arm to protect Alphonse's soul by attaching it to a suit of armor.
Years later, after getting used to prosthetics known as 'automail,' Edward and his brother Alphonse embark on a journey to find the Philosopher's Stone that is said to defy the laws of equivalent exchange in alchemy.
What awaits them is unimaginable threats, despair, enlightenment, and a conspiracy with them in the center.
NOTE:
There's an alternative version titled Fullmetal Alchemist (2003) with an anime-original ending, unlike Fullmetal Alchemist: Brotherhood (2009) which faithfully adapts the manga.
The 2003 version has a different approach than FMAB, so you can watch both and decide which one entertained you the most.
Fullmetal Alchemist (2003)
Number of Seasons: 1
Number of Episodes: 51
Studio: Bones
Tanjiro lost his mother to demons, and the Elric brothers lost theirs to a disease.
Tanjiro is looking for a way to turn back his sibling Nezuko into a human from a demon; similarly, Edward is looking for Philosopher's Stone to restore Alphonse's body to normal along with his own limbs.
Both Tanjiro and Edward join a military – Demon Slayer Corps and State Military – to meet their personal goals. They are both kind, strong, and ready to fight against the whole world to protect their siblings if necessary.
Both Demon Slayer and Fullmetal Alchemist: Brotherhood beautifully illustrate the fragility of life.
Demon Anime Like Demon Slayer
#13 Blood Lad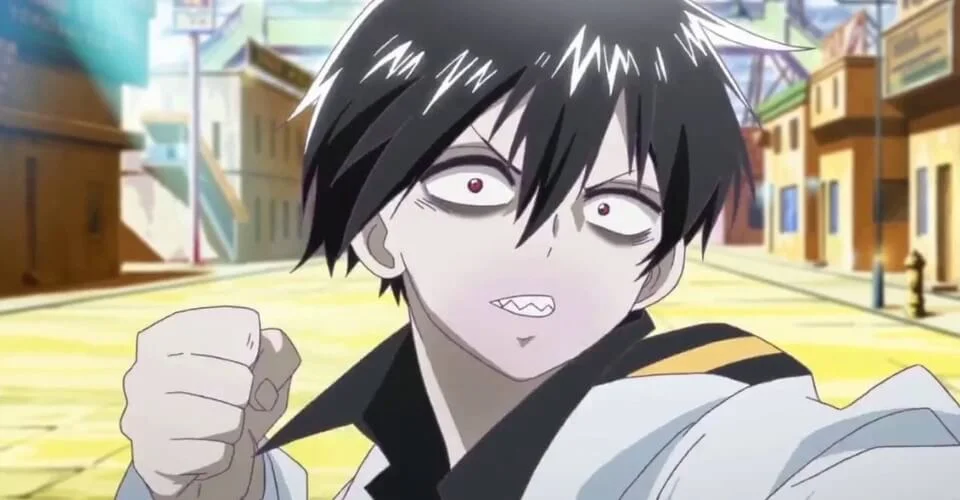 Number of Seasons: 1
Number of Episodes: 10
Studio: Brain's Base
The demon world is divided into territories, and Staz Charlie Blood is the boss of the eastern one. Although Staz gives the impression of a bloodthirsty vampire, he is an otaku who drools over manga, games, and items of the human world.
One day when a human girl named Fuyumi Yanagi wanders into the demon world, Staz gets excited to see a human for the first time. While talking to Fuyumi, his territory gets attacked.
Amidst the battle, Fuyumi loses her life and turns into a ghost. To turn her back into a human, Staz decides to go to the human world – but his interest still lies in exploring the latest versions of the manga and games.
In Demon Slayer, Tanjiro is searching for a way to turn Nezuko from a demon into a human.
Similarly, in Blood Lad, Staz also embarks on a journey to the human world to turn Fuyumi back into a human.
Blood Lad is a quirky version of Demon Slayer, where Tanjiro is overpowered.
#12 Chrono Crusade
Number of Seasons: 1
Number of Episodes: 24
Studio: Gonzo
Sightings of demons have become common in America during the 1920s. The Order of Magdalene was established to protect humans from demons.
Among the many branches of this organization, the New York branch has gained popularity because of the duo – Sister Rosette Christopher and Chrono. However, the popularity is not for the excellent job, but for the collateral damage, they cause during these missions.
Not many in the organization know that Chrono is a demon whose past is connected to Sister Rosette. Both of them work together to find out Rosette's brother Joshua who was taken by a demon named Aion, who's even considered a traitor among his own kind.
Just like Tanjiro's sibling was turned into a demon by Muzan, Sister Rosette's brother was also taken away by Aion.
In both Demon Slayer and Chrono Crusade, the protagonist pairs up with a demon which is unusual in their respective stories. The protagonist's goal is to return their siblings to their human state.
These anime also share historical themes but from different countries – Japan and America.
#11 Blue Exorcist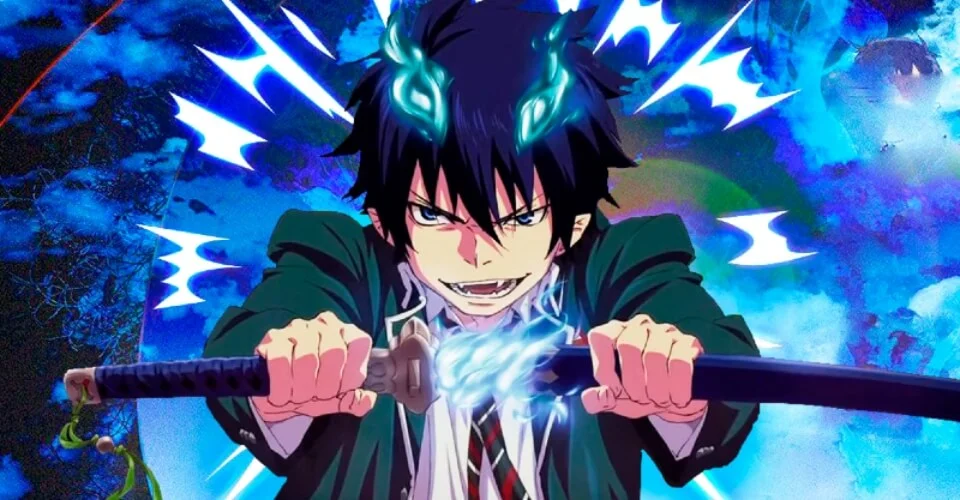 Number of Seasons: 3
Number of Episodes: 37
Studio: A-1 Pictures
Rin Okumura leads a reckless life, where getting fired from a job within a day has become a norm. One day while trying to protect a child, he sees something unexplainable. Following an attack by a demon, his father reveals that he is the son of Satan, the God of Gehenna.
The world has two dimensions – Assiah, the material world, and Gehenna, the demon world. To travel between these two dimensions, Satan needed a strong vessel, which would also help him rule over Assiah.
Rin was being dragged to Gehenna by Satan, who possessed his father's body, but with sheer will, he killed himself to protect Rin. Following this tragedy, Rin decides to become an exorcist to kick Satan's oshiri.
Like Tanjiro lost his family members to a demon, Rin loses his father to Satan, the king of demons. Following the tragic incident, Tanjiro trains to become a demon hunter while Rin trains to become an exorcist to avenge their lost ones.
Both protagonists are sword-wielders, supported by their siblings on the journey. One of the main characters in both Demon Slayer and Blue Exorcist are demons – Nezuko and Rin.
Action Anime Like Demon Slayer
#10 Sirius the Jaeger
Number of Seasons: 1
Number of Episodes: 12
Studio: P.A. Works
Vampires have infiltrated Tokyo, and the number of victims has only been rising. The authorities have hired a group called Jaegers – who specializes in hunting down vampires – to protect human lives.
Among them, Yuliy is Jaeger's most skilled warrior and the sole survivor of a vampire raid on his village. However, unbeknownst to the authorities is that the Jaegers are fighting with the vampires over the Ark of Sirius, which can grant the wielder unimaginable power that includes instant regeneration.
Blessed with powers of his werewolf blood, Yuliy, and his companions must find the Ark before the vampires can get hold of it.
Just like Tanjiro's family was massacred except for his sister, instead was turned into a demon; the vampires killed Yuliy's family as well, while they took his brother away.
Both of them seek revenge on the evildoer. To do that, Tanjiro joined the Demon Slayer Corps while Yuliy joined the Jaegers.
#9 Moribito – Guardian of the Spirit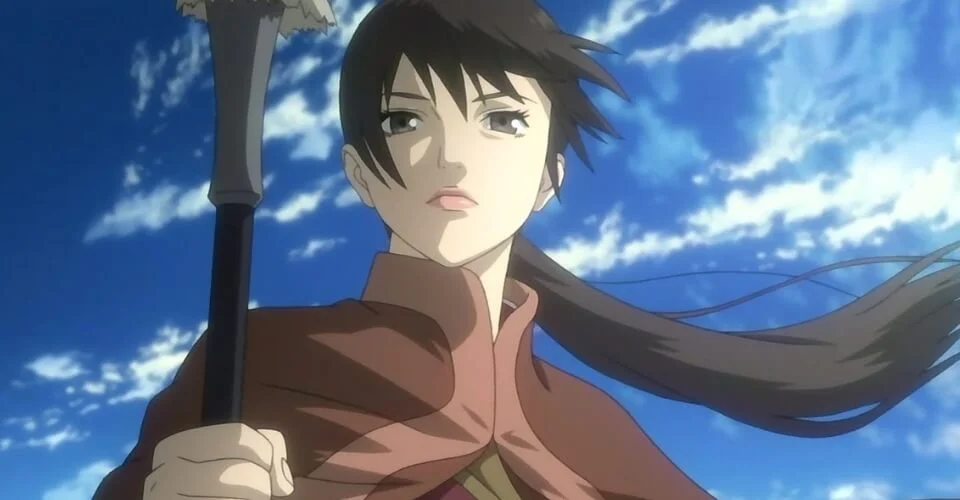 Number of Seasons: 1
Number of Episodes: 26
Studio: Production I.G
According to the myths, the first emperor had to defeat the water demon to save the nation of Yogo from drought. If the demon ever resurfaces, it is said to bring unimaginable calamity to the land.
The water demon reappears, but unfortunately, inside the body of the emperor's son – Prince Chagum. To protect the nation, the Emperor ordered the prince's assassination.
Although the prince dodged a handful of assassination attempts, it was just a matter of time till he got killed. Thankfully, the arrival of the proclaimed warrior Balsa in Yogo relieved the Second Empress, as she gave Balsa the task of protecting the life of Chagum.
Balsa accepts, but can she keep her promise given to a helpless mother?
To protect Nezuko from Demon Hunters, Tanjiro carries her in a box to keep her by his side until he finds a way to turn Nezuko back into a human.
Similarly, when Prince Chagum becomes the water demon's host and becomes the assassin's target, Balsa protects him.
Both Demon Slayer and Moribito have historical themes. Balsa's characteristics will remind you of Tanjiro throughout the storyline.
#8 Jujutsu Kaisen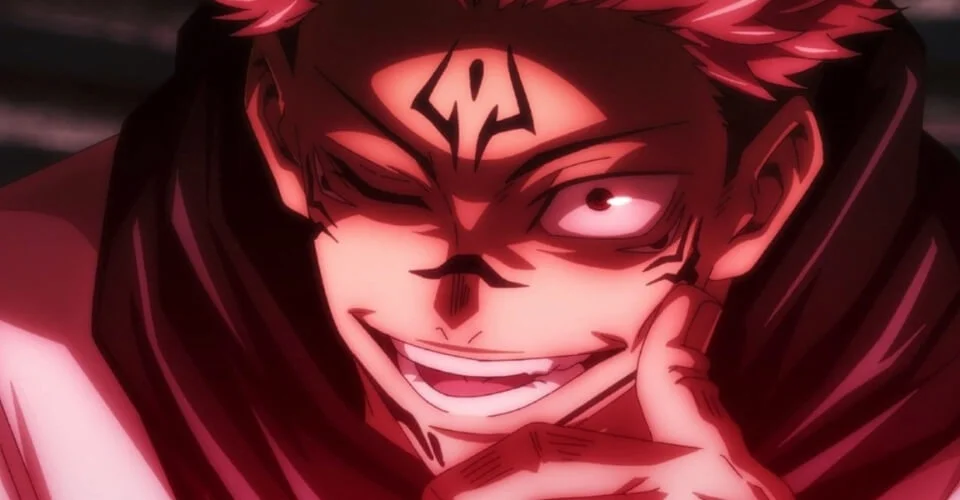 Number of Seasons: 2 (S2 Upcoming)
Number of Episodes: 24
Studio: MAPPA
Yuji Itadori joined the occult club in high school just because it has no time restrictions. This freedom gives him the time to take care of his bedridden grandfather.
Unknowingly he comes across a cursed item and gives it to the occult club members for further breakdown. Soon his grandfather passes away; on top of that, he learns that the one possessing the cursed item would be in danger.
While trying to protect the club members, Yuji swallows the cursed object – a finger of Sukuna, the King of Curses. Sukuna is revived within him, and Yuji is ordered to be executed immediately.
Fortunately, Satoru Gojo saves him by enrolling him in the Tokyo Metropolitan Jujutsu Technical High School to make him a Jujutsu Sorcerer and use the power for good.
Like Tanjiro, Yuji also loses someone dear to him.
After turning into a demon, Nezuko gets targeted by the demon hunters. Similarly, Yuji becomes a target as he is the host of Sukuna.
Tanjiro joins Demon Slayer Corps and trains to become a demon hunter while Yuji enrolls in Jujutsu Technical High School to become a Jujutsu Sorcerer. Both to protect humans from curses and demons.
Both Tanjiro and Yuji are kind and sympathize with demons and curses.
Revenge Drama Anime Like Demon Slayer
#7 Goblin Slayer
Number of Seasons: 2 (S2 Upcoming)
Number of Episodes: 12
Studio: White Fox, LIDENFILMS
Goblins are cowardly creatures that attack in groups. They strike at night when humans are the most vulnerable, destroy villages, kill humans, torture them, and abduct women for their pleasure.
To take care of such an abduction case by the goblins, a group of amateur adventurers takes the mission by underestimating these cunning creatures. And, what follows is those adventurers being tortured to death except for the priestess, who the Goblin Slayer saved.
Goblin Slayer is known to take missions related only to goblins. Following this incident, the priestess joins Goblin Slayer in his journey, which helps him to carry out missions more efficiently.
Tanjiro seeks revenge on the culprit behind his family's massacre, who also turned Nezuko into a demon. The Goblin Slayer also seeks revenge and has dedicated his life to killing goblins.
Following the tragedy, Tanjiro becomes a Demon Slayer, while the protagonist in Goblin Slayer becomes an adventurer with the sole purpose of killing goblins.
#6 Seraph of the End: Vampire Reign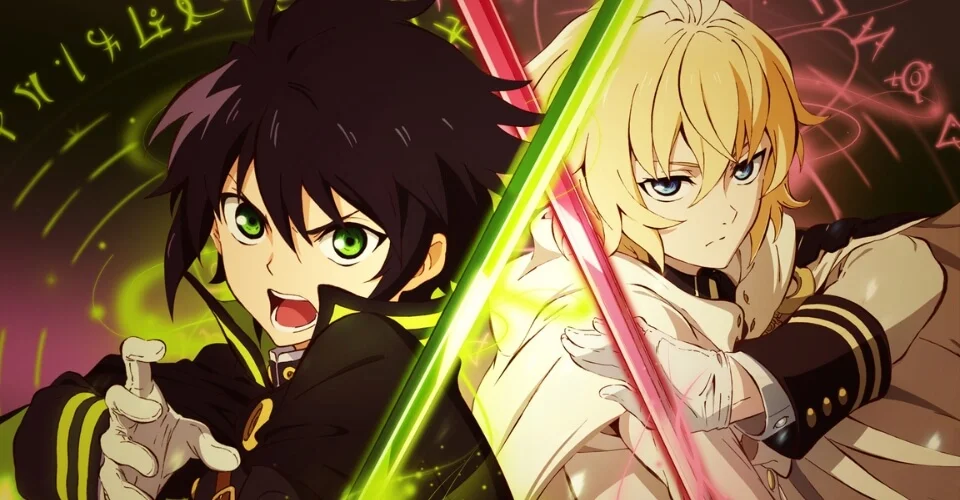 Number of Seasons: 2
Number of Episodes: 24
Studio: Wit Studio
Almost ninety percent of the human race has been wiped out by the emergence of a mysterious virus that has killed anyone above 13 years old. The vampires have come out of hiding and promised to protect the renaming of humanity, i.e., children 13 years old or younger, in exchange for their blood.
After surviving four years as a nutrient-rich food source for vampires, Yuuichirou and Mikaela from Hyakuya orphanage plan to escape from their chains along with other orphans.
Unfortunately, the only one who survived was Yuuichro, who was rescued by the Moon Demon Company – a vampire extermination unit. At that moment, Yuuichiro joins the extermination unit to exact his revenge for his loved ones and vows to kill every vampire alive.
Both Tanjiro and Yuuichiro lose their loved ones at the hands of different species – demons and vampires. They join special forces – Demon Slayer Corps and Moon Demon Company – to eliminate monsters that threaten humanity's existence.
In both Demon Slayer and Seraph of the End, there are specialized weapons that can unlock their true potential depending on the wielder.
Just like Nezuko was transformed into a demon, Yuuichiro also finds one of his close ones being turned into a vampire.
#5 Claymore
Number of Seasons: 1
Number of Episodes: 26
Studio: Madhouse
Youma are shapeshifting monsters that blend in with humans to feed on them at their convenience. In a village, Raki's parents become the first victims. Due to an increase in the number of killings, the village chief decides to call Claymore for help.
Claymores are half-human and half-youma, created just to eliminate youma(s). After killing the youma in Raki's village, the Claymore named Clare sees a younger self in Raki and decides to take him in as a cook.
While eliminating youma(s) from one town to another, Clare is looking for a clue to find a particular someone on whom she seeks revenge.
Like demons, youma(s) feed on human flesh. Although Nezuko isn't a hybrid, she still has the conscience of a human after getting transformed into a demon, while Clare is a half-human and half-youma.
Both Clare and Tanjiro lose someone dear to them and seek revenge. In both anime, there are specialized organizations – Demon Slayer Corps to kill demons and The Organisation to kill youma(s).
#4 Kill la Kill
Number of Seasons: 1
Number of Episodes: 24
Studio: Trigger
Ryuuko Matoi was able to catch a glimpse of her father's murderer, who had one-half of the scissor blade. With the other half of the scissor blade her father developed, Ryuuko embarks on a journey to find the culprit, which leads her to Honnouji Academy.
In Honnouji Academy, a hierarchy of students is led by Satsuki Kiryuuin. When confronted by Ryuuko, Satsuki said she was aware of the blade. Although she is defeated by one of Satsuki's lackeys, Ryuuko retreats and finds Kamui, a sailor uniform that provides its wearer with godlike abilities in exchange for blood.
With the power to tackle the lackeys, Ryuuko challenges them to get to Satsuki and find out the culprit behind his father's demise.
Just like Tanjiro, Ryuuko has also lost her father to someone they are eager to find. To avenge their loved one's death, both protagonists pick up swords and train to become stronger.
Demon Slayer and Kill la Kill deliver hilarious comedy scenes that help lighten the tense atmosphere.
#3 Dororo
Number of Seasons: 1
Number of Episodes: 24
Studio: Tezuka Productions, MAPPA
To sate his hunger for power and prosperity of the land, Daigo Kagemitsu makes a pact with the demons – the price? Anything they want. Unfortunately, the firstborn of Daigo was born without eyes, limbs, or skin but is well alive.
Although the child is disposed of in a river, it gets picked up by Jukai, a doctor who provides prosthetics to the dead to let them rest in peace. Using his expertise, Jukai provides the boy with prosthetics and gives him a name – Hyakkimaru.
To get his body back to normal, Hyakkimaru must defeat the demons with whom his father made a pact. Along the way, he meets Dororo, an orphan boy who has survived in this world alone and becomes the second person after Jukai not to run away after encountering him.
Tanjiro fights against demons to find a way to turn Nezuko back into a human, while Dororo fights demons to defeat them and get his human body parts back. Both of them are revenge-driven, especially Hyakkimaru.
The protagonists are skilled swordsmen with supernatural abilities. Like Tanjiro, who has a brilliant sense of smell to tell apart good and evil, Hyakkimaru can see the souls, which indicates the same.
Both Demon Slayer and Dororo are historical anime. They are influenced by the different periods of Japanese history.
#2 Vinland Saga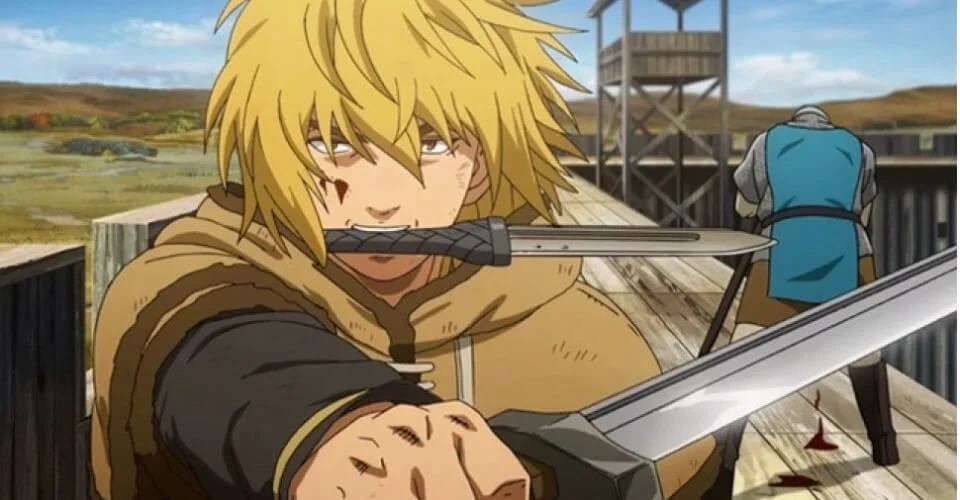 Number of Seasons: 2
Number of Episodes: 48
Studio: Wit Studio, MAPPA
Born and brought up in the freezing lap of Iceland, Thorfinn has only heard about the legend of Vinland, a warm and fertile land. Unknown to the severe consequences of war, the children of Iceland are eager to join a war, especially Thorfinn.
But, his father, Thors, knew how empty and pointless wars are. Because of this, he – a Jomsviking general – faked his death and settled in Iceland to live in peace. However, his past deeds catch up when Thors was recalled to join the battle, but in actuality, it was a trap to eliminate him.
And the next day, the inevitable took place, Thors lost his life, and Thorfinn lost not only his father but also his innocence. An enraged Thorfinn vows to kill Askeladd with his own hands, and on that journey, blood, despair, and enlightenment await.
Just like Tanjiro lost his mother and siblings, Thorfinn lost his father. Following this incident, both the protagonists' lives change drastically – Tanjiro joins Demon Slayer Corps, while Thorfinn joins Askeladd's mercenary band of Vikings.
Demon Slayer is set in a Japanese historical period, while Vinland Saga takes place in a European historical period. In short, both anime have a strong historical influence.
#1 Attack on Titan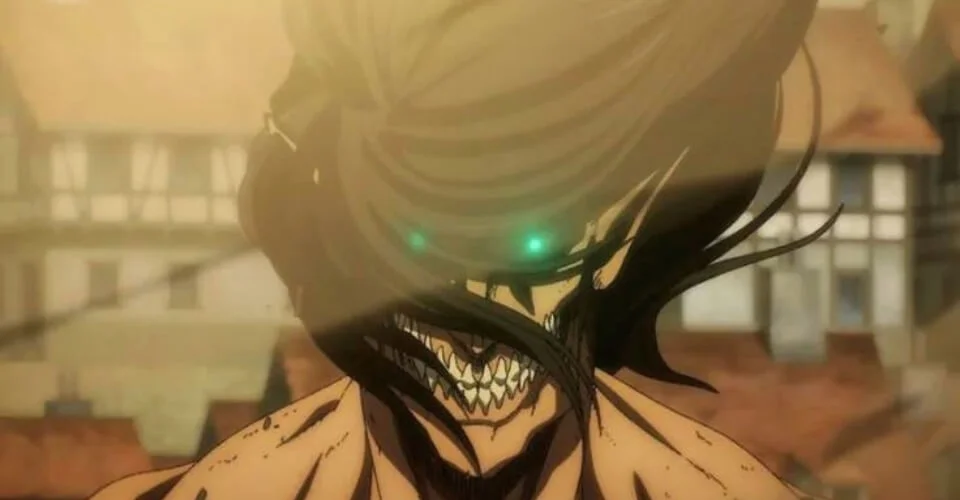 Number of Seasons: 4
Number of Episodes: 87
Studio: Wit Studio, MAPPA
Humans are forced to live inside giant fortified walls to survive extinction at the hands of titans – connoisseurs who love the taste of human flesh. A hundred years of calm quickly became a nightmare when the colossal titan broke the wall and let other titans feast on the inhabitants.
Although humanity has formed a military unit named Survey Corps to kill these giant monsters, they are unfortunately outnumbered and become the appetizer for the Titans. In this chaos, Eren loses his mother to a titan – who enjoys the crunch while biting his mother in half.
Witnessing the horrifying scene, young Eren vows to eradicate the titan species and joins the Survey Corps.
Eren lost his mother to a titan, and so did Tanjiro, who lost his mother to a demon. The first episodes of Attack on Titan and Demon Slayer were sweet at the beginning but bitter towards the end – covered in blood.
Both Tanjiro and Eren join a specialized unit – Demon Slayer Corps and Survey Corps – to fight against demons and titans, respectively.
There's a trio in both anime – Eren, Mikasa, Armin and Tanjiro, Zenitsu, & Insouke – who fight alongside each other.
In both anime, there are some revenge-driven characters, and characters can stay calm even amidst the direst of situations.
All Anime Like Demon Slayer Recommendations
Some anime share similarities with Demon Slayer but didn't make it onto the list. So, here's the table of the 15 anime like Demon Slayer, along with the honorable mentions.
And, for the indecisive ones like me, you can check the AverageBeing Picks column for a better idea of which one to prioritize among these recommendations.
| | | | |
| --- | --- | --- | --- |
| Anime | Episodes | Seasons | Averagebeing Picks |
| Attack on Titan | 87 | 4 | Above Average |
| Vinland Saga | 48 | 2 | Above Average |
| Dororo | 24 | 1 | Above Average |
| Kill la Kill | 24 | 1 | Average |
| Claymore | 26 | 1 | Average |
| Seraph of the End: Vampire Reign | 24 | 2 | Average |
| Goblin Slayer | 12 | 2 | Below Average |
| Jujutsu Kaisen | 24 | 2 | Above Average |
| Moribito – Guardian of the Spirit | 26 | 1 | Above Average |
| Sirius the Jaeger | 12 | 1 | Below Average |
| Blue Exorcist | 37 | 3 | Average |
| Chrono Crusade | 24 | 1 | Average |
| Blood Lad | 10 | 1 | Below Average |
| Fullmetal Alchemist: Brotherhood | 64 | 1 | Above Average |
| Fire Force | 48 | 3 | Average |
| Kabaneri of the Iron Fortress | 12 | 1 | Average |
| Inuyasha | 241 | 4 | Average |
| Peace Maker Kurogane | 24 | 1 | Below Average |
| Joran: The Princess of Snow and Blood | 12 | 1 | Below Average |
| Twin Star Exorcists | 50 | 1 | 1 |
With that, I present to you the list of the 15 best anime like Demon Slayer. I have tried to include anime resembling Demon Slayer in this list in one or more aspects. I hope you find a couple of anime to add to your watchlist.
Feel free to reach out at averagebeing.com 's Instagram handle if you have any recommendations, feedback, or suggestions.