Her high-octane voice was a sentiment…. Her music was a testament to her passion and determination…. And her life is an inspiration for many to rise, fall, get back up, and live to the fullest.
Tina Turner's influence on the music industry echoes even today.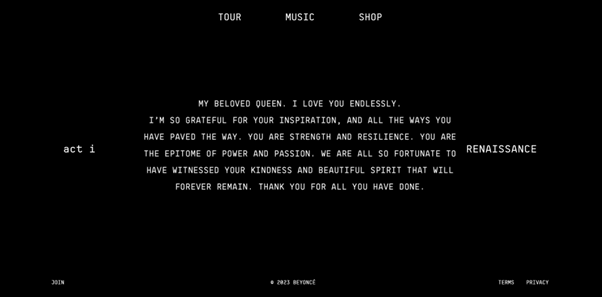 Beyoncé pays tribute with a sweet message for Tina Tuner.
Turner, born on 26 November 1939, passed away at 83 on 24 May 2023. A wave of sadness engulfs she made an impact on everyone's lives in some way.
With a staggering career and a tumultuous past, she has faced several challenges and health concerns along the way.
Let's navigate her last moments and honor her legacy–
Why Did Tina Turner Retire?
Tina first debuted with Ike Turner's King of Rhythm in 1957. Ike "discovered" her when she performed live on a local stage, enthralling the audience. He claimed her fame and often mentioned that he made her the star. The "Ike and Turner" duo was once one of the most influential performers in Rock' n' Roll between 1960 to 1976 before disbanding.
The people loved them, and the two got married following their success. But all was not well behind the curtains. Tina reported domestic abuse from Ike and was advised by her friends to leave him. She had her last straw after a physical altercation, post which she filed for divorce.
She wanted to get back on her feet on her own terms as she pursued her solo career, proving that her talent got her this far.
After a few years, she decided to leave the showbiz world and continue living a peaceful life with her husband in Switzerland. She announced her retirement in 2009 after her best-selling tour of all time– "Tina!: 50th Anniversary Tour."
Why Did Tina Turner Move to Switzerland?
Tina's long-time partner, Erin Bach, decided to settle down in Switzerland. Turner moved to Switzerland in 1995 to live with her partner. Erin Bach, a German record producer, first met Tina in 1985, and the two instantly hit it off, commemorating 27 years of relationship.
Tina Turner officially became a Swiss resident after marrying Bach in July 2013 and gave up her US passport, signifying her departure from the music industry. The couple bought a $76 million waterfront home in Zürich, Switzerland, just two years before her passing.
Turner was determined to make this relationship work at any cost considering her decade-long abuse in her previous relationship with Ike Turner. She moved to Switzerland to put the past behind her and start afresh.
She passed away in her home in Switzerland, with her loved ones by her side.
Why Did Tina Turner Have to Get a Kidney Transplant?
Tina Turner suffered health complications throughout her life. She was pretty vocal about the importance of taking care of one's health.
In a 2018 interview with BBC, Tina revealed that just after her honeymoon, she suffered a mild stroke and then began her fight against intestinal cancer in 2016. But her kidney failure the following year pushed her off the Edge. She even mentioned contemplating the Exit way of assisted su**ide– it is basically voluntary euthanasia.
"Death is not a problem for me, I really don't mind leaving." She told BBC. "In Buddhism you accept the life and the death. I was ready, I just thought it was my time."
However, she found a new perspective on life when her husband offered to donate his kidney. His unconditional love made her grateful, and she decided to live a healthy life after her kidney transplant.
What Was The Cause Of Tina Turner's Death? Explained:
The actual cause of death is not yet revealed. But Tina did suffer a long illness after her continuous fight with severe diseases.
"My body keeps trying to reject the new kidney, which is not uncommon after a transplant. Sometimes, the treatment involves spending more time in the hospital, and it comes with some unpleasant side effects, including dizziness, forgetfulness, anxiety and the occasional bout of insane diarrhea." She said in a tell-all interview.
This took a toll on her body, and the struggle in old age was too much for her. Nevertheless, we will miss her presence and remember her legacy forever.
She also had to come to terms with the death of her sons, Raymond Craig Turner, in 2018 and Ronnie Turner in 2019. She chronicled her entire life and her children in her memoir– Tina Turner: My Love Story. A movie based on her struggles with Ike Turner, What's Love Got To Do With It, stars Angela Bassett in the titular role.
What are your thoughts on Tina Turner's life? What are your favorite songs from her?
Let us know in the comments section below.