Binging, streaming, or weekend chilling had become synonymous with "Let's watch Netflix!"
Netflix, launched in 1997, even won a David vs. Goliath kind of market battle against Blockbuster–an undisputed frontrunner for brick-and-mortar rental chain. Netflix played a different card with video rental-by-mail, making it more accessible to users. While Netflix went on to be one of the biggest streaming platforms, Blockbuster filed for bankruptcy.
There are three reasons for this case study:
Netflix quickly adapted to the growing dependency on the internet. Plus, it made people's life easier without having to go out to rent a movie or worry about returning the DVD on time. Blockbuster would charge more late fees, irking the users.
The streaming giant also stayed true to its intention. The platform signed deals to get movie streaming rights, expanding its global library. 
Netflix executed a customer-centric platform with monthly subscription plans and a user-friendly interface. It was so easy to set up your account, get a password, and share it…. That is until now…
Users received an email memorandum for the imposed ban.
On Tuesday, Netflix started sending these emails to all who share their passwords. It was first tested in Canada, New Zealand, Portugal, and Spain. Now, Netflix has started its crackdown in the U.S.
Why Did Netflix Terminated Password Sharing?
This now famous tweet is resurfacing again after the password-sharing ban–
They did really play a UNO reverse card on us.
Users have been sharing passwords for several years now. It optimizes saving money. Also seems reasonable to share a password with someone who just wants to watch one show– why would they get a full subscription?
Although this model is consumer-oriented, Netflix incurred a significant decline in its profits. And to top it off, the streaming wars made this business strategy a losing card.
If we analyze on a micro-level, if a Netflix subscription costs $6.99 per month, and if one household shares the account, then Netflix cannot consider the number of users to determine their profits. Instead, one house equals one income. If passwords are shared, this number must be diluted even more, meaning less revenue for Netflix.
As a market strategy, the executives decided to tackle the micro-level issue to rack up profits.
Naturally, Netflix faced a massive backlash from subscribers.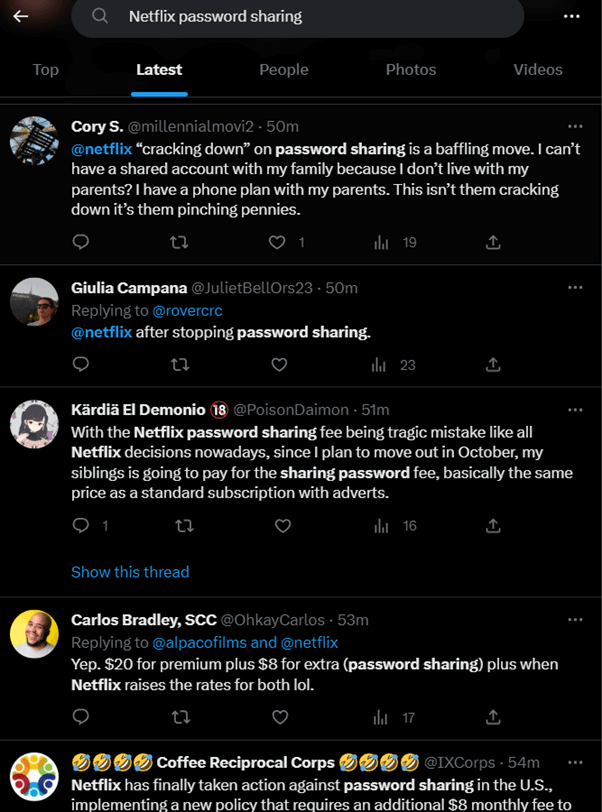 How Will Netflix Monitor Password Sharing? How Will Netflix Know Who Is in Your Household?
When you sign up for the subscription, Netflix collects a bunch of personal data. It will ask you to set your primary location.
When you start accessing the movies, Netflix will use device and network signals to determine the exact location and user. IP addresses will be the key signifier if someone accesses the account outside your household.
Again, Using mobile data or VPN might change that, which will ultimately get difficult for the user depending on how we use it.
Can I Share My Netflix Account with My Family in a Different Home?
Here lies the problem with this plan. People have family members who live apart or even consider long-distance relationships. Netflix only allows sharing a password within the sq. ft house.
Some people argue that their old parents who live far away shouldn't have to pay for a subscription. Users are right to point out the discrepancy.
However, Netflix has proposed an extra fee of around $7.99 to your existing plan, including up to two people living outside your house.
What Happens If Netflix Catches You Sharing?
There is no legal action as such. In short– you are not going to prison like "Orange is the New Black!" But if we think about it, the extra charge to include people outside your house in the plan is kind of a penalty fee.
However, in this economy, we have a loophole– Virtual Private Networks!
People using VPNs can set their Netflix to the country where the ban hasn't been implemented yet. You can share your password with anybody you want with VPN. We just think most people will get confused about all this and drop out of Netflix.
This change by a massive streaming platform like Netflix might also heavily increase piracy viewership, which is already a rapidly increasing problem for the creators.
What do you think of the password-sharing crackdown?
Would you still revoke your subscription, or would you rather switch to other streaming platforms?
Let us know your opinions in the comment section below.