Betty Gore's brutal death is a cautionary tale of who are really your friends. This murky case would look like an open-&-shut case on the surface; several possibilities still hung around it. Was this a case of "Escape-by-self-defense?" or was it the answer to "How-To-Get-Away-With-Murder?"
Considerable evidence, witnesses, and the brutality of 41 wounds should be enough for conviction. But even today, the case remains ambiguous, and we are left with the thought— "Is it that easy to make people believe in whatever you say?"
Well, only Don Crowder has the answer to that. His demeanor, persuasion, and strategy helped Candace's defense. So who is this attorney who turned the tides and hit back like a tsunami?
Who Is Don Crowder?
Don Crowder had practiced law for civil cases and opened his own firm, Crowder & Mattox, with his partner Jim Mattox. But his ambitions to be the big shot lawyer drove him to take challenging cases. And just like that, an opportunity knocked on his door when he met Candace Montgomery through their church. She wanted him to take up her case, given that the police had already issued warrants for her investigation.
This was Crowder's first criminal case, and he was ready to bring his A-game. And just within the 8-day trial, he made a case that no one could have seen coming!
Even with 41 stab wounds with a 3-foot axe, he made people believe that Candy actually fought back to save her life.
The next point he made was that Candy had a dissociative episode, where her past trauma compelled her to act aggressively toward the attacker. And in the process, she couldn't count the number of times she stabbed her friend, ensuring that Betty won't hurt her.
He even manipulated the media with incessant misinformation, making a positive PR for Candy. And he played the card of "Stand Your Ground" Texan law, which allows aggressive force to prevent violent crime.
Overall, the man managed to sway the jury of three men and nine women to acquit Candace.
After the successful case, Crowder went on with several other cases. In 1986, he ran for governor of Texas, amassing 118530 votes. But in the end, he lost.
By 1991, his business venture Gameday Sports Cafe failed to establish itself in the market, incurring huge losses.
Where Is Don Crowder Now? Why Did Don Crowder Kill Himself?
Trigger Warning: Mention of suicide and drugs.
Don Crowder faced a few struggles with his ambitions, negatively impacting his mental health. But the final straw was the death of his brother, Barry, in a tragic car accident on 15th August 1997. His mental health started deteriorating after this, leading him to substance abuse with alcohol and cocaine.
Just before his 56th birthday, Crowder attempted to take his own life on 25th October 1998. After surviving, he told the McKinney Courier-Gazette that his first case "was maybe the zenith of an extraordinarily successful career, or the demise of what could have been."
Don Crowder also admitted that the faces of Gore's family still haunt him. Deep down, the case left a heavy impression on his mental state. On 10th November 1998, Crowder took his own life after years of struggle with mental illnesses and substance abuse. Right now, he is dead.
Who Was the Judge In The Candy Case?
District Judge Tom Ryan was appointed for Candy's case. But Crowder had a rather unusual dynamic with the judge, so much so that he was arrested for four days for contempt of court.
Due to his antics, he gained a street name as "Crazy Crowder."
Where Is Candace Montgomery Now?
Candace Montgomery walked a free woman after the 8-day trial. She divorced her husband a few years later and changed her name to Candace Wheeler.
She now lives in Georgia as a mental health counselor.
There are several depictions of this true crime story:
"Evidence of Love" book by Jim Atkinson
Hulu's Candy with Jessica Biel as the titular role and Rafael Barba As Crowder.
HBO Max's "Love and Death" starring Elizabeth Olsen as Candy and Tom Pelphrey as Crowder. You can now stream this miniseries released on 27th April.
Twitter is overflowing with reactions to Don Crowder, who totally stole the show.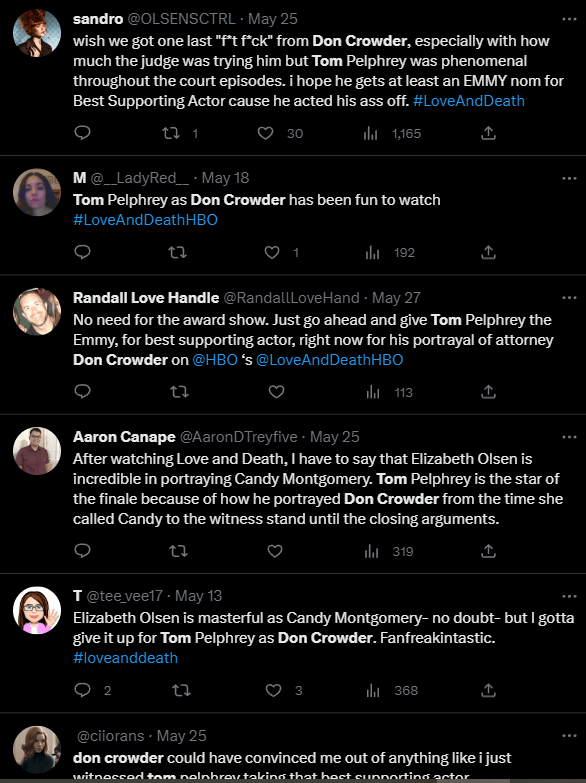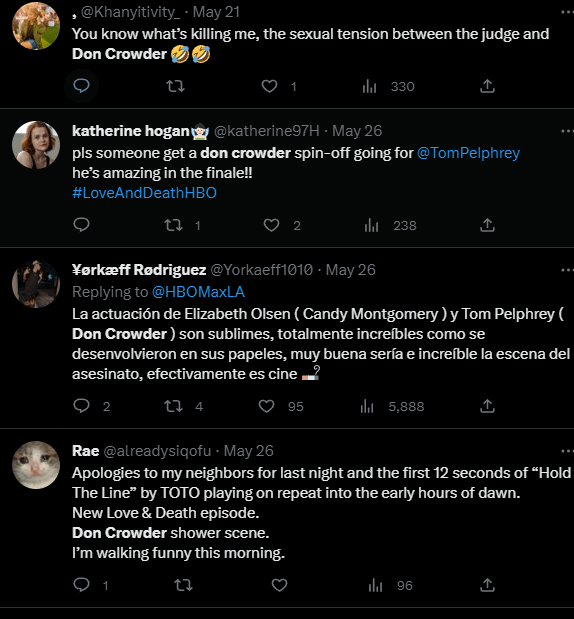 Do you think that Candy is innocent? What do you think about Don Crowder?
Let us know your thoughts in the comment section below.