You may have noticed something different about the teams' uniforms if you've been following SEC softball recently. They are all wearing a shade of teal or teal accents. Not every day you see a lot of Teal in the sports world.
So, why is everyone suddenly obsessed with this color?
Well, it all comes down to a special campaign called "All for Alex," which is all about honoring the legacy of a former Mississippi State softball player named Alex Wilcox.
Who Was Alex Wilcox?
Alex Wilcox was a talented softball player who played for Mississippi State University in 2018. She battled ovarian cancer with remarkable courage and strength, becoming an inspiration to many. Sadly, she passed away in the summer of 2018, leaving behind a legacy of resilience and love for softball.
She was just 18 years old. RIP Alex.
The #NoOneFightsAlone Campaign
In an effort to honor her legacy and continue the fight against ovarian cancer, the Bulldogs have launched the #NoOneFightsAlone campaign. As part of the initiative, all 13 SEC softball teams wore teal or teal accents on April 22nd.
The Geaux Teal Ovarian Cancer Awareness Foundation hooked each school up with some seriously cool All for Alex shirts for the teams and staff to rock during pregame warmups.
It's awesome to see everyone coming together to support such an important cause. Videos were played throughout each stadium on the day to remember Alex's impact on the softball community.
A Special Honor
MSU made sure to honor Alex's legacy in a lasting and memorable way. On September 15th, 2018, Mississippi State University did something super special for Alex Wilcox. They retired her No. 8 jersey, which made her the first female student-athlete in their history to receive this incredible honor. How amazing is that? Alex was truly a trailblazer.
"This one's for you, Alex 💙#HailState🐶 | #NoOneFightsAlone" – Mississippi State Baseball tweeted on March 6th, 2019.
The jersey retirement was a way for the university to show its appreciation for Alex's courage, strength, and leadership both on and off the softball field.
SEC Softball Teams Unite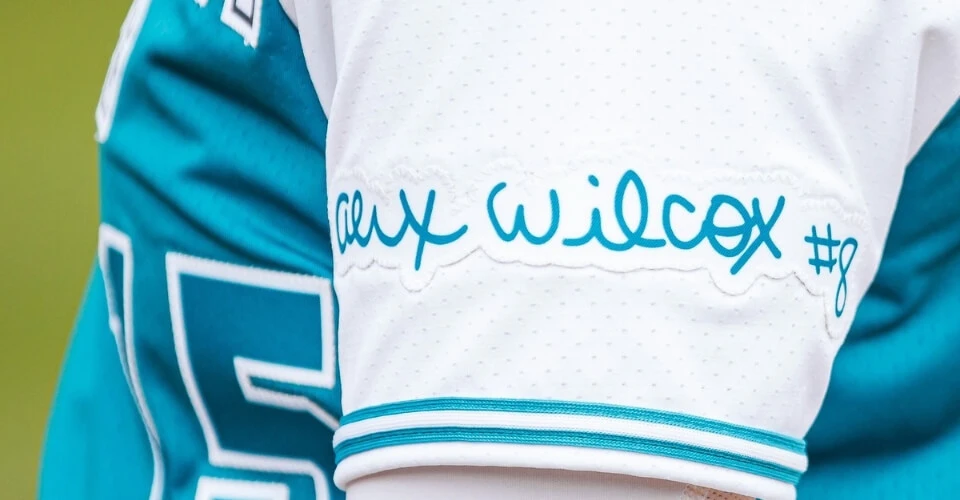 In 2018, all 13 SEC softball teams were awarded the league's Sportsmanship Award for their united support of Alex throughout her final year of competition. This shows how much Alex meant to the SEC softball community and how her legacy continues to inspire others today.
"Playing #AllforAlex as we join the @SEC in the fight against ovarian cancer." – Texas A&M Softball posted on Twitter.
What Is Geaux Teal?
You may be wondering, what exactly is the Geaux Teal Ovarian Cancer Awareness Foundation? Well, it's a non-profit organization founded in Louisiana to raise awareness and funds for ovarian cancer research. The foundation's name is a play on the Louisiana phrase "Geaux Tigers" (which means "Go Tigers").
So, why Teal? Well, ovarian cancer is often represented by the color teal. By wearing Teal, the SEC softball teams are not only honoring Wilcox's memory but also raising awareness about ovarian cancer. The disease affects many women worldwide, and spreading awareness about it is crucial.
Why Is It Important to Know About Ovarian Cancer?
Ovarian cancer is a type of cancer that affects a woman's ovaries. These are the organs in the female reproductive system that produce eggs. It's the fifth leading cause of cancer deaths among women and the most common cause of death from gynecological cancers.
The symptoms of ovarian cancer can be really subtle and easy to miss. In fact, they often don't show up until the disease has already gotten pretty advanced. So it's really important to be aware of your body and any changes you might be experiencing. Early detection is key!
Raising awareness about ovarian cancer can help ensure that more women are diagnosed early and have access to the best possible treatment options.
It's important to remember that ovarian cancer can affect any woman, regardless of age or family history, so it's important to be aware of the symptoms and to talk to your doctor if you have any concerns.
Join the 'All for Alex' Campaign
Alex Wilcox inspired us all, and her legacy lives on through the #NoOneFightsAlone campaign and now through the All for Alex campaign. It's great to see the entire SEC softball community unite to honor her memory and raise awareness about ovarian cancer.
So, the next time you see a softball team wearing Teal, remember it's not just a fashion statement. It symbolizes hope, compassion, and the power of unity.
The "All for Alex" campaign is a beautiful tribute to Alex Wilcox and a powerful reminder that no one fights alone. The softball community, and all those who support this cause, are united in their fight against ovarian cancer. Wear Teal, show your support, and let's continue to spread awareness and love for this vital cause.
Do you like softball? What's your favorite team? Let us know in the comments below. Oh, and don't forget to check out AverageBeing.com for the latest news and pop culture updates. It's the coolest site around!