Jack Harlow, the MET Gala's favorite meme, is more than just your blue-eyed rom-com boy. The 25-year-old rapper made waves with his debut in 2015 with his first commercial mixtape. There was no stopping to his trajectory as his albums were charting across the globe; his remix of "What's Poppin" reached number 2 on the Hot 100.
Jack's genius strategy of tapping into the TikTok platform to promote his song "First Class" earned him the right exposure at the right time, making him an instant internet sensation.
Harlow soon shared the mic with some of the best rappers in the industry– Eminem, Big Sean, Cordae, Lil Nas X, G Eazy, Chris Brown, and many more. This roster was the street credit he needed in the Hip Hop industry. And with that, he was crowned the handsome prince rapper by his fandom being predominantly women. The swoon-worthy artist soon became the internet's boyfriend with his relatability, a fresh take on hip-hop, and embracing his female fandom.
And as the philosophy of fame goes, one's personal life is now attached to their artistry/craft, as seen with Tom Brady, who is rumored to be dating the most famous socialite after his divorce.
Harlow's dating history is the topic of discussion as he is rumored to be dating someone very famous…let's dig deep into his relationship status.
SAWEETIE
The internet went into a frenzy seeing our boy shoot his shot during the 2021 BET Awards. This video of Jack Harlow being whipped for Saweetie (rightfully so) was an inspiration for some and a second-hand cringe for others. Nevertheless, it sparked enough dating sparks between the two.
The two had earlier collaborated on Saweetie's single "Tap In."
But people couldn't handle the awkwardly cute interaction between the two–
when Harlow says, "you don't get caught off guard!" to which the "Best Friend" singer quips with, "Why are you shaking?" catching him off-guard in an uno-reverse card.
Ultimately, the two have denied being in a relationship and enjoy frequent collaborations with mutual professional respect.
Saweetie was involved with Quavo (Migos) at the time; the two have split since then.
ADDISON RAE
It all started with the Jake Paul vs. Ben Askren highly publicized match that assembled who's-who from showbiz. Jack Harlow sparked dating rumors with Addison Rae when they were spotted together, enjoying the spectacle.
Addison Rae rose to fame for her dance videos on TikTok and eventually ventured into acting with "He's All That" (2021 remake of "She's All That"). And she also launched her own makeup line, ITEM Beauty which Sephora later dropped after just a couple of years.
The tabloid had a field day with this secret outing, and soon the rumors mills were spinning.
In the interview, Jack Harlow was referencing an unknown TikToker and how he was fascinated by her. Netizens put together the puzzle, and their dating rumor broke the bluebird.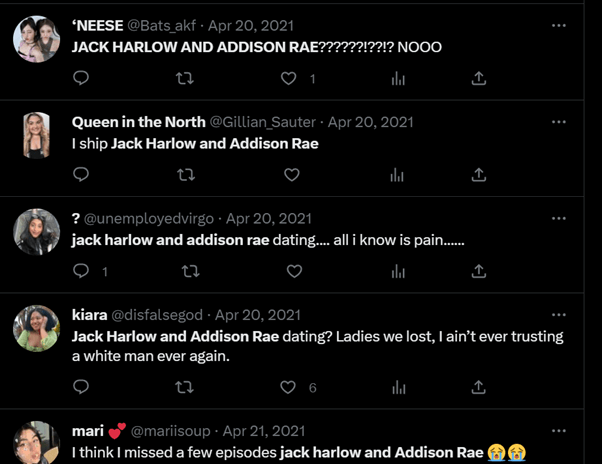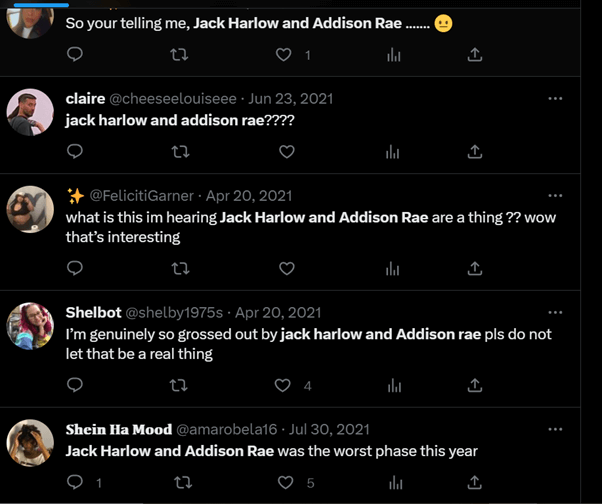 However, Rae took to Twitter, clarifying her status as "I am Single." She was previously involved with Bryce Hall, who was salty about the dating rumors between Rae and Harlow.
DUA LIPA
As mentioned before, Jack Harlow was involved with a top singer. And she is none other than Dua Lipa.
Their story beings with a romantic gesture by Jack when he wrote a song titled "Dua Lipa." He did ask for her permission on Facetime before releasing the music.
Later the two met at the Variety Hitmakers Brunch in Los Angeles in November 2022, where Harlow's charm floored the "Levitating" singer.
The two have been since in 'constant communication' according to sources. Harlow showed his support by flying to New York for her Z100 Jingle Ball appearance. And the next day, some sources reported them arriving separately at a restaurant in Meatpacking District.
Dua Lipa was previously in a rumored relationship with The Daily Show Host Trevor Noah. As for the present timeline, Jack Harlow seems to be enjoying his single status, keeping his personal life under wraps, and continuing to make bangers.
Some Cute Jack Harlow Ships Along The Way
The internet seems to have been making ships for Jack Harlow on account of his charming interactions with ladies–
This interview with the funny British host had everyone wishing the two got together. The chemistry of awkward banter felt like the start of a rom-com movie. And who would have thought that "You are stupid" could be such a flirtatious line? Only Jack Harlow can pull this off.
How can a 3-second interaction have more chemistry than entire than the entire Star Wars: The Last Jedi?
The internet could not stop gushing over the awkward "love you" by Jack Harlow and Emma's instant gust of laughter when he turned his back. This meet-cute was the unexpected highlight of the MET Gala 2022.
And guess what? In a serendipitous world, the two met again at the MET Gala 2023.
In an ask me anything session on Harlow's live, fans asked him whom he would like to date next.
In a sweet response, he simply posted a picture of Rapper Yung Miami, leaving the fans blushing at his confession.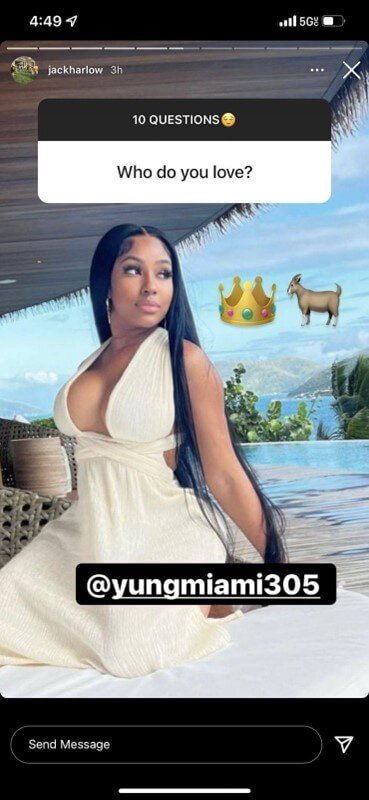 What do you think of his dating history?
Do you think Jack Harlow is still single? Who would be your One True Pair for Harlow?
Let us know your thoughts in the comment section below.