Thomas Edward Patrick Brady Jr. was born to be the MVP of American Football. From playing for the University of Michigan to being drafted by New England Patriots in 2000, Tom Brady always led his team to winning streaks.
He is a reliable quarterback on the field and in real life: his stoic attitude and grounded philosophy anchored his remarkable leadership even under mounting pressure. People may not deem him the fastest or the strongest, but the 45-year-old NFL star has inspired aspiring players with his intelligent playmaking skills.
Brady is essentially a collector of titles– the man has delivered god-like athleticism, declaring him the MVP five times in 2002, 2004, 2015, 2017, and 2021. He is the showrunner at every Super Bowl, with his record seventh Super Bowl win in 2021.
For the grand finale of his glorious career, Brady announced retirement in early 2022 but delivered his one last epic performance in the 2022 season with the Buccaneers. He racked up records for highest passing yards, passing touchdowns, and pass completions before finally retiring in February 2023.
Touchdown isn't the only way Brady amassed a following. He was named one of the 'Sexiest Man Alive' in a list by People Magazine. The handsome player has pulled girls, ladies, men, and women to his NFL matches. Naturally, the prying tabloids always hover over his dating life.
Now that he is again an eligible bachelor, we are digging into his dating history since his debut.
Tom Brady's Relationship Timeline
Tom Brady's First Public Relationship
Layla Roberts rose to fame as a Playboy model when she was scouted at a grocery store. She soon pursued acting with a few films under her credit, such as Beowulf, Baywatch, Red Letters, and Armageddon. This half-Italian-half-Native American model/actress was a bombshell beauty, winning "Playmate of the Month" in 1997.
Roberts met Brady in early 2002, and the two instantly hit it off. Even though their relationship lasted briefly, the two were a tabloid favorite. However, their relationship was quite under wraps as not much was disclosed.
Tom Brady: The American Sweetheart Is Linked With The American Pie Actress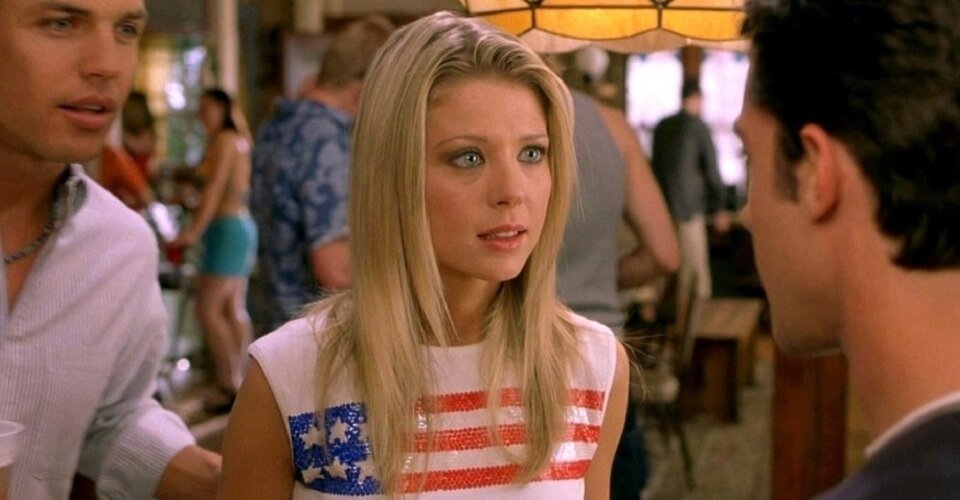 The American Pie movie franchise was a cultural reset in cinema with a cult following even to this day. From innuendos to profound life quotes, these movies have been a part of every young adult in the past two decades.
Vic, from American Pie, became a national crush with her girl-next-door image and a witty girlfriend. Credit goes to Tara Reid for bringing the character to life. She quickly rose as one of the famous actresses during Y2K.
Shortly after Brady ended the relationship with Roberts, he was linked to Tara Reid in 2002. This was also a pretty reserved affair that lasted for months. Reid stated that she had kissed the athlete when asked about their relationship. Besides this, there is not much to reveal.
Brady's Serious Relationship Ends With A Bundle Of Joy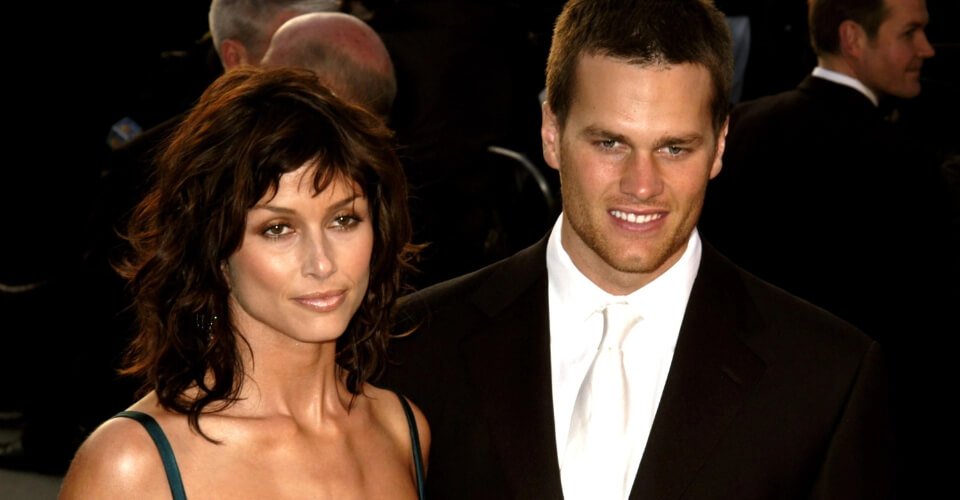 The classy, elegant, and intelligent wife of Mr.Big, Natasha, in 'Sex and The City' was the IT girl and a cause of envy for every woman. The actress Bridget Moynahan, who played the character, emulates a similar demeanor. She carried herself with poise and stood tall with confidence and a bright smile.
Brady and Moynahan, both with strong personalities, made an attractive couple as they began dating in 2004. This was Brady's first serious public relationship that he flaunted in social gatherings.
The mutual admiration and respect eventually led to an amicable split two years later, in December 2006. However, the serendipitous connection had one last link that bonded their friendship forever. It was announced in February of 2007 that Bridget was pregnant with Tom Brady's child.
Tom appeared on Howard Stern Show to express his views on the sudden news–
"Next thing you know, I found out that Bridget was pregnant with our son. So that was a very unique time … and it challenged me in a lot of ways, again, to grow up in a different way. And it was very challenging for my son's mom, you know, because she didn't envision that either."
And thus, Brady welcomed his eldest son, John Edward Thomas Moynahan, in August 2007.
Brady's Fling Along The Way
Rumors were floating around of Brady's on-again-off-again fling while he was still in a relationship with Bridget. Tom was spotted with cheerleader Meghan Vasconcellos on a few occasions. However, there is no solid proof of their relationship; many consider it a fleeting fling.
Tom Brady Is Finally Betrothed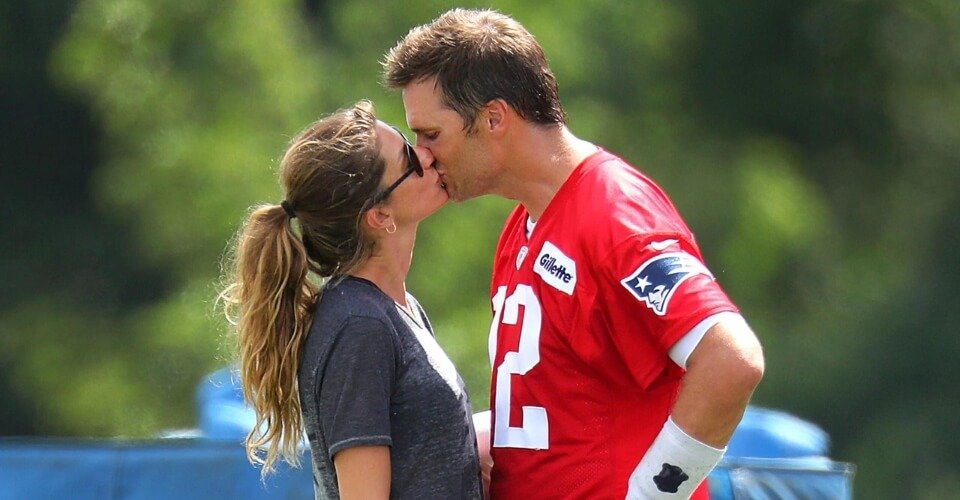 Gisele Bündchen is a Brazillian model that revolutionized the supermodel era in the 2000s. Her epic career also involves a Guinness World Record when she wore Victoria's Secret's Red Hot Fantasy Bra worth $15 million!
The Vogue favorite model appeared on countless covers, prompting her brief acting gig as Serena in Devil Wears Prada. She also authored her memoir, "Lessons: My Path To A Meaningful Life," revealing why she ended her contract with Victoria's Secret.
Even today, her iconic walk is engraved in the fashion industry as the new gen looks up to her. With a remarkable feat in her field, Brady was attracted to such a powerful woman. They began their relationship somewhere around 2006 (some reports suggest it overlapped with his previous relationship).
However, both agreed the sparks flew the moment their eyes met, instantly knowing this was it. By January 2009, they announced their engagement and were married the next month. Giselle was also quite happy about having a stepson, John, from Brady's ex, and the three of them created a wonderful nurturing environment for the kid as co-parents.
Later the couple started their own family with two children– Benjamin Rein Brady and Vivian Lake Brady.
The couple only recently announced their divorce after 14 years of marriage. There were a few cheating allegations and dispute rumors involved in 2022.
Is Tom Brady Dating Now? Recent Rumors Revolving Around Brady's Relationship
While their divorce proceedings are still in court, Brady was linked to the famous socialite Kim Kardashian. Kardashian split from rapper Kanye West in February 2021. She was later involved with Pete Davidson for months before calling it quits.
But this union seems like a "breaking-the-internet" kind of situationship. Both Brady and Kardashian enjoy the highest popularity, and the ship is too strong to ignore.
However, his reps refuted the rumors, saying there is no romance between the two, and they remain friends. The rumors also stemmed from the fact that Kim is house hunting in the same community as Brady's. Nevertheless, there are no official statements from either. Only time will tell if the ship has sailed…
What do you think about Brady's relationship roster? Do you think he and Kim Kardashian should date?
Do you think the cheating allegations against him were true? Let us know your thoughts in the comment section below.