The Last Kingdom: Seven Kings Must Die brings a suitable conclusion to the historically rich television series. The sequel is a fitting goodbye acknowledged by fans. It has retained all the medieval charm of the original series and compressed a tight plot into a two-hour finale.
However, the last piece to the puzzle didn't fit in without shocking fans with some twists. One of the aspects of the movie that has garnered attention is King Aethelstan.
The Last Kingdom has always explored the motives of the kings and what drove them to their goals; the latest movie does the same with Aethelstan.
So why are fans so shocked about it? Furthermore, some fans have even disliked the movie due to Aethelstan. What caused this mass agitation? It seems that the answer lies with Aethelstan's sexuality.
Who Is King Aethelstan?
King Aethelstan is referred to as the King of the Anglo-Saxons. He was the son of King Edward and his first wife. Often referred to as the first King of England by modern historians, he never married, nor did he have any children. This is the same King who inspired the character of Aethelstan in The Last Kingdom: Seven Kings Must Die movie.
Is King Aethelstan Gay in Seven Kings Must Die?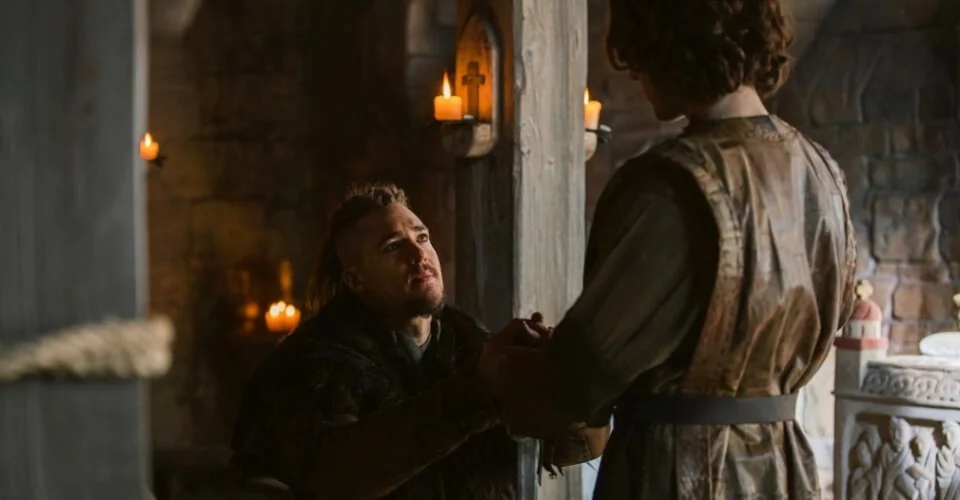 The movie revealed that King Aethelstan is gay and is actually having an affair with Ingilmundr, his primary adviser. However, his feelings leave him open to manipulation, and the Dane can be seen taking advantage of this secret relationship.
Aethelstan is a religious person, and he perceives his attraction to Ingilmundr as a sin. This, in turn, weighs him down mentally as he cannot escape his nature. Ingilmundr sees his weakness and convinces the King that the only way he can outweigh his sin is by doing a greater service to God.
To redeem himself in the eyes of God, King Aethelstan is manipulated to bring England under one rule. Although his goal is noble, his shame towards his own self makes him vulnerable. A vulnerable King can bring the downfall of his kingdom, and it makes the character and his motive even more complex.
Was King Aethelstan Gay in Real Life?
The sexuality of King Aethelstan cannot be verified, but the fact that he never married or had any children remains. Most kings' inherent nature is to leave heirs who will continue ruling in their stead. Aethelstan's diversion from the norm raises many questions. Thus, Martha Hillier, the producer of The Last Kingdom, has suggested it as evidence that the King might have been homosexual.
The period is definitely hard to research, and even then, the past King's secrets are most definitely buried with him. However, the inclusion of the LQBTQ community in a historical drama has made many fans mad.
To this, Hillier has commented, "I want to get it right, but you're never going to satisfy the people who've decided that you're doing things for other reasons. It actually wasn't about trying to be inclusive or anything – it was just like, 'this is interesting'."
Bernard Cornwell, the author of The Last Kingdom, explained in a past interview, "History records that he never married, which is unusual in a king because of the desire to leave an heir, and also that he liked to decorate his hair with golden ringlets, and on that small evidence I decided he might have been gay."
Of course, not every decision made by authors and producers will make every fan happy, but the inclusiveness has made the franchise's last movie stand out even more.
Was King Aethelstan living a life of chastity? Was it his staunch belief in his religion that made him abstain? Or was he interested in someone he could never admit to?
As long as historians don't come up with any concrete evidence, we will never know the truth behind King Aethelstan.
Till then, The Last Kingdom provides us with a believable approach to the King, his nature, and his decisions.
Seven Kings Must Die is currently airing on Netflix.