In the 21st century, anime has become a worldwide phenomenon. With better access, good content is being viewed and appreciated by millions. The Editor-in-chief of Shonen Jump + Shuhei Hosono and the deputy editor-in-chief Yuta Momiyama recently held a talk where they spoke of how considerably the initiatives undertaken by Jump have benefited excited artists across Japan and more.
Jump Rookie! was launched alongside the MANGA Plus service by SHUEISHA. This venture allows new and passionate budding mangakas to find their spark. It helps editors and authors bypass award ceremonies and presentations and is a better way of assisting amateur writers in staying connected with JUMP.
A small number of folks today drop in their names and profile as submissions for manga awards. Due to this decline, the company has had to adjust and move on to brighter schemes. Back then, most authors would garner traction by publishing their work in commercial magazines.
Jump Rookie!
Here is all the important stuff you need to know.
The editorial department has to sift through more than 500 submissions every month. At times, the number of entries reaches close to 1000. The total number of works is around 50,000 in the last seven and a half years.
Currently, 243 mangakas have signed on with Jump Rookie!! The last year alone saw 53 people join in.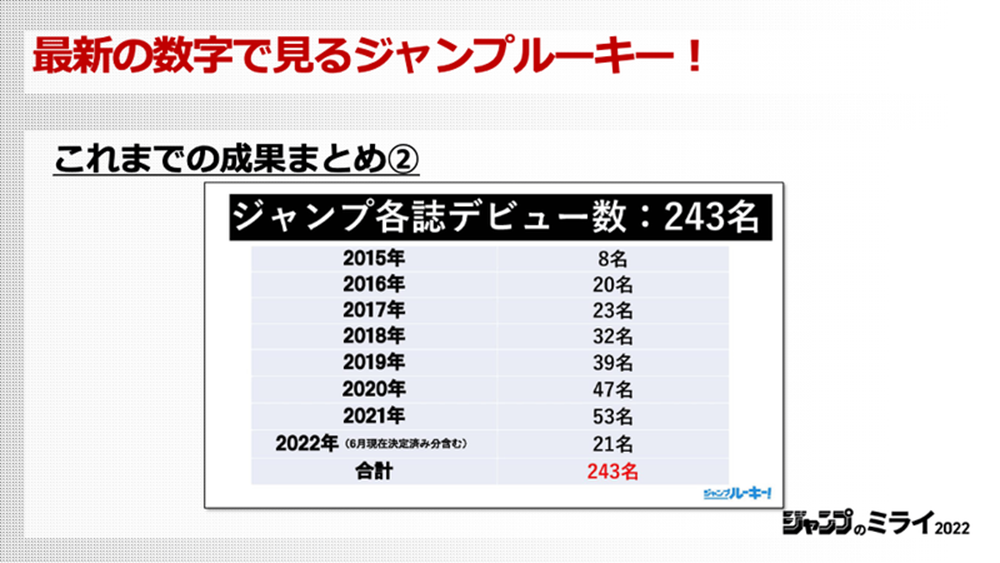 Takopi's Original Sin by Taizan 5 is a web manga that began serializing at the end of 2021. Over 3 million people have already read the latest volume. Taizan 5 got a hold of Jump editors via the Rookie platform.
100% of the advertising revenue is returned to the authors who post their works.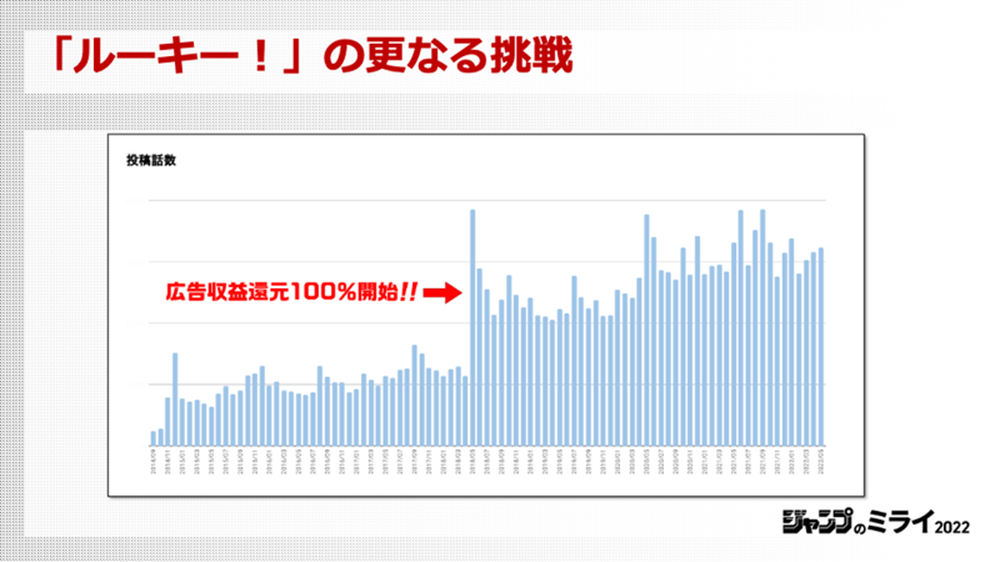 The "Indie Series" project selects one winner, who can get paid up to 20,000 yen per page. Mangakas would understand that this is a lot of money, especially for those looking to start a career in the industry.
MANGA Plus By SHUEISHA
MANGA Plus by SHUEISHA was conceptualized to increase the distribution of mangas overseas. For example, ONE PIECE and Spy x Family are available on this online platform, alongside more than 40 more works that have since been translated into English. Here are a few achievements of this venture:
The platform is multilingual, and the works can be distributed in up to 7 different languages. Viewers can switch languages and offer opinions through comments while reading the mangas. Aside from Japanese, English, Spanish, Thai, Portuguese, Indonesian, and Russian are the six other languages.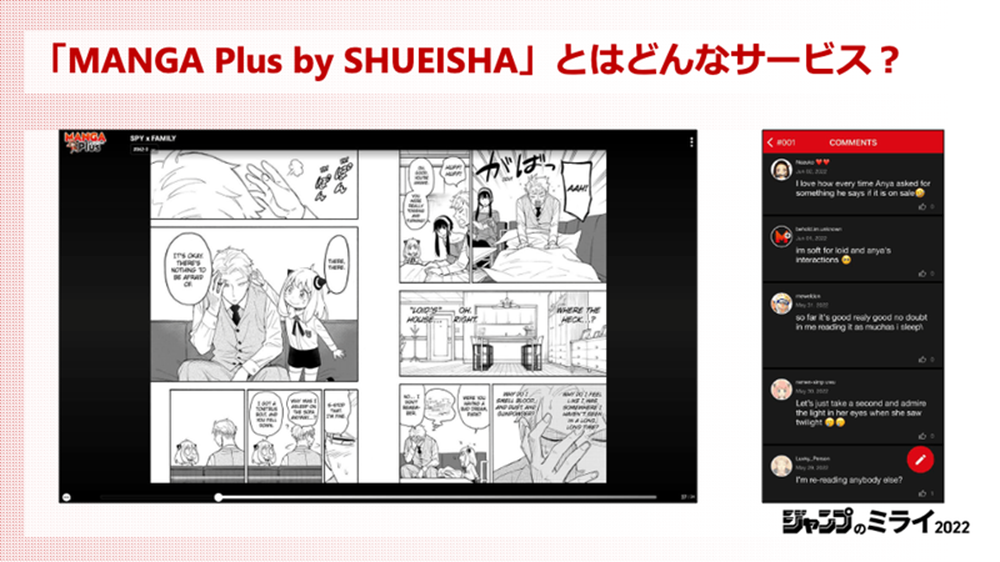 Around 100 mangas (including completed ones) have been published so far.
With the advent of the Internet, mangakas can publish from remote corners of Japan and get their works licensed much faster.
The cumulative circulation of ONE PIECE exceeded 400 million copies in Japan (according to data collected last year) and over 90 million copies overseas.
MANGA Plus may be used to publish works from around the world soon, which would be a huge move and will lead to a massive boost in JUMP's revenue. Foreign artists may soon be able to write and draw, keeping their vernacular language intact. Some works may be translated into Japanese depending on their popularity.
MANGA Plus started with 500,000 active users but reached 6 million in 3 years.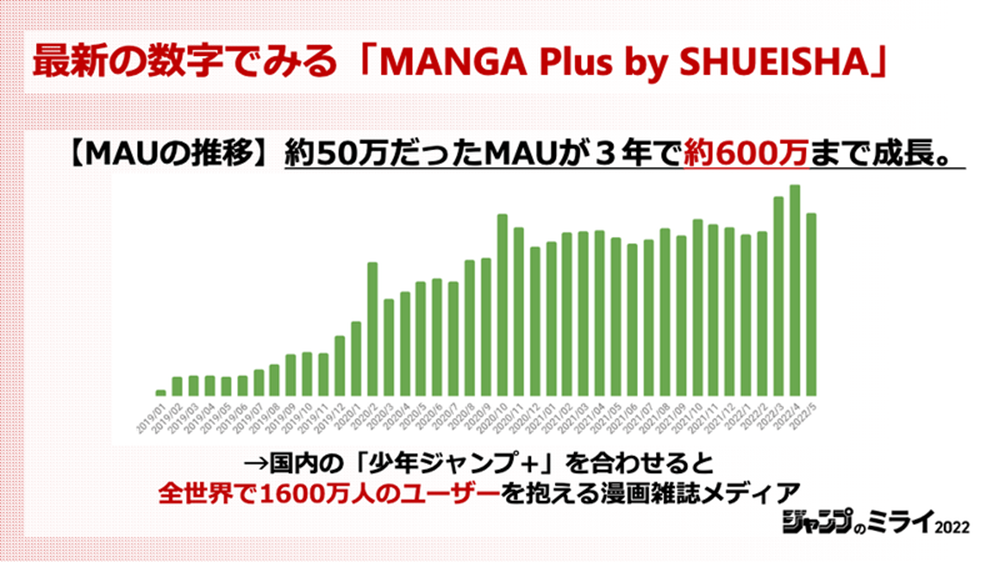 Jump + in Japan has over 10 million users. For the nations with the highest number of manga readers, here's the data:

1) The United States of America
2) Thailand
3) Indonesia
4) France
5) Mexico
6) The Philippines
7) Germany
8) Spain
9) Malaysia
10) India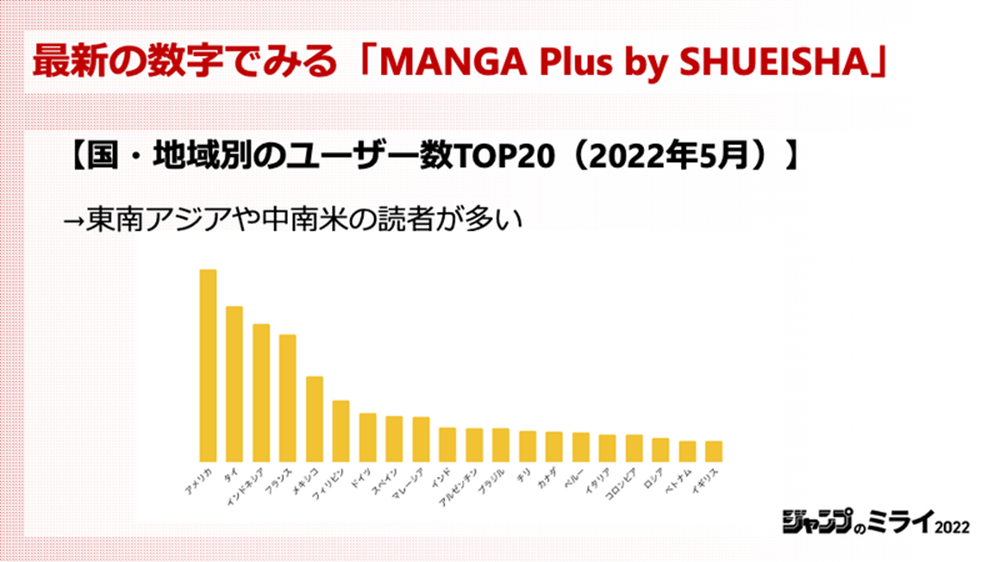 Spy X Family became immensely popular overseas as soon as it began serializing on the new platform.
Kaiju No. 8 sold 250,000 digital copies when the first volume was released, a significantly large number outside Japan.
A new function has been implemented, allowing readers to go through an entire story if the manga has been serialized in English (digitally on MANGA Plus) this year.
Around 2-3 million people read the famous works on MANGA Plus. If one included the millions overseas, the number would reach new heights.
"Jump App Development Contest" 2022 is being held!
Plans to develop new apps and web services that lead to the creation of manga
Shonen Jump + Editorial Department is recruiting.
This is an award-winning project. The winners will receive up to 50 million yen in development funds.
Jump App Development Contest
In addition to the grand prize of 1 million yen, multiple awards are available. The application period is until 23:59 on Friday, September 16th.
Have you subscribed to MANGA Plus? Are you familiar with the Jump Rookie!! Program yet? Let us know how you feel about SHUEISHA's expansion plans targeting readers and artists beyond the borders of Japan.
Source: note