Tiffany Haddish rose to fame with the 2017 hit movie "Girl's Trip," starring alongside Hollywood biggies Queen Latifah, Regina Hall, and Jada Pinkett Smith. Her promising debut bagged several other films with comedian Kevin Hart, Salma Hayek, Oscar Isaac, and many more.
She is also considered a close associate of The Smiths, with her co-star introducing her to the family. At the same time, Tiffany even defended Will Smith during the infamous Chris Rock slap at the Oscars.
But Tiffany was not an overnight success considering her years of struggle, from an abusive mother suffering from mental illness to living out of her car as an adult. She made her name at the Comedy Store, with nights of stand-up gigs. There she met Kevin Hart, who took her under his wing, offering her to open for his sold-out shows.
After her big screen debut, Haddish's online visibility went viral, as people thought her interviews were pretty funny and she kept it real. This got her own gig, as she was announced the host for a revived show called– Kids Say The Darndest Things.
The simple format of the show is quite entertaining, where Tiffany interviews adorable kids who say ridiculous things. It was earlier hosted by Bill Cosby, who is now in prison for serial abuse of women. And this unfortunate luck in the show's host is also carried forward by Tiffany.
Tiffany Haddish Lawsuit Explained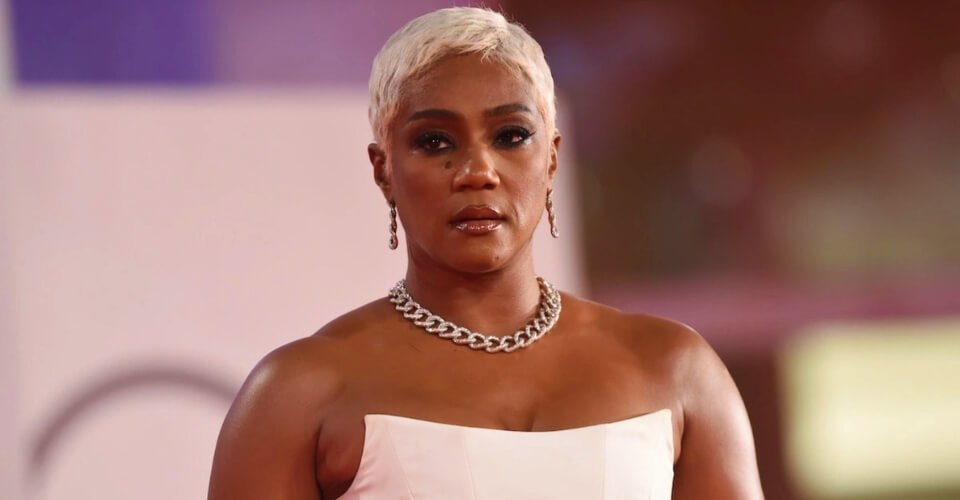 As mentioned earlier, Tiffany was trying to get her name on the comedy roster. She would write and direct comedic sketches. But as an outsider to the comedy world, you must know that the comic scene heavily relies on edgy stuff. The thinner line you walk on, the funnier you are perceived.
Tiffany and fellow comedian Aries Spears produce comedy sketches for the site "FunnyOrDie." In one such sketch, A 7 year-old-child, John Doe (identity concealed), was instructed to perform sexually lewd acts while he was in his underwear for most of the act.
That one clip was titled "Through The Pedophile's Eyes," and his sister, who was minor too, was asked to eat a sub sandwich under the pretext of performing fellatio. Apparently, Tiffany also showed her how to eat and make sounds for innuendos.
The two siblings, who are now in their early 20s, have sued both Tiffany and Aries Spears for the following–
Intentionally inflicting emotional distress
Sexual harassment
Gross negligence
Sexual abuse of a minor
Failure to warn/negligent supervision
Constructive fraud
Breach of fiduciary duty
One major implication of these accusations was that their parents were not informed about the nature of the kid's role.
Tiffany Haddish Statement On Her Lawsuit
Tiffany took to Instagram in a now-deleted post which said–
"The Skit was intended to be comedic."
"It wasn't funny at all, and I deeply regret having agreed to act in it."
Since then, the case has been dropped by the party. She was also interviewed by TMZ briefly, where she mentioned that she was "relieved" that the legal battle had come to an end.
But she also expressed her concerns for the siblings–
"concerned about the kids and is making sure they are okay."
She further states how her career has come to a halt–
"All my gigs, gone. Everything gone… I don't have no job." She had two projects in post-production and a sci-fi film— "Landscape with Invisible Hand."
Although it is not confirmed yet whether she has been dropped from these projects.
The fellow-accused Aries Spears took to his podcast, Spears & Steinberg, to give his side of the story–
"Listen, obviously, for legal reasons, I really can't talk about anything at this time. But I just more or less want to say to all the loyal listeners, thank you guys for your support and your love. Listen: This is an extortion case."
Haddish's attorney Andrew Brettler claims in his argument that these lawsuits are "frivolous actions" and that the mother "has been trying to assert these bogus claims against Ms. Haddish for several years."
He further added–
"Every attorney who has initially taken on her case – and there were several – ultimately dropped the mater once it became clear that the claims were meritless and Ms. Haddish would not be shaken down. Now, Ms. Morris has her adult daughter representing herself in this lawsuit. The two of them will together face the consequences of pursuing this frivolous action."
The plaintiff, Jane Doe, also released her statement at the dismissal of the case–
"My family and I have known Tiffany Haddish for many years, and we now know that she would never harm me or my brother or help anyone else do anything that could harm us. We wish Tiffany the best and are glad that we can all put this behind us."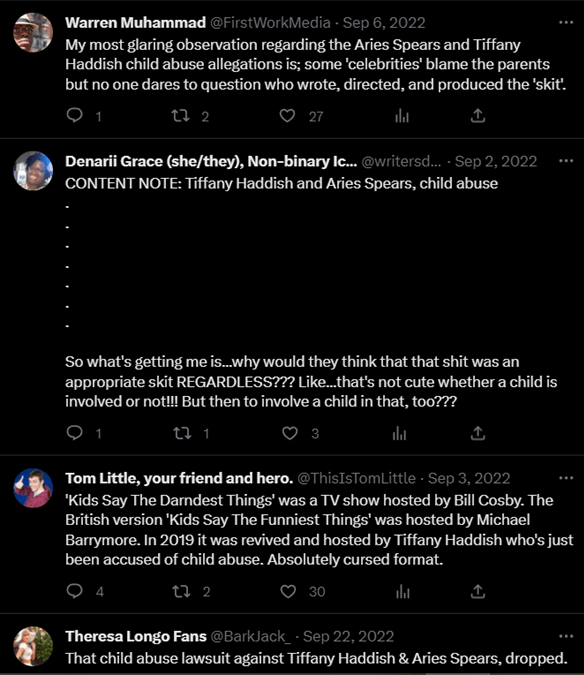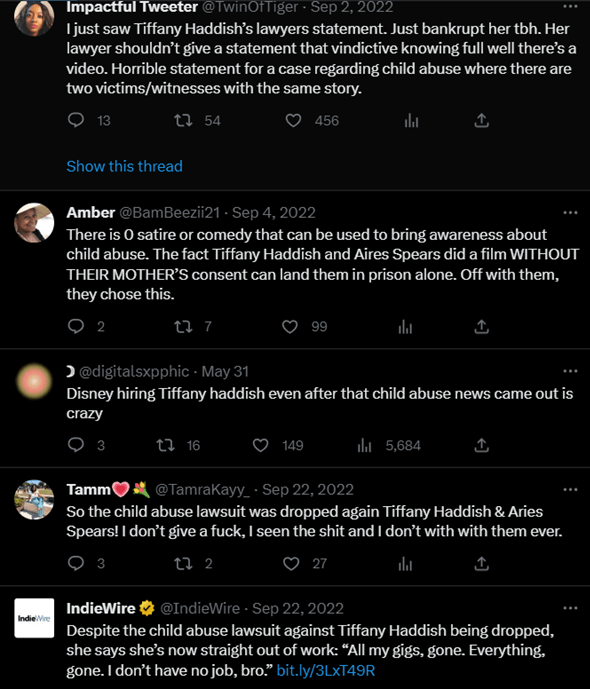 Passing the question to you–
Do you think this lawsuit was baseless and only a means of extortion? What are your thoughts on the video of suggestive acts by minors?
Let us know your opinions in the comment section below.