The Eminence in Shadow is an action/fantasy anime series that follows two contrasting groups fighting for their ideals and interests. With strong characters and high-stakes plot points, the show offers viewers an exciting experience filled with thrilling set pieces and clever plot turns.
The animation is excellent, thanks to its vibrant colors and dynamic camera angles, while the soundtrack effectively creates a sense of tension throughout. Additionally, thematic elements make for more profound viewing experiences and moments of emotional resonance.
All in all, "The Eminence in Shadow" is an enjoyable and worthwhile watch for those interested in action-packed anime shows. Season 1 of the anime has been a great hit, so let's talk about season 2 and what we know so far.
What Is the Storyline of the Eminence in Shadow?
Minoru Kagenou has been obsessed with strength for as long as he can remember, and as a result, he has put himself through countless hours of demanding training. Nonetheless, Minoru makes every effort to blend in with the crowd, so this wish is not motivated by a desire to be seen by others.
Thus, armed with a crowbar at night, he brutally beats the neighborhood biker gangs while feigning to be an entirely average student during the day. Nevertheless, Minoru's ambitions appear to abruptly come to an end when he is involved in a truck accident.
He bemoans his helplessness in his dying days, saying that no matter how much he trained, he could do nothing to go beyond his human limitations. In another universe where magic is ubiquitous, Minoru reawakens as Cid, the second child of the aristocratic Kagenou family.
As soon as he gained the authority he had been seeking, he adopted the alias "Shadow" and founded Shadow Garden, an organization whose primary goal is to battle the mysterious Cult of Diablos, a creation of Cid.
The Cult of Diablos is not as fictional as Cid had imagined, yet Shadow Garden is expanding in numbers and power.
What Happened At The End Of The Eminence in Shadow Season 2?
After the Bushin Festival, Beatrix and Princess Iris waged a full-scale campaign against Shadow. King Gerek's corpse is treated with the highest reverence by the Midgar Kingdom's troops, who are also instructed to look into the unfolding problem. After his encounter with Shadow, Perv Asshat is traumatized and immediately returns to the Oriana Kingdom.
It is instantly classified as a terrorist attack once Beatrix attacks Shadow. The honored guests are brought to safety, but the soldiers know that staying inside the stadium would be difficult, given the nature of the conflict. Soon, The King thinks of imposing martial law to protect the populace.
After pushing the two of them to their breaking point, Shadow finally displays his ultimate atomic prowess, leaving them in awe. Iris and Beatrix lose sight of Shadow due to the brightness of his strength, and they quickly conclude that he has managed to flee.
Princess Iris finds herself sobbing on her knees as she tries to accept the loss. Beatrix returns the following day, disappointed that she is unable to locate his niece, Alpha.
The search for Shadow gets underway as the King's Order conducts a hasty inquiry into the sad incident. It turns out Shadow was only acting as a ruse to divert attention from the Midgar Kingdom.
This kept them from getting into mischief in Oriana. To keep a close eye on the Major Corporate Alliance, a coalition of legacy merchants, certain members of the Shadow Garden begin looking into the Lawless City. Cid finds elsewhere that Mitsugoshi Corp is paying for the school's restoration.
The threat of a civil war breaking out also prompted the kingdom to prepare for its defense. Beatrix is engaged in a battle with Shadow while the King is busy issuing commands to his warriors.
Princess Iris soon follows with a Mythril sword. Even if the two of them attempt to defeat Shadow simultaneously, he is still skilled enough to handle them. Shadow brilliantly keeps Princess Iris and Beatrix engaged in the conflict and gave them hope that they will prevail. But he is only manipulating them in order to lose their trust in him eventually.
Best Superpower Anime: The Ultimate Guide For Power Loving Otakus

Fans Also Read
The Eminence in Shadow Season 2 Trailer
A teaser trailer was released to confirm The Eminence in Shadow season 2. According to the trailer, zombie attacks are a novel treat for The Shadow Garden, which also teases a disturbing story.
While some new characters are teased, and the animation appears even better than in the first season, viewers are left eager and curious. The whole trailer has a bloody and dark vibe that just sets the mood for the viewers and makes them even more hyped.
The trailer has confirmed one thing for sure: season 2 will be more intense, bloody, and action-packed than season 1.
The Eminence in Shadow Season 2 Key Visual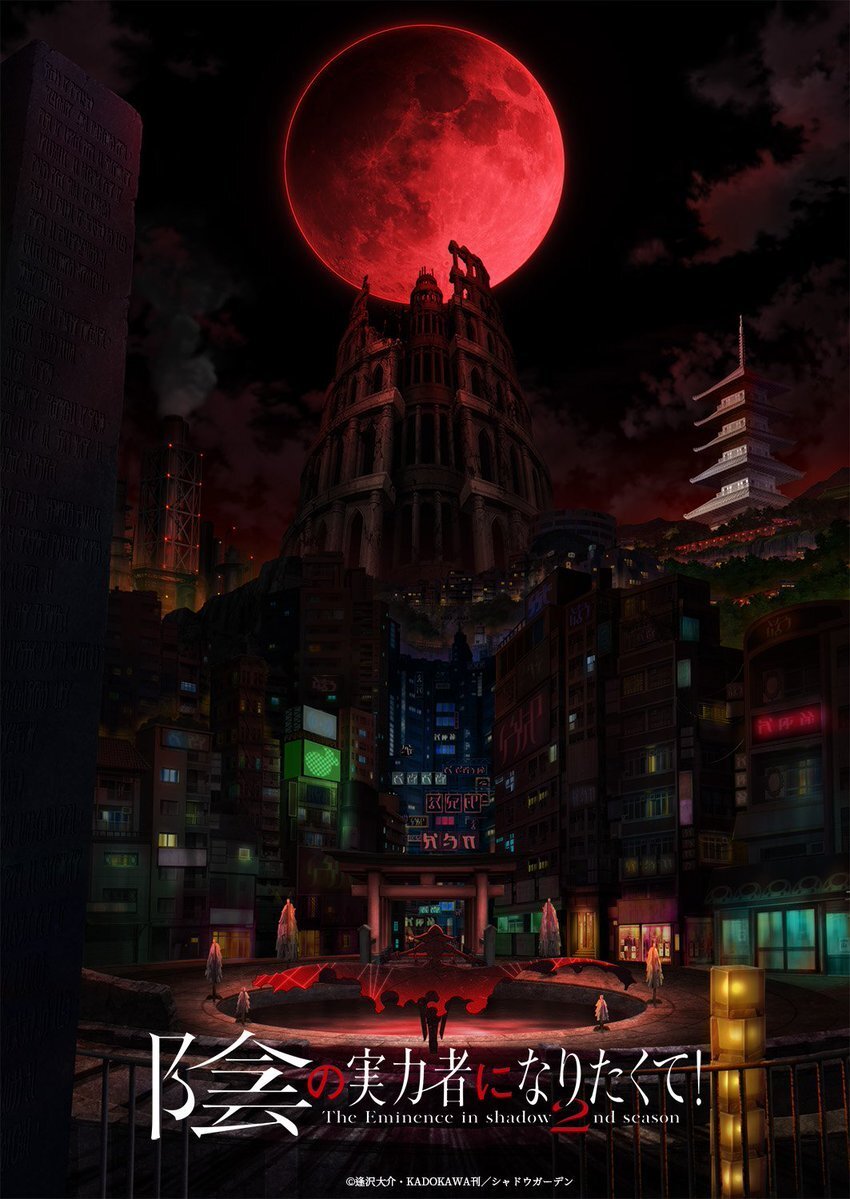 An official key visual was also released, and in this, we can see post-apocalyptic Japan and how all the colors are dark. There is destruction yet peace. It is set in apocalyptic time, but we can still see some culturally Japanese buildings, along with a full blood red moon.
The key visual and teaser vibe are very similar and chilling. We all can't help but be more hyped because of this key visual.
Is The Eminence in Shadow Season 2 Renewed?
The Eminence in Shadow's last episode, which aired on February 15, 2023, ended with announcing there would also be a second season. For the second season at the Nexus studio, the primary staff is back. The new season's premiere date has yet to be made known by the authorities.
It is with great pleasure that fans of the series, The Eminence in Shadow, have just heard the news that Season 2 has been officially renewed. With an up-and-coming young cast that includes some fan favorites, Prominent Entertainment is excited to bring anime lovers this new season filled with fresh content and exciting plotlines.
From its captivating musical score to its carefully crafted characters, viewers will continue to be entranced by this delightful story of self-discovery. Fans can expect a journey beyond their wildest imaginings when season 2 premieres sometime later this year.
The Eminence in Shadow Season 2 Cast and Crew
Voice actors help bring anime characters to life through their performances, usually enhanced by expertly crafted sound editing and mixing. So let's look at the main cast of The Eminence in Shadow:
Yamashita, Seiichirou as Kagenou, Cid
Seto Asami is Alpha
Fairouz Ai as Delta
Mimori Suzuko as Gamma
Kondou Reina as Eta
Asai Ayaka and Zeta
Kanemoto Hisako as Epsilon
On a production level, teams help to oversee the implementation of ideas, from script-writing to animation drawing and filming. The group is also responsible for quality control, ensuring that all elements come together seamlessly for the story to be told correctly and effectively. Let's take a look at the core cast of The Eminence in Shadow:
Script Writer: Daisuke Aizawa
Illustrator: Tōzai
Producer: Watase Shouta
Director: Nakanishi Kazuya
Sound Director: Aketagawa Jin
The Eminence in Shadow Season 2 Release Date
The anticipation for a second season of the immensely popular anime series The Eminence in Shadow is palpable amongst its large base of devoted die-hard fans. However, as of now, there has yet to be a formal announcement made by the production house regarding the release date of Season 2.
The first installment of The Eminence in Shadow premiered in October 2022 and was an instant hit amongst all types of viewers. Season 2 is already in production; that much is certain because a key visual and short teaser trailer has been released, but no official date has been set yet.
We can expect the series to come out in the fall of 2023. With respect to official information on this matter, news has yet to surface. Still, we'll continue monitoring any developments about The Eminence in Shadow season 2 and update fans promptly if details are available.
The Eminence in the Shadow Studio
Nexus Animation Studio is an innovative animation and content studio based in Japan with strong technical capabilities and a wealth of experience creating stunning visuals for film and television. Nexus specializes in producing character-driven stories with distinctive art styles, vibrant colors, and dynamic compositions.
Their exceptional team of directors, designers, coordinators, and animators has enabled Nexus to produce some of the most compelling animated content. However, the studio is still very underrated, and so far, since 2012, it has launched only 10 projects, which include anime like Darwin's Game, Comic Girls, Chivalry of a Failed Knight, The Eminence in Shadow, and a few more.
But still, the quality of the studio's work is worth praising, and we hope to see more new projects from Studio Nexus.
How Many Episodes Did the 1st Season of The Eminence in Shadow Have?
The first season of "The Eminence in Shadow" consists of 20 episodes that aired from October 2022 to February 2023. The animation style is colored with meticulous detail, which heightens the sense of tension as conflicts arise.
Filled with moments of gripping suspense and adventure, audiences will find themselves taken along a journey as twists reveal essential truths about the threats that loom ahead and the protagonists' inner strengths that become revealed with each challenge they face.
Where Can You Watch The Eminence in the Shadow Series?
The Eminence in Shadow series is ready to stream on Crunchyroll Disney+, HiDIVE, and Netflix.
Crunchyroll is a subscription-based streaming service for anime. For a monthly fee, viewers can access a library of legally licensed content, including the 20 episodes of The Eminence in Shadow.
Disney+, another popular streaming platform, has all the show's episodes, and you can binge-watch them there; it also offers various quality options. However, both platforms can be a little rough on your pocket, so HiDIVE is a cheaper alternative. So you can watch all the episodes of "The Eminence in Shadow" there too.
If you can access a Japanese VPN, you'll be able to stream this anime on Netflix too, because so far it's only available on Netflix Japan.
Is The Eminence in the Shadow Manga Finished?
The Eminence in the Shadow Light Novel
Based on a light novel written by Daisuke Aizawa and illustrated by Tzai, The Eminence in Shadow light novel was first published on the user-generated website Shousetsuka ni Naru in 2018 before being picked up by Enterbrain.
There are currently five volumes of the light novel. Even though the sixth volume's release date has yet to be revealed, the most recent one, released in December 2022, is not the last.
The Eminence in the Shadow Manga
The light novel "Eminence in Shadow" was followed by a manga written by Aizawa and illustrated by Anri Sakano.
Kage no Jitsuryokusha ni Naritakute!, a spin-off manga! 2019 saw the start of the serialization of Shadow Gaiden, which features Seta U's art. Manga is still running strong right now. Nine tankobon volumes have so far been published. The publication of the tenth volume is also imminent, so the manga is still ongoing.
How Many Manga Volumes Did the 1st Season of Eminence in Shadow Cover?
The first two volumes of the light novel series "The Eminence in Shadow" have been fully covered in Season 1. Fans of the manga version by Anri Sakano can begin reading from the 7th volume because volumes 1 to 6 represent 25 chapters that have been adapted in the anime.
The show has followed the light novel series properly without leaving things behind. This is a good thing; you don't have to put too much thought into where to start now; just pick where the show left off, and you are all set to go.
Which Manga Chapter To Read For The Eminence in Shadow Season 2 Story?
You can begin reading volume 3 of the light novels after watching the first season of The Eminence in Shadow anime. Twenty episodes was a very generous amount of substance for two light novels, and I hope every light novel adaptation was that thorough.
There is a manga adaptation of "The Eminence in Shadow." You can begin reading Chapter 26 of The Eminence in Shadow because that's where the anime stopped in the manga.
Please be aware that the events of light novels, anime, and manga vary. They arrive at the same main conclusions but frequently arrive at them in slightly different ways. As a result, if the anime completely blew your mind, it might be advantageous for you to start at the beginning of the source material.
What Should We Expect From The Eminence in Shadow Season 2?
The third volume, which covered the Lawless City Incident and Corporate Alliance Conflict, will be continued in the future season. The Blood Queen Elisabeth, the Spirit Fox Yukime, the Famed Vampire Hunter Mary, and Delta's older brother Ole are just a few of the mysterious figures that will appear in the second season.
If the second season adheres to the same 20-episode schedule, it will cover the fourth volume, which is focused on Cid and Beta's travel to post-apocalyptic Japan and Oriana's "Black Rose" Civil War Wedding Incident.
Many crucial Cult of Diablos members debut in the fourth book of the series, notably Mordred, who holds the 9th seat in the Knights of the Round.
The Eminence in Shadow is an anime series lauded for its well-structured story, entertaining action sequences, and memorable characters. With an expansive cast of characters representing solid themes such as friendship and courage, Eminence in Shadow provides intrigue, emotion, drama, and excitement, making it an entertaining experience worth watching.
So, do you think season 2 of the anime will be more fun, unique, and action-packed than season 1? Let us know about your expectations from the series.
Also, Make sure to visit averagebeing.com more for more amazing anime-related content.