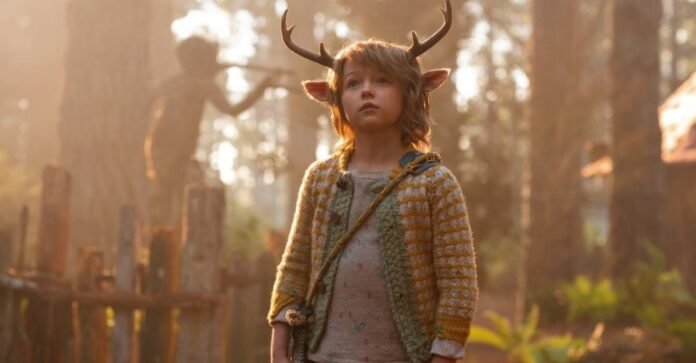 Sweet Tooth's season one has quite literally left us with a sweet tooth for this show, and we cannot wait for the flavor Season Two will bring!
Produced by Ironman, aka Robert Downey Jr himself, this fantasy drama turned out to be a bit of a curveball. In a good way. It came out of nowhere, and within no time, it was everywhere. It was almost like a virus. Pun intended.
If you have not watched this series, jump on to Netflix right away. Featuring a stellar cast with familiar names like Nonso Anozie, Christian Convery, Adeel Akhtar, Stefania LaVie Owen, and more, this series takes you through a post-apocalyptic world of viruses, animal-human hybrids, poachers, and survivors all the same.
Now, as dark as that may sound, the makers of this show have managed to approach it with a touch of tenderness. This is what makes this show so good. We get to see this dangerous world through the eyes of a child who simply wants to find his mother. Developer Jim Mickle and the author of the book, Jeff Lemire, have come together to create something truly wonderful.
However, much of this success is brought about by Christian Convery, who plays the very "sweet" Gus. You can't help but fall for his innocence, and it's one of those things where you feel like you just want that naive, loving boy to be protected. So, you watch to make sure he is. Everything else is just about what you'd expect from a drama set in an apocalyptic world, yet done tastefully.
With a Rotten tomato rating of 97%, it truly is worth your time.
What Is The Storyline Of Sweet Tooth?
Sweet Tooth follows the adventures of a little half-human-half-deer hybrid as he searches for his mother in a world that is ravaged by a virus. Too much? Okay, let's simplify.
A virus is discovered that seems to kill people, and no one can figure out a cure for the same. Around the same time, these half-breed children start appearing. The greatest minds cannot figure out if the virus came first or if these half-breeds brought the virus; therefore, there is a lot of hate for hybrids. However, the "Sick" spreads fast, killing most of the human population in something called the Great Crumble.
We follow the story of a little half-deer boy who has suddenly lost his father and finds his mother's picture with the word "Colorado" written on its back. So obviously, our young protagonist, Gus, decides to embark on a journey to find his mother. In his journey, he finds certain helpers in Big Man and Bear as they help him navigate this strange world.
Of course, while Gus is the main character, We are also shown the threads of others like Doctor Aditya Singh, who is trying to find a cure for the virus so that he can save his life, and also the thread of Aimee, a former Therapist who tries to protect her reserve for all the Hybrids.
What Happened At The End Of Sweet Tooth Season 1?
Sweet Tooth managed to leave us with quite a bit of a cliffhanger. At this point, if the show is dropped, we're sure it will be havoc. The entire journey starts with Gus wanting to find his mother, and he finally arrives at a place where his mother is thought to be.
However, it turned out that Birdie (Gus' mother) left to search for him 10 years ago and never returned. At the same time, Aimee's sanctuary for hybrids is attacked by the Last Men, and all her hybrids are eventually captured. Big Man too, was shot and thought to be killed just as the Last Men Take Gus away.
At the very end, it seemed there was no hope for any of our protagonists. Save the fact that Big Man was still alive and that Aimee saved him and nursed him to help. The most important ray of light received is the call Bear gets when waiting in the cabin, and it turns out that it is Birdie hiding out somewhere.
Sweet Tooth Season 2 Trailer
The Sweet Tooth Season 2 trailer is yet to be released, so we don't exactly know what will happen here.
Here is the production-wrap video posted by Netflix:
To predict what we might see, we know that the stakes will be way higher. We will get a deeper scoop into each character's past life. We'll see a big rescue operation happen early in season two because our protagonist needs to be freed.
From then on, we will probably see Gus meeting his scientist mother. That would be the most exciting part of the second season, to see how this new and bizarre relationship would be handled. There is also a very real possibility that Dr. Singh might find a cure for the "Sick." We'll just have to wait and see, as this is all speculation at this point.
Sweet Tooth Season 2 Leaks
The production team for Sweet Tooth has been tight-lipped, and the information on Sweet Tooth's second-season specifics needs to be revised. However, if we look at the comics on which the show is based, we get a few clues as to where Season two might be heading.
Firstly, the chances of Gus finally meeting his mother are very high. With that, we might even see a significant leap being made in finding a cure for the Sick.
Another major plot line we may see is Big Man helping Aimee rescue her hybrids and then create another Preserve for them. If all goes well, we might even see Big Man's family, who he supposedly left behind but then went back only to find them being taken away by the Last Men.
We might even be introduced to a few titular characters, like Johnny, General Abbot's brother. Johnny is a great help to Gus and his friends in the books.
Is Sweet Tooth Season 2 Renewed?
Yes, after a widely successful first season that gained appreciation from both fans and critics, Sweet tooth was renewed for a second season only a few weeks after the first season dropped.
However, since this show is a massive undertaking, production has taken quite some time. Netflix announced that the shoot for Sweet tooth wrapped up somewhere in July 2022, and at this point, we're just waiting with the popcorn in hand. For the most part, we're told to expect the DC Comics adaptation in early summer. Fingers crossed.
Sweet Tooth Season 2 Cast And Crew
Mostly, we know that the main crew is retained for season two without any changes. Here is a refresher list of the cast of Sweet Tooth.
Christian Convery – Gus
Nonso Anozie- Jepper (Big Man)
Adeel Akhtar – Dr. Aditya Singh
Stefania LaVie Owen – Bear
Dania Ramirez – Aimee
Will Forte – Gus' father
Neil Sandilands – General Steven Abbot
We might run into a few new faces with the introduction of Birdie's character and also General Abbot's brother Johnny.
Sweet Tooth Season 2 Possible Release Date
While we were promised the release of Sweet Tooth sometime in Jan '23, it is safe to say that might be wishful thinking at this point. After the announcement of the production wrap for the post-apocalyptic drama, we're speculating a mid-summer 2023 release for Sweet Tooth Season 2.
Sweet Tooth Series Production House
Sweet tooth was produced by the combined efforts of four production companies – Nightshade, Team Downey, DC Entertainment, and Warner Bros Television. This TV Series had quite a bit of backing, especially from Robert Downey Junior, as he has personally come for promotions. The production quality is visible from the very life-like setting of the show.
How Many Episodes Did The First Season Of Sweet Tooth Have?
Sweet Tooth Season 1 has 8 episodes in total. The total watch time for the entire series is 365 minutes or around 6 hours of watch time. If you have half a day to kill, then this would be the perfect show to do it with.
The run time for each episode is as follows.
| | | |
| --- | --- | --- |
| Episode 1 | Out of the Deep Woods | 54 minutes |
| Episode 2 | Sorry about all the dead people | 50 minutes |
| Episode 3 | Weird Deer S**t | 43 minutes |
| Episode 4 | Secret Sauce | 43 minutes |
| Episode 5 | What's in the Freezer? | 40 minutes |
| Episode 6 | Stranger Danger on the train | 42 minutes |
| Episode 7 | When Pubba met Birdie | 39 minutes |
| Episode 8 | Big Man | 54 minutes |
Where Can You Watch Sweet Tooth?
Sweet Tooth is available for streaming on Netflix as of June 2022. We're certain we won't have to wait too long for the next season to drop and bless our lives.
Is Sweet Tooth Based On a Book?
Sweet took is based on the popular DC comic of the same name. The comic novel was written by Jeff Lemire and quickly grew to fame because of its storytelling and compelling plot line.
How Popular Is the Sweet Tooth Series?
Sweet Tooth Season 1 was the most-watched TV series in Netflix's second quarter of 2021. A whopping 60 Million accounts watched the show, making it one of the most-watched series of all time on Netflix.
Apart from its impressive commercial success, critics received Sweet tooth well, earning a Rotten Tomato rating of 97% and 7.8 on IMDB. The show certainly has made a mark. Its cast earned a BAFTA nomination in the supporting actor category, was nominated for an ASC award, and won many categories in Children's and Family Emmy Awards.
What To See After Sweet Tooth?
It is hard to suggest a series or movie to watch after this one. Simply because it is one of a kind, no other Fantasy Drama has been done with so much tenderness. If we had to pick something still in the post-apocalyptic area, our two best recommendations would be Zombieland and Rim of the world. They're fun, light and there is a lot of action. They are available to stream on Netflix as well!
It looks like we're slowly nearing the release of the second season of Sweet tooth, and we at Averagebeing are super excited. There is very little information on what's going to happen, and we are on our toes. Please tell us what you think might happen in S2.
Visit Averagebeing for more fun articles, comic content, news, and more!
Later, nerds.