Oktoberfest is that time of the year when German gather together in large numbers and have a gala time drinking beer. However, for us otakus, the following month is a celebration for different reasons. The anime schedule is packed with almost four dozen shows set to hit our screens this year in October.
Amongst these shows, Romantic Killer is a rather unique one. Female characters are often criticized for their one-dimensional representation in anime and mangas. However, Anzu Hoshino is not one of them. A fervent gamer, the red-haired protagonist, gets a visit from a wizard named Riri, who swears to help her find true love, much like in a dating sim!
Hoshino doesn't want to lose out on chocolate, games, and cats, which are her favorite things to relish in life. So she tries hard to journey back to her old, less-eventful lifestyle. But the wizard creates obstacles that end up as thorns in her path. These barriers are, you guessed it right, hot boys! Hoshino must navigate through handsome men like Tsukasa Kazuki, Junta Hayami, and Hijiri Koganei despite her heart leaping out of her chest when she lays her eyes on these individuals.
Here's the key visual for Romantic Killer.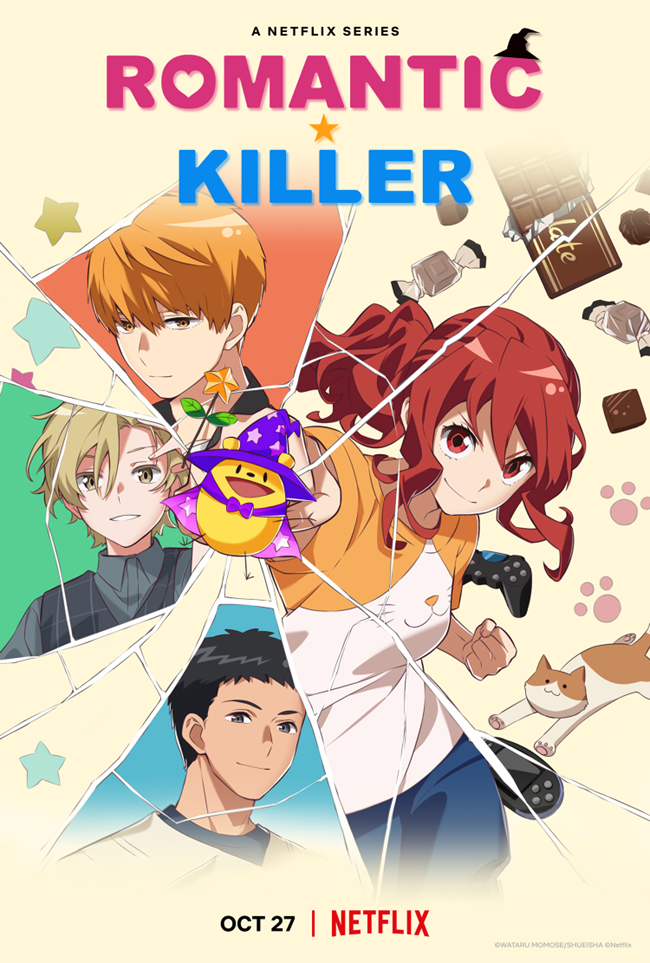 15 Best Completed Romance Anime To Watch With Your Loved Ones

Fans Also Read
Also, Check out the full trailer of Romantic Killer here.
Voice Cast
Rie Takahashi as Anzu Hoshino
Mikako Komatsu as Riri the Wizard
Yuichiro Yumehara as Tsukasa Kazuki
Gakuto Kajiwara as Junta Hayami
Natsuki Hanae as Hijiri Koganei
Kenjiro Tsuda as Tsuchiya
Manaka Iwami as Saki
Hiro Shimono as Manato
Theme Songs
Opening Song: ROMA☆KiRA by YURiKA
Ending Song: Romantic Love ~Renai Shimasen ka?☆~ (Won't You Fall in Love) by Mikako Komatsu
Studio DOMERICA is in charge of production and animation. Netflix has licensed the series, which shall premiere on their platform this year on 27th October 2022. Kazuya Ichikawa is the director, with Sayuri Oda and Hiroko Fukuda contributing as screenplay writers. Ryo Kawasaki and Tomoyuki Kono are developing the music used throughout the series.
This romantic-comedy anime is based on a manga written and illustrated by Wataru Momose. To date, four tankobon volumes have been compiled by Shonen Jump. You can read the manga at Jump Comics+ (website), which was serialized from July 2019 to June 2020. Though it is relatively short, the storyline is bound to excite shonen lovers as Anzu Hoshino is a distinctive and eccentric individual whose relatable conundrum will keep all enthused till the very end.
So, are you planning on watching Romantic Killer near the end of October on Netflix? Will this idiosyncratic tale make you renew your subscription? Let us know how you feel about this scheduled anime below, and don't hesitate to subscribe for similar news. Adios!