Lookism manhwa created by Tae-Jun Park is one of the most popular manhwas. Netflix TUDUM Japan confirmed the anime adaptation at a recent event, and fans are ecstatic.
The story starts with Park Hyung Suk. He was bullied for his ugly face and plump body all his life. People made fun of him, and Park could never stand alone. To get away from it all, he decided to switch schools, but a miracle occurred before Park could begin classes at the new school.
He woke up with a new body that was muscular with a handsome face. This was not permanent. One of the bodies will be asleep while the other will be working. This new body changed everything for him in just one day.
He became the most popular guy in school. But more things are coming for him because of this new body. It's an interesting and quite unique concept, and that's why fans love the Manhwa.
Key Visual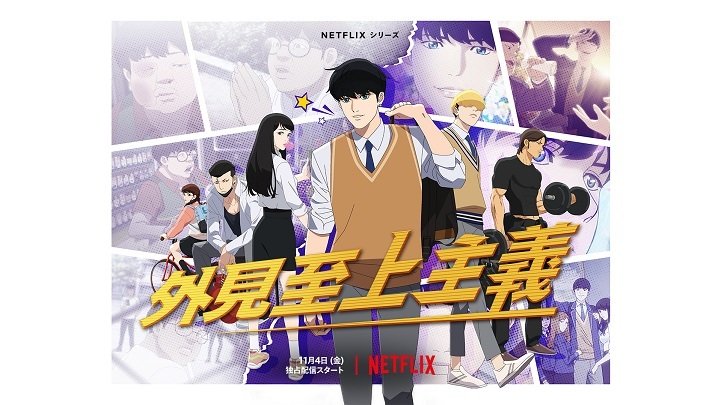 The key visual shows main characters like Park Hyung, Lee Eun, Lee Kim, Hong Jee, and Kim Jake. We can also see some other images of Park Hung when he was bullied and some images of his current situation as a popular boy with his new body.
The visual shows the central characters so that people can get an idea about them and how they look. To be honest, they look like k-pop idols, which is great because Lookism originated in Korea.
Lookism Trailer
A teaser video also came out on the Netflix Japan YouTube channel. In the teaser, or you can say promotional video, we can see the whole story of Manhwa in short. It starts with Park Hyung being bullied by his classmates and how miserable his life is.
People are thrashing him for no reason, and all he can do is cry. However, in the next scene, we can see Park in a new body while his original body is on the floor. And the next day, everyone becomes his fan when he attends school with a new body.
In one of the scenes, we can see Park fighting in school, which also increases his popularity because he won the fight. The animation looks nice, clean, and smooth. This anime is going to be animated by Studio Mir. We have a handsome male cast and a beautiful female cast. This anime is going to be completely insane.
Release Date
In the official teaser video, the release date is already mentioned. Lookism will start airing on November 4, 2022. That's right. Anime is coming very soon. Fans don't have to wait one year, just two months.
It's been a while since a manhwa was adapted into anime, and if this one gets successful, like God of High School and Tower of God, then we might get more Manhwa adapted into anime.
What about you? Are you excited about this anime? And what are your thoughts on this manga getting an anime adaption? Let us know in the comment section. We'll love to see your thoughts.