The hit shoujo manga series, which fits snugly in the romantic comedy genre, is finally getting a deserved series backed by a great production house!
Mashiro writes and sketches the series that began a run on the Ganma! Website hosted by the Comic Smart platform on 7th March 2019. Media Factory is attending to the English translation via MF Comics. Till now, five tankobon volumes have been put together and published, and over 1 million copies (digital and otherwise) have joined circulation.
A visual and a trailer were released at the Aniplex Online Event held on 24th September.
Key Visual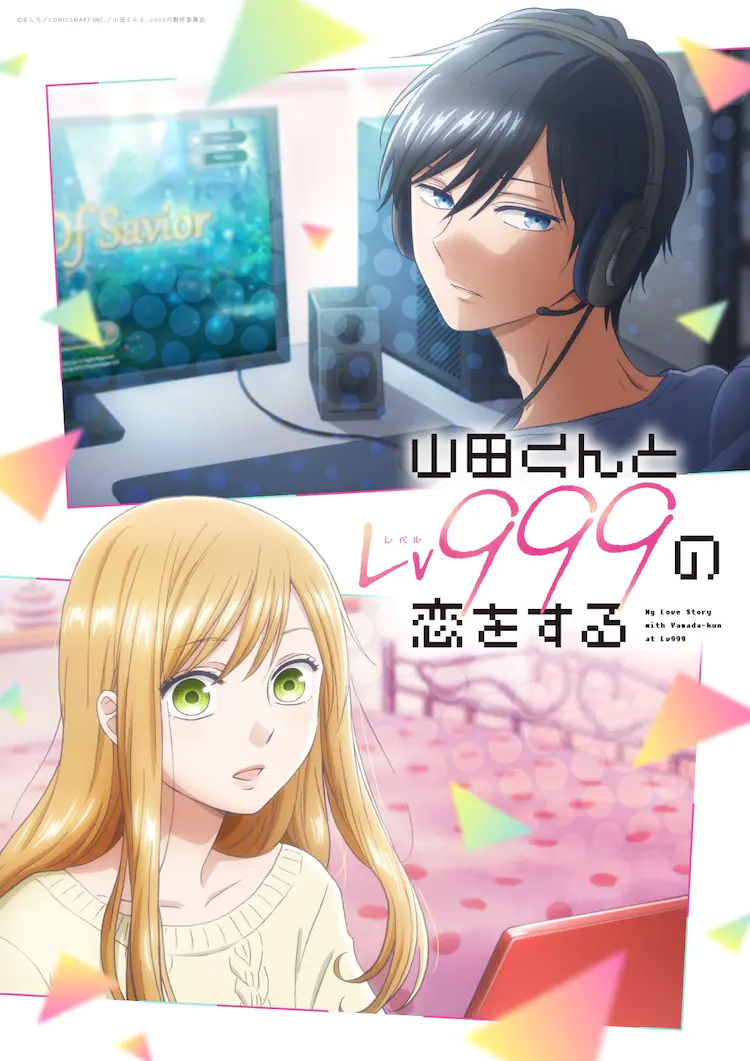 Trailer
Awards My Love Story with Yamada-kun at Lv999 Received
2020 Next Manga Award: Ranked 9th in the web manga category
2021 Next Manga Award: Ranked 4th in the web manga category
AnimeJapan2021: Ranked 9th in a poll that asked the audience which manga adaptation they would hope to see
2022 Tsutaya Comic Award: Won Grand Prize
Main Staff
Mangaka: Mashiro
Director: Morio Asaka (known for No Game No Life, Black Lagoon, Monster, Cardcaptor Sakura,)
Scriptwriter: Yasuhiro Nakanishi (known for Kaguya-sama: Love is War, Toilet-bound Hanako-kun, Undefeated Bahamut Chronicle, Iroduku: The World in Colors, A Couple of Cuckoos)
Character Design: Kunihiko Hamada (known for Chihayafuru, Nana, Ore Monogatari!!, Piano no Mori)
Studio Producer: Madhouse (known for Death Note, Hunter X Hunter, Kaiji: Ultimate Survivor, Hajime no Ippo)
Japanese Voice Cast
Inori Minase (Hestia in Is It Wrong to Try to Pick Up Girls in a Dungeon?) as Akane Kinoshita
Koki Uchiyama (Ando Takashi in Ikebukuro West Gate Park) as Akito Yamada
My Love Story with Yamada-kun at Lv999 Plot
(May contain minor spoilers)
Akane is a teenage girl who is going through a bad breakup. Her boyfriend left her for a woman he met while playing an online game. While reminiscing about her recent relationship with Takuma, she plays a game called Forest of Savior. She meets a player named Yamada while hunting relentlessly in a specific area inside the game. The avatar of this individual is a dude with an Afro-haircut. This man seems surprisingly rude but tries hard to stay polite no matter what he says.
After chatting up her friend in school, Akane decides to go shopping to impress her ex-boyfriend at this gamer gathering. At the said gathering, she sees Takuma hanging out with his new girl and appears crestfallen. Then she trips and falls.
A black-haired boy faces her, and their eyes meet. The boy asks her whether she's ok, and even though she is flustered, she realizes at the end of their short conversation that he is the man she met while playing the game. The ex interrupts the two and starts badgering the mysterious Yamada about being a huge fan. Akane gives the newfound boy a Prophet's Stone code and thus bribes him, which leads to him lying about being her boyfriend. He goes on an unwilling date with the lady.
Though the exact date hasn't been revealed yet, My Love Story with Yamada-kun at Lv999 is scheduled to release sometime in 2023.
That's all for today, folks. If you liked the beginning of this comedy, do check out the official work. Please let us know your thoughts regarding this show announced at Aniplex Event.
Source: Official Website