One of the most popular series of all time in Japan is slated to have massive collaboration with a cast from yet another celebrated manga.
From TMS Entertainment, which worked on projects like Lupin the Third, The Gutsy Frog, The Rose of Versailles, Anpanman, Detective Conan, Monster Rancher, Magic Knight Rayearth, Hamtaro, and Sonic X, This new anime is sure to get more eyeballs.
Lupin's troubles have only begun, as he will face a group of opponents who might end up scratching him senselessly.
The enigmatic Arsene may find his hands tied against formidable art thieves like the legendary sisters from Cat's Eye (literally? Only time will tell). Will he fall prey to their breathtaking beauty, or will the ladies be forced to gaze upon his escaping silhouette?
Here's the new key visual of Lupin the Third Vs. Cat's Eyes.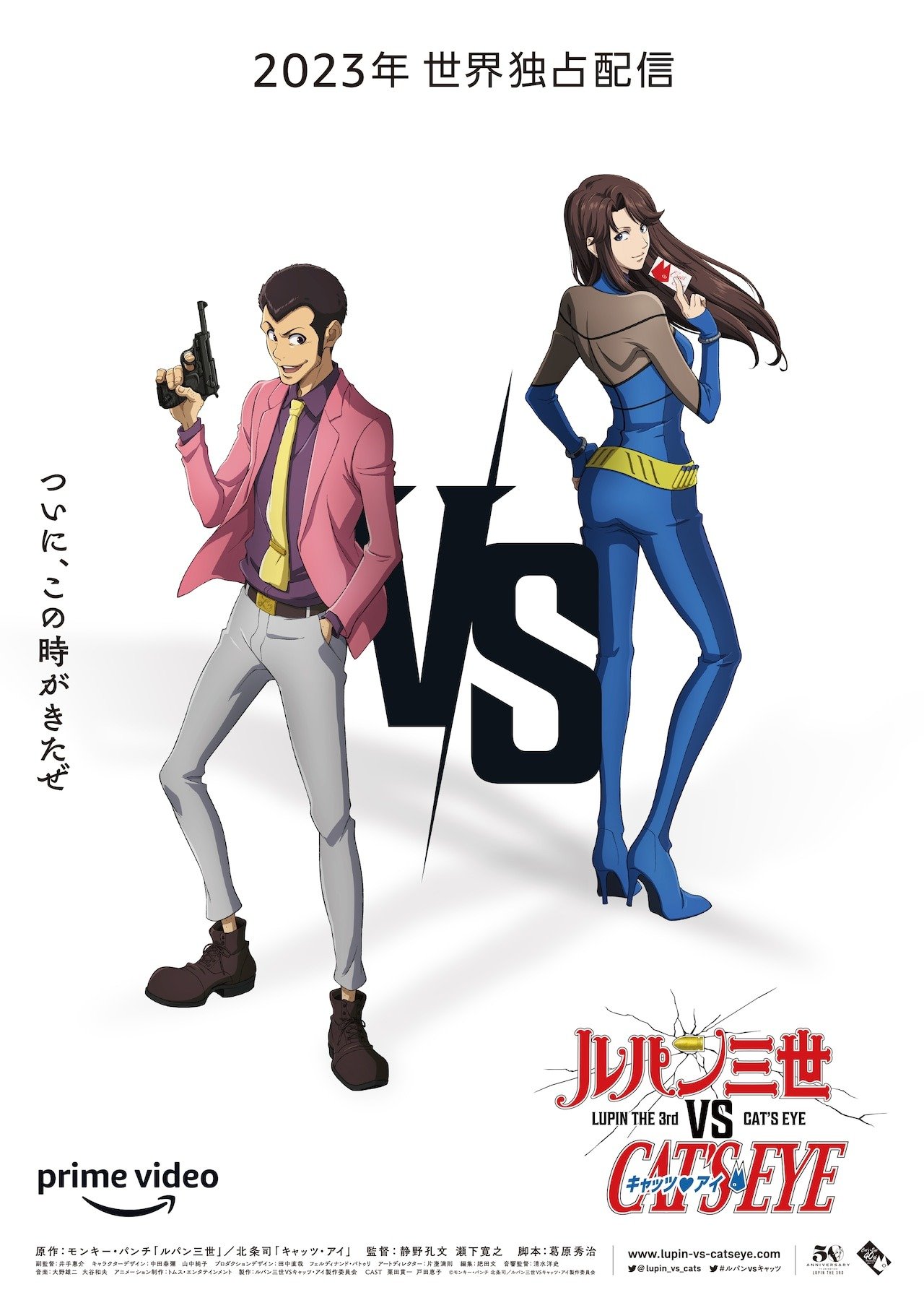 Before diving into further details, Check out the trailer below.
Lupin the Third Vs. Cat's Eyes Main Staff
Directors: Kobun Shizuno, Hiroyuki Seshita
Script Writer: Shuji Kuzuhara
Assistant Director: Keisuke Ide
Character Design: Haruhisa Nakata, Junko Yamanaka
Production Design: Naoya Tanaka, Ferdinando Patulli
Japanese Voice Cast
Kanichi Kurita as Arsene Lupin III
Keiko Toda as Hitomi Kusigi
This project is the next release following Lupin The 3rd VS Detective Conan, the previous movie linked with the massive franchise. This will also be a second collaboration for Hitomi from Cat's Eye manga series, as she and her sisters were seen in City Hunter: Shinjuku Private Eyes, which was released in 2019 and became a hit film.
Lupin the Third Vs. Cat's Eyes will be released across the globe next year. The exact date is yet to be specified. Nevertheless, it seems that old-fashioned anime fans of the classic era have something to look forward to in 2023. What is true is this; Amazon Prime has struck gold this time!
About Lupin the Third
Based on the protagonist of Maurice Leblanc's novels, this manga by Monkey Punch (Kazuhiko Kato) is about the grandson of master and gentleman thief Arsene Lupin. Lupin the Third is an elusive man who always leaves a calling card while causing a hindrance. Other critical supporting characters are Daisuke Jigen (Lupin's closest compatriot and a keen sniper), Goemon Ishikawa XIII (a proficient and trustworthy swordsman), and Fujiko Mino (Lupin's lady love and cunning helper).
It ran on Weekly Manga Action for two years, from 1967 to 1969, and then got serialized again for four years until 1981. Needless to say, the manga and the anime have developed a cult following, prompting Yosuke Saeki and Keyaki Uchi-Uchi to create a sequel that runs in Weekly Shonen Champion from 2021 onwards. The anime has a total of 313 episodes spreading across a total of 7 seasons, and many anime films have also been produced by Tokyo Movie Shinsha and, later, TMS Entertainment.
About Cat's Eye
Tsukasa Hojo is the mangaka behind this hit series which ran in Weekly Shonen Jump starting from 1981 up until 1985. The story focuses on the gorgeous and athletic Hitomi and Rui Kisugi, aided in their thieving activities by their genius tomboy sister Ai. They are on an extraordinary quest to seize artworks that originally belonged to their father, who goes missing. There were two seasons of an anime based on the manga. It ran from 1983 to 1985 and included a total of 73 episodes.
Well, eager fans of Lupin and the Kusigis, how are you feeling? Did the trailer and music perk you right up? Would you look forward to more collaborations in the future? Let us know your thoughts down below in the comments section.
Source: Official Website