The preschool animated series Peppa Pig has earned a spot in the pop-culture spectrum, but there's more to this cheeky show and its characters than you'd expect!
'I'm Peppa Pig!'
Sounds familiar, isn't it?
Popular British kid's show Peppa Pig has been around since 2004. Still, in recent years, its cheeky titular piglet Peppa has amassed a cult-like following of many young adults scrolling through Tik-Tok and churning out of-the-world fan theories.
Created by Neville Astley and Mark Baker, the show follows Peppa and her family, assisted by her various animal friends teaching children across 180 countries activities like going to school, distinguishing between colors, and even performing science experiments.
Child actor Amelie Bea Smith voices Peppa Pig with the show winning numerous awards and has even stirred up controversies in the past.
How Old is Peppa Pig?
Although its audience of grown-ups has criticized this little pink pig for teaching kids to be naughty at times, Peppa Pig is like your typical pre-kindergartener. She is just four years old. However, in some iterations of the show, she is shown to be a 6-year-old. (Ref. The episode "My Birthday Party.")
Peppa lives with her parents, Mommy Pig and Daddy Pig. She has a younger brother George and an extended family of Grandpa Pig, Granny Pig, and other pig relatives, often making cameo appearances in many of the show's episodes.
But that's not all. Peppa Pig is indeed the life of the party, as she's got a boatload of animal friends to play with. Candy Cat, Suzy Sheep, and Rebecca Rabbit are just a few frequently appearing characters. Peppa usually enjoys jumping in muddy puddles and going on various adventures with her friends.
Who is Candy Cat?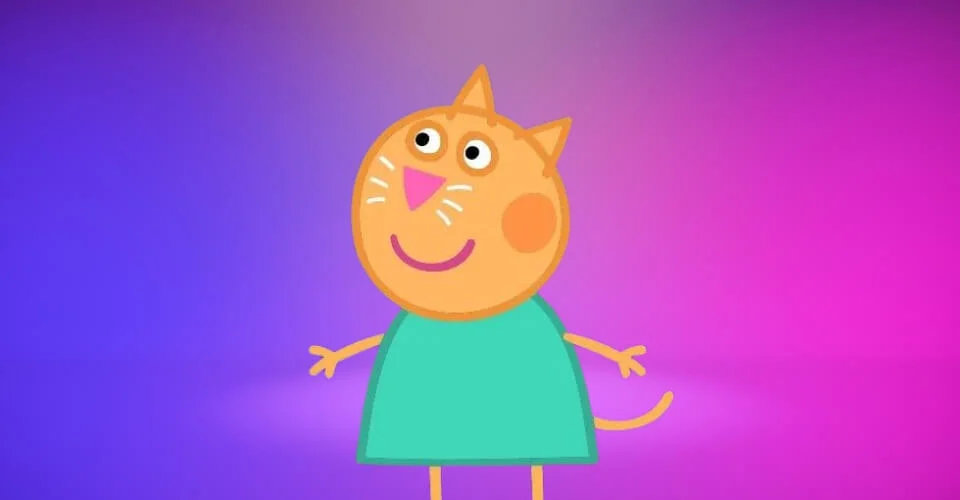 Candace "Candy" Cat is one of Peppa Pig's close friends, but her best friend is Emily Elephant (Talk about favoritism in the friend group, huh?) Candy Cat lives with her parents, Mummy Cat, aka Mrs. Cat, and Daddy Cat, or simply Mr Cat. Mrs Cat is a graphic designer and a co-worker of Daddy Pig and Daddy Rabbit.
But maybe there's more to Candy Cat than her turquoise dress and black shoes. Have you ever wondered what the fans have discovered?
Is Candy Cat more like Can-Dicey Cat?
For a moment, erase everything you know about Candy Cat so far. She's the daughter of Rebecca Rabbit and Daddy Pig, about which Mummy Pig has no idea. Betrayal is the new normal, eh? 'The Candy Stalker' episode confirms this atrocity.
What Gender is Candy Cat?
As per Peppa Pig Fanon Wiki, Candy Cat is secretly a 40-year-old man stuck inside the body of a kindergartner. Popular lore also labels Candy Cat as a secret murderer who's the reason behind Gerald Giraffe's sudden disappearance from the series. We're still trying to figure out whether Candy Cat is a man who identifies as a Cat or a Cat who identifies as a human male figure. No pronounces have been deduced so far..Purr.
How Old is Suzy Sheep?
Suzy Sheep is Peppa's best friend and daughter of Daddy and Mummy Sheep. She's the same age as Peppa or might have just turned seven years old, as the series keeps revealing its characters' ages in some episodes.
Peppa Pig Fanon Wicki suggests Suzy Sheep was shot in her bedroom on November 17, 2021, at 09:15 am. The identity of her killer is unknown. Her sudden death shocked the entire nation and the Peppa Pig Universe.
She's now remembered as an LGBTQ+ icon and a loving friend to many.
Some fans have also claimed that an investigation was carried out by Detective Potato, who found a mysterious black van parked outside Suzy's house. That van belonged to a hitman named Cosmobo, a Spongebob Fanon Wiki user.
Cosmobo later confessed while in custody that he was hired by UK's Former Prime Minister Boris Johnson to shower death upon a beloved cartoon character like Suzy Sheep.
There you have it, folks! Thanks for making it this far into the world of Peppa Pig and her family and friends.
What are your thoughts on this? Do tell us your thoughts in the comments, and make sure to visit averagebeing for more pop-culture backstories and fan theories like this.