Mr Krabs, the money-grubbing crab from Spongebob Squarepants, has crossed quite a few people in his lifetime. Who knew karma would finally come back to bite him in his crusty ahem?
The Trial of SpongeBob SquarePants explains how Mr Krabs died in his own beloved restaurant. You would think a children's show like Spongebob Squarepants would never portray such a brutal death, right?
You are right to some extent because the Trial of Spongebob Squarepants is not a televised episode but a classroom game.
What is 'The Trial of SpongeBob SquarePants'?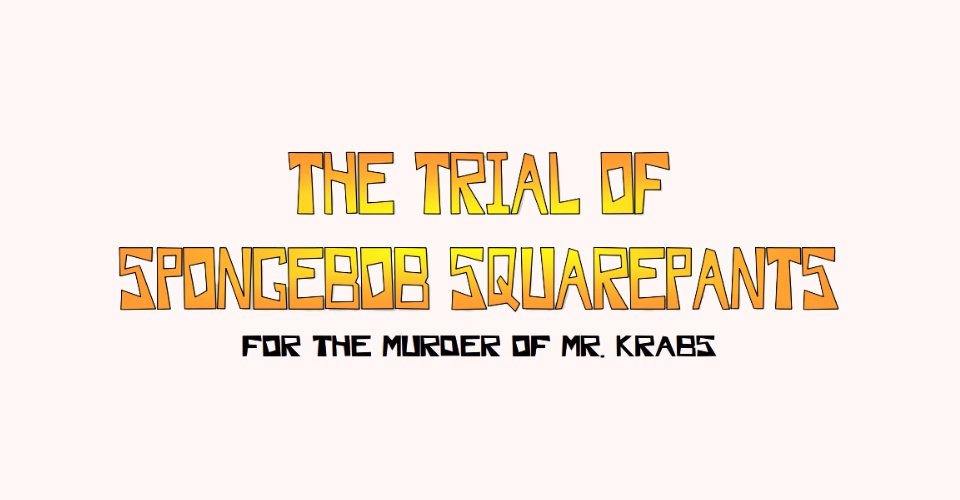 The Trial of SpongeBob SquarePants isn't an official episode but rather a mock trial. It is a fun game made for students to play in the classroom. In this game, students have to be divided into the prosecution and defense teams of lawyers to decide who is the murderer of Mr Krabs.
It is an 11-page pdf file containing details of the crime scene, evidence, witness testimonies, and every detail necessary to figure out the murderer. If you want to play this gory yet fun game, then check out the pdf file right here:
[The Trial of Spongebob Squarepants]
How did Mr. Krabs die?
In The Trial of SpongeBob SquarePants, the dead body of Mr Krabs was found inside the Krusty Krab restaurant. His throat had been cut, and the coroner concluded that a metal spatula had caused it.
Mr Krabs had bled to death but also had signs of blunt-force trauma to the back of his head. A tiny but partially healed cut on his finger was also found.
Who Killed Mr Krabs?
The two major suspects in Mr Krab's murder are Spongebob and Plankton. Squidward and Patrick might also be involved in the case. The actual murderer hasn't been revealed, as this game only focuses on the students' deduction power.
As the name of the game suggests, Spongebob is on trial. Many pieces of evidence link the murder to our cute sponge.
Spongebob was in immediate need of money but was denied a raise by Mr Krabs. His footprints were found all over the greasy floor around the body. A blood-covered spatula with several fingerprints, including Spongebob's, was found and seems like the murder weapon. Mr Krab's safe was found open.
Conversely, Plankton has been trying to steal the secret Krabby Patty recipe for years. After his death, the recipe was found missing. Three days after the death, Plankton began selling a very similar recipe on his website.
Squidward witnessed everyone entering the Krusty Krab. Patrick had also reached the restaurant and met an upset Mr Krab, who told him he might never sell another Krabby Patty again.
Did Mr Krabs actually die?
Mr Krab's death/murder is a hypothetical situation portrayed in The Trial of SpongeBob SquarePants game. He has not died in the actual TV show, so you don't need to mourn the death of the close-fisted crab.
Well, Spongebob can be pretty intense at times. So, Watch out, kids.