Adele's got a new flame, and the internet is buzzing about it! The Grammy-winning songstress has been spotted with sports agent Rich Paul, and fans are dying to know more about their relationship.
Well, don't you worry, darlings, because we have got the inside scoop on this couple and all the juicy details of these notoriously private love birds.
If there's one thing the world can never get enough of, it's love stories. And boy, have we got a good one for you today! So hang on to your seats. This ride is going to be cheesy, quirky, and iconic.
It's the tale of two incredibly talented people who met by chance and fell in love against all odds. Ladies and gentlemen, we present the story of Adele and Rich Paul.
Where Did Rich Paul and Adele First Meet?
Let's go back to the beginning of Adele and Rich's love story. The Grammy-winning singer shared how she and Paul met during an interview on One Night Only on CBS in 2021.
"I met him at a birthday party," Yup, you read that right "We were on the dance floor." According to sources, the sports agent struck up a conversation with the "Rolling in the Deep" singer.
"And then we met a couple of years later." Paul insists it was a business dinner, while Adele disagrees with her iconic dry humor.
Adele & Rich Paul Dating Timeline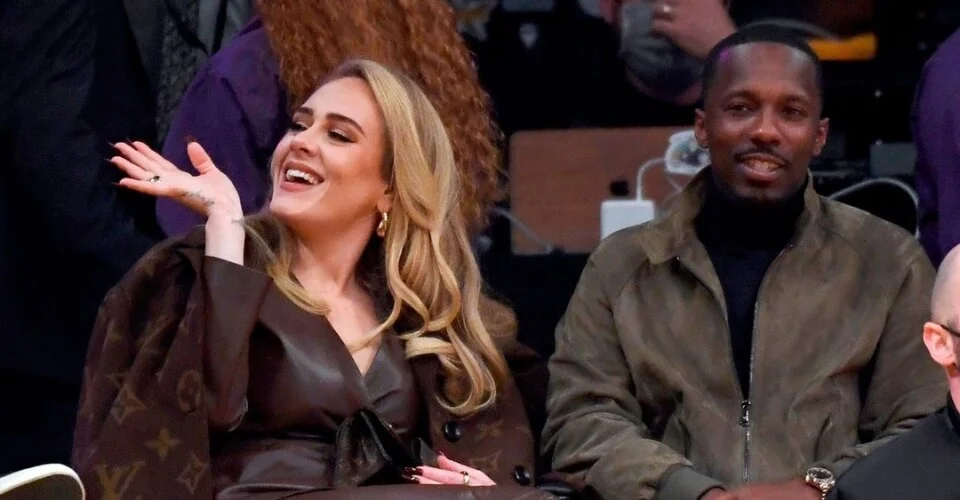 Paul admitted to dating a "major pop star" in a May 2021 New Yorker article, but he didn't say who she was.
July 17, 2021: The two were first spotted together at an NBA Finals game in Phoenix, where they were seen laughing and having a great time together. And who was by her side throughout the night?
You guessed it – Rich Paul. Sources later confirmed that they had been dating for several months and were traveling between Los Angeles and New York to make things work.
September 2021: After this confirmation, the Hello singer took to her Instagram handle and posted a black and white picture with Rich Paul along with a heart emoji in the caption.
Adele can't stop gushing about her beau, Rich Paul. She has raved about Paul in several interviews, saying she's never been in love like this. She's obsessed with him and finds him hilarious and very smart. She also loves that he's a family man and a good dad to his three children from a previous relationship.
November 14, 2021: "He's just hilarious. He's so funny. And very smart. Very, very smart. It's quite incredible watching him do what he does and just the easiness of it and very smooth."
Twitter has also come out to shower love on this couple. "Glad she found her happiness again ❤️," one user commented.
"It'd be interesting to see what my reaction is like in general to anything that hurts me now that I feel so secure in myself, and I'm talking outside of romance as well." Adele really seems to have it all with Paul, and the cuteness doesn't stop here.
May 2022: Adele and Paul marked their first anniversary by posing in front of a mansion they appeared to have purchased together. It was a big step in their relationship, showing that they were serious about each other.
May 5, 2022: Adele wasn't seen celebrating her birthday with Rich. But instead, Paul was seen hanging out with LeBron James at the American Express Presents Carbone Beach dinner party. Rich seemed to have made up to Adele by taking her to Napa Valley.
June 2022: Adele has been open about wanting more children, saying she's a homemaker and a matriarch, and a stable life helps her with her music. Not just Adele but even Paul talked about having more kids in an interview with E! News.
Is Adele engaged?
September 2022: Rumors began swirling that Adele and Rich had tied the knot in a secret ceremony in Las Vegas. The singer had been spotted wearing what looked like a wedding band on her ring finger, and fans were convinced that the couple had taken their relationship to the next level.
When asked if she was engaged to Rich, Adele replied, "As if I would ever tell anyone if I was or wasn't." She said, "Lovely though, innit?" pointing to the dazzling item. It really is.
The singer revealed that she wanted to marry again, although she denied being engaged or married to Rich. But hey, a girl can dream, right?
She also addressed engagement rumors with Paul when asked about her massive ring.
"Well! Well. Well, I'm not married. I'm just in loooove! I'm happy as I'll ever be. I might as well be married. I'm not engaged. I just love high-end jewellery, boy!"

Adele
Many were thrilled to see Adele find love again following her divorce from Simon Konecki in 2019. They share a ten-year-old kid named Angelo.
October 2022: The couple tends to keep their relationship pretty private. That is precisely why it was such a big deal that Adele shared a couple of clicks of the two of them over the past few months.
Along with pictures of them generally beaming in each other's company, one pic showed the pair having a quick kiss backstage at her celeb-filled One Night Only gig in LA back in October.
December 17, 2022: Adele made Rich Pual's birthday iconic by singing a special rendition of "Happy Birthday" at the Adele show in Las Vegas.
April 13, 2023: Paul was in the middle of a live stream with content creator Kai Cenat when Adele interrupted the call. The interruption was nothing short of sweet, as Adele called her boyfriend to say hi and ask what he was streaming. The surprised look on Cenat's face was priceless, and we can't blame him – who wouldn't be shocked to see Adele pop up on their screen?
What's Next for Adele and Rich Paul?
Adele and Paul seem to be in a happy and committed relationship and have discussed their plans. Adele is working on new music and has hinted that it might be more upbeat than her previous albums. Paul, meanwhile, is a successful sports agent who represents some of the biggest names in basketball.
So, what's next for this power couple?
Only time will tell, but one thing is for sure – these two are head over heels for each other. Adele has never been shy about wearing her heart on her sleeve, and she seems to have found her match in the confident and charming Rich Paul.
Love baby, Love!