Pornhub 2022 has released its most searched term, and surprisingly "Hentai" has dominated the search again this year. Pornhub is a Canada-based pornography-sharing website that first launched back in 2007. Nowadays, it receives billions of visits every year, and the numbers are growing in a humongous manner.
"Hentai," the Global Most Searched Term in Pornhub 2022.
Hentai Finishes the Runner-up Spot as the Most Searched Term in the U.S.
"Hentai," The Most Searched Term In Pornhub 2022
As per their global statistics breakdown, they stated: "Other searches that saw growth in 2022 include "blowjob," "cosplay," and "trans." Terms that remained in the Top 20 but saw a decrease in popularity include "anime," "BBC," "squirt" and "joi" (jerk off instructions)."
It is easy to say "Hentai" search is quite popular with global audiences. Generally, "Hentai" is a term used for Japanese animated pornography. But literally, this means "pervert."
But the term "anime" has seen a massive drop globally in terms of "most searched terms of 2022 compared to the last few years. But on the other hand, the term "Japanese" is the second most searched term on Pornhub.
"Hentai" Finishes The Runner-Up Spot As The Most Searched Term In The U.S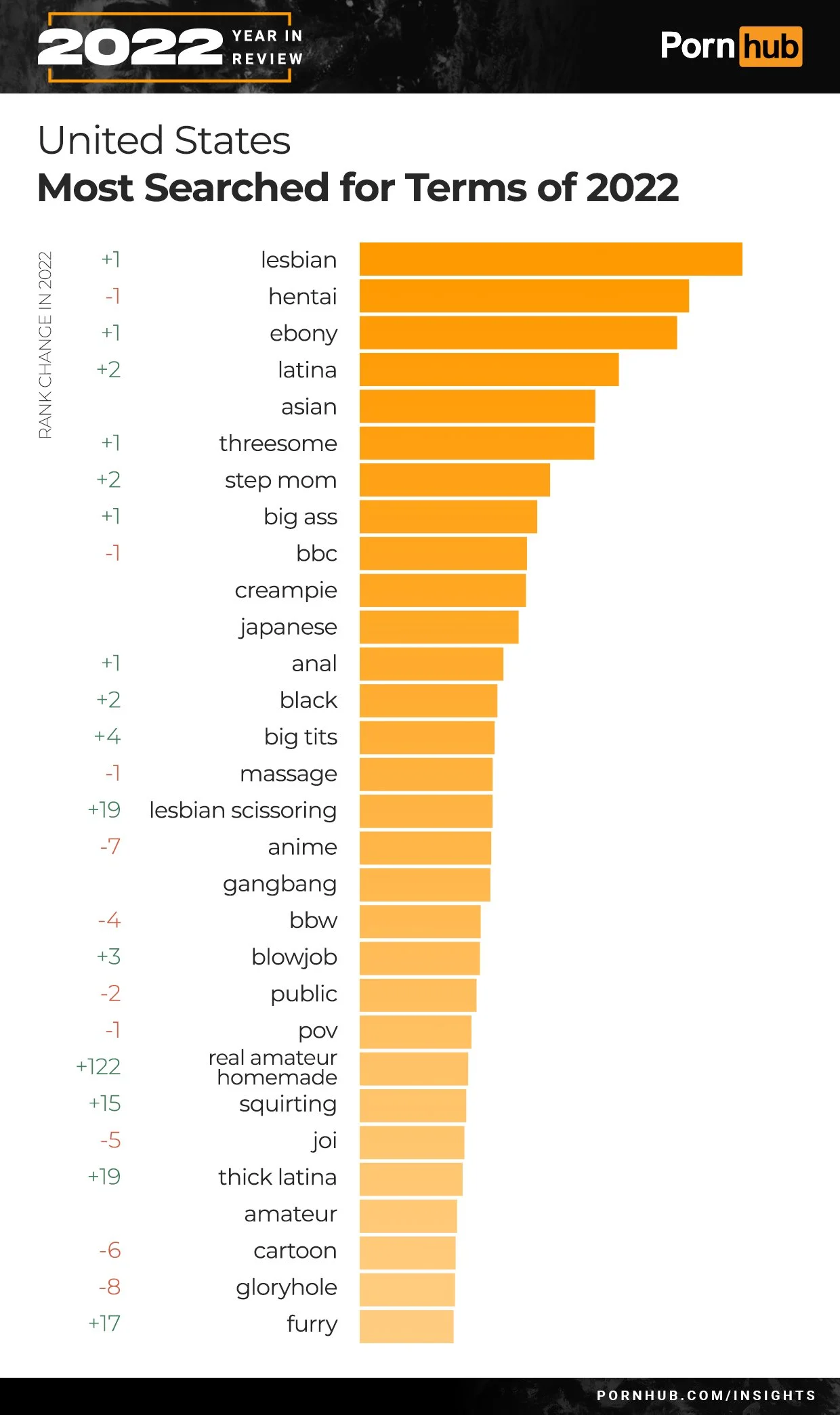 But the U.S. audiences have different tastes of choice. According to Pornhub's released statistics, "2022 saw "lesbian" become the favorite search in the United States, replacing last year's favorite "hentai." In 2019 and 2017, the top U.S. term was "lesbian," as was "milf" in 2018."
So, in the U.S., the "Hentai" has grabbed the second spot just after "lesbian." Two states of the U.S. have "Hentai" as the most searched term. Besides those, 4 to 5 states have mostly searched hentai-related terms like Anime, Cartoon, Furry, and Asian on Pornhub.
Why Has "Hentai" Maintained The Top Spot Globally?
This is a clear indication of how Japanese adult media and pornographies are dominating the industry for a long time. There is no drop in that globally. Even though Japanese Hentai and Porn are censored due to their country's laws, their popularity has not been affected at all.
On average, 5 to 6 Hentai anime gets released every month, and some of them have become quite popular even though it is considered a taboo genre. There are some controversial sub-genres of "Hentai," but those are more popular among the Otakus.
In recent years, they have developed or reintroduced a new sub-genre called "vanilla," which actually has a substantial plot with a lot of sexual penetrations. But this does not stop here.
With the progression of our societal sexual awareness, the content of Hentai is targeting the audiences of the LGBTQ community as well. The contents regarding the "futa" and "yaoi" sub-genre were always present in the Hentai.
But in recent years, they have released the Hentai addressing Bisexuality, which is rare in their genre. Kuro Gal ni Natta kara Shinyuu to shitemita of 2021 under Irawias studio is one of the best examples of this newfound genre. Futa was always a popular sub-genre related to the transgender community.
That is how "Hentai" has kept its relevance to the growing awareness of gender and sexuality in modern times. Japan is not very aware of these aspects of sexuality and "coming out," but they are developing to grow awareness.
Source: Link