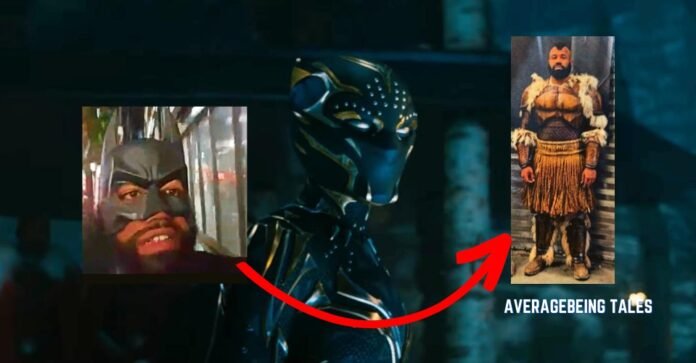 The world we live in is fast-paced, with everything moving quickly, nothing ever stops for you or any individual, and it's never easy to keep up with the pace.
It becomes a natural feeling for many of us to get captivated by the visual illustrations of comics and manga and to be amazed by the fictional world.
As kids and even adults, we sometimes look up to such characters and superheroes to fill in the void. And sometimes, they give us a purpose to keep fighting and moving forward. Comics and manga have taught us – every day is a new adventure.
So, it is only natural to imitate, learn, and embody the persona of the character we love and admire. A few characters become bigger-than-life personas for some, and we look up to them as role models and mentors. And this is the story of a fighter who was inspired by many of these personas. So much so that they became a part of him, a way of life – this is the story of Jarrell Pyro Johnson and how comics, or rather visiting San Diego Comic-Con multiple times, inspired him to become an actor.
Name: Jarrell Pyro Johnson
Lives In: U.S.A
My name is Jarrell Pyro Johnson. I am an Actor/ Musician/Entrepreneur/ and Financial Coach. I can be seen in various projects such as Black Panther: Wakanda Forever, Obstacle Corpse, Fame City, The Outlaw Johnny Black, Springsville, and a few other films.

I was born in 1988 in Compton, California. Before I can tell you about my cosplaying and San Diego Comic-Con experiences, I need to paint a picture for our dear readers.

Unfortunately, I was born in a single-parent household where my mother acted as both my Mom and Dad for the most part. However, as a child, whenever my dad did come around, he usually brought comic books and mangas. Most of the time, I felt like superhumans and lavish beings raised me more than him. So the person I ended up believing that the impossible was always possible and also comics were all I needed to be ok in the world.

But growing up with that passion was not the norm of the hoods and ghettos where I lived. Most people interested in those comics were considered geeks or nerds. Now I know what you all are thinking, being a geek is cool; however, back in the early 90s in Compton, being called those terms made you feel less than a human being and made you think you are unloved.

So that feeling and being raised in a one-parent home would make you turn to a life that is not productive of a just person in society. It would make you join the wrong crowds, form unhealthy bonds with bad people, and even join or associate with gangs and crews.

San Diego Comic-Con and cosplaying saved my life, and now that I think about it, I have been cosplaying since I was young. My character was always playing someone I wasn't versus who I was (very Batman-like, which would explain my love for Batman so much). I had to do this because I wanted to fit in and not be bullied, so I played a double-life character for most of my life.

On the one hand, to fit in, unfortunately, I picked on kids like me but secretly tried to be friends with them. I know that's really sad. However, I was a very jaded person, but it made me who I am. I remember one year as a young kid; my mom sent me to a summer camp because of the wrong influences on me.
This part of my life is how I learned of Comic-con and realized that a bunch of people who loved it on such a vast scale existed. Anyway, I agreed to go with them one time. The first time I went to San Diego Comic-con, I experienced a level of love that I had never felt before because not only did I feel a sense of belonging, but for the first time in my life, I sensed that I didn't have to be someone I wasn't.

The experience of Comic-con and, more specifically, San Diego Comic-Con made me feel like the impossible was possible again, which is something that I had lost. The best thing about San Diego Comic-Con is the journey of a typical average being into a realistic supernatural fantasy that is actually happening in real life.

My first cosplay costume was Deadpool, and honestly, I chose Deadpool because he wore a mask, so I knew if anyone didn't like me, I always had a mask blocking my face. I was still a bit scared and worried about being judged. But being around others, you quickly lose that feeling because the cosplaying community embraces everyone who cosplays. This is amazing because just escaping the harshness and trouble of everyday life becomes minimal when you are becoming or pretending to be supernatural and impossibly possible in a very judgemental and harsh world.

It becomes super fun after hanging out with friends the first and second time, being looked at by everyone who isn't cosplaying as a real superhero. So cosplaying to acting. To me, all acting is playing a game of dressing up with a side of being someone you are not on an everyday basis.

Cosplaying in San Diego Comic-Con has taught me how to weather creativity and give in to the arc, the story of the character that I have to portray on screen. Bringing comic book characters from cosplay to the big screen is super satisfying. Most actors today don't really create the character. They just recite and remember the lines of a role. Every acting class should require cosplaying because, without the character arc, the acting isn't believable and determines the oscar vs. they did a good job.

San Diego Comic-Con only happens once a year and goes about 3 to 4 days, depending on what you are doing there and believe I just about go every year to escape reality, especially in today's times. During most of the time that I go, I can be seen trying to bring more characters from books and games to real life and hanging out with many friends that I have met throughout the years at Comic-con at the convention or around Gaslamp.

I really hope to see people embracing the joy, the fun, the creativities, and the escapisms of cosplaying, rather you participate in it or watch or look. If you are looking for the first place to experience cosplaying and the community to the fullest, I suggest going to San Diego Comic-Con. But with that being said, do not judge or be mean to the community when you join or try to become a part of it because, for the most part, it's all about love and acceptance of all multitudes and creeds. Furthermore, many people need it to feel alive and finally accepted by someone or some group, which San Diego Comic-Con does better than anything.
Key Takeaways
#1 From Comics To Role Models
We learn so much from superheroes, attributes like humility, honesty, courage, leadership, and fighting spirit. And the superhero that stands out most among others is Superman.
Superman is a lot of things, but his superhuman ability is not the one that tops his list. It's his capacity to lead others of his quality, his discernment of right from wrong, and his unwavering commitment to doing the right thing – he epitomizes morality and a sense of justice in every step he takes. We tend to look up to such heroes, not because of their muscles or superhuman ability to save people, but rather their persona that inspires generations to come.
#2 Embrace And Be You
We all know what hides underneath his mask of Deadpool, and despite his flaws and looks, he never lets him influence his life. He never hides who he is and frequently makes fun of his shortcomings. Your flaws should never be the ones bringing you down.
Learn to embrace your quirkiness, whatever it may be. If you're comfortable doing it, others will be forced to follow suit – set an example and let people follow you! Stay true to things you believe and stay true to yourself.
#3 Art of Cosplaying
It could be difficult for an outsider to comprehend why people invest so much time, money, and effort in this performance art. But for those who participate in the community, cosplaying is so much more than the sum of its components. Cosplaying is a form of escapism, imagination, sociability, and creativity; even if it's for a day or two, wearing a costume of your favorite superhero or character brings you closer to them.
We all experience stress in our daily lives, and cosplay gives us a chance to unwind and have fun while away from our commitments. And like Johnson said, if we dismiss cosplaying without even trying it once or visiting a convention, we may not know what we are missing. A lot of individuals find enjoyment in cosplay events. So, try it out for yourself to explore this world of fun and imagination.
We're glad you stuck with us to the end of this tale. We hope it inspires you to do better. Do let us know your thoughts in the below comments, and share this tale with your friends.
Got a story? Contact us at [email protected] We're more than happy to hear you out and to read more inspiring tales from real people check out here.