In the aftermath of the Bud Light boycott, American conservationists have taken an oath to call out every company that supports the LQBTQIA+ community. Every company that had at some point released any statement or commercial catering to the queer now has a target on its back.
Even if the post or campaign was made months or years back, this relentless anti-LGBT police will hunt you down and call for a boycott. At this point, it's a simple race to see how many companies the conservationists can blocklist before they can finally run out of them.
During the height of the Bud Light boycott, grown men could be seen shooting loads of beer or causing destruction in stores. I am yet to see someone exploding their hard-earned Ford, but we will keep you updated on it.
Ford's attempt at redefining "tough" has gone awry, as many think that they are being fed woke agenda. Very few people know that the video was released in response to a homophobic comment.
Ford's Very Gay Raptor Ad
The controversy started with an old Ford ad reemerging on social media sites. The commercial in question is titled "Ford's Very Gay Raptor Redefines 'Tough' for a New Generation." It was released on June 21, 2022.
The caption of the video suggests Ford called out a homophobic response to a Ranger Raptor video last year by creating the real-life "Very Gay Raptor."
In the video, two very dusty raptors race against each other with a hearty beat playing in the background. As one of the raptors drives through a patch of water, its dust covering gets cleaned, revealing a glittering gold body with the pride flag pattern that runs from front to back.
Is the Ford Woke Commercial Real?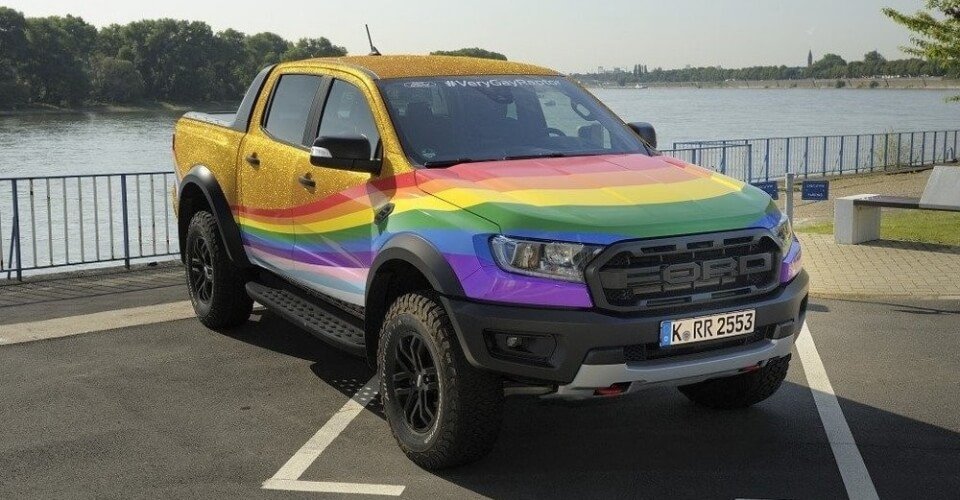 Yes, the Ford commercial with the Very Gay Raptor is, in fact, real and was created to show support for the LGBT community. In an article on Ford's website dated June 21, 2022, it has been stated that the Very Gay Raptor will be "aimed at driving out discrimination in the automotive industry, and beyond."
Since the ad was released, the positive response to them was so surreal that the manufacturers decided to make it into reality. The car has been used as a symbol by Ford in an attempt to drive out discrimination.
Re-Surfacing of the LGBT Supportive Ford Ad
On May 17, Ford's ad for its Very Gay Raptor went viral as people started tweeting it with the tags: "How to Destroy 120 Years of American History in 1 Minute…"
The post had hilarious comments from conservationists like, "tbh, I always kinda felt this way about Ford" Of course, allies couldn't back down and started telling people to stop buying the car driving the market price down so that they could buy it for a lower price.
Another trending phrase among conservationists, "Go Woke, Go Broke," has also been attached to the video, clearly showing that they intend to ransack companies who support the movement.
Ford is not the first victim of this strange homophobic phenomenon; it doesn't look like the last on their hit list. As Ford's past video has been dug up, people have commented that they always knew Ford was queer (as if trucks have gender). Some have even claimed they will burn or destroy their Fords, but no evidence has been attached.
At least some protestors were correct in identifying that all that matters is sales.
I am interested in how companies react to the ongoing criticism as pride month approaches. Will the same companies who rebrand every June to show their support stagger in their path in fear of a boycott? What do you think will happen in the next few weeks? Comment down below if you, too, are ready to wait and watch.