Bud Light, the beer of choice for many Americans, is currently facing a severe boycott following a partnership with Dylan Mulvaney. Dylan, a transgender influencer, has previously triggered controversies due to her portrayal of womanhood. Dylan's claim to fame is her daily videos depicting her gender transition.
On her 'Dylan Mulvaney's Day 365 Live!' livestream, she claimed that Bud Light had sent her a personalized can to commemorate her first year of transitioning. However, not everyone is happy about the deal. Social media users from all over the country have called for a boycott of the beer brand.
Kid Rock, the 52-year-old American singer, also participated in the trend. His video of shooting up boxes of Buds Light followed by throwing profanities at the company has gone viral. While the reason behind his outburst isn't mentioned, people have allotted it to Bud Light's deal with the trans influencer.
The Bud Light boycott has become a shining beacon to other beer companies. Enraged buyers have started looking for alternatives to their favorite beer. We have looked for the top 50 beer brands in YouGov America, and you will be shocked to know that quite some companies have had a boost due to this controversy.
Samuel Adams, Stella Artois, Coors, and Miller are the leaders across the board, as their online searches have increased by a noticeable percentage. The chart below will show you the search interest of the following beer companies:
| | |
| --- | --- |
| Beer Brand | Search Interest (%) |
| Samuel Adams | 998.044 |
| Stella Artois | 555.008 |
| Coors | 491.342 |
| Miller | 478.714 |
| Budweiser | 384.731 |
| Michelob | 378.769 |
| Corona | 258.438 |
| Blue Moon | 198.401 |
| Modelo | 175.636 |
| Heineken | 172.956 |
As you might have already noticed, Samuel Adams is smashing the competition as no other company is even close to the staggering increase in search interest it has faced, making it the most actively searched beer brand. It suggests consumers are actively seeking out Samuel Adams beer as an alternative to Bud Light, following the boycott trend.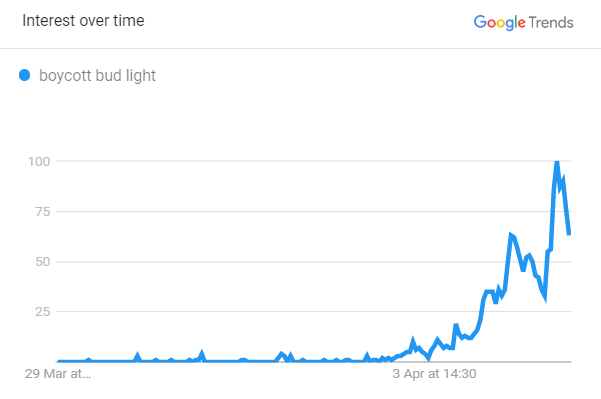 While an online war rages against Bud Light, the beer company is getting enough publicity from it. Recent research from averagebeing.com shows that searches for 'boycott bud light' has spiked by 810% in the US. Here are some of the top regions where the phrase is trending:
| | |
| --- | --- |
| Region | Search Interest (%) |
| Montana | 100 |
| Wyoming | 100 |
| South Dakota | 96 |
| West Virginia | 79 |
| North Dakota | 75 |
| Michigan | 70 |
| Nebraska | 68 |
| Iowa | 63 |
| Kentucky | 62 |
| Missouri | 61 |
As they say, negative publicity is still publicity. Bud Light may not be everyone's favorite beer anymore, but it has definitely reached a global audience.
The outrage against Bud Light is definitely a culmination of trans hatred, but it is trickier than that. Dylan has been known to portray women as overly emotional beings since her transition, which has even brought feminists and trans rights activists to blacklist her.
Some have called out Kid because, after all, he had to buy Bud Light to shoot them. The promotion of gun violence is also linked to his viral video.
All in all, Bud Light has landed itself in a hot mess, but the company is unapologetic since they have worked with hundreds of influencers over the years and created commemorative cans for them. Customers are searching for an alternative, but will it really be that easy?
The 'manly men' will find their quest quite tough as almost every beer brand has pledged support to the LGBTQ+ community.