The brain behind Assassination Classroom, Yusei Matsui, shared his two cents on the current state of Chainsaw Ma-inspired Manga created by Tatsuki Fujimoto, stating, "he got tired of seeing so many of them."
At the latest Jump New World Manga Award, Matsui sat as one of the panel judges and added a couple of chunks(quite big ones, to be precise) of wisdom for up-and-coming mangaka artists/creators. As reported by Shonen Jump News – Unofficial, the Mangaka of Assassination Classroom and The Elusive Samurai, Yusei Matsui noted a sudden inclusion of "human-drama entries" showing all possible traits of how Tatsuki Fujimoto constructs his works of art. Matsui stated that because he has seen a large volume of mangas created with a similar style, he's grown tired of going through the same material over and over again.
"It is important for future mangaka to carefully think about self-production, how to stand out from the crowd, and to hone their originality," said Yusei Matsui advising upcoming Manga creators getting into the industry.  
From a broader point of view, it seems that the Weekly Shōnen Jump is looking to improve on its current creative outlets and bring something unique to attract new and existing readers. For the past few weeks, it is worth mentioning that although an impressive number of Manga series get released regularly, a majority of the Mangas get cut off abruptly.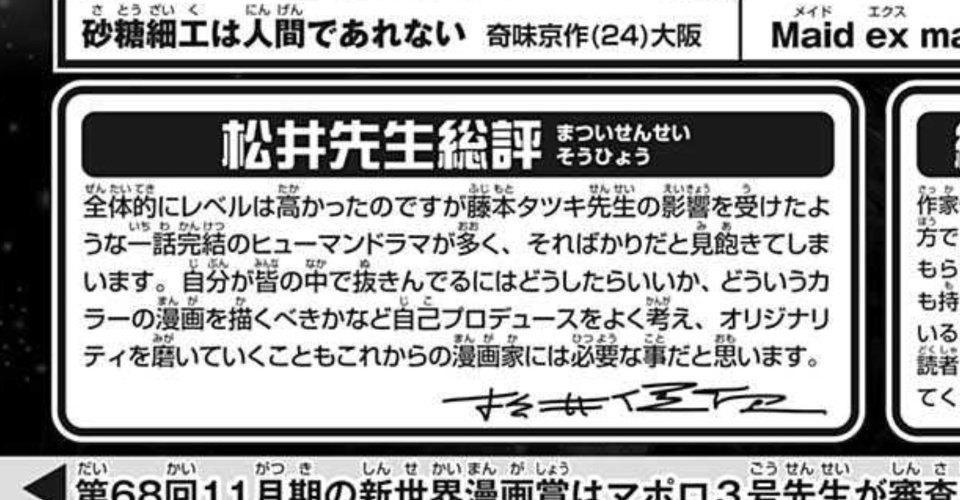 As for the fans, Matsui's comments landed mixed reactions. While some praised the diversity that Shōnen Jump's mangas portray, some fans were disappointed with how The Elusive Samurai got derailed from its engaging plot in the later Manga chapters. Overall, fans are expecting a "unique twist on the premise."
The Jump New World Manga Award is a series of monthly accolades given to young manga writers, with the top-rated or fan-favorited Manga getting published in Shōnen Jump+. Other judges in the award panel included Black Clover's Yuki Tabata, My Hero Academia's Kōhei Horikoshi, and Jujutsu Kaisen's Gege Akutami.
Yusei Matsui first stepped into the Manga industry as Yoshio Sawai's assistant. Sawai is the creator of Bobobo-bo Bo-bobo. Soon after that, Matsui worked on Neuro: Supernatural Detective, which was published in Weekly Shōnen Jump during 2005-09. Matsui received his big break with Assassination Classroom, a story of an octopus-like creature working as a junior high homeroom teacher. Aside from teaching the usual homeroom stuff, Koro-sensei teaches his students to become successful assassins to prevent Earth from getting destroyed. Since the manga got an adaptation of its own, Assassination Classroom has become one of the most talked about and appreciated works of Yusei Matsui.
On the other hand, Tatsuki Fujimoto got his hands on Manga-creation by writing one-shots that earned him numerous nominations and awards. His first work, Fire Punch, was serialized through Shōnen Jump+ from April 2016 to January 2018. He received major critical and fan acclaim through Chainsaw Man. The Manga series was first published in Weekly Shōnen Jump but ended up moving to Shōnen Jump Plus in July 2022 due to the series being a fan-favorite in the community.
The story of Chainsaw Man revolves around a young man, Denji. Denji just wants to live a simple life but has to pay off his deceased father's debt with Yakuza's influence and thus has to kill devils under a contract. After meeting his fate and being killed by a Devil, Denji gets his dead body merged with Pochita, the Chainsaw Devil, and is granted the Chainsaw Devil's powers. With his newly-found powers, Denji becomes a Devil Hunter and gets on a mission to kill off devils working for Public Safety Bureau.
Chainsaw Man recently got its own anime adaptation full of uncensored blood and gore. The anime adaptation is produced and animated by Mappa, a studio that created popular anime titles like Attack On Titan and Jujutsu Kaisen. The anime series has won several awards beating out popular contenders like Spy × Family and Blood on the tracks to claim the Best Shōnen Manga from the 66th Shogakukan Manga Award and the Harvey Award for Best Manga twice.
Well, what are your views on Yusei Matsui's recent comments? Have you felt the same with your favorite manga storylines? Do tell us your thoughts in the comments! And make sure to visit averagebeing.com for more such exciting anime/manga updates.