With the Chainsaw Man anime debuting only last month, the anime has seeped into every corner of the world and is continuing to do so for all the right reasons.
Chainsaw Man has introduced us to a bunch of distinctive personalities; the fandom has not seen in a long time. And Pochita probably stands atop the list, and it has all the reasons to sit at the top.
Pochita is now even becoming more popular than the protagonist himself. And Pochita merchandise has been pouring around everywhere in the world; now the craze has gone a step further with Pochita-inspired cakes making it on the shelves of patisseries. And what fan would not be interested in having a Pochita-inspired cake?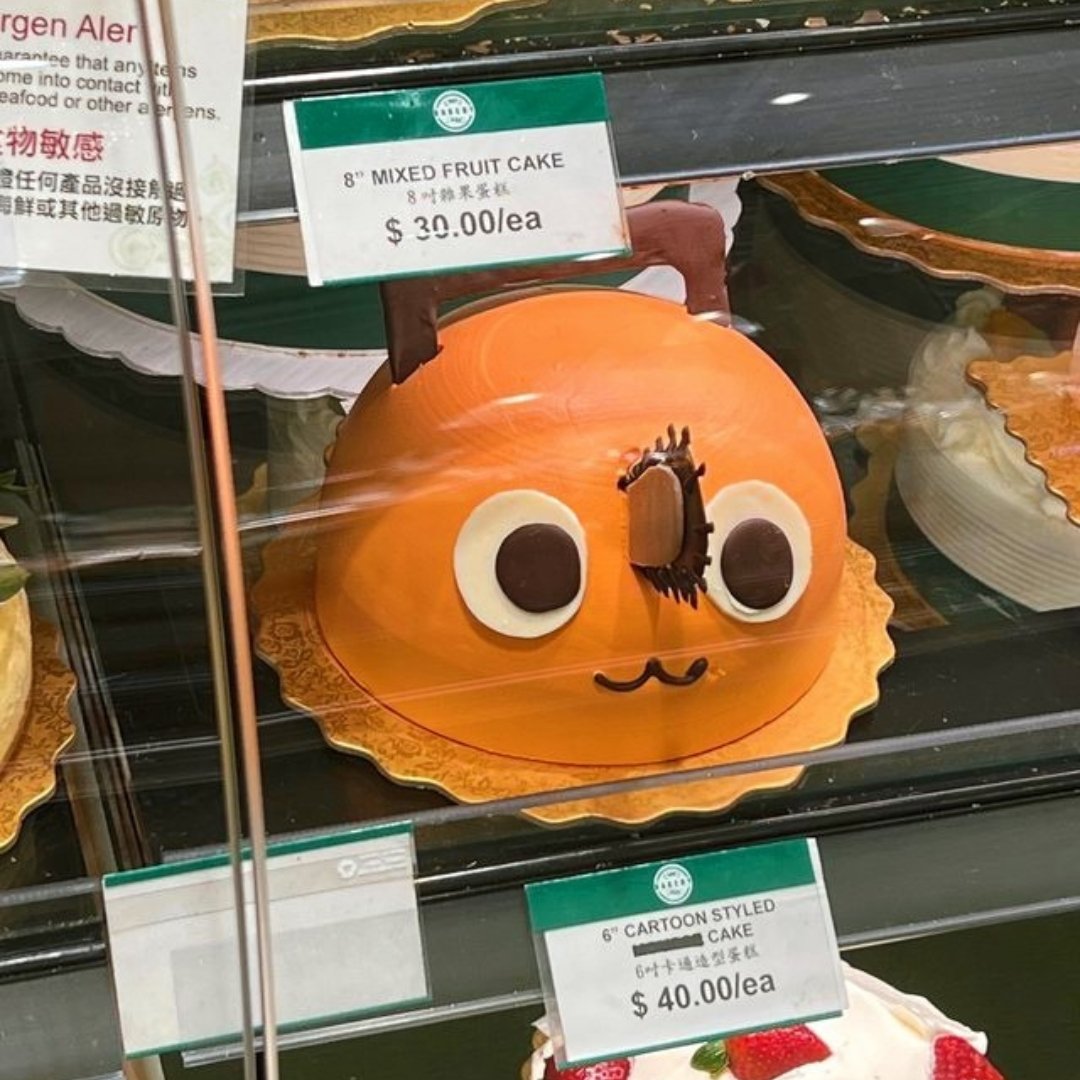 Cake Details
8" Mixed fruit cake
A chocolate chainsaw
$ 31 USD
Chainsaw Man follows the story of Denji, who is forced into a life of slaughtering demons to pay off his debts to the Yakuza; he does this with the help of his devil friend/pet, Pochita.
However, things go awry for Denji when the Yakuza strikes a deal with the devils to have Denji murdered. The plan is soon thwarted by his devoted pet Pochita, who throws its life on life to save him and fuses with his heart, thus granting him the new 'chainsaw' powers and becoming the heart of Denji.
The cake version of Pochita might look 'sweet' and innocent, but the devil version of his is strong enough to wipe out any of the devils from the face of the planet. Pochita, in his weakened state, transforms into an adorable pug-like dog, and that is when we see the iconic chainsaw sticking out of Pochita's head.
Despite his looks in this form, Pochita is a force not to be menaced. So much so that even Makima, one of the most powerful characters in the anime, regards Pochita's demon form as superior to her. The cake version, however, seems pretty safe for us to eat.
Well, What do you think of this cute Pochita cake? Let us know your thoughts in the comments below and visit averagebeing.com for more anime updates.