Black Clover is a sensational new-gen shonen manga that has garnered much traction recently. The author Yuki Tabata is a big fan of Yu Yu Hakusho, Bleach, and Naruto and has incorporated many influences and symbols associated with these classic mangas in his story.
Currently, the series fans are also celebrating the 5th anniversary of the anime. In the manga, Ichika is ruthlessly training Asta, demolishing all his attacks systematically. However, Ichika's serious hits don't leave Asta unconscious, which shows that the MC is indeed born with a hunger to achieve more.
Black Clover: Sword of the Wizard King Trailer
What to Expect From Black Clover: Sword of the Wizard King?
According to most speculations, this movie won't be part of the canon, which means that no matter what events transpire in this film, it won't affect the original manga's plot. However, the mangaka being linked with the film may present a different picture for some fans.
Tabata-sensei himself attended to the previous Wizard King's (Konrad) character design. Toshihiko Seki will voice the character of Konrad in the movie; he was a beloved King cherished by most citizens of the Clover Kingdom. The film is an original story developed by none other than Yuki Tabata, The author of Black Clover.
A key visual has also been leaked. Feast your eyes on Asta holding the sword ready for action, dear otakus.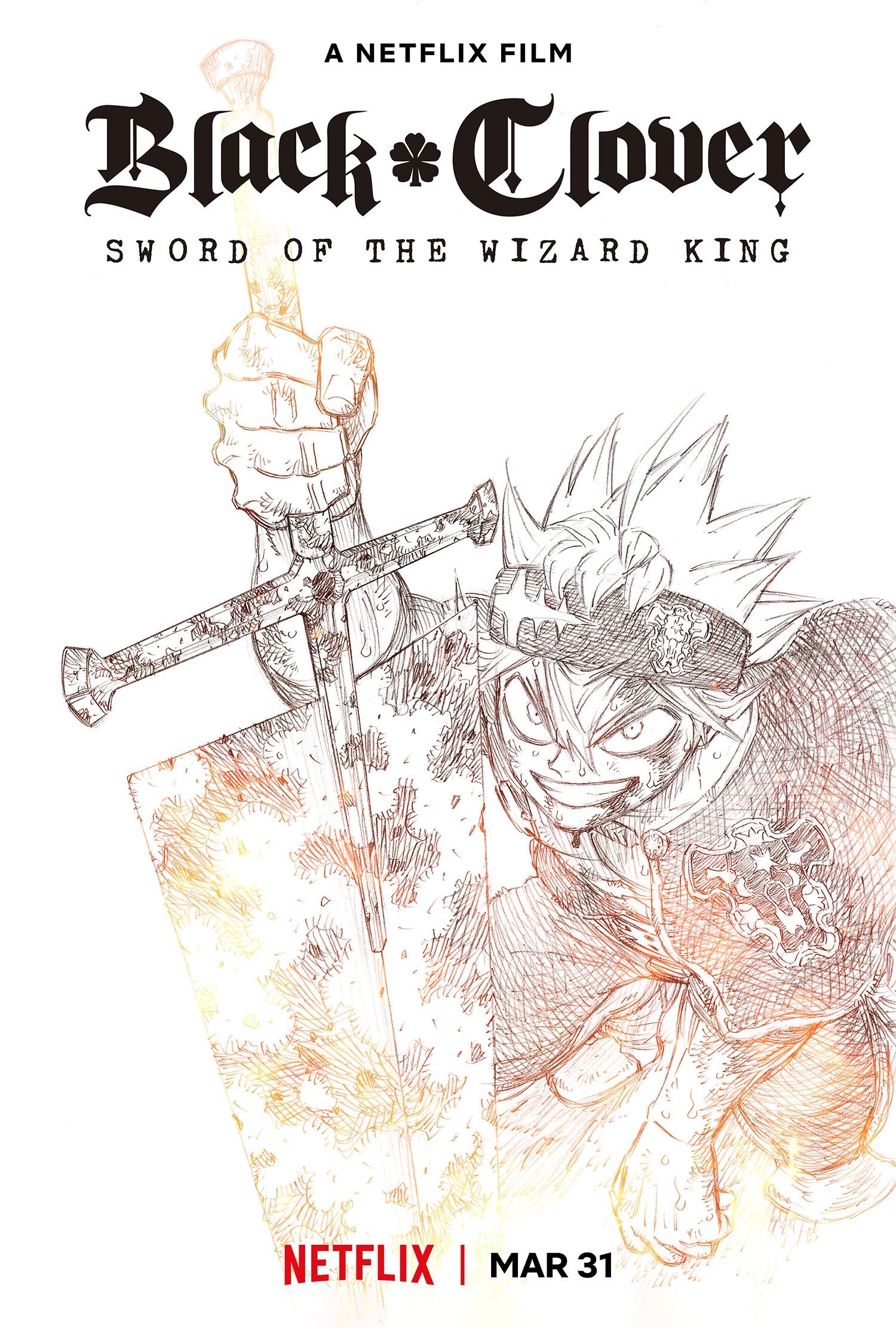 Main Staff
Director: Ayataka Tanemura
Script Writer: Johnny Onda
Character Design: Itsuko Takeda
Music: Minako Seki
When & Where To Watch Black Clover: Sword of the Wizard King?
The upcoming movie is scheduled to release in theatres across Japan on March 31st, 2023. The film will also be released on Netflix, giving Western otaku immense relief as they won't have to wait a few months to see Asta in action.
About Black Clover:
Yuki Tabata illustrates and writes the manga series that has been serialized in Weekly Shonen Jump since 2015. Till now, 32 tankobon volumes have been compiled. The main protagonist of the manga is Asta, a hard-headed orphan boy who lacks magical abilities but has tremendous potential to excel physically.
Yuno is the deuteragonist in the series, blessed with great magical prowess. The anime by Studio Pierrot kicked off in 2017 and has had 170 episodes released so far. If you're not on Japanese soil, you can watch Black Clover via Crunchyroll and Adult Swim (Toonami).
More than 17 million copies of the manga have already entered circulation (digital and otherwise), signifying the immense popularity of the series.
So will you be watching the Black Clover movie on Netflix next year at the close of March? What do you expect will happen in this non-canon film? Let us know your thoughts in the comments section, and subscribe for quick updates on anime!