I'm sure all otakus are guilty of using pirate websites to stream or download their favorite anime. Even if you act righteous and show your subscribed official streaming channel, deep down, you know you are unsatisfied with the collection.
While some might have enough self-restraint, most of us don't. The endless world of anime lures you in, and finishing a streaming platform's catalog doesn't take long, which leaves you hungry for more but with very limited choices.
With the global demand for anime increasing, piracy websites are profiting due to the sheer number of choices they provide.
Despite Japan's severe crackdown, several piracy websites continue to exist. Zoro.to, one such website, has now overcome Hulu and Prime Video to rank among the Top 10 Entertainment websites on Google.
How did it secure a position between the top streaming giants? It's really quite simple if you think about it.
Why Is Zoro.to Preferred Over Other Websites?
Zoro.to offers a plethora of anime to choose from. You can combine the catalogs of Crunchyroll, Netflix, and all other streaming sites, and Zoro.to will still beat them by sheer volume. Once Otakus get to know about it, obviously, they won't go back to paid services that have limited collection.
Zoro's user interface is surprisingly simple. You get a search bar on the home page along with the top searches below. You get curated lists for every genre, something that not every pirate website has. Even if they do, the anime are not properly ranked for the assistance of users.
The video player is also praised by fans as well as the option of turning off the subtitles. Subtitles from many different languages are also available, and they can be personalized. The player has 'auto-skip intro,' 'autoplay next episode,' and many other options that can sometimes only be found on official paid sites.
Several other prospects like this make the website well-known.
Why Did Zoro.to's Rank Increase?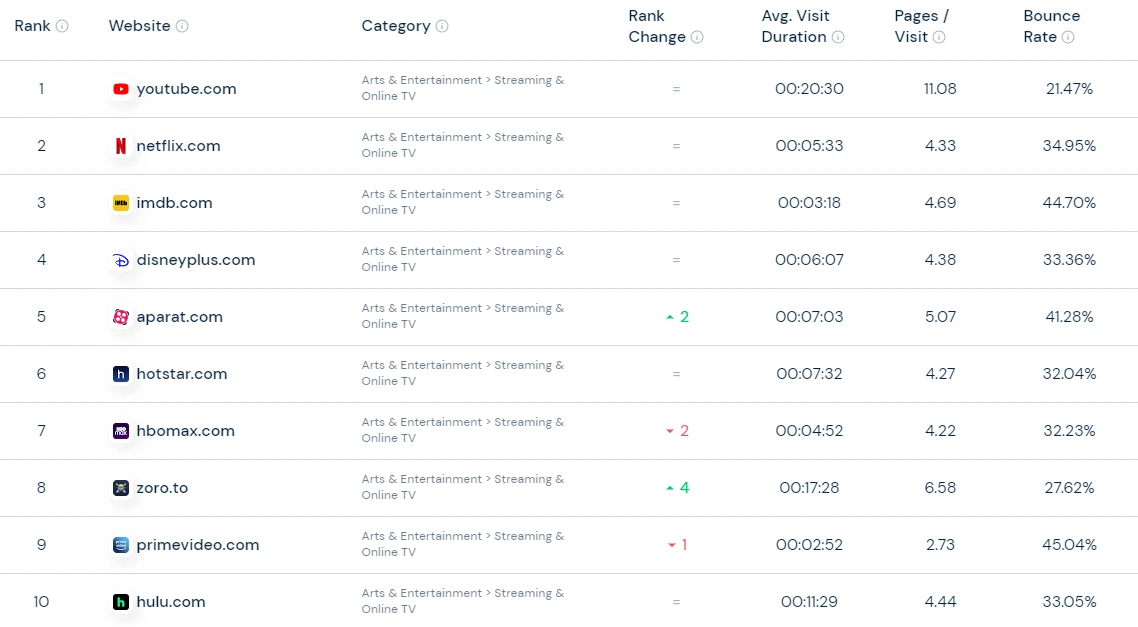 Zoro.to has risen by 4 ranks to land at #8 in the 'Most Visited Streaming & Online TV Websites' category. In fact, it has far surpassed Crunchyroll, which has the biggest anime collection among streaming services. Crunchyroll is only ranked at 22.
The websites whose performances have declined are Prime Video, kinopoisk.ru and nicovideo.jp. All of them have gone down by one or two positions, helping Zoro reach the top.
However, it is also possible that Zoro has gained a larger fanbase during the last three months. In March, the Zoro received 206.2 million visits. Since a new anime season began in April, the visits are bound to increase. Zoro's traffic might have increased even more with a heap of new anime debuting all at once.
Analysis shows that Zoro.to has a global rank of 176, and its average visit duration is 17 minutes 28 seconds. Since an anime episode is typically 20-24 minutes long with OP and ED, the average number is expected. In fact, its visit duration is far more than all of its contenders except YouTube.
Its bounce rate (percentage of people who leave after only viewing one page) is also relatively lower than that of others. It gets most of its visitors from the US, India, the UK, Canada, and the Philippines, among others.
How Much Does Anime Industry Lose to Piracy?
Piracy has become one of the biggest threats to anime and manga industry. In April 2023, Japan's Content Overseas Distribution Association (CODA) even claimed that the Japanese Entertainment industry had lost between $14-$16 billion in 2021. The figure is five-fold the estimate from the 2019 study.
If we strictly speak anime, CODA's calculation states a loss of $6.8-10.5 billion to piracy. The association assumes that piracy rates jumped after 2019 due to more and more people having to spend time indoors due to the pandemic.
CODA has partnered with several other nations to crack down on piracy websites globally. Websites like Mangamura, Kissanime, and many others have already been shut down, and many others are also facing the same fate.
Why Do People Resort to Pirate Websites?
Just as CODA stated, piracy websites have become an even bigger nuisance since the COVID-19 pandemic began. Needless to say, the situation also created a difficult financial situation for people worldwide. Most people couldn't spare enough money for paid subscriptions.
Add that to the unprecedented launch of new streaming services, and piracy was the best way to get everything under one roof free of cost.
There is also the problem of exclusive rights. Most services, like Netflix, Crunchyroll, Hulu, or Disney Plus, buy the rights to an anime, so you will not find it anywhere else. It is not possible to subscribe to several sites to watch anime, so viewers find it far easier to use a single website for all their needs.
While everyone knows piracy is unethical, sometimes people are forced to do it. Many anime are not licensed for all countries, and you get access to series depending on where you live. So sometimes, these piracy websites become the savior of such people.
Third-party ads have always been the biggest deterrent to piracy websites, but what will you choose? Closing a few extra tabs or paying several dollars per month and not even getting good content?
If I start writing the pros of a pirate website, it will far exceed its cons. These apparently malicious websites have everything from a good sorting system to innovative designs and recommendations.
If you have the dough to support your lifestyle, then go ahead and pay for your anime. However, for most people, the option is not available. Until access to anime isn't simplified and made cheaper, the problems of piracy websites like Zoro.to will continue to exist.
So, do you also use piracy websites? What are your views on this necessary evil? Comment and tell us how anime can be brought to more people without harming the creators.